PUR says Early Soil Samples "Compare Favourably" to $2.6BN Chalice

Share price when sent: $0.077
Pursuit Minerals (ASX:PUR) has today released exceptional results from soil sampling that confirms the presence of anomalous PGEs (platinum group elements), Nickel, Copper and Gold.
Soil sampling is basically scraping chunks of soil with a little shovel from 30cm under the surface and testing them in a lab for trace elements of the metals we are hoping to find deeper underground with drilling, in the area where Electromagnetic (EM) drill targets are.
The metals found in soil sampling give strong clues to what lies beneath...
PUR just confirmed high levels of metals in the soil meaning the likelihood of success that their EM targets could actually be a lode of PGE-Ni-Cu 100m under the surface.
...AND according to PUR, their soil samples "compare favourably" to the soil sampling Chalice reported during its $2.6BN Julimar discovery, just 20-170km away from PUR's ground.
PUR just reported over 1 gram per tonne Au-Pt-Pd co-incident soil results and strong co-incident Au-Pt-Pd-Ni-Cu anomalism - 1/gt is big enough to actually be a pretty decent result for exploration drilling, let alone basic soil scraping.
And these soil anomalies appear to line up with PUR's EM drill targets...
Drilling is now just weeks away (pending government and heritage requirements being met)...
Pursuit Minerals
ASX:PUR
Our Investment Strategy
Excitement continues to build in the lead up to PUR's drilling in July.
We expect PUR's share price will rise in the lead up to drilling results.
As with all our exploration investments, we will look to take some profit in the lead up to drilling and hold a significant position for the drilling results. Remember that exploration investing is risky and there is no guarantee of success.
Pursuit Minerals
ASX:PUR
What is coming next for PUR:
Government and Heritage approvals.
Second phase of MLEM surveys and ground follow up programs (to hopefully identify more conductors).
Soil sampling programme to be expanded
Drilling - to start in July.
Here is all our past articles on PUR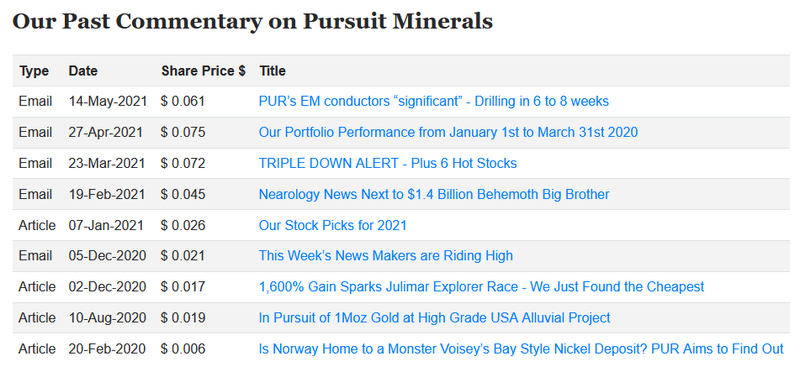 ---