ONE delivers record quarter and unlocks legacy hospital sales.
Disclosure: The authors of this article and owners of Next Investors, S3 Consortium Pty Ltd, and associated entities, own 8,525,000 ONE shares at the time of publication. S3 Consortium Pty Ltd has been engaged by ONE to share our commentary and opinion on the progress of our investment in ONE over time.
Our 2021 Tech Pick of the Year Oneview Healthcare (ASX:ONE) has quickly delivered strong growth after its $20M capital raise.
ONE posted an impressive €5.46M ($8.6M) in receipts from customers during the quarter, up 280% on the prior quarter and up 101% vs the previous corresponding period - its first ever cash flow positive quarter.
ONE uses cloud technology to provide hospital patients a "virtual care and digital control centre" at their bedside that delivers the best possible patient experience during their stay.
In our coverage of the November capital raise, we said ONE was now going for a 'land grab' with the funds, which is a style of rapid tech expansion that makes user growth the main focus.
And in the ONE quarterly today, we saw that the company had achieved record revenue and its maiden operating cash flow positive quarter, before they have even started to deploy the new "rapid expansion" capital.
This is a strong result for ONE and given that the capital raise was completed towards the end of the reporting period, we think the additional funds they raised should even further increase their growth in the coming quarters.
We think this growth will be supported by the greater emphasis on ONE's cloud-based offering, which promises to shorten the time from initial sales contact to eventual contract win and subsequent revenue.
We also noted that ONE mentioned in their quarterly that 749 "coax set-top boxes" were delivered to customers - these set top boxes allow older hospital rooms that are wired up using legacy coaxial cables to use ONE (where previously they couldn't). So now we know the coax set-top boxes are ready and sellable we want to see a wave of sign-ons of older hospital rooms that previously couldn't use ONE, enough to materially impact topline revenue.
The headline numbers today are very good, another win from today's announcement is the fact that the company will have more money on hand to funnel into rapid growth.
We believe this will be the true metric for ONE's success - the number of users, or contracted beds that are signed up to the ONE product - we have summarised the reasons we continue to hold ONE, key objectives we want to see achieved in 2022 and risks in our ONE 2022 investment memo.
ONE's growth takes place in the context of significant M&A activity in the healthcare tech sector in the US, meaning big companies are jostling to acquire smaller, more nimble companies that offer efficiencies in a healthcare industry buckling under the pressure of the pandemic.
Today we will also provide a comparison of ONE's financial metrics against two other leading ASX-listed health tech companies.
Here's how we'll go about it:
Quick overview of ONE's quarterly and key takeaways
Summary of current M&A activity in US health tech sector and what it means
Comparison of ONE and two other leading ASX-listed health tech companies
What we expect to see next from ONE
A quick refresher for those new to the ONE story
To learn why we continue to hold ONE, 2022 objectives we want to see the company deliver, investment risks and our investment strategy, click here to read our 2022 Investment Memo on ONE.
Key take-aways from the quarterly
Again - ONE posted an impressive €5.46M ($8.6M) in receipts from customers during the quarter, up 280% on the prior quarter and up 101% vs the previous corresponding period.
This lead to its first operating cash flow positive quarter which you can see below: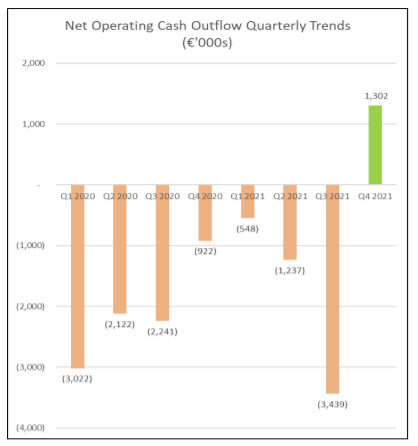 This was down to some receipts due in Q3 filtering through in Q4, some $1.2M, and a significant volume of hardware sales.
In terms of hardware, ONE managed to deliver 1,709 hospital-specific Android tablets devices and 725 Wetek Android Set-Top Boxes.
These are the hardware setups that ONE's software works with.
The tablets are the preferred home of ONE's product, but a large portion of US hospitals use older systems which is where the coax set-top boxes come in...
Coax Set Top Boxes?
Remember decades ago when you were plugging in your (original) Nintendo using a "coaxial cable" into the back of your cathode ray tube TV?
We do... and while most households have moved to HDMI and internet enabled TV's - many older hospitals (especially in the US) were built and wired up using the old coaxial cable only.
This becomes a problem (or rather a lost opportunity) when a hospital uses ONE in their newer wings, but can't install it into the older wings that are only wired with coaxial cables.
Until now.
In their quarterly ONE highlighted that they managed to deliver the first 749 WeTek hybrid set-top boxes:

If you skim read this may just sound like ONE is delivering more growth and nothing more... But for us this is important. These coax boxes act as a gateway for ONE to be able to sell the higher-margin SaaS solution to older hospital wings that previously could not implement ONE.
A common problem ONE faces when trying to sell its SaaS solution is that some hospitals wings are out-dated and that all of the tech-infrastructure in the buildings just can't support new-generation offerings like ONE.
The Coax-box bridges the gap between old and new and plugs into the legacy infrastructure acting as that gateway for higher tech software implementation in these seriously old buildings. In the Bell Potter conference ONE touched on this and termed the bridging of this gap as "Backwards Compatibility".

We already know that the hospitals want and need ONE's software, the only thing stopping them from integrating it had been the legacy infrastructure issues.
The coax box solves this issue and we expect that with coax box take-up increasing the High-margin SaaS sales will grow exponentially.
We want to see ONE upsell its SaaS to its existing client hospitals who have already adopted ONE but have older wings where they have not been able to adopt ONE until the coax box was launched.
So in order for ONE to get more market penetration, they are adapting their hardware offerings to get their product into as many hospitals as possible, especially in their target market of the USA where many hospitals were built during the coaxial heyday.
We primarily think of ONE as a software company because its service is offered through the cloud. Nonetheless, the hardware deliveries are a good metric to keep in mind, especially when they lead to or facilitate recurring SaaS revenue.
What we are watching for now is growth.
We suspect that the most important growth numbers will come through the next couple of quarters, particularly we want to see a doubling in quarterly advertising and marketing spend, something we flag as a key objective in our ONE Investment Memo.
ONE's $20M capital raise was completed more than half way through the quarterly reporting period, so ONE hasn't had much of a chance to ramp up sales and marketing spend just yet:
But with today's operational cash flow result and a sizeable post-cap raise war chest/cash balance of ~$24 million, we think ONE should have ample money to use for advertising and marketing, among a range of other growth initiatives.
For example, we note that ONE's staff costs were up 5% on the last quarter and 16% on this time last year, due to sales commissions and an increase in headcount.
Growing companies need more staff and those staff need to be incentivised to get results - so we're more than comfortable with this increase.
This quarterly whetted our appetite for the next batch of results, and again, it's now all about growth and more growth.
Crucially, ONE's growth takes place in the context of some big moves playing out in US health tech right now, with two recent acquisitions getting our attention.
Big Deals in US Health Tech Space Bode Well for ONE
There are two deals we want to profile today, both involving large sums.
While we aren't saying ONE is a takeover target just yet (we are holding to see some rapid revenue growth first), we do think the acquisition activity in the health tech sector is indicative of the growth that can be found in this part of the market.
Perhaps more importantly, these deals give us a better perspective of how much companies are willing to pay for growth opportunities in US health tech.
Deal #1: Oracle buys Cerner for $28.3 Billion... cash
The first deal we'll discuss is noteworthy for its sheer scale.
In one of the biggest tech deals of 2021, Oracle acquired electronic medical records company Cerner.
Oracle, a US$245B tech giant which specialises in cloud services, shelled out a whopping US$28.3B for Cerner in an all-cash deal.
Big-tech moving into healthcare is one of the key reasons we continue to hold ONE in 2022 - and over the last few years the big tech (FAMGA) companies have invested heavily in the space.
For instance, Google developed an Electronic Health Record (EHR) search tool called Care Studios and Apple has an electrocardiogram (ECG) algorithm for its Watch.
Then there's Amazon and Microsoft.
One US health tech consultant was quoted as saying (emphasis added):
'Amazon is pressing forward. They seem to have consolidated all of their healthcare initiatives under one leader. They are getting directly into the primary care space, which is something that other tech firms have avoided. That is getting into the healthcare business, because selling healthcare technology and selling healthcare services are two entirely different things. Microsoft has had the most steady growth, if you look at all of these tech firms.'
We note that ONE has a co-sell agreement with Microsoft which yielded its first contract win with a prestigious hospital, the Kingman Regional Medical Center in Arizona in October.
Deal #2: Stryker buys Vocera
The second deal that caught our attention recently was the US$3B acquisition of Vocera by NYSE-listed Stryker Communications of Vocera.
This deal was closer to the space ONE works in, and gives a better idea of what multiples bigger companies are willing to pay for growth.
Similar to ONE, Vocera offers a platform for communication and workflow optimisation in the hospitals and like ONE, have their revenue mix split between software and hardware.
Vocera's revenue mix is ~50:50 hardware vs software whereas ONE's is split 30:70.
As with any tech company, the most scalable, highest margin revenue generally comes from the software side, which is where we think ONE differentiates itself from Vocera.
There is no doubt Vocera's revenues are significantly higher vs ONE with AU$309m in forecast revenues for 2021 but their revenue growth has stalled with growth relative to 2018 of only ~25%. This compares to ONE, which has increased its revenues by more than 60% in the last year (€7.28M in 2020 to €11.69M in 2021).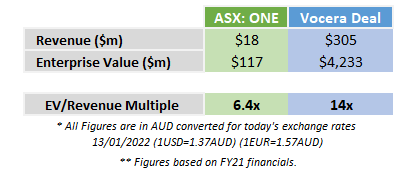 We did a side-by-side comparison of the two companies. Vocera's EV/Revenue multiple of 14x was >250% higher than ONE's current EV/Revenue multiple of 6.4x.
Based on this, if ONE were to trade at a similar EV/revenue multiple, its share price would be trading at around ~53c. Almost 2X higher than where it is trading now and with revenue growing significantly we expect this to be even greater in FY22.
Comparing ONE with other ASX health tech companies
The Vocera deal is only one part of the picture though, so we'll do a comparison with ONE's ASX-listed health tech peers,
Again, this shows ONE is in a good spot.
We think that as a general rule of thumb, the ASX places a greater emphasis on profitability compared with US markets, so this comparison adds some much needed context around ONE's metrics.
As with the Google's and Meta's of the world, it's all about having a product that promotes sticky customers. ONE recently outlined how they have a customer retention rate of 98%.
Now, ONE is a fair way off that Google-level dominance, but it's something to keep in mind as they pursue growth.
Here's how ONE stacks up against two other ASX-listed players in the health tech sector, albeit each has a different geographic focus: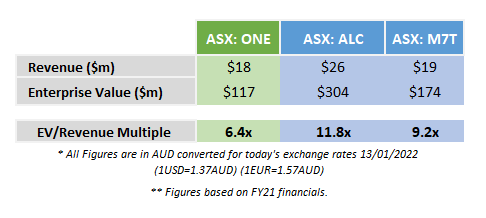 As you can see, ONE's EV/Revenue multiple is lower than both Alcidion and Mach 7 Technologies (possibly due to some pressure on the share price after the recent 27c cap raise).
Alcidion, which is building a similar product to ONE and is focussed primarily on the UK market, is trading at an EV/Revenue multiple of 11.8x. At this multiple ONE's implied share price is ~44c.
Meanwhile, Mach 7's product is more focussed on the diagnostic imaging space in the US and less on a hospital wide-solution. It's a balance of narrower product and bigger market vs wider product and smaller market.
The comparison is not hard and fast, due to these reasons.
But again, you can see Mach 7 is trading at a premium to ONE on a EV/Revenue basis at 9.2x. At that multiple (which we think would be unfair given what we have stated above) ONE's implied share price is ~35.5c.
Now we are not saying these are ONE share price targets here - this is just a few observations we are making.
So what's next for ONE?
These are the four key objectives we want to see ONE achieve in 2022, as drawn from our Investment Memo:
Objective #1: Fast revenue growth and contracted beds in excess of 15,000. For ONE, 'contracted beds' is like an 'active user' metric for a tech company. We think this will be the basis for judging ONE's success in 2022. More contracted beds = more revenue. We want to see ONE hit a total of 15,000 in 2022, primarily out of the USA.
Objective #2: Increased sales/marketing spend leading to more deals with major hospital networks. ONE now has a proven tech product that is valued by its clients. As of this note, ONE spent less than 10% of its receipts from customers on advertising and marketing - if its to quickly accelerate contracted beds (revenue), we think upping spend in this area is crucial.
Objective #3: More sales through Microsoft and Samsung partnerships. As Samsung tablets are the device which works with the ONE product - Samsung sales reps should be incentivised to push ONE's product. Likewise, since Microsoft's Azure Marketplace is the cloud platform that ONE has opted to work with, we would like to see sales growth through this channel.
Objective #4: Material contribution to revenue from sales to older, coaxial wired hospitals wings. ONE is now providing "coaxial set-top boxes" which allow older hospital rooms that are wired up using legacy coaxial cables to use ONE (where previously they couldn't) - we we want to see a wave of sign-ons of older hospital rooms that previously couldn't use ONE, enough to materially impact topline revenue.
New to ONE? Here's our previous coverage
In March 2021, we announced ONE as our Tech Pick of the Year for 2021.
A few weeks later, we provided our deep dive analysis that outlined the 10 reasons that we invested in ONE.
Then, later that month, we revealed how we expect ONE's new cloud offering to turbocharge growth of new hospital clients, hospital beds and recurring revenue.
In April, ONE released its quarterly results demonstrating its progress. Revenue was up 64% on the prior year, while costs were down 84%. It also reported that a number of clients had renewed their contracts, a sure sign of confidence in the company and its technology.
Progress continued in May, when New York based hospital NYU Langone, one of the top 10 best hospitals in the USA, delivered an hour long webinar on the benefits they are getting from ONE's technology. You can watch clips from that webinar here, or read the transcript.
After having only launched its cloud offering in March, by June, ONE had secured a five year contract with Victoria's largest private health service, Epworth HealthCare, for all 1,440 of its beds.
Just eight days later, ONE announced its second cloud deal, this time with Northern Health in Melbourne — another important proof point that ONE's cloud strategy was working.
In late-July, ONE reported another quarter of strong growth, which proved to be much better than our expected milestones for the company.
In October 2021, ONE announced a material new 5 year contract for 235 hospital beds worth $2.4M USD, with USA based hospital Kingman, using ONE's new cloud offering, as the first deal under the Microsoft co-sell agreement and using Samsung tablets.
And in our most recent coverage of ONE prior to today, we broke down the ONE 'land grab' capital raise. ONE raised $20M in cash that will be used to accelerate sales and adoption, specifically in the US healthcare market.
Disclosure: The authors of this article and owners of Next Investors, S3 Consortium Pty Ltd, and associated entities, own 8,525,000 ONE shares at the time of publication. S3 Consortium Pty Ltd has been engaged by ONE to share our commentary and opinion on the progress of our investment in ONE over time.
---