10 Reasons we Invested in ASX:ONE - Our 2021 Tech Pick of the Year
Oneview Health (ASX:ONE) is our Tech Pick of the Year for 2021 and we believe this is potentially the most undervalued stock we have ever seen.
In fact, we have taken our biggest ever position in ONE.
We have a track record of delivering technology-based investment returns and we believe ONE, based on its virtual care technology has one of the biggest chances to deliver our next tech winner.
In 2019 we invested in WhiteHawk at 6c - and today it is trading at 30c.
In 2020 we invested in Advanced Health Imaging (formerly MyFiziq) at 11c - and today it is trading at $2.
In 2021 - just last week in fact - we invested in ASX:ONE.
This article will outline the 10 key reasons we invested in:
1. Great product for a hot sector - telehealth and health tech
ONE is a virtual care provider, which last year launched a cloud-based solution to help healthcare systems manage hospitalised patients during and after COVID-19.
ONE's tech provides a single touch screen at a patient's hospital bed where they can:
Have virtual consultations (telehealth) with relevant medical specialists - local and from around the world
Control all aspects of your room (bed, lighting, temperature)
Order food, watch movies, get a nurses attention (think airline business class screens)
Interact with tailored rehab, education and training videos for YOUR health situation, and;
Monitor health outcomes - doctors and nurses have better info on you.
All of this leads to greater efficiencies in patient care and cost reduction.
For instance orderlies can take care of meal delivery, giving nurses more time to provide care, while doctors can share care plans creating the most efficient level of care possible.
This is what the patient sees: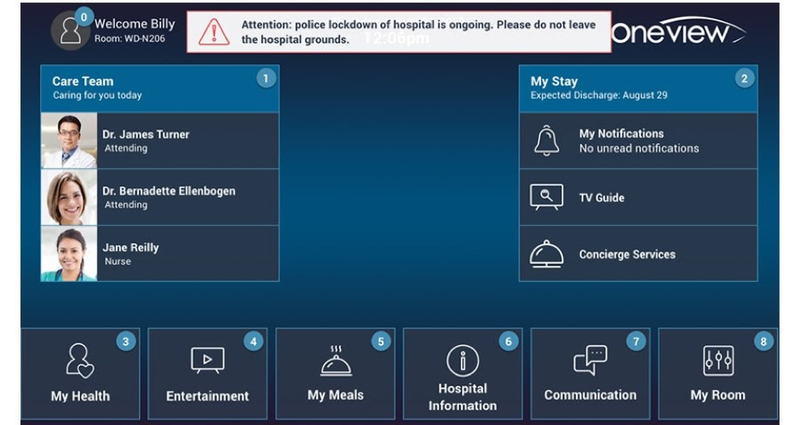 The need for this type of healthcare technology has become alarmingly apparent since the outbreak of COVID-19.
We think the pandemic will further accelerate the trend of hospitals digitising over the next five years as hospitals look to alleviate the burden on undermanned or under resourced health providers, reduce costs and create better, more efficient patient care.
2. Established tech company that is undervalued
ONE offers a subscription software model to hospitals and multi-year contracts that have already generated strong annual recurring revenue for the company.
Selling enterprise technology to hospitals is a very long and difficult process.
Hospitals are slow to move and the technology needs to be very solid to establish trust and track record.
But once a company does make a sale, this revenue can be very 'sticky'. Large organisations like hospitals can also be slow or reluctant to cancel a contract related to technology embedded in their processes.
We have been investing in SaaS (Software as a Service) for many years and learnt many lessons along the way. We know huge value potential when we see it.
ONE is currently used in 9,259 hospital beds around the world, including three of the top 20 hospitals in the USA - this footprint would have taken YEARS to build.
ONE generated €5.1M ($7.8M AUD) yearly recurring revenue in FY2020.
Back in 2017 ONE was capped at $330M. The tech, business, team, client base, revenue and partners have all significantly improved since then and we still can't believe ONE is under $100M right now. We think it can achieve its heights again soon.
Back when ONE was capped much higher they raised and invested over $100M in their tech - we think the current valuation is not reflecting this, great for investors like us looking for value.
Recent Samsung agreement and long standing Microsoft partnership could further push revenues north as its Cloud product starts to deliver.
ONE had $10.5M in the bank on December 31st 2020. With a current market cap of $100M, we think this is still an excellent enterprise value of ~ $90M.
We have developed a strong relationship with management and believe that this company is on the cusp of something big.
In short, we feel the company will only continue its current momentum (revenues growing, costs shrinking) as seen below: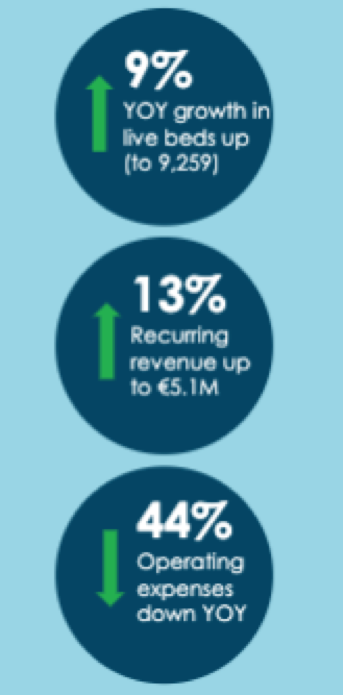 3. Board, management and shareholders all invested in the last round.
The ONE board and management seem to agree ONE is undervalued given they personally participated in the last capital raise in December to the tune of ~ $500k.
We dug up the Change of Director interest Notice and found that Managing Director James Fitter personally stumped up a cool $270k into the last cap raise. That is a big vote of support from the guy running the show.
We have had a bunch of meetings with James over the last few months and have been impressed.
The biggest shareholder of ONE with over 25% is Will Vicars - a quick peek at the Change in Substantial Holder notice from 22nd December shows him moving up from 19.88% to 25.75% - another big vote of support for ONE.
Doing some digging on Will shows him to be no slouch when it comes to high conviction investing - managing a $10BN fund and referred to as "Sydney's Star Stock Picker":

It seems like we are in good company as long term investors in ONE.
4. The product looks really good
COVID has accelerated the uptake of virtual and digital healthcare and ONE is meeting vital patient care needs and hospital requirements.
ONE offers a secure, flexible and scalable platform where the digital infrastructure for content, apps and services is at one point of care.
Here is what Oneview looks like at the patient's bedside:

For patients, ONE offers digital tools to enable patients and families to control their experience and participate in care, deliver virtual care at the bedside, and collect feedback to manage patient experience.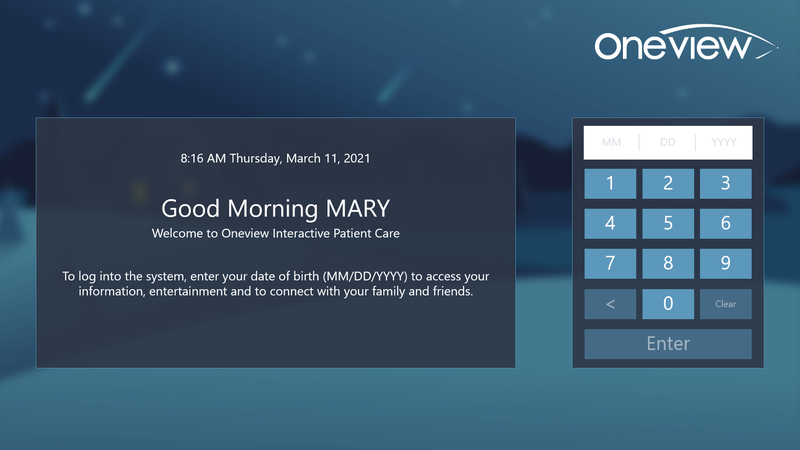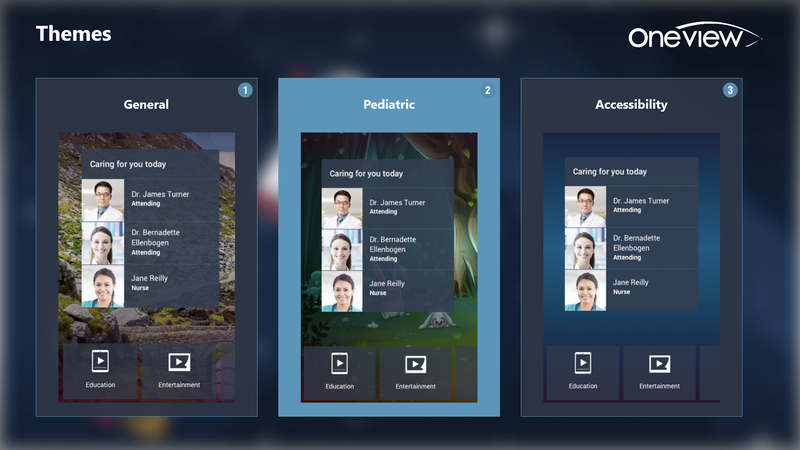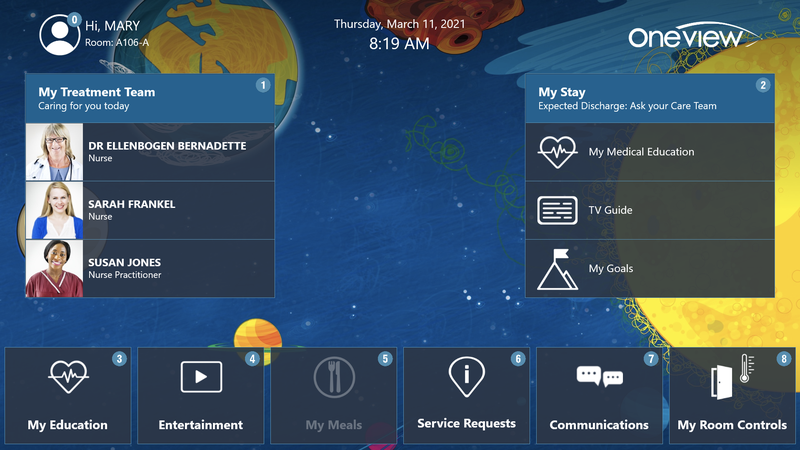 For the care team, optimisation of patient flow and patient experience becomes more personalised and engaging. Here is the dashboard the care team sees: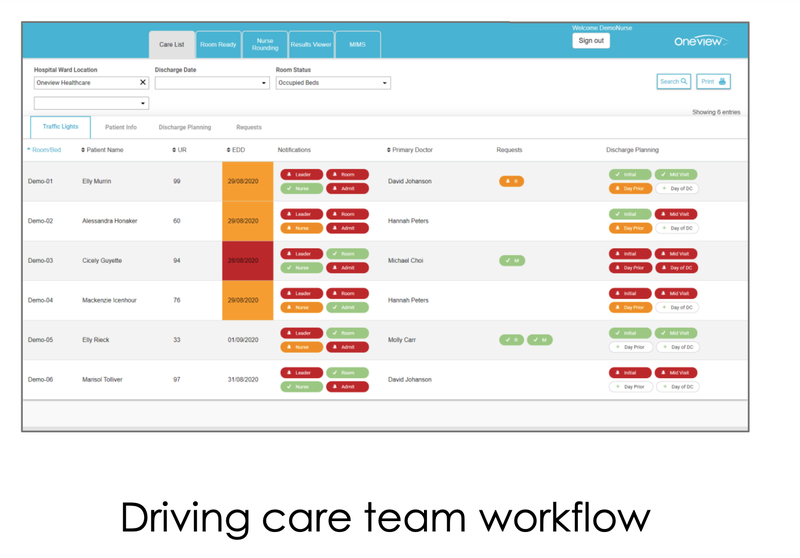 The creation of a singularly focused Care Experience Platform has certainly had an impact where it counts and has enabled ONE to roll its technology out on a global scale.
5. Big Market: Growing need for virtual healthcare
Development and adoption of health tech across the globe continues to quickly ramp up.
Huge swathes of capital are rushing into the space, emboldened by the isolation caused by COVID-19 and the need for at home health and wellness solutions.
An array of healthcare stakeholders — from consumers to providers to drug developers — are joining forces with health tech companies to increase access to 'socially distant' care.
Records were broken in 2020, with US healthtech startups raising over US$6.6BN across 500+ deals.
There has been a complete re-imagining of what health care looks like around the globe and certainly, if there is a positive to come out of COVID-19, it is that it helped fast track the adoption of technology accessible to all healthcare providers.
In the wake of COVID-19, ONE is answering the call for a growing need for better virtual patient care.
ONE is solving several problems: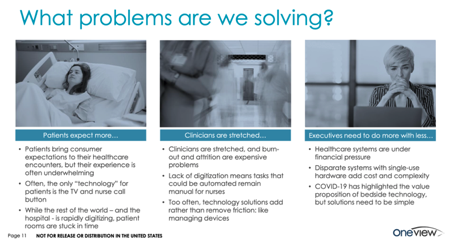 Most notably, ONE is expanding virtual health care services, to enable consumers to drive their own experience.
Healthcare news service, Fierce Healthcare believes there will be seven major changes in 2021:
Consumers will drive the healthcare experience.
Virtual care services will expand.
Public and private investment will ramp up.
AI will play a major role.
The shift to cloud will become more intense.
"Walmart will redesign healthcare (so will Amazon and Alphabet)".
Social determinants to become operational.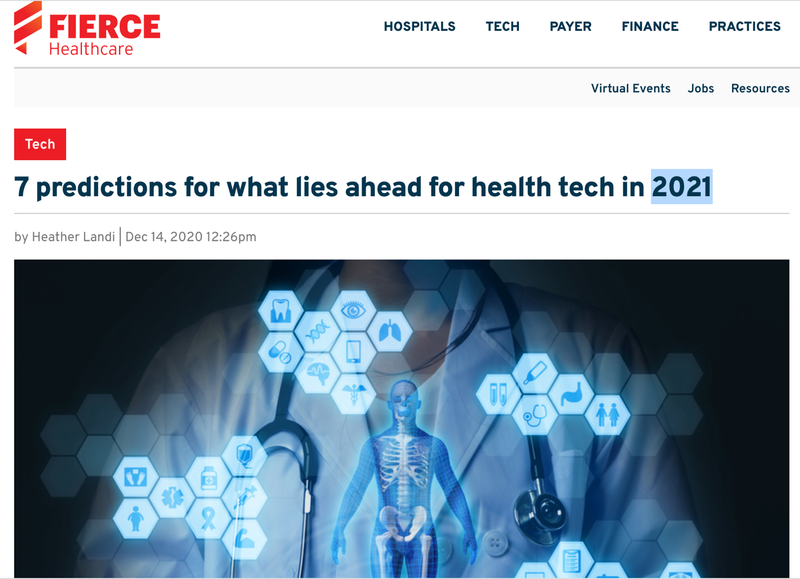 Looking at the above predictions, ONE ticks most of the boxes already.
ONE may also be a winner when Alphabet, Amazon and Walmart, as just three examples of major organisations with no previous healthcare footprint moving into the space, start to have a real impact in the virtual patient care space.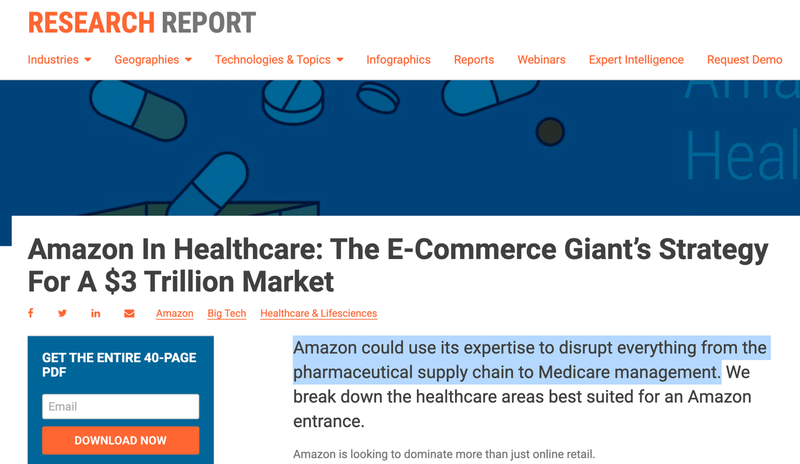 US retailer Walmart, the largest retailer in the world, launched Walmart Health, a primary care clinic that offers services like X-rays, annual check-ups and dental exams. Along with rivals CVS Health and Walgreens, these retailers are attempting to grab a slice of the $3.6 trillion Americans spend annually on healthcare.
Apple is well entrenched in the digital healthcare space too.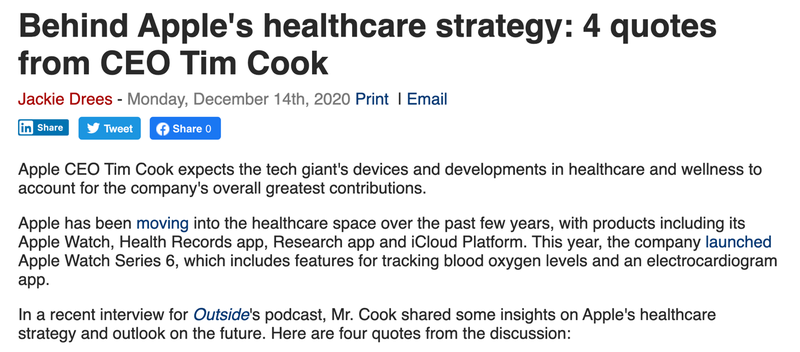 Interestingly, ONE has already been mentioned in the same sentence as Apple and Cisco - both Goliaths of the tech industry.

ONE already has a first piece of the virtual healthcare pie and it couldn't be a better time to invest in this sector.
6. Market Traction: Hospital uptake continues to grow
ONE rolled its tech out to New York-based medical centre, NYU Langone Health in July 2018 and commissioned it's Cloud for Covid product there in April 2020.
Langone is one of the top five medical institutions in the US and the hospital behind the cure for one of the last major global pandemics – polio.
Langone's endorsement was a huge shot in the arm for ONE.
To ease the burden on its staff and give its patients a better experience, Langone deployed Oneview's Cloud for COVID-19 tablet solution, with more than 370 additional tablets across multiple hospitals back in April last year.
At the time of adoption, Oneview CEO James Fitter said, "Healthcare organisations are having to rapidly adapt now to ensure they can deploy critical resources where they are needed the most and one of the big changes is to the daily 'rounds' to monitor patients.
"This is extremely difficult during a pandemic because of the need for clinicians to wear personal protective equipment (PPE) which is in short supply. Our solution enables 'virtual rounds', eliminating unnecessary exposure between clinicians and patients, preserving scarce PPE and ensuring clinicians are being deployed for critical clinical care.
Oneview's technology solved two major use cases for Langone: keeping clinicians out of rooms and keeping families connected to loved ones.
In Australia, ONE also started working with Epworth HealthCare in Melbourne and Chris O'Brien Lifehouse in Sydney to deploy virtual rounding and virtual visitation on their existing Oneview platforms.
In fact, ONE has a track record of success with leading hospitals in four continents including three of the top 20 US hospitals.
ONE's technology can be found in over 9,200 beds globally with an additional 2,679 beds contracted, but not yet installed.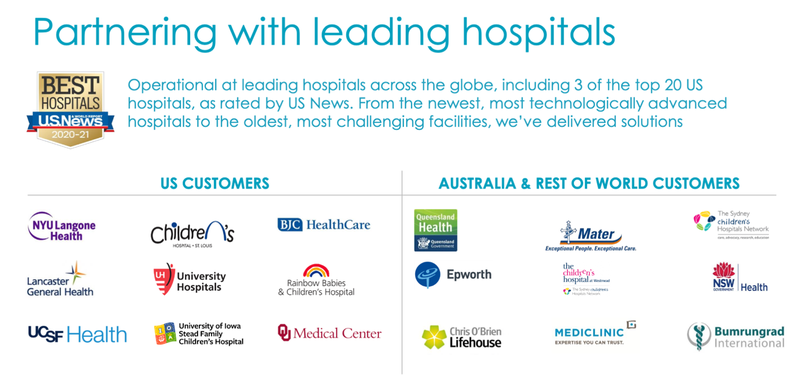 In 2020, ONE added three further major hospitals to its roster: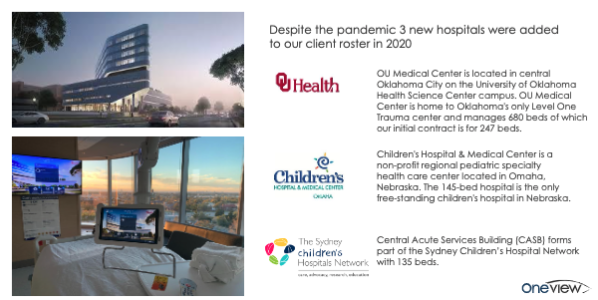 Rollouts to these hospitals have led to a range of highlights that compelled us to make ONE our Tech Pick of the Year.
Live beds are up 30% year on year, which has contributed to ONE's growing revenues.
Given the uptake and interest in the ONE solution by a growing number of hospitals, the company has delivered on many key metrics.
Highlights include:
Expanded global footprint – live beds up 9% YOY to 9,259
Recurring revenue up 13% to €5.1M ($7.8M AUD), reflecting expanded user base despite short-term impact to recurring revenue growth as COVID-19 delayed scheduled deployments
Improvement across key operational performance metrics, delivering reduced cash burn and cost
Significant progress on product development–central to growth strategy including investment in next generation platform
Process improvements and engineering offshoring
Material improvements in productivity
Enabling rapid delivery of the first cloud solution, Cloud for COVID-19.
COVID-19 did have one negative impact for ONE: it prevented access to hospital sites, delaying installation and the go-live increase rate. However this is fine with us, as it gave us a cheaper entry point into what continued to be a very good underlying business. This impact is expected to normalise in 2021.
7. Profit margins expected to increase with continued moves to the cloud
Overall, ONE has delivered higher gross margins given the accelerating uptake of its technology.
Gross profit margins improved to 67% (up from 60% in FY19) due to a changing revenue mix towards higher margin software recurring revenue.
The company had also enjoyed improved operational performance due to a focus on cost control. It has reduced operating expenses by 44% and improved operating EBITDA by 60% to a loss of €6.2M (A$9.7M).
There is also reduced cash burn and the cash balance of €6.8m (A$10.6m) reflects the €4.8m (A$8.7m before costs) capital raise conducted in Nov/Dec 2020 and the significant reduction in operating cash burn.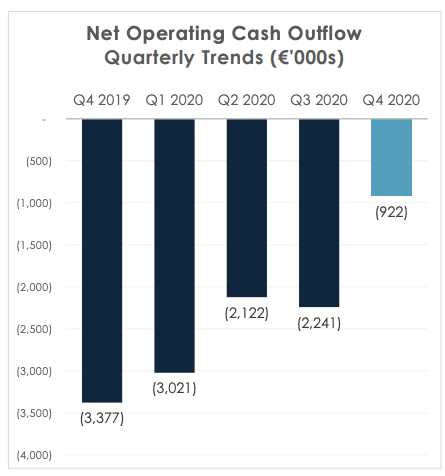 Interestingly, ONE currently has $7.85M in Annual Recurring Revenue (ARR) and is projecting 45% total revenue growth this year, which is another reason this is our pick of the year. However, this does not factor in any future revenue from Samsung (see below).
8. Partnership with Samsung
Just recently, ONE signed a Distribution Agreement with Samsung SDS America, Inc., the enterprise IT solutions provider of Samsung, to offer a bundled solution for bedside digital services for patients in the United States.
The agreement was signed in February this year and is expected to start bearing fruit in the coming weeks.
Samsung SDSA will bundle Samsung tablets with Oneview Cloud Start – the first tier in Oneview's new product suite.
The bundle will be distributed to healthcare-enterprise focused enterprise resellers.
"Our partnership with Samsung provides a unique opportunity to address new virtual models of care and provide the solution for Samsung SDSA to enhance the value proposition for their reseller network," CEO James Fitter said.
The agreement is designed to continue the improvement in US healthcare, in particular patient care and not only opens up further revenue streams for ONE, but also provides customers with an upgrade path to ONE's Cloud Enterprise tier with additional features.
9. Milestones and catalysts in 2021
A major milestone will be the introduction of ONE's full SaaS platform, which is anticipated by the end of Q1 2021.
Full cloud deployment is expected to make it faster, easier and lower-cost to implement and operate Oneview's Care Experience Platform, which will provide ONE with a competitive advantage.
The cloud deployment is expected to reduce total cost of ownership for customers by approximately 30%.
Oneview is already seeing evidence of reduction in time of sales and implementation cycles, which will only be accelerated by a full SaaS roll-out.
Also anticipated in H1 is the availability of the Hybrid Android STB, which would enable support for legacy coax infrastructure.
This is one thing that really caught our eye as we were considering ONE as our pick of the year.
Support for legacy coax infrastructure would mean that ONE's tech is compatible with old school hospital technology opening up enormous expansion potential.
The availability of the android set-top box is central to ONE's strategy to cater to a broader segment of the hospital market with solutions to support both IP and legacy coaxial technology infrastructure.
ONE notes that of its existing customer base in the US, there are an additional ~6,100 beds that are accessed by existing coaxial cabling (as opposed to internet or Wi-Fi).
The Android set-top box provides ONE with a solution to support the beds using this legacy infrastructure, and also provides hospitals with a plug and play solution that will significantly enhance the patient experience while making use of existing hardware.
Set-top-box compatibility with legacy coaxial TV is anticipated next quarter.
Here's a look at what we can expect from ONE in 2021: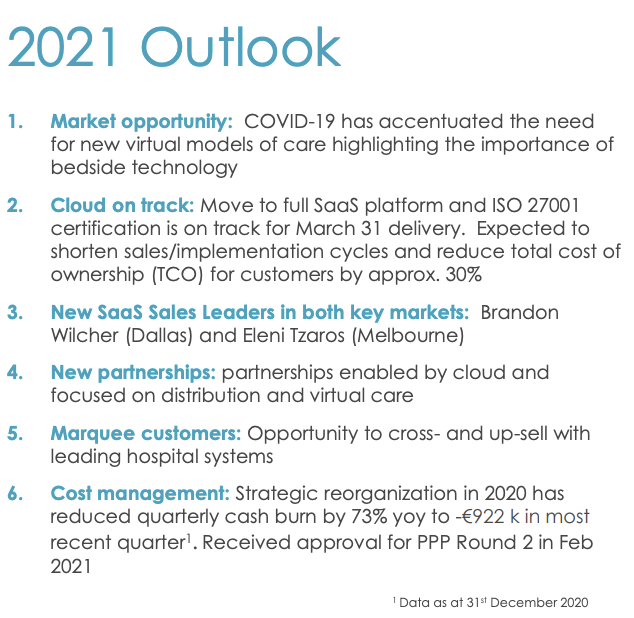 One final thing to note is ONE will enhance its sales and marketing capabilities for the launch of the full SaaS solution aided by the money gathered in a capital raise in November last year.
Selling enterprise SaaS to hospitals is a long slog, but ONE's new cloud offering will make getting the foot in the door faster and easier than before - then it's a matter of growing the contract from there.
The company expects significant YOY growth in live beds, high-quality pipeline of opportunities in the US and Australian markets and a shortening of the sales-cycle with potential customers due to the full transition to Cloud.
10. Right sector, right tech, right time.
As always, we favour investing in companies with strong Environmental, Social and Governance (ESG) credentials - and we really like the positive impact ONE is having on human health.
Better healthcare management, better systems and better patient care is paramount in a world devastated by COVID-19.
Technology is thus crucial in mitigating the risks associated with COVID-19, whilst keeping everyone safe.
Remote and targeted patient care is an excellent leap forward in managing this current crisis.
ONE is helping to evolve the industry, so that better care of all stakeholders is front and centre of the medical industry's mind.
We know it took us a few months to announce a new investment but we take our due diligence very seriously.
We welcome ONE to the Next Investors portfolio family and look forward to providing analysis and commentary as ONE executes its business plan over the next few years.
---