ONE delivers foundation for "100% revenue growth in next 6 months"
Our 2021 Tech Pick of the Year Oneview Healthcare (ASX:ONE) hosted an investor briefing this morning to talk about their results from the first six months of the year and to provide guidance on what to expect over the next six months.
We sat in on the briefing and will today provide our key takeaways. You can watch a recording of the 30 minute investor briefing call here.
ONE delivered everything they said they would in the first six months of 2021, including the launch of its cloud platform, first new sale of its cloud platform, migration of a large client to cloud and onboarding of key channel partners Samsung and Microsoft.
This has set ONE up for the next six months of revenue growth.
While revenue was up a modest (as expected) 13% in the first half, looking ahead, ONE forecast revenue to increase by 100% over the coming six months to reach €10.4M (A$16.79M) which for us was the most interesting number from the presentation.
We also note that on page 14 of ONE's interim financial reports that 54% of revenue is now coming out of the USA, which is a key (and very big) market where we want to see ONE continue to capture market share.
ONE is a health tech and telehealth company that provides hospital patients with a "virtual care and digital control centre" at their bedside to deliver the best possible patient experience during their stay.
Health continues to be a focus of big tech including Apple, Google, and Amazon. The global pandemic has led to significant growth in online, telehealth need and acceptance, and it has substantially rerated the value proposition for bedside technology and care experience platforms that moved up the list of hospital's capital priorities.
Yet there remains plenty of future upside as health systems are now preoccupied caring for COVID-19 patients and hospital budgets remain under pressure.
Healthcare providers are extremely cost-conscious, and under constant pressure to improve patient care while maintaining profitability. This is where ONE and its cloud solutions can provide solutions while cutting IT infrastructure costs. Cloud computing also cuts the time it takes to deploy software.
We invested in ONE because we liked its existing sales traction in hospitals around the world, on top of that we REALLY liked its newly launched cloud offering. ONE's cloud offering could potentially accelerate its revenue using a "land and expand" sales strategy, as hospitals globally rush to digitise after the pandemic.
For anyone new to investing, we believe that the most important thing to do is to take every opportunity to hear the management speak about the company's progress, so you can form your own opinion of how well they deliver what they promise.
Since we have been following ONE they have delivered everything they promised they would, so we were very interested to hear them say what they plan to achieve over the next six months:
Again, you can watch a recording of the 30 minute investor briefing call here:

Since we invested in March this year, ONE has delivered our expected milestones, shown in yellow, and has set up the foundation to deliver further expected milestones, shown in green, over the next six months: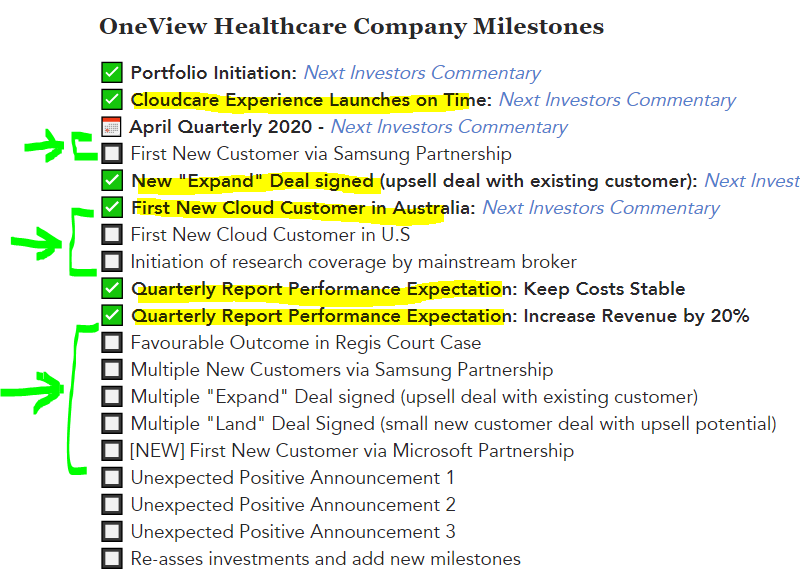 In the investors briefing call, we get a summary of what ONE achieved in the first six months of 2021: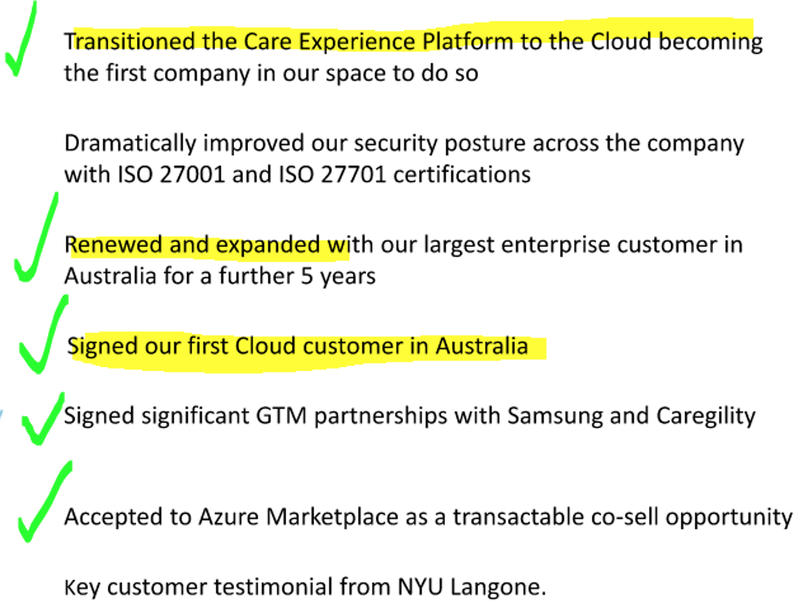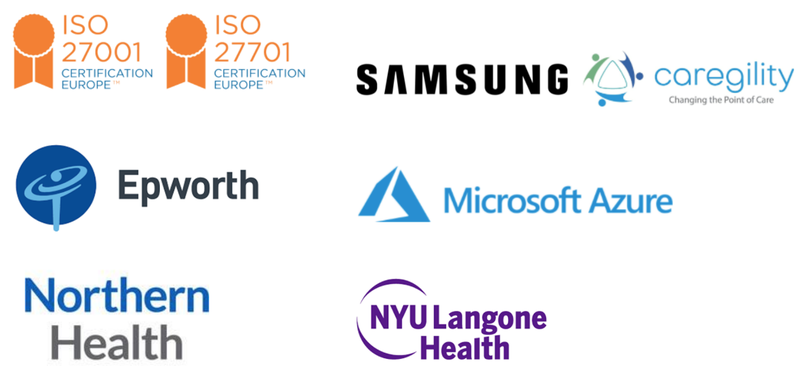 And what ONE plan to do in the next six months:
Key takeaway: Foundation now in place for 100% revenue growth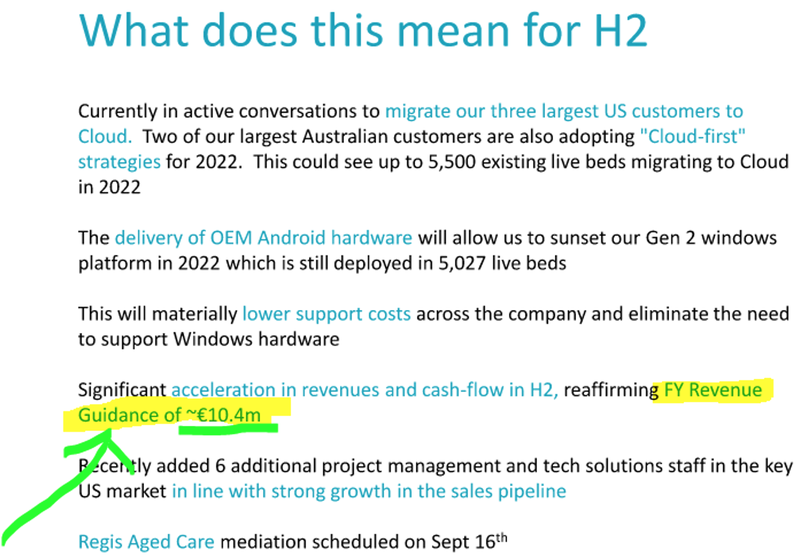 Here is our original initiation note explaining ONE's hospital patient experience technology and why we invested in ONE back in March this year.
In summary, as investors we want to see an increased number of newly signed smaller deals of ONE's new cloud offering — deals that can be expanded. We also want to see current clients to switch to ONE's cloud offering.
Our key take-aways from this morning's call:
100% revenue growth guidance for the next 6 months: This is a huge jump if ONE can deliver it. At 13% growth for the six months just gone, revenue growth wasn't huge, but that was expected, while ONE put everything in place to start growing revenue (launch cloud platform, on-board Samsung sales partner, increase sales team).
Efficiency and speed to launch of the new cloud based offering: Compared to ONE's original on premise software that needed an on site server, the new cloud offering is faster to deploy and much less $ required to support over time - which means ONE can now sell lots of cloud product but it is much easier to implement and support, meaning a lower cost base as revenue scales.
Big clients are moving to cloud: This is now in progress and will lead to further adoption of cloud-based solutions by both large customers and then smaller healthcare providers as they see other hospitals making the switch.
Now signing easier, faster, expandable deals with cloud offering: We expect to see more smaller cloud deals (which are easier to sell).
54% of ONE's revenue is now out of the USA: The USA is the biggest OECD market in the world, and ONE is evolving into a USA tech story. We want to see continued USA growth.

Healthcare tech market is coming to life: Global IT consulting firm Accenture provides the following insights:

Microsoft partnership: We want to see first sales from this in the coming six months. Today's results come after news on Friday that following the launch of its cloud-based CXP earlier this year, CXP Cloud Enterprise is now available on the Microsoft Azure Marketplace, an online store providing applications and services for use on Azure.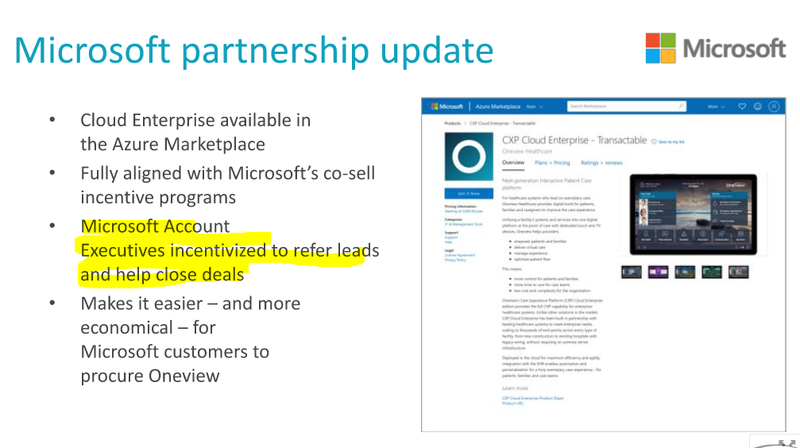 Samsung partnership: Should start seeing traction and revenue, Samsung sales repos now onboarded and ready to start selling.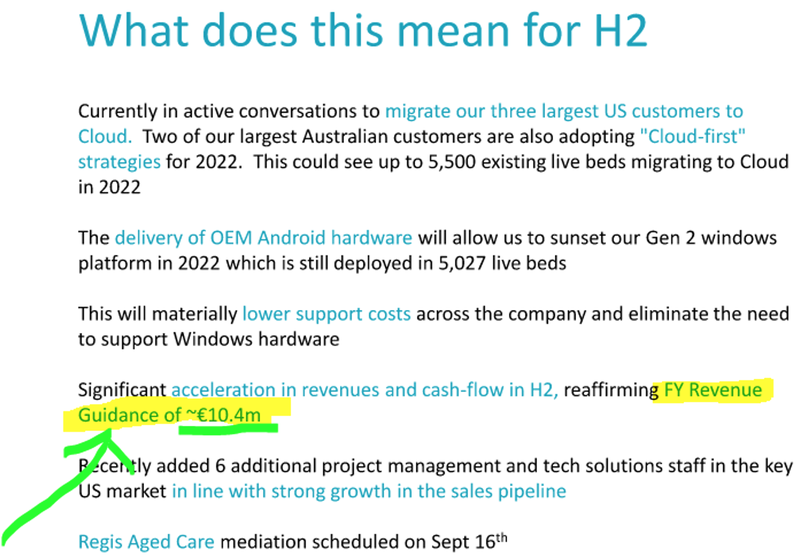 REMINDER: What is OneView Healthcare (ASX:ONE) and why we invested
In March, we invested in ONE and added them to our portfolio as our 2021 Tech Pick of the Year. Here are the ten reasons we gave for investing in ONE, you can see our deep dive into each reason in our original note here: 10 reasons we invested in ONE.
Here are the headline reasons:
Great product for a hot sector - telehealth and health tech
Established tech company that is undervalued (*our opinion was that ONE was undervalued when we first invested in March 2021)
Board, management and shareholders all invested in the last round.
The product looks really good
Big Market: Growing need for virtual healthcare
Market Traction: Hospital uptake continues to grow
Profit margins expected to increase with continued moves to the cloud
Partnership with Samsung
Milestones and catalysts in 2021
Right sector, right tech, right time.
Our journey with ONE so far
In March 2021, we announced ONE as our Tech Pick of the Year for 2021.
This followed the success of our 2019 Tech Pick of the Year — WhiteHawk, which is up 300%, at 18¢; and Advanced Health Imaging (formerly MyFiziq) — our 2020 Tech Pick of the Year — which has risen from 11¢ to $1.29 today.
A few weeks later, we provided our deep dive analysis that outlined the 10 reasons that we invested in ONE.
Then, later that month, we revealed how we expect ONE's new cloud offering to turbocharge growth of new hospital clients, hospital beds and recurring revenue.
In April, ONE released its quarterly results demonstrating its progress. Revenue was up 64% on the prior year, while costs were down a massive 84%. It also reported that a number of clients had renewed their contracts, a sure sign of confidence in the company and its technology.
Progress continued in May, when New York based hospital NYU Langone, one of the top 10 best hospitals in the USA, delivered an hour long webinar on the benefits they are getting from ONE's technology. You can watch clips from that webinar here, or read the transcript.
After having only launched its cloud offering in March, by June, ONE had secured a five year contract with Victoria's largest private health service, Epworth HealthCare, for all 1,440 of its beds.
Just eight days later, ONE announced its second cloud deal, this time with Northern Health in Melbourne — another important proof point that ONE's cloud strategy was working.
Lastly, in late-July, ONE (unsurprisingly) reported another quarter of strong growth, which proved to be much better than our expected milestones for the company.
---