IVZ Identifies New Prospective Targets Ahead of First Well
Disclosure: The authors of this article and owners of Next Investors, S3 Consortium Pty Ltd, and associated entities, own 6,706,980 IVZ shares and 140,989 IVZ options at the time of writing this article. S3 Consortium Pty Ltd has been engaged by IVZ to share our commentary on the progress of our investment in IVZ over time.
Our 2020 Energy Pick of the Year, Invictus Energy (ASX:IVZ) is now a step closer to finally drilling the largest seismically defined, undrilled oil and gas structure in onshore Africa.
Drilling is set to begin in June, with preparations to commence construction of the well pad and civil works all well advanced.
This drilling event has been years in the making, and by the looks of it, we are now only a few months away.
Today, IVZ announced that it has completed 2D seismic processing — one of the final steps ahead of drilling.
The seismic interpretation indicates that IVZ has a massive structure on its hands, while identifying new prospective targets.
The seismic confirmed:
prospectivity at the Mukuyu Prospect (previously named Muzarabani) including extensive seismic anomalies at multiple levels,
a substantial new shallow target of 15km x 16km identified, and;
an extensive array of prospects and leads along the basin margin.
IVZ is planning a two well drilling program that's due to commence in June — the first step to opening one of the last untested large frontier rift basins in onshore Africa, the Cabora Bassa Basin in northern Zimbabwe.
Today's news comes little more than a week after we updated you in a note on IVZ explaining that in a deal with the Sovereign Wealth Fund of Zimbabwe, IVZ has expanded its landholding seven-fold from 100,000 to 709,300ha.
The expanded 709,300 ha licence area hands IVZ control of the entire Cabora Bassa Basin.
This could prove to be extremely valuable should the company make a successful "basin opening" gas discovery.

In the lead up to IVZ's maiden drilling program, with the seismic data now processed, we await confirmation of the final well locations, and hopefully some binding farm-in offers.
While Cluff Energy Africa's option to commit to a farm-in to the two-well exploration campaign (including the drilling of the Mukuyu Prospect) remains on the table, the drilling program is said to cost just $12M — a cost of just $8M to IVZ assuming that Cluff Energy opts to farm-in 25%.
We think that's a small price to pay given that the first well alone will hit no fewer than four primary target levels.
We like the risk reward scenario on this drilling, given IVZ has an elephant scale target and there is the potential to unlock a new oil and gas system.
We've been invested in IVZ since September 2020, having been drawn to the company and its prospects for three main reasons (as detailed in our IVZ Investment Memo):
Firstly, we identified IVZ as a first mover on this 'elephant scale' target (elephant fields are conventional oil or gas fields with a recoverable reserve of 1 billion boe or more). The Cabora Bassa Project contains the largest undrilled prospect onshore Africa — independently estimated to contain 8.2 Tcf and 247 million barrels of conventional gas condensate (gross mean unrisked basis).
Secondly, the macro picture is highly supportive of such a project as the world transitions away from its coal reliance. Furthermore, Africa, and southern Africa in particular, are dealing with an ongoing energy crisis and are in crucial need of new gas supplies.
Now, with the US and Europe looking to phase out Russian gas imports and cutting imports of Russian oil, African gas projects are popping up on the radar as a previously looked over source of energy supply. The following article highlights the opportunity for African gas:
Lastly, having spent many years investing in early stage oil & gas explorers, we like to have exposure to and remain invested through big oil & gas drilling events. While this doesn't always pay off, some of our largest successes have come from 'swing from the fences' high impact drilling. For example, back in 2012 Africa Oil jumped 1,200% on a discovery — we hope IVZ can deliver similar outsized success.
However, there are no guarantees in these high risk exploration investments, as evidenced by 88 Energy's latest well where drilling failed to hit a "production-test worthy" section of the reservoir in Alaska.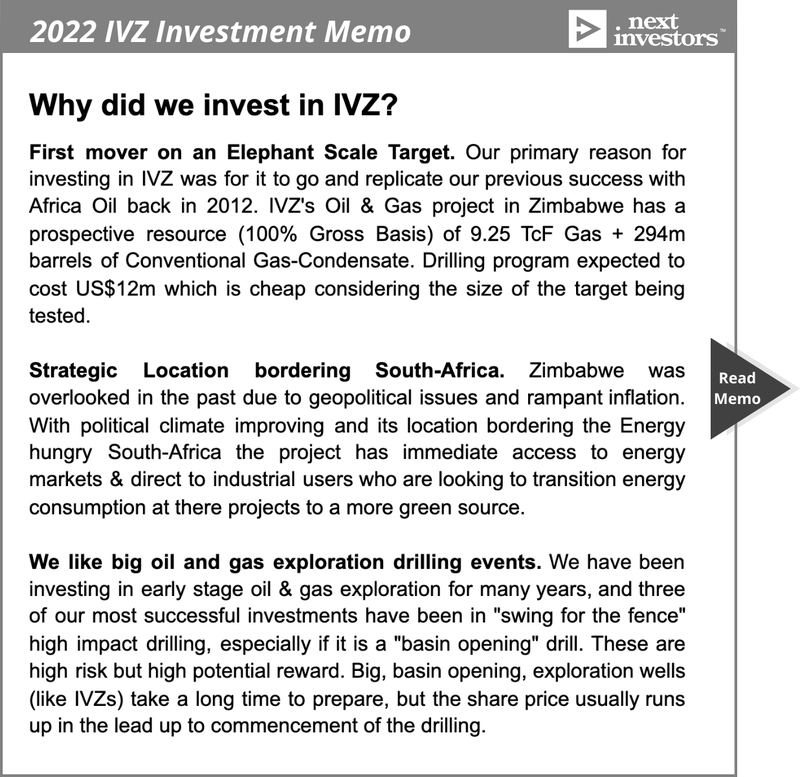 For those not so familiar with IVZ, its project in the Cabora Bassa Basin and its history, the following recent videoprovides a great overview: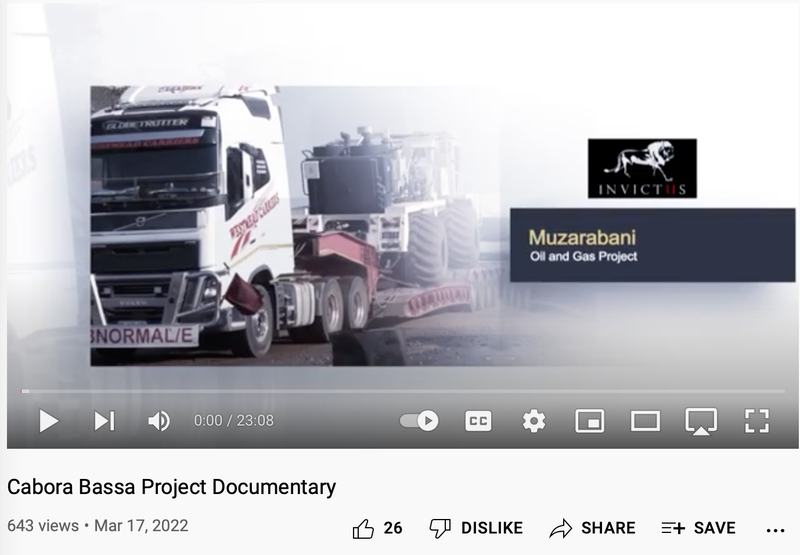 Drilling on track for June
With IVZ now having identified several basin margin prospects, as long term investors we look forward to the first well in June, which will test the highest priority seismic anomalies — multiple targets for a cost of just ~$12M.
The well trajectory has been developed to test all key horizons in Mukuyu Prospect.
IVZ is planning a deviated well to test Mukuyu (formerly Muzarabani) at multiple target levels along the well path on the southern flank of the structure as shown (see image below).
Mukuyu-1 (Muzarabani) Planned Well Trajectory & Primary Targets
There have been 11 seismic horizons mapped, and the first well will target four of the key levels. These primary target levels (A to D) are highlighted, but there are potentially others that may not necessarily exhibit anomalous amplitude character.
The extent of the Mukuyu closure represents an area of approximately 200 square kilometres, while the amplitude anomalies extend up to 16km along strike and 15km along with dip.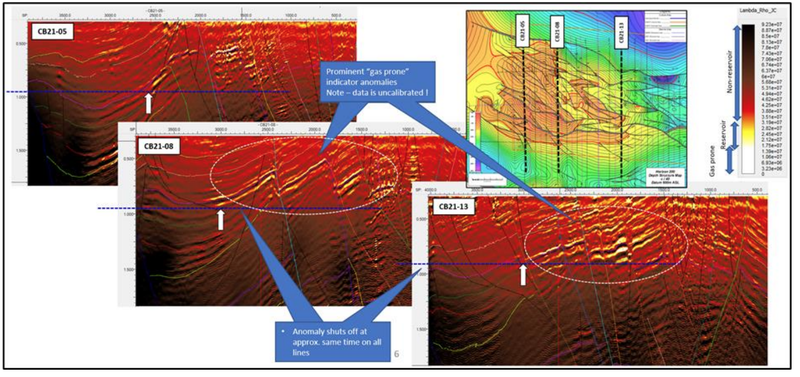 Mukuyu Prospect (formerly Muzarabani) Lambda Rho seismic inversion display at Horizon 200 Level
Mukuyu Prospect (Muzarabani) at one of primary targets Horizon 500 Level (Pebbly Arkose / Upper Angwa Alternations Member) and proposed Mukuyu-1 well location
The seismic data interpreted was acquired in the 2021 Cabora Bassa 2D seismic survey, along with the reprocessed data of the 1990 legacy US$30M Mobil dataset.
The company says "preparations to commence wellpad construction and civil works are well advanced" with the contract awards completed and site surveying underway.
And while an extensive array of prospects and leads has been identified along the basin margin, IVZ is still yet to pick one for the second well in the 2022 two-well drilling campaign.
IVZ plans to continue to assess each of the basin margin prospects and select the most suitable candidate to be drilled as the second well.
Importantly, now that the seismic interpretation has been completed, the project becomes immediately more attractive to potential farm-in partners.
Late last year IVZ Managing Director Scott Macmillan hosted an investor webinar where he discussed the importance of all of the seismic data being collected.
He mentioned that once the results had been received and fully interpreted it would be another element of derisking the project technically, making it more marketable to potential offtake partners.
Today's results have put some more colour around the potential size of a discovery (if IVZ is successful in the upcoming drilling program) and more importantly have made it very clear that this isn't a project that will be drilled only once or twice.
But the project already had a lot going for it. IVZ's world class (newly renamed) Mukuyu Prospect (formerly Muzarabani) is the largest undrilled prospect onshore Africa, having been independently estimated to contain 8.2 Tcf and 247 million barrels of conventional gas condensate (gross mean unrisked basis).
As for the change in the prospect name (Muzarabani to Mukuyu), IVZ says it has adopted a new prospect naming convention which takes after trees found in the project area.
Progress made on farm-in partners
A week ago, IVZ announced that Cluff Energy Africa's option to commit to a farm-in over the upcoming two-well campaign has been extended to 30 April, and that it expects there to be an updated binding farm-in offer by then.
We were also happy to hear that IVZ remains in discussions with "multiple parties for additional farm-in offers", which to us means there is a bit of competition tension here.
Given today's seismic results and the recent backing from the Sovereign Wealth Fund of Zimbabwe, the project is now looking even more attractive to potential partners.
That is especially true for parties that may have been waiting on some of the political/permitting risks to be addressed.
The deadline for the farm-in process to be finalised is now 30 April, ahead of the two well drilling program that's scheduled for June.
Securing partners to help finance exploration was a major objective that we wanted to see IVZ achieve, as we outlined earlier this year in our 2022 Investment Memo.
As you can see below, the first objective on our list was the detailed interpretation of the recent seismic survey. With today's announcement, we can check that off the list.
Most importantly, IVZ are on track to achieve its first drill in June — the primary objective that we wanted to see that company achieve this year.
Our IVZ Investment Memo for 2022
Below is our 2022 Investment Memo for IVZ where you can find a short, high level summary of our reasons for investing.
The ultimate purpose of the memo is to record our current thinking as a benchmark to assess the company's performance against our expectations 12 months from now.
In our IVZ Investment Memo you'll find:
Key objectives for IVZ in 2022
Why we invested in IVZ
What the key risks to our investment thesis are
Our investment plan
To access the IVZ Investment Memo simply click here.
---