EXR Signs Hydrogen MoU with Mongolian Ministry of Energy while Three Drill Rigs Continue Gas Search
Our long term portfolio investment, Elixir Energy (ASX:EXR) is defining a large natural gas resource on the Mongolian-China border, with the goal to replace the burning of coal for energy in China.
EXR is also expanding the scope of its operations to develop clean hydrogen on its gigantic land position in Mongolia's very sunny and windy South Gobi region.
While it continues to progress its natural gas exploration with ~$34M raised 4 months ago and 3 drill rigs running concurrently, back in April we noted that EXR quietly announced progress on a hydrogen project to complement its natural gas discoveries - this was BEFORE hydrogen became cool.
Today EXR announced it has signed an MoU with Mongolia's Ministry of Energy to co-operate over Hydrogen to create a new hydrogen industry in Mongolia.
EXR also commissioned a report to evaluate Mongolia's wind and solar potential in the South Gobi desert - the report reckons that the cold (but sunny) climate and strong winds deliver a relatively high renewable generation capacity that can deliver more hydrogen for a similar capital investment than other aspiring renewables regions.
Every major, traditional energy company is starting to diversify into clean energy, so it's a natural step for natural gas hopeful EXR to add a hydrogen component to its early stage gas projects, hopefully making the combined package more attractive as a takeover target once both projects are further de-risked (which will take a few years still).
Both EXR's projects are currently sitting in a pretty nice macro theme:
Natural gas prices are surging due to an energy supply crunch.
Clean hydrogen is all over the news with significant interest from governments and the private sector.
Neighboring China (EXR's intended export destination) is working hard to secure energy supplies and switch to clean energy.
So what's been happening with the EXR share price?
After touching 50c back in April, EXR's share price has been moving sideways around the low ~20c mark since it raised $26M at 36c in an insto placement and SPP to its large retail base. Now it finally looks like the share price is ready to start moving up again - we provided a detailed commentary back in June on why we thought the share price was struggling to move up at the time - we thought it had looked ready to move but it appears we were a couple of months early in our prediction...
EXR was our 2019 Energy Pick of the Year and we continue to hold a long term position and have taken some profit along the way. EXR has been one of the best stocks to date for us and our long term readers since we introduced our portfolio model in 2019:
EXR has been consistently executing milestones since we invested and has had a great run over the last couple of years:
Giant exploration license (almost the size of Belgium),
Early stage gas fired energy plant MoU supported by Ministry of Energy,
10 out of the last 13 wells drilled hit coal, last 9 have been successful.
Busy work program - 3 rigs now drilling,
Hydrogen project delivering real progress - government MoU signed,
Raised $8M from oppies exercise,
Raised $10M from instos,
SPP raised $16.6M from existing shareholders.
10 out of the last 13 wells drilled hit coal, last 9 have been successful.
With ~$36M in the bank a few months ago, 3 drill rigs concurrently proving out coal seam gas and now an MoU to develop hydrogen on the Chinese border we continue to see additional upside in EXR over the next few years.
Mongolia is a region that is exceptional in its combination of massive potential gas and renewable energy resources (wind and solar) that are needed for hydrogen production, has minimal competing land uses, and is located right in the heart of Asia.
We know that the company's massive 30,000 sq. km Nomgon project is highly prospective for coal seam gas — it has completed multiple successful drilling programs, unlocked new sub-basins, doubled the size of its prospective resource, and made a coal seam gas discovery made in the project area.
This was again confirmed last month when EXR announced that the latest well drilled has opened up another new and potentially very extensive coal-bearing basin. With this latest success, each of EXR's last nine wells have now intersected their coal targets — results that have encouraged EXR to accelerate its drilling program for the rest of 2021.
But EXR is expanding its vision and also considering opportunities on its landholding beyond gas exploration. It has been busy growing its capabilities and optionality in the downstream energy sector this year - mainly hydrogen - in a location that supports multiple types of clean energy exports.
EXR is not quite an early stage explorer anymore like when we first invested, the gas projects have been de-risked, but as with every investment there are still risks to consider. In EXR's case they still need to prove a gas resource that is commercially extracted via more drilling, testwork and feasibility studies, which will likely require a dilutive cap raise some time in the next few years. The hydrogen project is still early stage and will likely be capital intensive to get off the ground - if EXR can get it past the feasibility stage.
EXR's hydrogen plans accelerating
After first announcing its hydrogen plans back in April, EXR has reported this morning that it is making headway with its hydrogen project.
EXR has outlined its plans to add a blue and green hydrogen strategy to its energy mix via an MoU with Mongolia's Ministry of Energy.
Even though natural gas prices are currently surging, we like this move as it diversifies the company's opportunities, and it is highly complementary to EXR's existing natural gas related assets and experience in Mongolia.
Its core strategy of exploring for natural gas just north of the Chinese border has obvious potential synergies with evaluating hydrogen (blue and green) production related opportunities in the same location.
EXR's core assets and skill sets — including dealing with multiple levels of government, local communities and potential energy markets — are as relevant to renewable energy and hydrogen production as they are to gas exploration.
In fact, one of the reasons that we initially liked EXR's plan to explore for coalbed methane in this part of the world, was its potential to be supportive of the emerging large scale renewables industry in the region.
The growth in renewables (and gas) has been driven by China's crackdown on coal use and it wanting to cut carbon emissions.
So EXR adding hydrogen to the mix further supports the region's fast growing green energy sector.
EXR have been working on this plan for some time now. As we reported back earlier this year, it had already created a clean energy subsidiary, GOH Clean Energy LLC, and secured a SODAR sun and wind monitoring machine. SODAR, or Sound Detection and Ranging is a weather observing device that uses acoustic signals to detect wind speed and direction.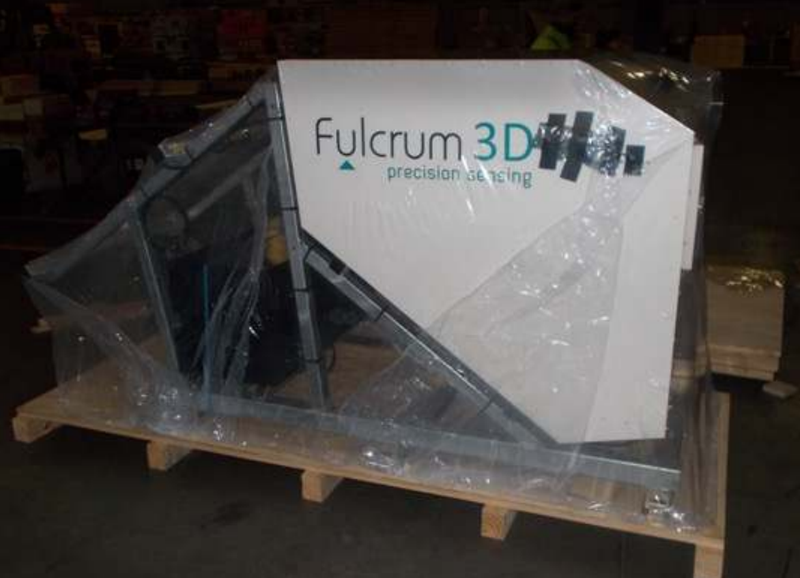 GOH Clean Energy's SODAR
This opportunity has been presented to EXR in large part thanks to its longstanding and ongoing good relations with the Mongolian government.
Under the MOU with the Ministry of Energy, the parties will explore green hydrogen (H2) opportunities in Mongolia.
EXR views this as a first step and has also begun engaging with other key stakeholders that are required for a successful green H2 project. These will be added and announced in coming months.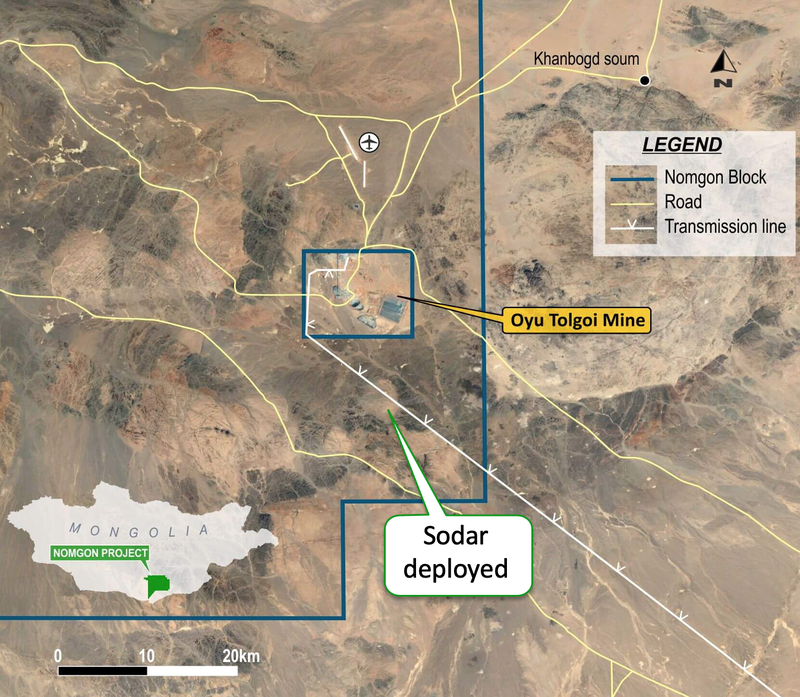 Cost advantages of EXR's world class location
EXR's location gives it an advantage as Mongolia may be one of the best places in the world to produce green hydrogen.
The South Gobi region, which hosts EXR's current coal seam gas operations, has world class wind and solar renewable resources and it is immediately proximate to China.
The South Gobi region is blessed by high quality renewable resources – which in the future could be exported as electricity or as hydrogen in the longer term.
Moving hydrogen between large distances, particularly between continents, is expensive and hydrogen transport technology is still emerging.
Potential sources of hydrogen immediately adjacent to energy markets could be favoured, especially by the Chinese steel industry as a coking coal replacement.
EXR's exploration licence is adjacent to very large potential Chinese hydrogen markets including large steel mills in China's "Inner Mongolia" region, which produce six times the total Australian steel production.
Delivery costs will be low given that the product can be transported by pipeline to neighbouring China. Plus, Mongolia already has a world-class renewables industry (wind and solar) and the land has very few competing uses.
EXR's Nomgon Project on the Mongolia-China border and major infrastructure
When it comes to the cost of producing hydrogen, around two-thirds of the cost is tied to the cost of renewables.
As you can see below, especially when it comes to shorter distances, EXR's transportation methods (hydrogen via gas pipeline or gas or liquid hydrogen via trucks) to nearby customers offer a cost advantage.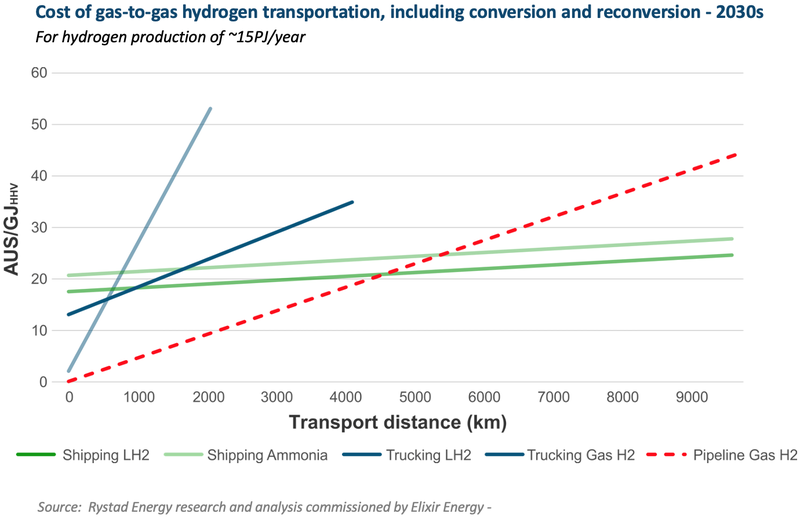 Hydrogen as an energy source
Hydrogen (H2) is the most common element in the universe, but on earth it is extremely rare as an element. It is, however, common in readily available molecules such as water and methane and can be obtained by separation processes from these.
Hydrogen is not a primary fuel source in itself but is produced from other energy sources. It functions as an energy carrier or vector and can be used to move and store renewable electricity.
The key attractive feature of using H2 as an energy source is that its combustion produces heat which can be used to generate electricity, but it does not produce greenhouse gases like CO2.
For this reason, international energy experts now recognise H2 as playing a very large role in a future decarbonised global energy system.
Today, still without widespread government policies to reduce greenhouse emissions, H2 only serves niche markets such as oil refining. However, in the decades to come, it is expected to become a major part of the global energy mix as governments strive for net zero emission targets.
Green, blue, or grey?
It is important to understand that not all hydrogen is the same when it comes to its green credentials.
Grey hydrogen, produced from carbon intensive fossil fuels, is the most environmentally damaging as it emits CO2 in the process.
Blue hydrogen is created from gas fired energy (EXR has gas), and while produced using fossil fuels, CO2 is sequestered in the process.
Green hydrogen is the gold standard and the most costly. It is created via electrolysis from renewables such as wind and solar energy (EXR is now measuring the wind and sun on their giant license in the Gobi Desert).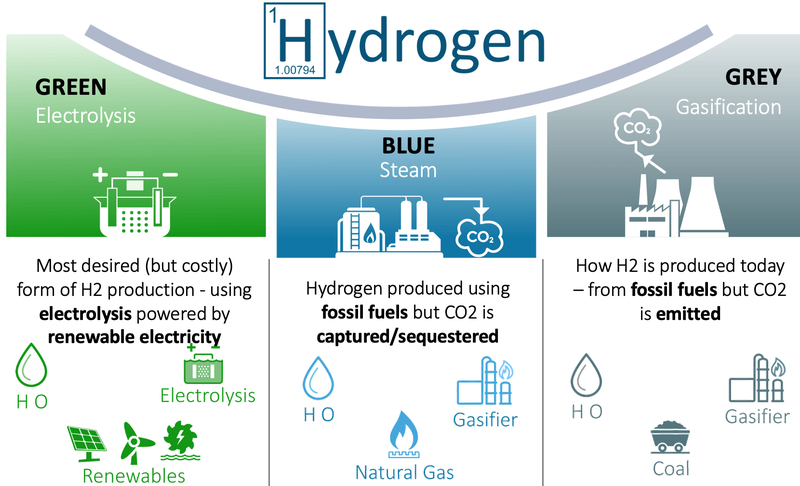 If Carbon Capture and Storage proves viable in coal seams, EXR could produce blue H2 using its coalbed methane. Plus, while water costs are just a small part of total green H2 costs, water from CBM production could be used as feedstock for green H2.
And given the extensive renewable energy sources southern Mongolia — and its proximity to customers — EXR is in a perfect location to produce and distribute valuable green hydrogen.
Here's a look at the process of producing the two types of hydrogen (blue and green) that EXR could produce: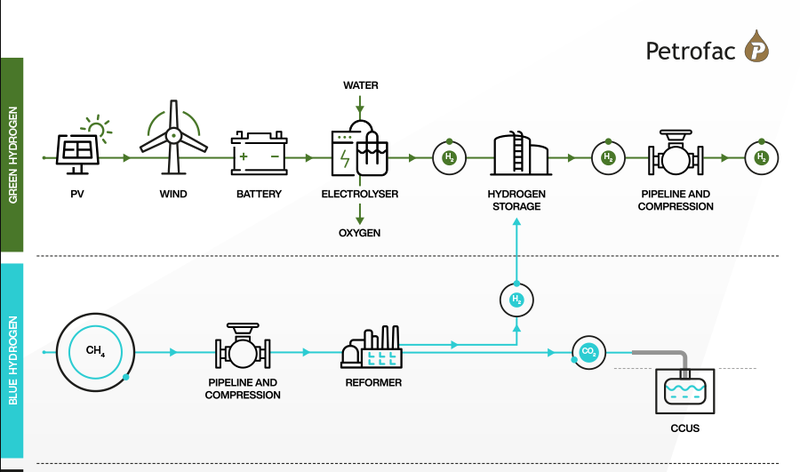 Latest gas exploration update
While its hydrogen plans are the focus of this note, let's not forget that EXR continues progressing its gas exploration programs.
Last month, EXR provided an update of its current coalbed methane exploration program, reporting that its latest exploration well has revealed another new coal-bearing basin which "could be very extensive".
EXR announced that the Richcairn-1S exploration well has discovered 16 metres of coal and 20 metres of highly carbonaceous mudstone.
Now with the newly discovered Richcairn coal-bearing basin, so far in 2021 EXR has added three new potentially productive sub-basins to its inventory.
After a rocky start to the 2021 exploration program, all nine of EXR's last wells have intersected their coal targets — an exceptional strike rate for any region, let alone one of the sheer size and underexplored nature of EXR's licence.
That prompted EXR to accelerate its 2021 exploration program by adding a third drill rig to the mix.
Managing Director, Mr Neil Young, explained EXR's exploration plans and its "rinse and repeat" model, under which it adds and de-risks gas resources "building block by low cost building block".
EXR will now continue to gather the data required to underpin its foreshadowed two stage production testing process.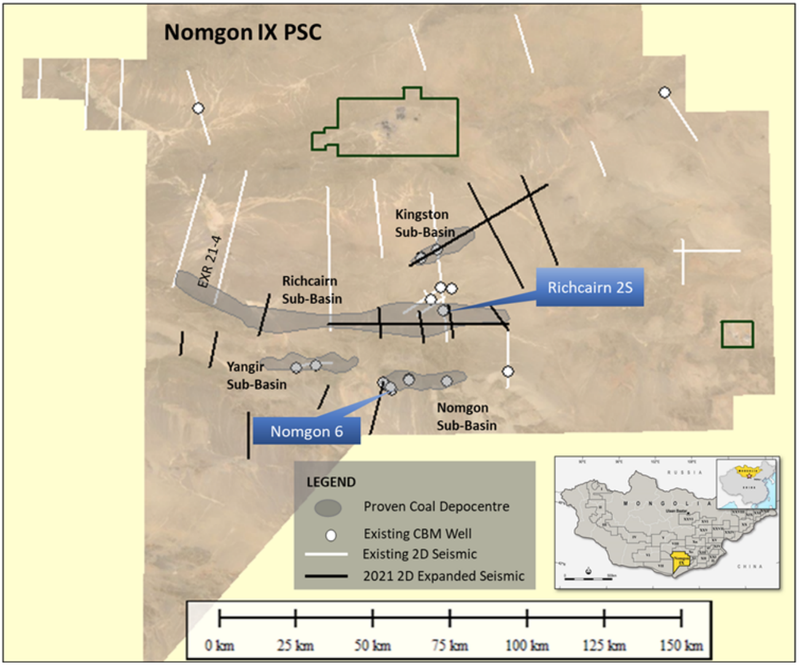 EXR is reporting Environmental, Social and Governance (ESG) disclosures and progress
Best in class ESG companies attract more capital, better customers and top talent – this leads to better shareholder returns over time - EXR discloses its ESG progress and improvements on a quarterly basis.
Click to view EXR's latest ESG report: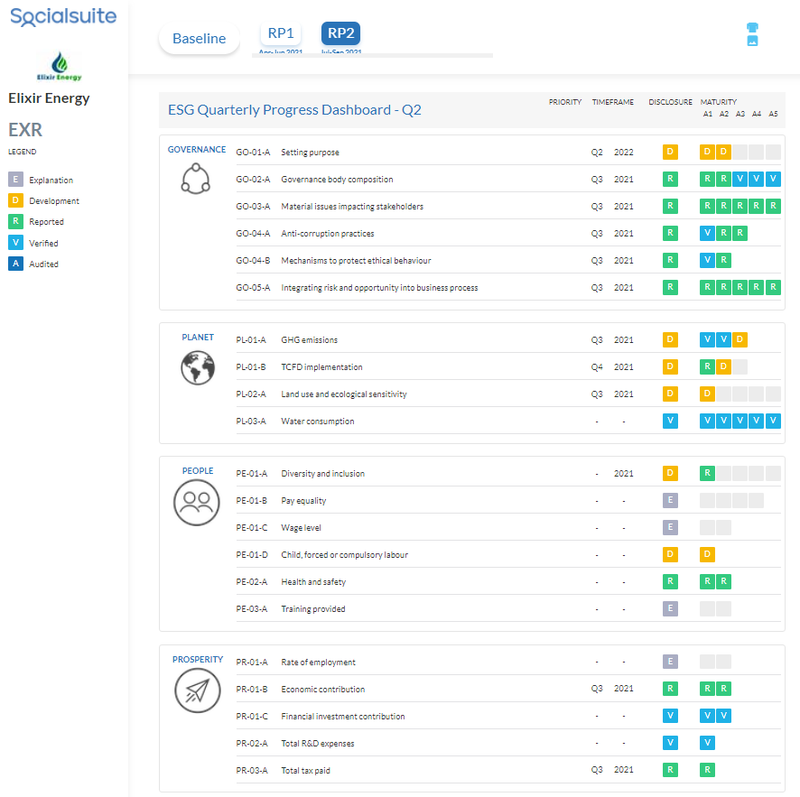 Green Hydrogen Project
✅ Green Hydrogen Project Announced
✅ SODAR Machine Mobilised
🔲 Update on initial SODAR results
✅ [NEW] MoU with Mongolian Minster of Energy
🔲 New Milestones Added
Nomgon Natural Gas Project
✅ Environmental Impact Assessment Approved
✅ 200km of Seismic Operations (2019)
✅ 4 Wells Drilled in 2019
✅ 7 Wells Drilled in 2020
🔄 13 Wells Drilled in 2021
🔲 2022 Drilling Program Announced
✅ Prospective Resource Increased
✅ 200km of Seismic Operations (2021)
🔲 Production testing well drilled at Nomgon
🔲 Production testing well drilled at Yangir
🔲 Update on Nomgon power station project
🔲 Other wells yet to be named based on seismic and analysis from other wells
2021 Drilling Program
🟩 Appraisal Core-hole 4 returns "sales gas" (Yangir-2)
🟥 Exploration well 3 does not intersect coal (Temee-1S)
🟥 Exploration well 4 does not intersect coal (Cracker 1-S)
🟥 Exploration well 5 mechanical failure (Manlai-1S)
🟩 Exploration well 6 intersects Coal (Richcairn-1S)
🟩 Core-hole 5 Drilled & Intersects Coal (West Yangir-1)
🟩 Core-hole 6 Drilled & Intersects Coal (Nomgon Central-1)
🔄 Lab Results Core-hole 5
🔄 Lab Results Core-hole 6
🟨 Appraisal well 6 intersects coal (Kingston-1S)
🟨 Appraisal well 7 intersects coal (Kingston-2S)
🟨 Appraisal well 8 intersects coal (Kingston-3S)
🔄 Appraisal well 9 (Nomgon 6)
🔲 New Well 12
🔲 New Well 13
EXR Investment Milestones
✅ Initial Investment: @3.9c
✅ Increase Investment: @2.6c
✅ Increase Investment: @13c
✅ Price increases 500% from initial entry
✅ Price increases 1000% from initial entry
🔲 Price increases 2000% from initial entry
✅ 12 Month Capital Gain Discount
✅ Free Carry
✅ Take Some Profit
🔲 Hold remaining Position for next 2+ years
---