EXR Emerging from Post Placement Price Pressure
Elixir Energy (ASX:EXR) is defining a large natural gas resource on the Mongolian-China border, with the goal to replace the burning of coal for energy in China.
EXR is emerging from recent share price weakness, below is what we think happened.
We will also share a few other nail biting dip recoveries from our portfolio later in the note.
EXR owns 100% of its giant 30,000 km2 project, which has a prospective gas resource of 14.6 trillion cubic feet, and it's going to get bigger.
EXR was our 2019 Energy Pick of the Year and we hold a long term position. EXR has been one of the best stocks to date for us and our long term readers since we introduced our portfolio model in 2019. We continue to see additional upside in EXR after exploration success on 10 out of 12 wells to date.
EXR now has ~$36M in the bank (raised at 36c) and will be drilling DOZENS of exploration and appraisal wells over the next 12 months, with two drill teams now on the ground.
We were surprised to see such a big sell down over the last two weeks after the first of MANY, MANY upcoming drilling events didn't return a positive result.
We think the EXR selldown is temporary - in fact we have seen quite a few of our portfolio stocks bounce back from recent dips from general market weakness during May - we share a few of them further down in this note.
EXRs announced their second drill team spudded their first well on the 27th May, and results should be out any day now, where we hope a good result will be a catalyst for the share price to return to pre placement levels.
So why the share price weakness?
1,400 shareholders participated in EXRs' Share Purchase Plan (SPP) which raised $16.6M at 36c/share. This adds to the $10M raised from institutions (also at 36c/share) and the $9M in bank EXR already had according to the last quarterly.
We understand some people like to sell after a SPP to make a small profit, and nobody likes a drilling event that doesn't deliver (looking at you Cracker1-S...) even if it's just one of many.
We guess some SPP participants might have been worried about seeing a paper loss once the price went below 36c and chose to sell their position worrying that the price would continue to fall...which then may have caused more selling as paper losses looked worse and worse for other holders - a vicious cycle but one that can quickly reverse once selling is finished...
On the 27th May, the undesirable result on the Cracker 1-S exploration well exacerbated the selling situation, and it seems many holders felt like the share price had more to fall and sold.
But whenever there is a seller there is a buyer on the other side, so there is definitely a few people out there picking up shares for under 36c - which is a better price than $10M of institutional "smart money" that came in a few weeks ago AND $16.6M of 36c SPP money.
Congrats to anyone who read the post placement selling for what it was and bought the dip (especially if EXR keeps going up).
There is certainly a lot in the news pipeline for EXR to look forward to, as they deploy their $36M across two drill teams - there is likely to be news every two weeks with news from the current drilling expected any day now.
We think that the placement and SPP selling is almost done given the back to back price rises over the last few days - just in time for EXR to start releasing updates on its many other upcoming wells. In fact there is a well being drilled right now.
EXR has been one of the best performing stocks in our portfolio, hitting success in 10 out of 12 holes so far.
In our opinion, the share price got unfairly smashed after the SPP and Cracker 1-S result, even though EXR is funded to drill dozens more wells.
It seems those who don't like seeing a paper loss have now left the building and EXR's share price is back on the march again to reflect anticipation of upcoming newsflow.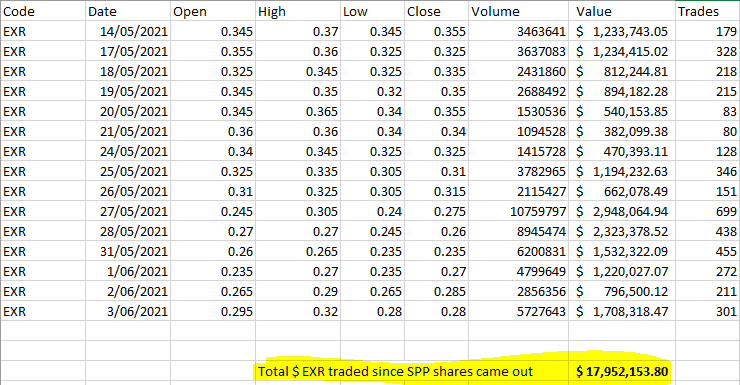 We are long term holders, but understand that each individual has different circumstances and investment strategies, so appreciate that some people will exit after a placement or if they perceive a news event to be the "final straw" for them to sell.
As long term holders we just ride out the waves and try not to get caught up in the weekly ups and downs, we are here to see what happens on the other end of the dozens of wells that are about to be drilled.
We think the selling has mostly washed through now but there might be some resistance at 36c if some people are holding just to get back above water on the SPP and then sell...
On the other hand, if everyone who wants to be out is already out then it might breeze through 36c - we will see.
Bear traps in our portfolio
Investopedia defines a bear trap as a technical pattern that occurs when the performance of a stock incorrectly signals a reversal of a rising price trend. The trap is thus a false reversal of a declining price trend.
We are long term holders, so we try not to get too worried about short term share price fluctuations, but also admit it can be scary when one of our holdings goes into a rapid drop, like has happened with EXR over the last few weeks - and in fact most other small cap stocks during the market weakness seen in May.
With May thankfully behind us and the market starting to show signs of being buoyant again, we are glad to see most of our portfolio stocks that experienced a share price hiccup are bouncing back and glad we held on.
We expect EXR to make a strong comeback over the next few months IF they deliver some good results, the first of which is due any day.
To give some context of the rampant dipping that has been occurring in May, here are some of the biggest May dips and subsequent resurgences from a few of our portfolio stocks, we are sure there are others out there - send us the best comebacks from a dip you have seen and we might include them in our weekend wrap:
ASX:PUR
This dip and resurgence was savage - commiserations to anyone who got scared out on that one day it was trading under 5c...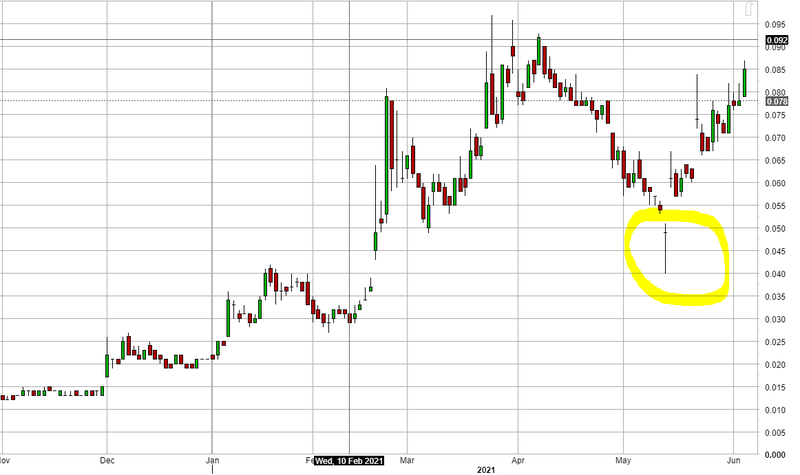 ASX:AHI
Another scary one to have held all the way through...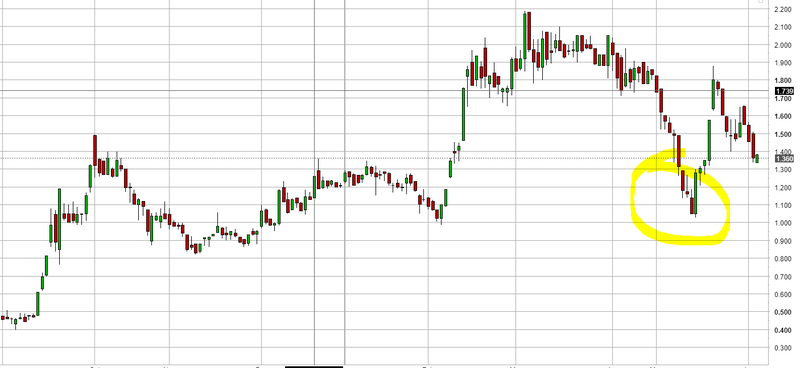 ASX:VUL
The $6.50 placement should be well and truly absorbed by now and VUL it looked like it was ready to run to $10... until the "Sell in May" crowd poured a bucket of cold water on it.
But VUL looks to be back in uptrend now.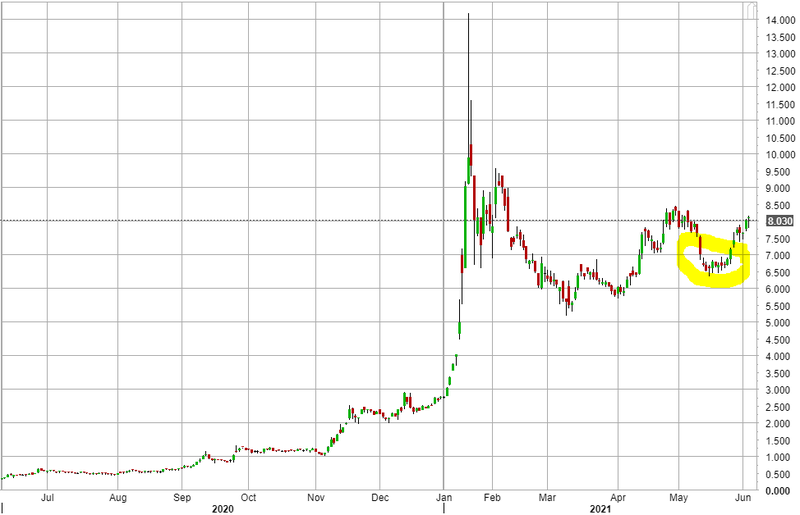 ASX:CPH
CPH continues to surprise us with strong surges forward - like yesterday: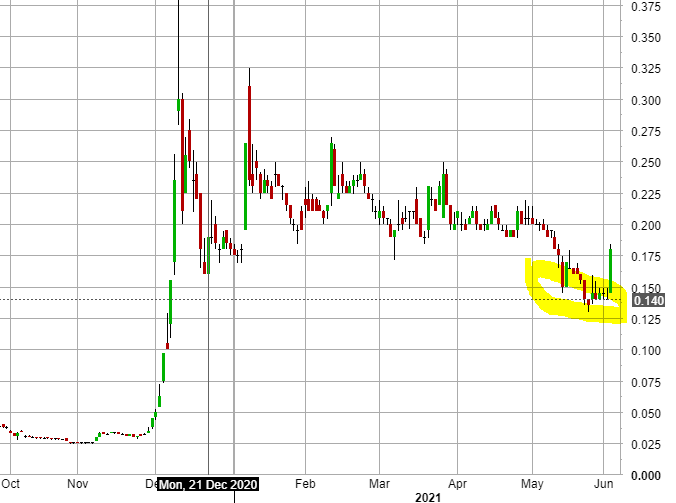 ASX:IVZ - looks like it has some legs too: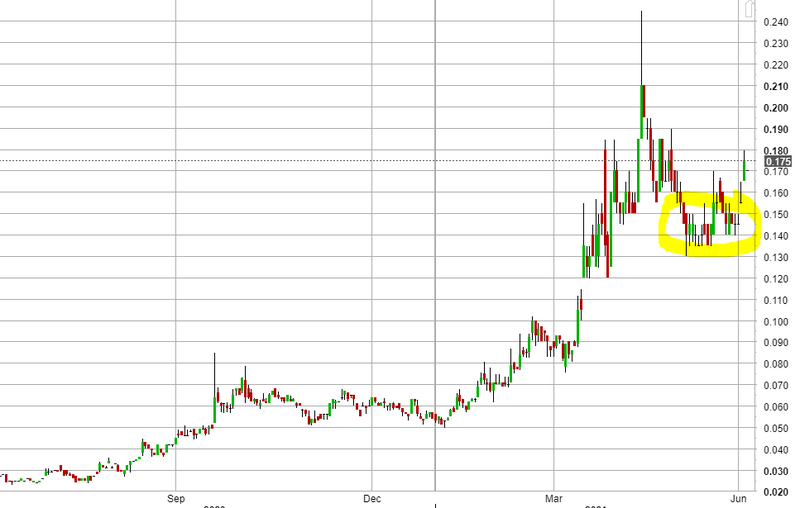 ASX:ONE - looks like its back on the march upward again: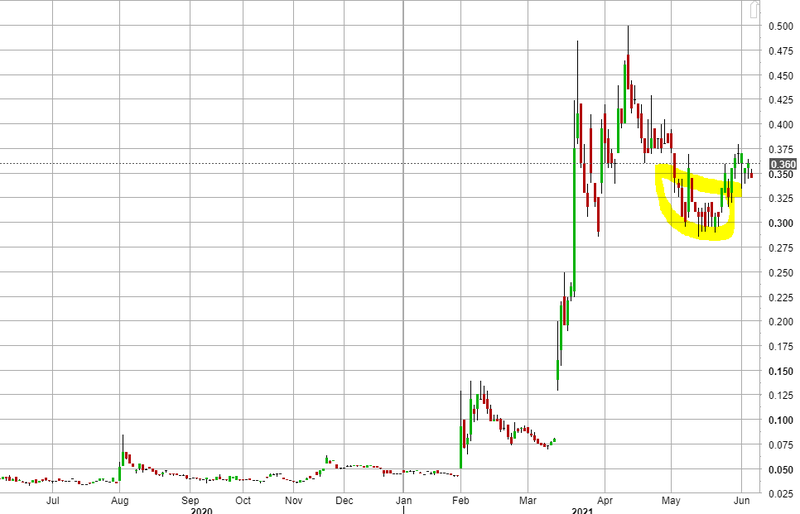 So has EXR finally escaped the May share price funk?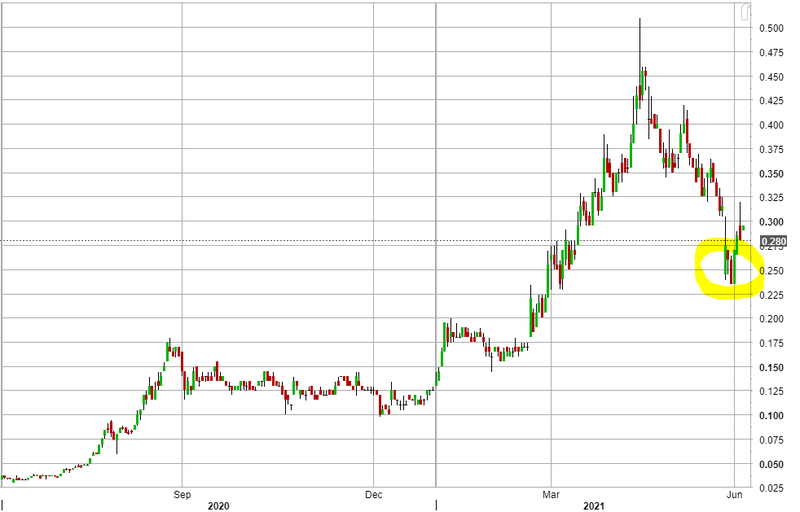 We know there is a saying called "Sell in May and go away" and it seems like a few people adhered to that mantra by looking at the above charts, but it's June now and the market seems to still be strong with investor appetite coming back in the small cap market.
We think EXR is well on the way to shake off short term weakness from May selling, SPP and placement weight, plus the crappy Cracker results with multiple drill results coming over the next few weeks.
[NEW] Here is EXR's company milestones as we see them
Here is our EXR milestone summary and what it has achieved.
This is a new feature we are working on and will soon be rolled out to all portfolio companies, please reply to this email with any feedback/suggestions.
This is what we expect the upcoming months to look like for EXR. The below should illustrate why we are holding and why we didn't sell when the price dipped over the last few weeks.
This one took us a while given how many upcoming events there are for EXR, but here it is...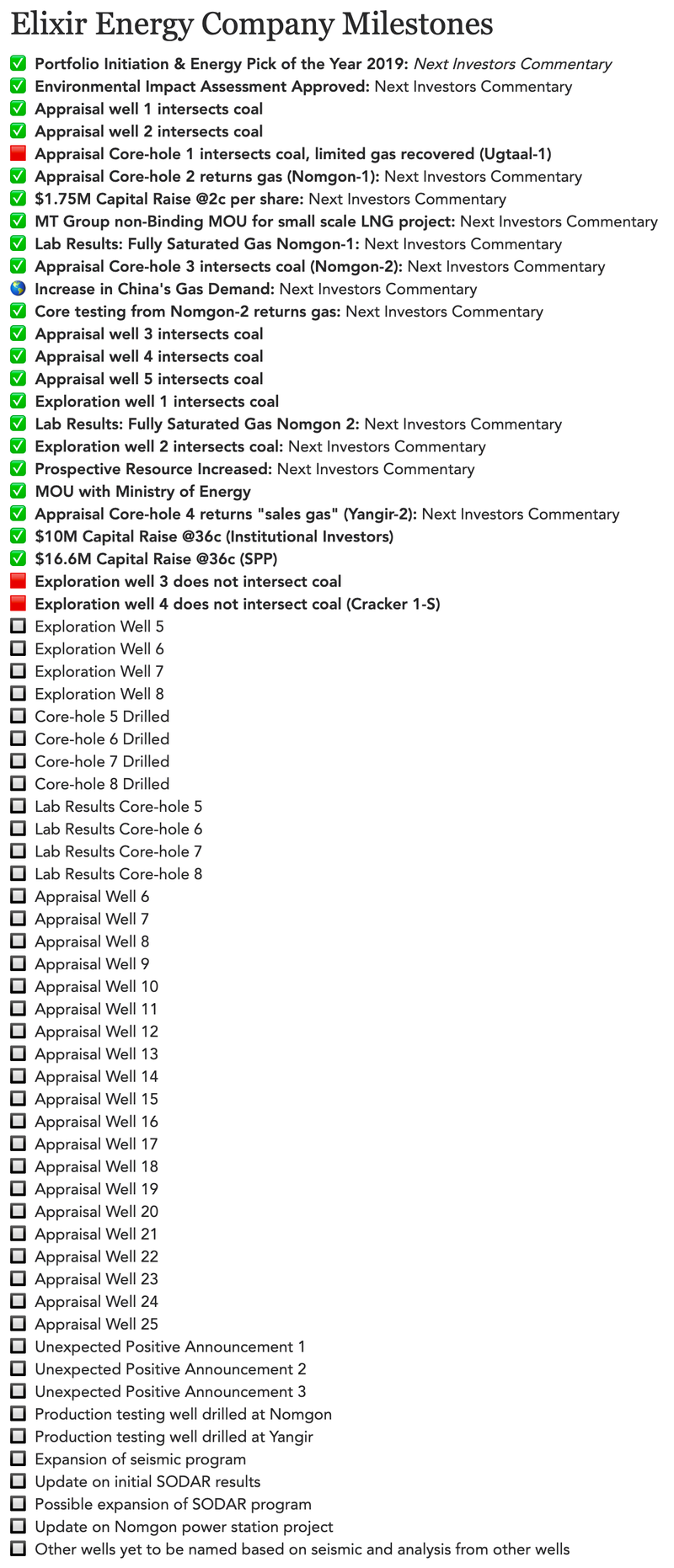 [NEW] Here is our EXR investment strategy
EXR is another of our favourite examples of a well executed long term investment where we are holding a free carried position for the next few years as the company executes on its plan.
Our investment milestones are a new feature we are rolling out to all portfolio company pages. Again, please reply to this email with any feedback/suggestions.
Here are the investment milestones for EXR, and we continue to hold a significant position.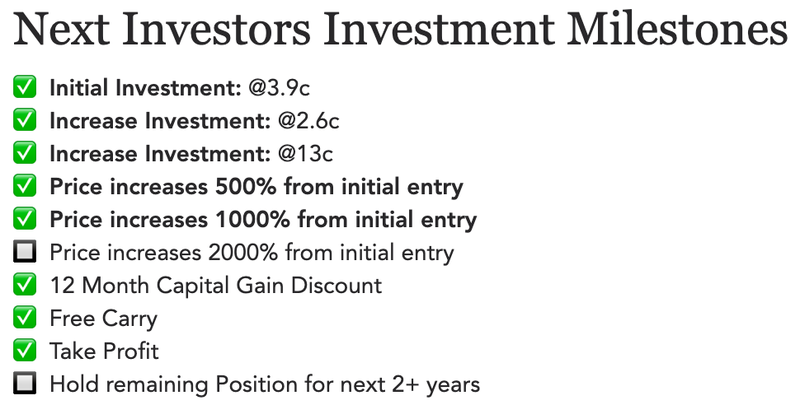 Our investment in EXR
Regular readers will know we have been invested in EXR since 2019 and it's been a huge performer - EXR is the kind of stock that validates our investment strategy of long term holding in quality companies.
Here is our past coverage of EXR including some historical highlights: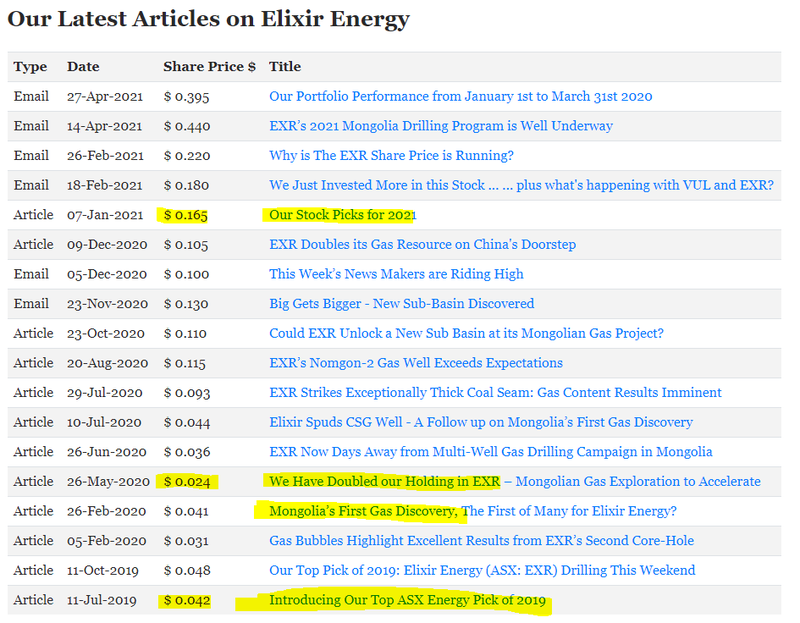 ---