88E ASX Confirms Farm in Partner: Stage is Set for February 2021 Drilling Event
Small cap oil explorer 88 Energy (ASX:88E | AIM:88E) has confirmed funding details for the drilling of its Merlin-1 well at its Project Peregrine on the North Slope of Alaska.
This clears the path for spudding of the well in February 2021 - an exciting event for 88E investors like us.
88E's Project Peregrine has a 1.6 billion barrel mean unrisked recoverable prospective resource, located on trend to recent discoveries, including one by oil super major ConocoPhillips (NYSE: COP).
It's got multiple compelling targets, that are relatively shallow to drill test - which means relatively low cost drilling.
The size of the prize here versus the cost outlay attracted a number of bidders to 88E's farm-out opportunity, with strong interest and competitive bidding.
88E's farm-out partner is the Alaska Peregrine Development Corporation LLC (APDC), a high calibre group of private US individuals that have experience in oil and gas, including owning businesses that directly operate in the sector.
They understand what success looks like in oil exploration, and have been impressed by the near term upside potential - like us.
Now that the Merlin-1 funding plans are confirmed, we are looking forward to a sequence of heavy newsflow in the lead up to drilling, and sustained, increased investor interest in 88E.
We are long term holders and big backers of 88E's management team, and are looking forward to the drilling event in February 2021 - which is not far away now.
What does today's news mean for 88E investors?
Merlin-1 is 88E's first well at Project Peregrine, with Harrier-1 to follow.
Project Peregrine has a 1.6 billion barrel mean unrisked recoverable prospective resource.
Merlin-1 will drill test this potential in February 2021.
The estimated gross cost of the Merlin-1 well is US$12.6M.
88E's farmout partner APDC will contribute US$11.3M towards the cost of the Merlin-1 well.
In return for that APDC will earn 50% of Project Peregrine.
88E maintains the other 50% of the Project and the inherent upside, without having to spend much cash - circa 10% of the well cost estimate.
This is close to a 2 for 1 deal for 88E investors and effectively gives 88E a low cost shot at a potentially large oil discovery early next year.
Our 88E investment strategy
We are holding a large position in 88E in the lead up to drilling in February 2021.
88E is a highly active oil explorer, continuously searching for a multi-billion barrel prize on the North Slope - one of the oiliest places on Earth.
Making an oil discovery of this nature has the potential to generate extremely large returns, however it's not easy.
What we do know from past history is that 88E's share price always tends to run up in the lead up to a drilling event.
We expect no different between now and February.
Our investment strategy will be to lighten our position prior to spudding in February, taking some money off the table, but we will also hold a reasonable position into drilling, to capture the upside on drilling success.
Investing in oil explorers is a high risk / high reward style of investing, and not for the faint of heart. Only invest what you can afford to lose.
Merlin-1 - what will it test?
Project Peregrine is wedged between two major discoveries - ConocoPhillips Willow discovery to the north and Umiat to the south.
The Merlin-1 well intends to drill test the Merlin prospect, which sits in the Nanushuk formation - on trend, with similar seismic signatures, to COP's Willow discovery to the north.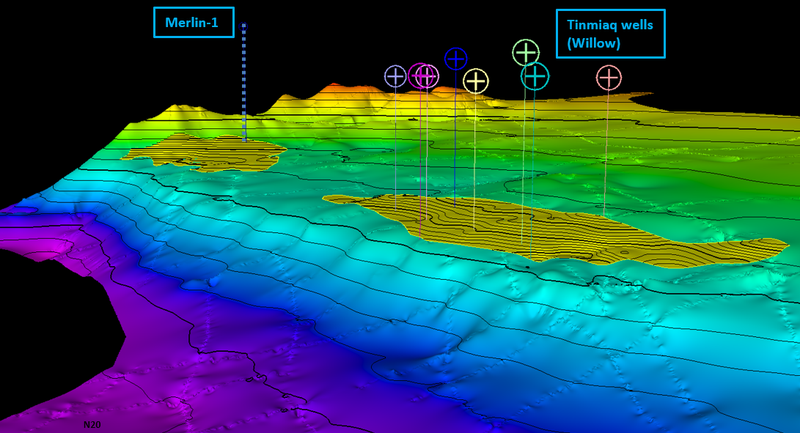 88E strategically has taken the approach to drill now to de-risk the prospects, as the drilling is relatively cheap, this is more cost effective than the acquisition of 3D seismic.
An independent resource assessment produced the following unrisked prospective oil resources, and recent further seismic analysis increased the company's confidence at Peregrine, which identified several similarities between Merlin and Harrier and existing discovered oil fields nearby.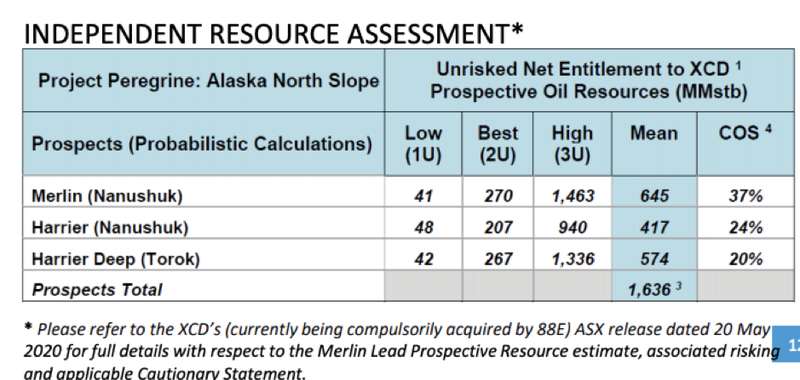 You can read additional details about the Project Peregrine drill targets in our article HERE.
Why the North Slope?
The North Slope of Alaska is what industry pundits call a 'Super Basin'.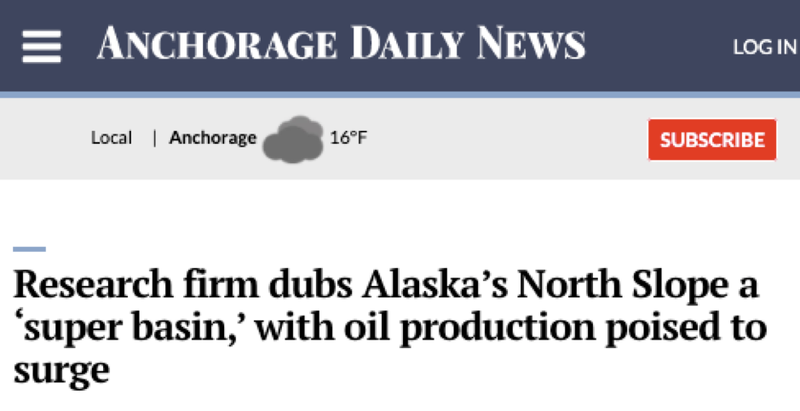 A Super Basin such as the North Slope are basins which:
have multiple reservoirs and source rocks
diverse play types across numerous geologic horizons
infrastructure with access to markets
established service sector and supply chains
hold at least 5 billion barrels of oil equivalent in conventional remaining reserves, and have already produced at least 5 billion barrels.
The North Slope ticks all those boxes, and is one of the 'oiliest' places on Earth.
88E has a commanding acreage position across multiple projects on the North Slope, and is a highly experienced operator on the slope: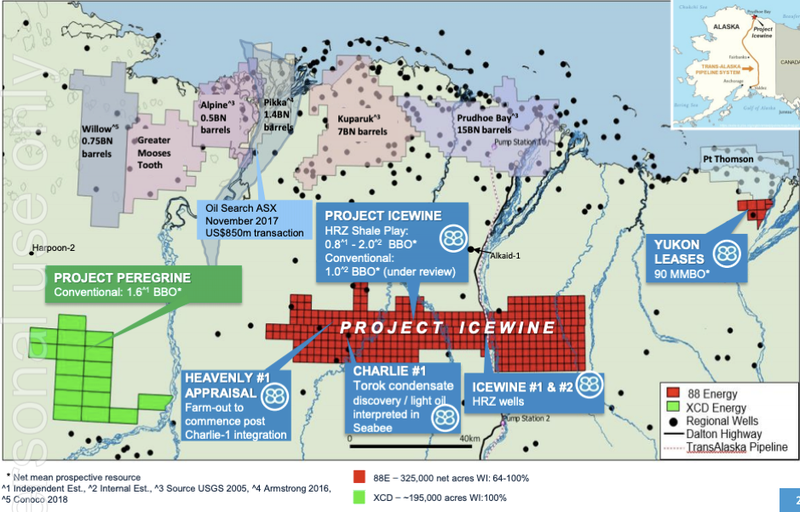 88E gaining momentum
88E has found strong support in the December quarter, with liquidity in the stock building as interest in its drilling plans grows.
The company was trading between A$0.005 (£0.0028) and A$0.006 in late September, and since then the company raised A$10M (£5.5) at A$0.006 per share.
The stock has traded as high as A$0.009 in late November.
Today's news should provide further momentum with significant near-term catalysts such as the spud of Merlin-1 and subsequent drilling results having the potential to drive a substantial rerating, particularly if the oil price continues to recover.
The Final Word - why we recently invested in 88E :
We expect a significant share price run in the coming months, on strong volumes, in the lead up to a large drilling event in February 2021.
This share price uplift is a recurring pattern over the last five or so years: as the company draws closer to spud date, and news relating to drilling is released to market, the momentum builds. We see no reason as to why this won't happen again. We are aiming to free carry into spudding.
If the drilling is successful, it will be transformational for 88E and there will be the opportunity to make multiples on our investment.
Oil stocks remain out of favour, albeit with early signs of recovery – so it's a great time to be buying them. We invested in VUL at $0.20 when lithium stocks were out of favour. This has delivered us a more than 10x return in less than 18 months. Anything in oil right now is a counter cyclical investment – wait for the inevitable return
Bring on February 2021.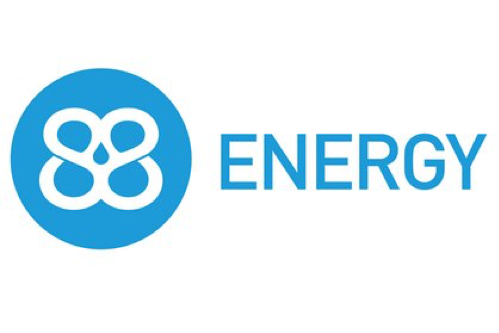 ---