88E ASX is Primed for Another Run in Lead Up to Multi-Billion Barrel Drilling Event
PUBLISHED: 19-11-2020 09:57 a.m.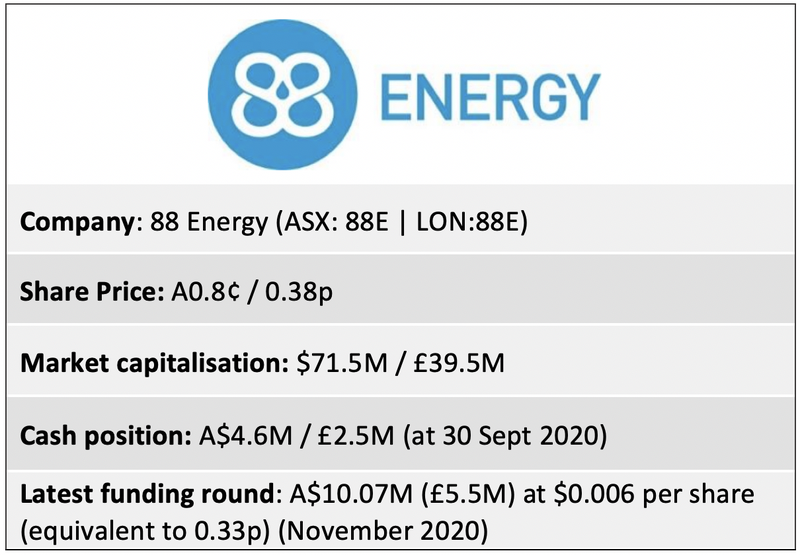 88 Energy (ASX | LON: 88E) is one of a select few energy stocks we have taken a large position in here at Next Investors.
We've been progressively adding to our holdings in recent months:
- We added to our position in July 2020 when it was trading at $0.004, and;
- We doubled our position in September when it was trading at $0.006.
We have once again increased our holdings in 88E significantly in the recent placement at $0.006.
For those new to 88E, it's a junior oil explorer that is looking to unlock the next multi-billion barrel oil asset on the North Slope of Alaska.
The company has a large acreage position on the Slope, with a number of extremely large drill targets that have the potential to unlock significant value on discovery.
Why have we invested in 88E again at this point in time?
- We expect a significant share price run in the coming months, on strong volumes, in the lead up to a large drilling event in February 2021.
- This share price uplift is a recurring pattern over the last five or so years: as the company draws closer to spud date, and news relating to drilling is released to market, the momentum builds. We see no reason as to why this won't happen again. We are aiming to free carry into spudding.
- If the drilling is successful, it will be transformational for 88E and there will be the opportunity to make multiples on our investment.
- Oil stocks remain out of favour – so it's a great time to be buying them. We invested in VUL at $0.20 when lithium stocks were out of favour. This has delivered us a more than 10x return in less than 18 months. Anything in oil right now is a counter cyclical investment – wait for the inevitable return.
Of course success is no guarantee, especially when considering speculative oil and gas stocks', so investors should only invest what you can afford to lose.
88E's Project Peregrine has a 1.6 billion barrel mean prospective resource across three prospects.
The project is located right between major oil discoveries Willow (ConocoPhillips) to the North, and Umiat to the south.
88E is planning to drill two wells in Q1 of 2021, which will drill through multiple large conventional oil targets at the project.
Two prospects alone, Merlin and Harrier, combined, have a prospective, unrisked resource of over 1 billion barrels.
Both wells are shallow and expected to cost less than US$15M in total to drill.
However, 88E will not be spending too much of their own money to drill these wells.
We expect 88E to announce a farm in partner any day now, who will carry 88E for a bulk of the costs of drilling.
We expect this to be the first share price catalyst of many between now and February.
Large, Multi-Billon Barrel Oil Targets – Large Payoff on Success
Here at Next Investors we seek out undervalued micro-cap stocks that are on the cusp of value accretive newsflow — the kind of news that can see them rapidly gain 100% or more. And that's exactly what we're looking for from 88 Energy over the coming months.
If you've been following our portfolio, you'll be aware of our track record in identifying up and coming small caps. Just two of our 16 portfolio stocks are in the red, while the remaining 14 are each up by between 22% and 1,006%.
The Next Oil Rush has been following 88 Energy's Alaskan onshore oil exploration from the very beginning, when it was a tiny microcap stock. We were there when it rallied by more than 135% between October and the end of December last year in the lead up to its drilling event at the Charlie-1 well, and when it gained over 1,000% in a matter of weeks amid excitement around Project Icewine #1 back in 2016.
If the stock can run up that much in anticipation, just imagine what it might do if it were to announce a major oil discovery.
Of course, this is far from risk free — as we've seen before — but the potential payoff from this speculative junior is large.
Momentum in 88E continues to build
It's been just over two months since we last updated you on 88 Energy's progress on the Alaskan North Slope.
At that time, we had taken the opportunity to invest at 0.6 cents per share while the stock was out of favour — we doubled our holdings in the stock.
Looking back over the company's history, gives us plenty of reasons to believe that the stock could rally sharply in the lead up to its upcoming drilling program.
That's even before considering the massive upside potential on exploration success given the compelling 1 billion barrel plus opportunity at Peregrine.
First well to be spudded late February 2021 – watch for newsflow in the lead up
88E acquired Project Peregrine, 195,000 acres of prime exploration ground in the National Petroleum Reserve-Alaska (NPRA) region, earlier this year.
Three onshore prospects were already identified at Peregrine — Merlin (Nanushuk formation), Harrier (Nanushuk), Harrier Deep (Torok), with a combined mean unrisked recoverable prospective resource of 1.6 billion barrels of oil located on trend to recent discoveries.
Conoco Phillips' 0.75 billion barrel Willow discovery is located to the north, and Umiat, a recent Brookian oil discovery with over a billion barrels of oil, is to the south.
The spud of the first well at Project Peregrine is on track for late February 2021 with the company now undertaking permitting, planning and contracting works associated with the drilling of the project's Merlin and Harrier prospects.
88E has confirmed to the market that it has selected a preferred bidder for the farm-in after receiving strong interest and multiple bids.
Each of the planned wells are relatively shallow to reach target depth, so the cost for two wells is expected to be circa US$15M – which is an unparalleled "bang for buck" opportunity given the size of the prize.
It's not just Next Investors that has confidence in the company's Alaskan pursuits. UK stockbroker Cenkos has confirmed its 'Buy' recommendation on the stock with a 2.8p price target (~5.9¢) — more than seven times the current price.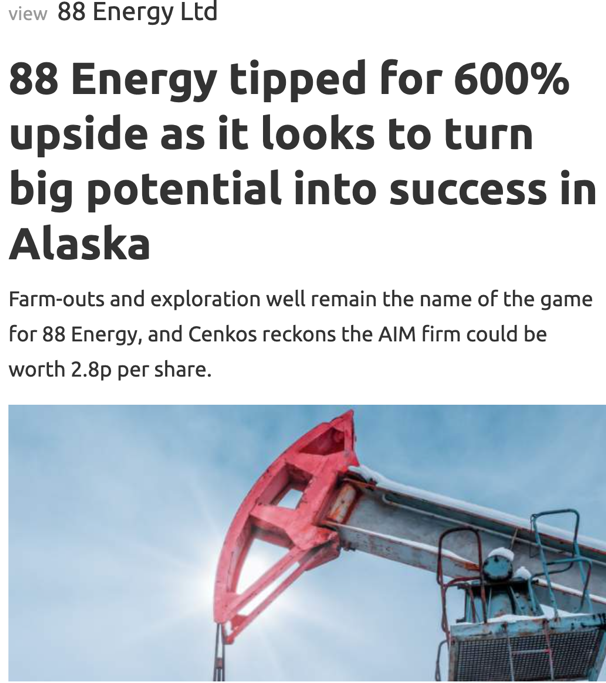 $10M raised ahead of upcoming drilling
Yesterday 88E announced it had raised A$10 million (£5.5M), at A$0.006 or 0.33p per share to fund the ongoing exploration activities and to identify and exploit new opportunities on the North Slope of Alaska.
We understand this was an in demand placement, which is a strong sign the market is looking favourably on what 88E is planning to do over the coming months.
The funds have given the company sufficient capital to fund well costs above the anticipated farm-out / carry, and having some more cash allows the company to potentially look at new venture opportunities.
Along with the company's existing cash balance (which was $4.6M at 30 Sept), this should be more than enough to cover any expenses until the farm-out is complete, at which time the farm-out partner will cover the majority of expenses involved with the drilling.
With the stock trading at 0.8 cents currently, there remains opportunity for new and existing shareholders to also top up at these sub-1 cent levels.
Peregrine Farm-Out – Any Day Now?
As announced on 9 November, the farm-out process at Project Peregrine has progressed to its final phase with the preferred bidder selected and the deal subject only to finalisation of standard documentation.
"Strong interest" was shown in the opportunity and multiple competitive bids were received.
Execution of the final documents is imminent, at which point more detail on the transaction will be made public.
Managing Director Dave Wall said of the farm-out process, "The strong interest shown in the imminent drilling program at Project Peregrine is both a testament to the quality of the opportunity and the hard work done by the 88E team over the last few months. We look forward to working with the preferred bidder to close the transaction and get going on the drill program."
Increased confidence at Peregrine
In September, 88E unveiled new seismic data analysis undertaken in 2019 at Peregrine identifying similarities between the key prospects at Peregrine and existing discovered fields.
The same shelf margins and geology extended from Willow south into 88E's acreage and analogous seismic signatures were evident at the discovered field and 88E's prospects. This was highly encouraging and provided additional confidence in both the Merlin and Harrier prospects.
Amplitude vs offset studies (AVO) were also conducted and 88E has finalised its review of these products, with very encouraging results. The studies were calibrated to the existing Willow oil field to determine if similar attributes could also be observed at the Project Peregrine prospects, Merlin and Harrier. The signatures observed, in particular for Fluid Factor, are very similar between the Willow oil field and the Merlin and Harrier prospects.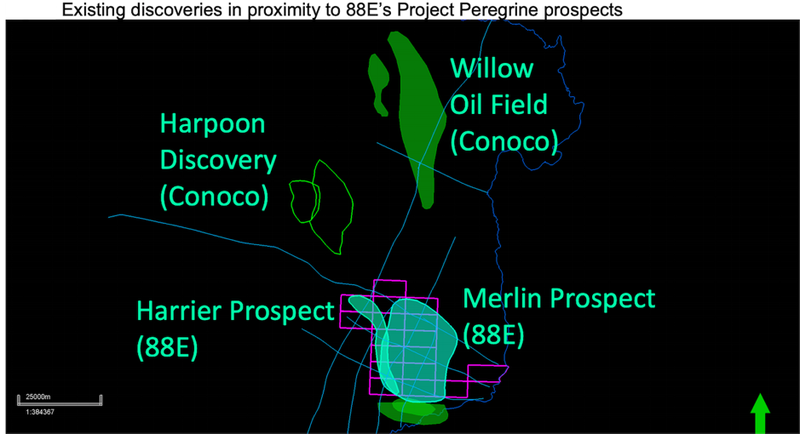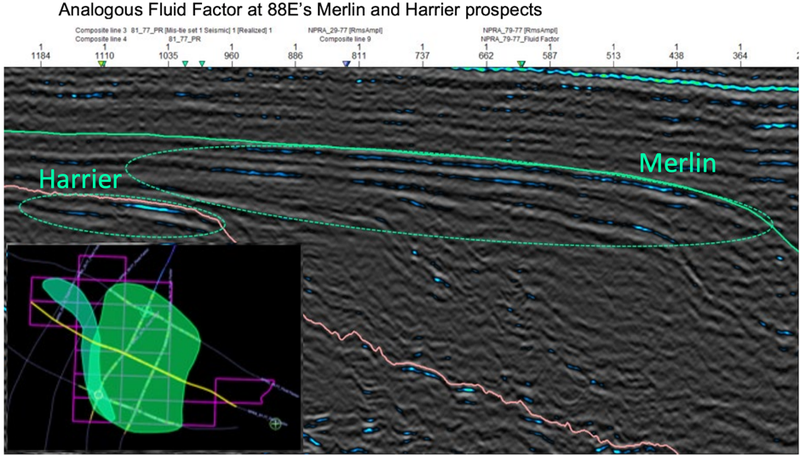 The above was the basis for the mapping of the prospects and the independent resource estimate released in January 2020 and updated May 2020.
Project Icewine Resource Upgraded – 1.77BN Barrels of oil equivalent
In addition to its exploration at Peregrine, 88E continues progressing Project Icewine, which is a valuable asset in its own right, with a number of large oil targets.
In a 10 November update, the company reported that Independent Prospective Resources estimates were prepared by ERCE Equipoise Pte Ltd (ERCE) at Project Icewine for prospects in the vicinity of the recently drilled Charlie-1 well.
The highlights were that the total prospective resources at Project Icewine increased to 1.77BN barrels of oil equivalent.
Significantly, the majority of the resource has been estimated within the Seabee formation (1.4 billion barrels), which has been interpreted as part of one large stratigraphic accumulation over multiple, potentially connected, sand bodies in the Lima Fan System.
Excellent oil saturations were observed in cores taken from this horizon during the drilling of Charlie-1.
The Charlie-1 well previously penetrated sandstones in seven stacked targets and shale in one target.
The following table highlights the prospective resource estimates which has can be seen are extremely large at the Lima Fan reservoir with a mean estimate of 888.6 million barrels of oil equivalent.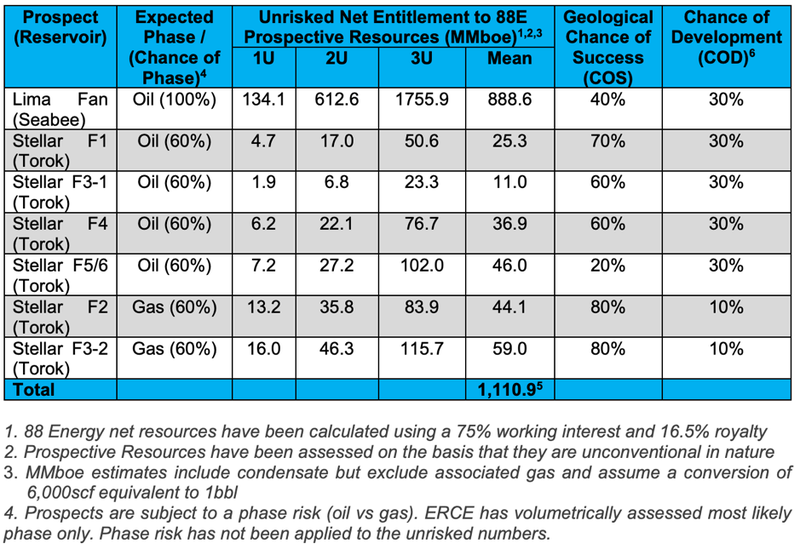 Managing Director of 88 Energy, Dave Wall, said, "The net potential to 88E in the Lima Fan System was estimated internally by 88E at around 100 million barrels prior to the drilling of Charlie-1.
"With this large independent upgrade and the recent increase in working interest in the leases, this potential has now improved to almost 900 million barrels net to 88E – an outstanding result for our shareholders.
"Resources of this size are why we are operating in Alaska and we are on the cusp of drilling at another similarly sized opportunity at one of our other projects, Project Peregrine."
Considering the significant size of the estimated resource, 88E is confident that it will be able to attract a partner to fund drilling of additional wells to evaluate the flow potential in the Seabee.
The company is also optimistic about the potential for light oil in the Torok formation, which could substantially enhance value.
For more on the updated Icewine resource estimate, see: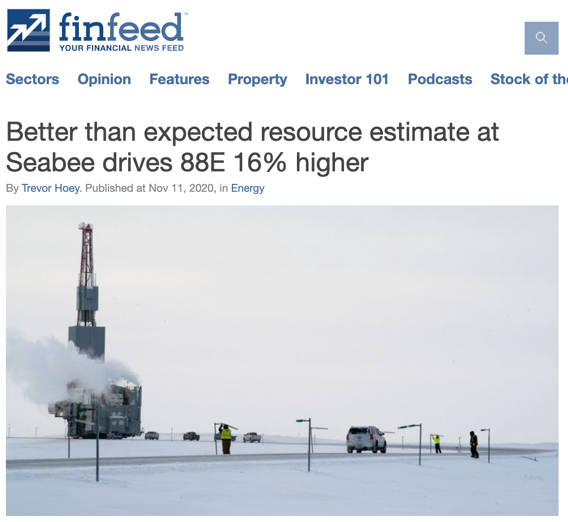 88E has increased its working interest on approximately 40% of the gross Project Icewine lease position (Area A) from 30% to 75% in the area surrounding the recently successful Charlie-1 well (a net increase of ~85,000 acres) following the re-assignment of leases.
In addition to this independent resource estimate, the increase in acreage is also expected to help facilitate ongoing farm-out discussions at Project Icewine.
A final word
With drilling at Project Peregrine on track for a late February spud, we anticipate significant amounts of newsflow and attention on the dual listed company over the months ahead.
Yet the still sub-1 cent share price, suggests that 88E is still flying way under the radar given the potential that is on offer here.
It's a level we don't expect to remain at for long and is why we have been continually adding to our position over recent months.
Of course, there is no guarantee of success, however for us, the risk-reward trade off suits our investment strategy.
At the very least, we expect strong trading volumes through to the spud, with mammoth upside potential on positive results.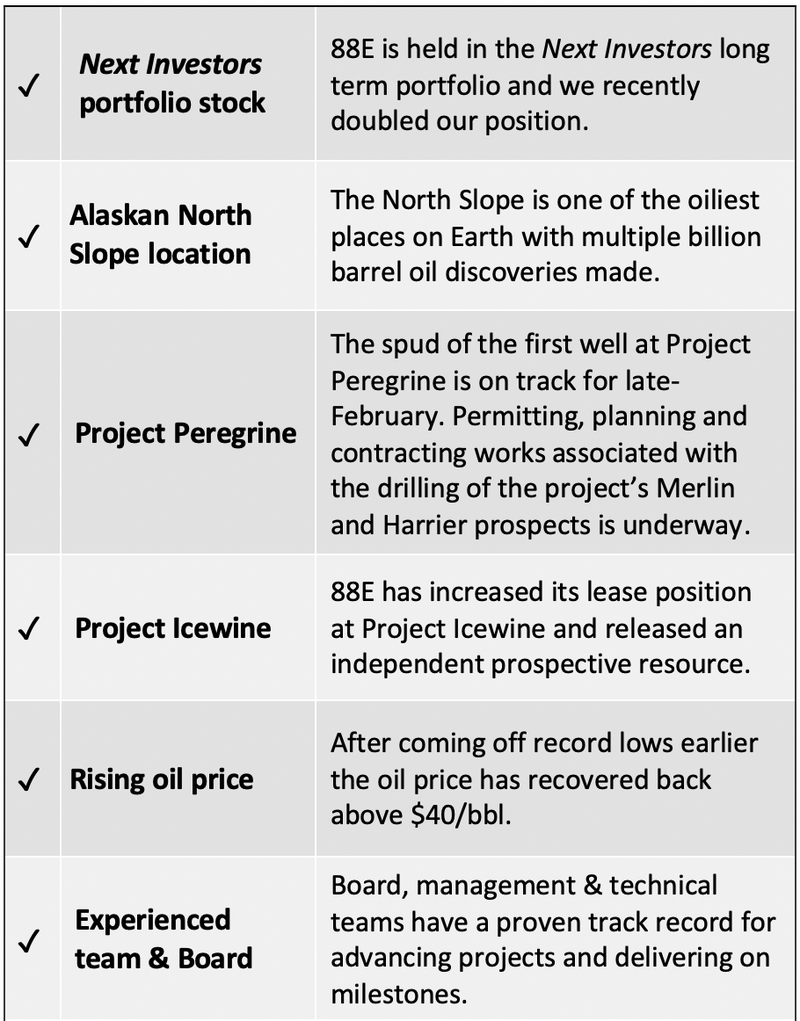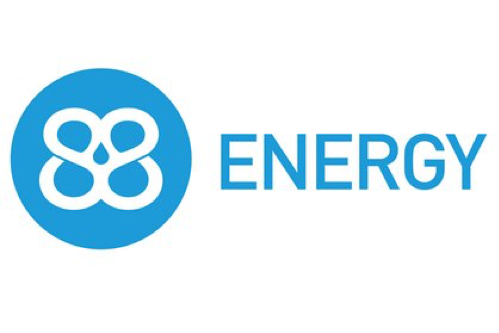 88 Energy
ASX:88E, AIM:88E
---