ALA: Appointment of medtech veteran as Chairman
Shares Held: 21,131,579
Options Held: 0
---
Yesterday our biotech Investment Arovella Therapeutics (ASX:ALA) appointed Dr Thomas Duthy as non-executive chair.
Dr Duthy is a well known medtech veteran, having served over 18 years at the executive and board levels of several ASX listed companies in those fields. We think he has a strong track record of experience at smaller biotech companies as well as orchestrating larger transactions as they develop their business.
Of note is Dr Duthy's involvement with Sirtex Medical where he served as Global Head of Corporate Development and Investor Relations. Dr Duthy helped steer SRX through a takeover bid process that featured New York listed Varian Medical vs CDH Investments, a $US20BN Chinese based alternative asset manager.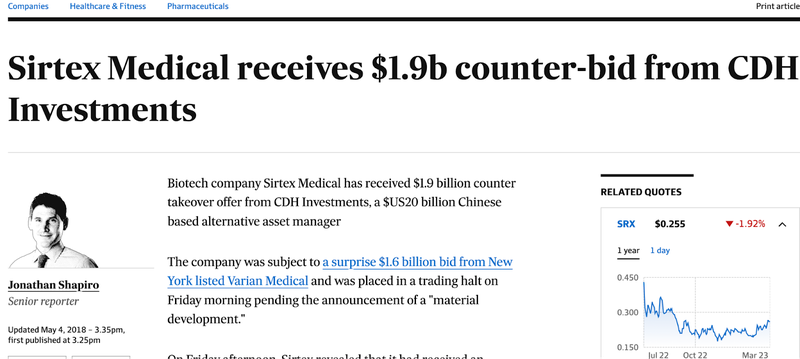 Ultimately CDH prevailed, acquiring SRX for $1.9 billion in cash in September 2018, which still remains to this day the largest medical device acquisition in Australian corporate history.
In a sign of confidence in the future of ALA, Dr Duthy has "requested and received consent from the Board to be issued Arovella shares at $0.04 each… in lieu of the entire first year of Director fees that would otherwise accrue as Chair of Arovella and noting these shares will be voluntarily escrowed for 12 months from today."
We like that Dr Duthy is taking shares as opposed to cash - and we see it as a strong endorsement of ALA's potential.
What's more, the new chair is being paid in scrip at a significant premium (29% above the 10 day Volume Weighted Average Price - VWAP, and double the recent placement price).
Aside from his roles at other listed biotech companies such as Invex Therapeutics and Neurotech International, Dr Duthy is also the founder of Nemean Group, which provides corporate advisory and investor relations services to life sciences and tech firms. Of note, Nemean had a consultancy role with Nova Eye Medical, assisting with its sale of its lasers and ultrasound division for A$100M in cash in 2020, of which A$61M made its way back to shareholders' pockets.
What's next for ALA?
With Board composition now settled, the next items we're keen to see ALA deliver are:
Complete manufacturing of Treatment #1 (Non-Hodgkin's Lymphoma)
In vitro (mice) studies for Solid Tumour Therapy (with Imugene) to see how the treatment works and if it is safe in a living organism.
Commence a Phase 1 clinical trial Solid Tumour Therapy (with Imugene) subject to successful mice studies.