What happened at RIU Sydney?
Published 13-MAY-2023 13:00 P.M.
Here goes another one...
Over the last few days the LRS share price has started running on no news.
LRS is rapidly drilling out its definition stage lithium project in Brazil, looking to follow in the footsteps of $6.4 BN regional peer Sigma Lithium.
LRS has ~$57M in the bank after just completing a $37.1M cap raise - a cap raise usually leads to the share price stagnating for a couple of months while the new stock is digested...
Looks like LRS didn't get the memo and has ripped out of the blocks: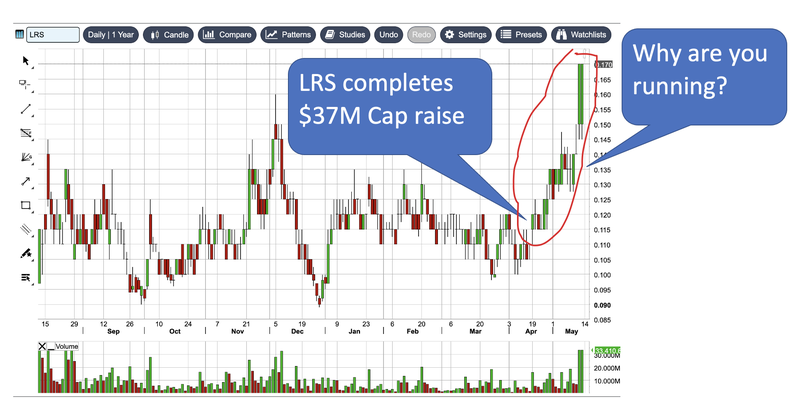 We saw LRS CFO Mitchell Thomas present at the Bloomberg PAC Partners Broker Briefing, the RIU Resources Round Up and at the RIU ESG breakout session in Sydney last week.
LRS is looking to develop its lithium project in Brazil, trying to create a copy of $6.4BN Sigma Lithium nearby.
Sigma is Brazil's first lithium mine, entering production a few weeks ago.
Sigma went from CAD$1.50 per share in 2018 to now trade at ~CAD$54 per share.
A return of over 3,600% in less than 5 years.
(Obviously the past performance of Sigma Lithium is NOT an indicator that LRS's share price will do something similar.)
We also spotted LRS Managing Director Chris Gale in New York during the week, alongside Sigma Lithium who were ringing the opening bell at NASDAQ to celebrate the launch of "Lithium Valley" in Brazil - a collaborative project aimed at streamlining investments in the lithium battery value chain: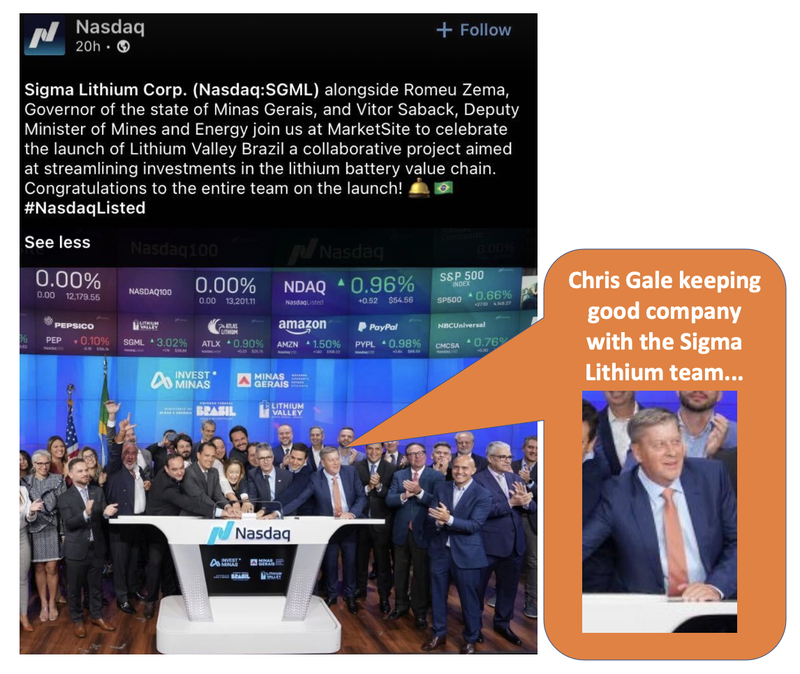 You can watch the full NASDAQ bell ringing ceremony here.
We wonder if the rush of ringing that bell has got Chris imagining his very own NASDAQ listing one day...?
LRS's Chris Gale and the Sigma Lithium CEO looked to have a pretty good relationship in this dual interview, and the Sigma CEO says she is very happy and supportive of LRS's work to emulate Sigma's success: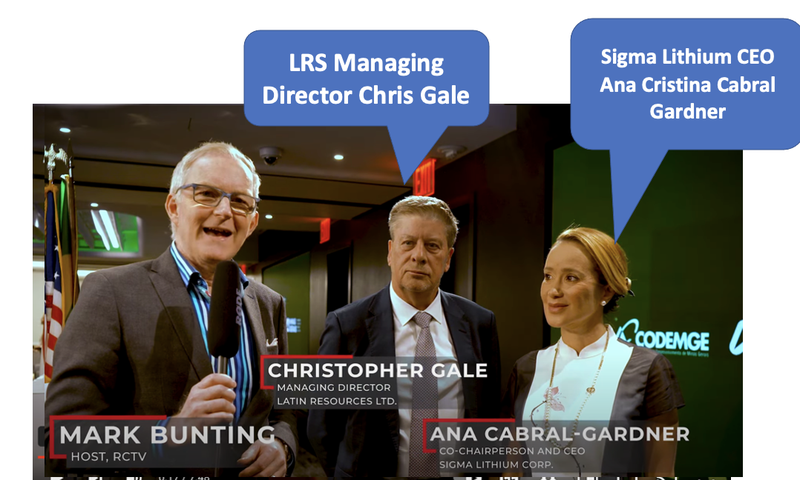 (You can watch the 7 minute interview here)
Brazil is a stable and mature mining jurisdiction.
Many Australians will know Brazil as being the other main supplier of iron ore to China after Australia.
Brazilian mining major Vale is usually mentioned alongside BHP and RIO in iron ore supply media coverage
So the established mining jurisdiction Brazil has suddenly entered the lithium production game with its first producing mine, Sigma.
At the same time Chris Gale is in New York running around with the Sigma CEO, (likely) pitching to US fund managers (not that he needs to - LRS just raised $37M and has over $57M in the bank.)
This is combined with a flurry of M&A in the lithium space.
Maybe all of that is why LRS is running? More to come on Monday...
(Note: We are very interested in any small cap explorers with battery materials projects in Brazil - reply to this email if you know any listed companies or private projects in Brazil)
Speaking of LRS, the company's CFO Mitchell Thomas spoke about how LRS uses ESG at the Socialsuite ESG breakout session at the RIU conference.
LRS are a long time user of Socialsuite ESG and shared a real world example of how during their previous cap raise in April last year, one of the funds that came in (Waratah who invested $15M in LRS) looked very closely at ESG as part of their due diligence.
Subsequently, because LRS passed Waratah's ESG tests, other funds that cared about ESG took Waratah's lead and also invested - an example of ESG leading to increased access to capital.
We also presented at this session on why Next Investors cares about our portfolio companies prioritising ESG.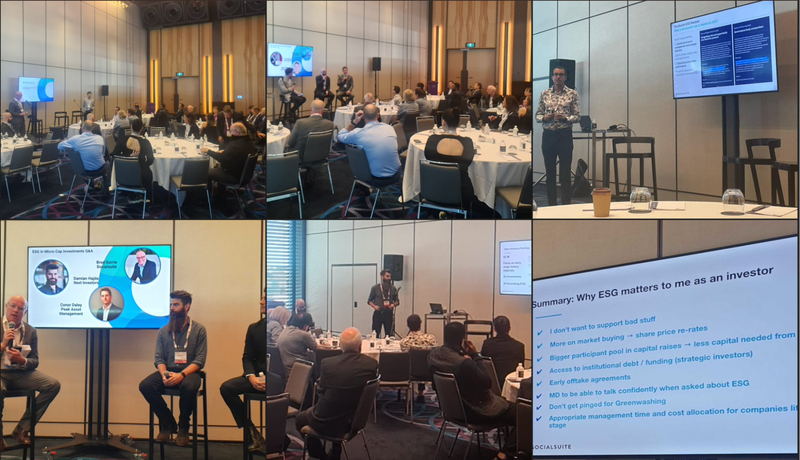 It is our view that while traditional resource investors may or may not care about ESG, there is a lot of interest from big funds, ultra high net worth investors and family offices around the world wanting to enter the battery metals space.
These are big pools of capital that do not have much resource investing experience - but many of them DO care about ESG.
Our view is if you are a small cap resource company, why not adopt an appropriately sized ESG program for your company if it means you can broaden the pool of investors who might buy on market OR participate in your capital raises?
Especially if they are cutting large cheques.
The important thing is that the ESG program needs to be the right size and scope depending on the size of the company and where they sit on the resource company lifecycle - from a tiny explorer with three team members and $4M cash to drill, all the way up to a 100 person company building a mine,
Here are all our mining resources Investments across the resource company lifecycle and which ones are currently disclosing ESG using Socialsuite ESG: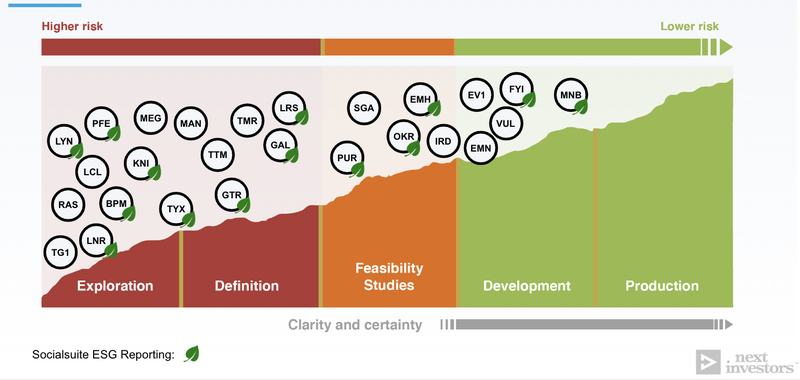 The rest of the time we spent at the main RIU conference and at other investor events that were happening in Sydney.
We used the time to meet the management teams of our existing Investments and also companies we are possibly interested in.
Here's a brief run through of the companies we met with and heard from.
First up on Monday we caught presentations from our portfolio investments PUR and NHE at the Jane Morgan Management and RevolverIR lunch:
PUR - lithium in Argentina
Pursuit Minerals (ASX:PUR) is developing an advanced lithium brine project in Argentina.
PUR's project is located inside the South American 'lithium triangle', a region home to ~ 50% of the world's lithium production and lithium majors like SQM and Albemarle.
Here is PUR's latest investor presentation, and here is PUR COO Aaron Revelle presenting in Sydney.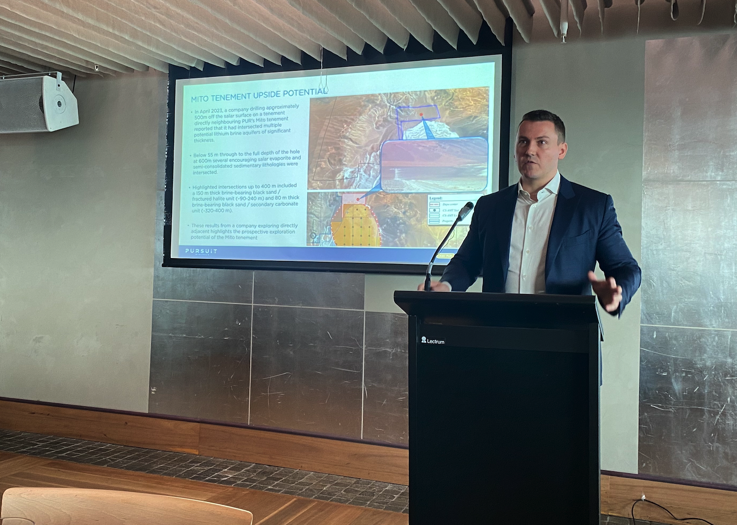 Our take: On Monday PUR picked up a pilot plant for a fraction of the cost it would take to build. This is going to accelerate PUR's plan to go into production. Check out our full note from Monday on PUR here.
We like the comparison to Argosy Minerals - another lithium brine company in Argentina - currently capped at $723M, and at once stage $1.1BN. We are hoping PUR can replicate that success over the coming years.
NHE - Helium in Tanzania
Noble Helium (ASX:NHE) is gearing up to drill its helium project in Tanzania in Q3 this year.
If proven, this resource has the potential to be the world's third largest helium reserve behind the nations USA and Qatar, and the largest ever reserve held by a single company.
Here is a recording of NHE's presentation at the RIU conference.
Here's NHE MD Justyn Wood presenting in Sydney: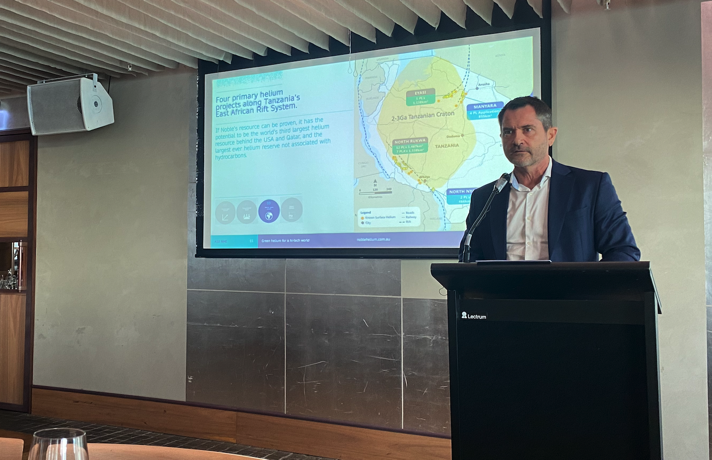 Our take: We caught up with the NHE board in Sydney, and are looking forward to the company's first drilling event next quarter. NHE Managing Director Justyn Wood has delivered success in drilling oil and gas targets on similar style plays to what NHE is chasing now.
WIth a preferred bidder selected on a two well farm out, next we are looking out for the completion of the farm out deal ahead of drilling.
We then walked up to Bloomberg's Sydney offices, which have a very impressive view of the harbour bridge - especially for us travellers:
The Bloomberg offices was the location of the Broker Briefing "Battery Metals Forum" hosted by PAC Partners and Bloomberg.
Mohsen Crofts, an Equity Research Analyst at Bloomberg Intelligence gave a quick overview of the lithium market and the shortfall in supply anticipated over the coming years.
We then caught a presentation from Liontown Resources - Liontown was the star of the show - a $6.5BN company that is currently under a takeover offer from the world's biggest lithium producer Albemarle.
Liontown has been a huge success for early investors - going from as low as 5c in March 2020 to now edging $3... this is the kind of small cap investment we are all chasing.
LRS - lithium in Brazil
One of our lithium Investments looking to take its project from discovery into the feasibility stage is Latin Resources (ASX:LRS) (we covered LRS in more detail at the start of this note).
LRS's new CFO (ex Rio Tinto) Mitch Thomas presenting in Sydney:

Our take:
LRS just closed off a big capital raise in what was a tough market - and now has ~$57M in cash.
We also like that the MD isn't trying to reinvent the wheel... Instead, he is just executing the same playbook Sigma used to get from $200M lithium company to now a $6.3BN producer.
LRS ended the week up ~20% so clearly the market is starting to see the company's potential too.
Here is LRS's latest investor presentation.
On Tuesday we then moved over to RIU Resources Round Up at the Hyatt Regency.
We took the opportunity to meet with a number of our portfolio companies in and around the conference venue, as well as attending a few presentations and chatting to management teams and other investors.
TG1 - Gold in NSW, Australia
TG1 is a micro cap exploration company set to drill its flagship gold project in New South Wales in the coming weeks.
TG1 had flagged that it would be drilling in "early May" - so we shouldn't have to wait much longer for drilling to start.
See our latest note on the drill program here: What we want to see from gold explorer TG1 over the next 12 months
Our take: After a successful gold hit last year in NSW, we are looking forward to this follow up programme due to begin any day now. Any thick high grade intercepts could see TG1 materially re-rated from its tiny current $5.4M market cap.
MEG - Lithium in Canada
MEG is aiming to make a critical minerals discovery in North America.
MEG has a lithium project in the James Bay region in Canada & a rare earths project in Idaho, USA.
MEG's major shareholders (owning 14.15%) are the Dahrouges - the team behind $2BN Patriot Battery Metals discovery in the James Bay region.
The Dahrouges' held some of the ground that now makes up Patriot's projects AND were the exploration consultants that helped Patriot make its discovery.
Ultimately we are hoping the Dahrouges can deliver the same success to MEG.
Our take: Now that the transaction has settled with MEG's move into James Bay lithium, we are looking forward to MEG building up drill targets and ultimately drill testing its ground. We like that the vendors behind Patriot are such major holders of MEG, and therefore incentivised for success.
LCL - gold in Papua New Guinea
LCL is currently undertaking a maiden drill program at its copper-gold project in Papua New Guinea.
So far LCL has released its first assay result and has assays pending from the remainder of the drill program.
Our take: We liked the move into PNG that LCL delivered in recent months, especially bringing on board the vendor team - a duo of highly experienced in country geologists, both hailing from major mining companies like Barrick Gold. We like that they are now a top shareholder in LCL and incentivised for success with LCL.
AKN - uranium in Tanzania
AKN is planning a drilling program at its uranium project in Tanzania.
We caught AKN's presentation on Thursday afternoon and met up with CEO Paul Williams and Chairman Asimwe Kabunga to discuss the project.
The most interesting takeaway from the presentation was from slide 6 in the company's presentation where AKN teased a ~40km x 10km radiometric anomaly that could potentially be uranium mineralisation.
We are looking forward to seeing the company eventually drill that target.
Here is AKN's latest investor presentation.
Our take: All eyes will be on drilling this radiometric anomaly soon in Tanzania: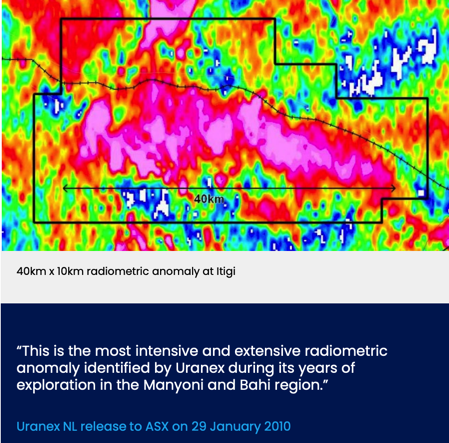 FYI - High Purity Alumina and Rare Earths in Australia
FYI is a critical minerals technology and development company.
It's got an advanced stage High Purity Alumina (HPA) project in WA.
In addition, this week, FYI announced an acquisition of a rare earths project in the Northern Territory on Wednesday.
We released this note at around the same time as we caught up with management (read our note here).
Here is FYI's latest investor presentation.
You can watch FYI MD Roly Hill talk investors through the new acquisition here.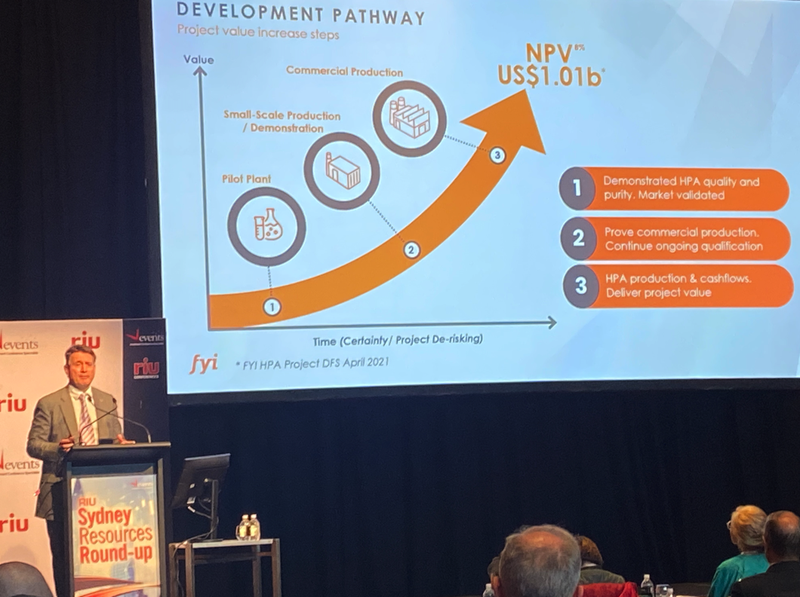 Our take: We like FYI's move into rare earths in the Northern Territory, and partnering with the $845M Arafura Rare Earths.
This project could dramatically increase Australia's total rare earths production in a market that is projected to experience 1,000% demand growth through to 2035.
OKR - Uranium in North America
OKR is the only ASX listed company with exposure to both uranium enrichment and uranium exploration assets.
OKR's exploration assets are located across four districts in Canada and the USA.
OKR owns 21.9% of an enrichment technology which (if successful) could make uranium enrichment more efficient, safer and cheaper.
OKR put out an update on the enrichment technology this week - see our Quick Take on the news here:OKR ups enrichment tech investment as U macro heats up
Here is OKR's latest investor presentation.
Our take: We think OKR's exposure to enrichment technology gives it an "X" factor.
Uranium enrichment is a $6BN market dominated by a few major players. Silex is the only other ASX uranium enrichment peer, and it is capped at $860M.
Big thanks to the Vertical Events team for putting on a great conference and for having us there.
WHK - Cybersecurity in USA
WHK held its annual general meeting in Sydney at the same time as the conference - the whole WHK team was in town including founder and Managing Director Terry Roberts.
WHK is a USA based cybersecurity company, providing cyber risk products, services and solutions.
WHK has been targeting large government organisations for big contracts - we're hoping this is the year everything clicks into place.
Here's WHK's AGM presentation.
Our take: We caught up with WHK before their AGM - got an excellent update from Terry Roberts on the business. Whilst the company's share price performance has been poor in recent months, we think WHK just need to bring in a few large deals and we the market should re-rate the company from its current $9M market cap.
Macro News - What we are reading 📰
US - Based Commodities
Lithium
Lithium markets at a 'turning point': Morgan Stanley (AFR)
Allkem merger raises stakes in battle for WA lithium assets (AFR)
California's Lithium Valley could power electric vehicle industry | 60 Minutes (60 Minutes)
ASX-listed lithium company Allkem inks $US10 billion merger: sources (AFR)
Uranium
Uranium Market Minute – Episode 201: Uranium Contracting Cycle in FULL FORCE (Uranium Insider)
Climate and War Send Nuclear Fuel Orders Surging at Urenco (Bloomberg)
Rare Earths
'Significant handicap' for critical minerals amid budget neglect (AFR)
Analyst Insights: Rare earths market 101 | Benchmark Source (Benchmark Mineral Intelligence)
Gold
China's Gold Splurge Reaches Sixth Month as Reserves Rise Again (Bloomberg)
Zimbabwe to launch gold-backed digital token as currency concerns mount (Financial Times)
St Barbara gold mine takeover taken over by Silver Lake's improved bid (AFR)
Gold Looks 'Best Hedge' as Debt-Ceiling Angst Builds, RBC Says (Bloomberg)
Oil & Gas
Oil Rises as US Signals It Aims to Refill Oil Reserve After June (Bloomberg)
Russian Oil Finds New Markets Via Mystery Traders and Old Tankers (Bloomberg)
Gas Buyers Need to Prove They Can Work Together (Bloomberg)
Oil snaps three-day rally as risk appetite fades (AFR)
Copper
WA flags massive energy grid expansion to support industry (AFR)
Biotech
Federal 2023-24 Budget wrap up for biotech (Ausbiotech)\
Hydrogen
Green hydrogen startup Ohmium raises $250 million in latest funding round (Reuters)
What we wrote about this week 🧬 🦉 🏹
FYI Resources
FYI Resources (ASX: FYI) announced this week that it will be acquiring a rare earths processing project in partnership with ~$850M capped Arafura Rare Earths.
📰 See our full Note: FYI to partner with leading Aussie rare earths company in NT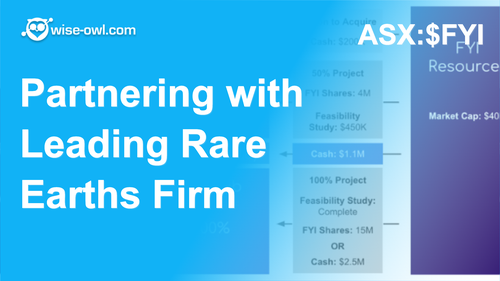 The Original Juice Co.
This week The Original Juice Co. (ASX:OJC) (formerly FOD) signed a landmark export deal to sell its juice products in China with Aldi.
📰 See our full Note: OJC enters Chinese Market with Aldi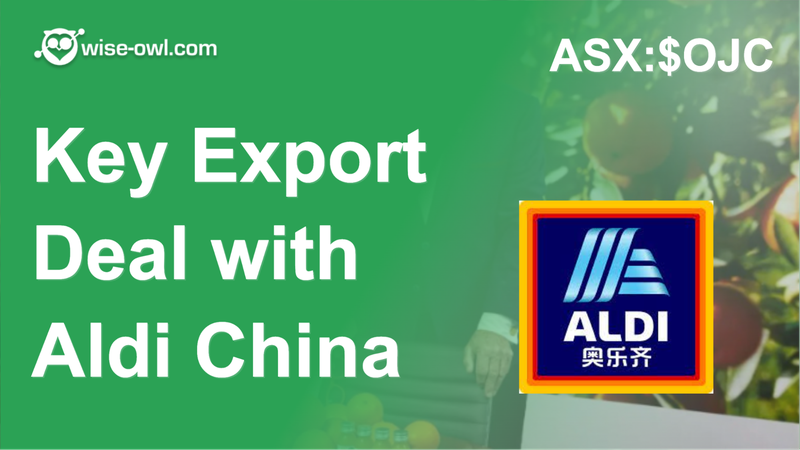 Pursuit Minerals
This week Pursuit Minerals (ASX:PUR) fast tracked its pathway to lithium production in Argentina by acquiring a ready built pilot plant for ~$350K that would have taken millions of $ and a lot of time to build from scratch.
📰 See our full Note: PUR's Pathway to Lithium Production - Here's what it needs to do next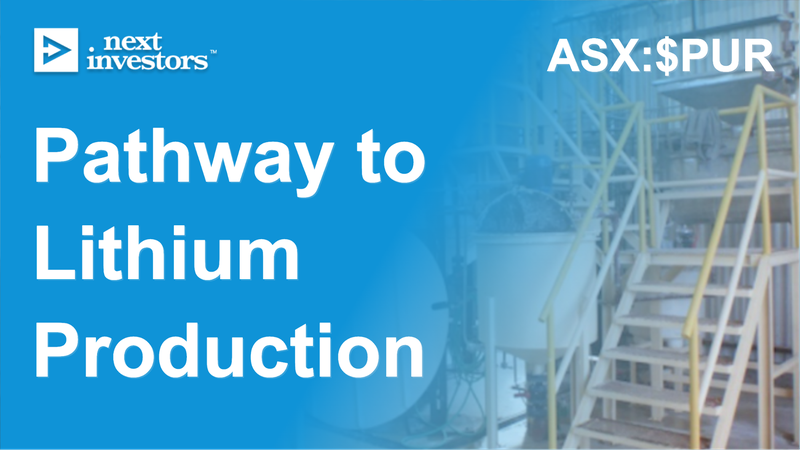 Quick Takes 🗣️
EV1: EV1 Project financing update
EXR: Update on EXR's green hydrogen project
GAL: GAL extends mineralisation at Callisto - More results pending
IVZ: Light Oil, Gas-Condensate and Helium confirmed for IVZ
LCL: LCL finds more copper and gold in the PNG
LNR: LNR starts diamond drilling at big carbonatite targets
LYN: LYN starts Ground Gravity Survey - drilling in June
OKR:OKR ups enrichment tech investment as U macro heats up
PRL: HyEnergy Upstream Pre-feasibility Study commenced
SGA: SGA making progress with its Pre Feasibility Study (PFS)
TYX: TYX discovers 10 additional lithium targets - drill program star
⏲️ Upcoming potential share price catalysts
Updates this week:
LNR: >10,000m drill program at rare earth's project in WA.

This week LNR started diamond drilling at its deep carbonatite targets. See our take on the news here.

IVZ: Drilling oil & gas target in Zimbabwe, Myuku-2 (Q3, 2023).

IVZ confirmed light oils, gas condensates AND helium at its Mukuyu-1 well. See our take on the news here.

NHE: Scheduled to drill two targets at its helium project in Tanzania (Q3 2023).

NHE presented at the RIU conference in Sydney. See the full presentation here.

LCL: Maiden drilling underway at primary PNG copper-gold target.

LCL now has four additional assays pending from its drill program and two more areas of interest for future drilling. See our take on the news here.

TMR: Maiden JORC resource estimate for its Canadian gold project.

TMR went into a trading halt this week, the halt looks like it is for a "capital raise".

GAL: Drilling at its Callisto PGE discovery in WA.

GAL put out some more drill results and started preparation for drilling at its regional targets. See our take on the news here.
No material news this week:
DXB: Interim Analysis of Phase III Clinical Trial on FSGS (Q4 2023).
KNI: Drilling 3/3 of its Norwegian battery metals projects in Europe.
TG1: Drilling at its NSW gold project in May.
TTM: Drilling campaign at flagship Dynasty gold project.
GTR: Maiden resource estimates across two of its uranium projects in Wyoming, USA.
BOD: Phase III clinical trial for CBD insomnia treatment.
Have a great weekend,
Next Investors
---