The two high impact oil & gas drills we're watching
Published 12-AUG-2023 15:00 P.M.
Every year there is usually one or two significant oil & gas drilling events in the small cap markets.
Frontier drilling in far flung places that can offer high reward... but come with very high risk.
These big drilling events don't come around often as they take years of preparation and planning.
...and lots of funding.
As drilling finally approaches, the market starts to pay more and more attention.
"Will the drilling result deliver one of those rare share price re-rates?"
"Or will it be back to the drawing board as the share price tanks?"
It's hard not to watch the spectacle (even just from the sidelines) given the binary outcome of frontier oil & gas drill results.
The small cap market gods have thrown up a very interesting situation for us over the next few months.
We are currently Invested in not one, but TWO companies about to commence high impact frontier drilling campaigns.
Both happen to be scheduled to start drilling at almost exactly the same time.
Yesterday IVZ AND NHE both announced their drill rigs have commenced mobilisation and both expect their long awaited drilling to start in September.
IVZ announced that its drill rig has commenced mobilisation onto trucks to be driven 6.8km by road to the drill site.
NHE announced that the ship carrying its drill rig has left the UK port of Hull and is on the way to the drill site in Tanzania.
We are watching closely to see who will get their rig to site and manage to start drilling in September.
It's an informal "race to start drilling" between IVZ and NHE that we are tracking in the office: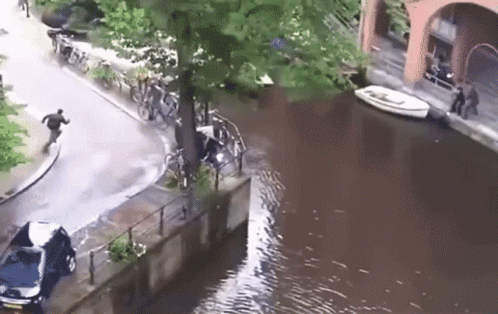 Exposure to one major oil & gas drilling event is hard enough on investors' nerves, let alone two at the same time.
NHE is drilling for helium in Tanzania, inside the East African Rift System (EARS) - a geological system that runs from Ethiopia all the way down to Mozambique.
IVZ is drilling one of the largest untapped basins in Eastern Africa, in Zimbabwe, analogous to the EARS.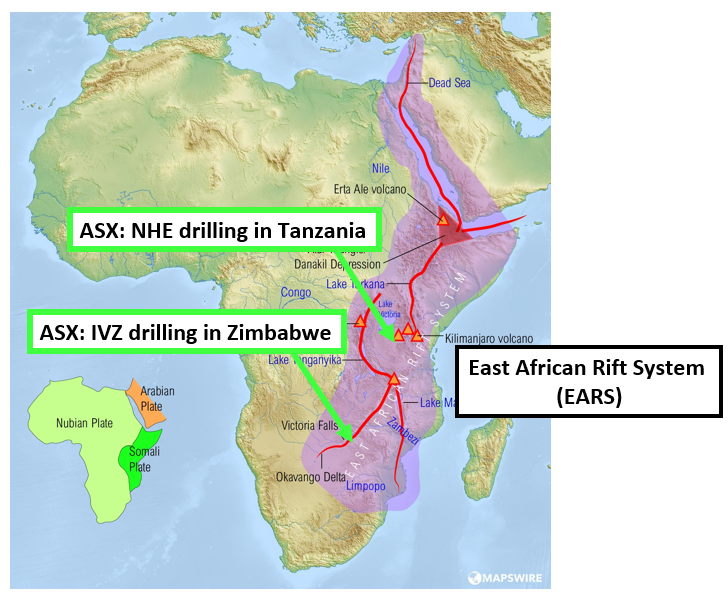 For context - Across the EARS, previous junior oil and gas explorers have had an over 80% success rate from 40 wells.
Invictus Energy (ASX:IVZ) is drilling for oil and gas at its Mukuyu-2 appraisal well in September.
IVZ's project has a total ~5.5 billion barrel unrisked prospective resource.
With the upcoming drill IVZ is focused on its "Central Fairway target" which hosts ~80% of the total unrisked prospective resource.
Yesterday IVZ started mobilising its rig to the drill site - so drilling shouldn't be very far away now...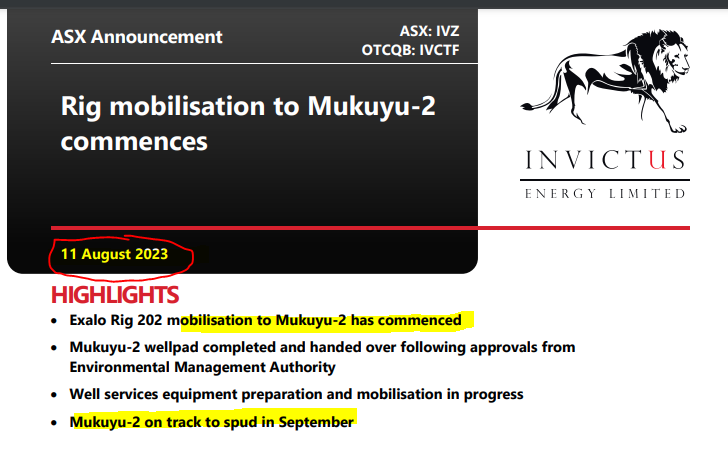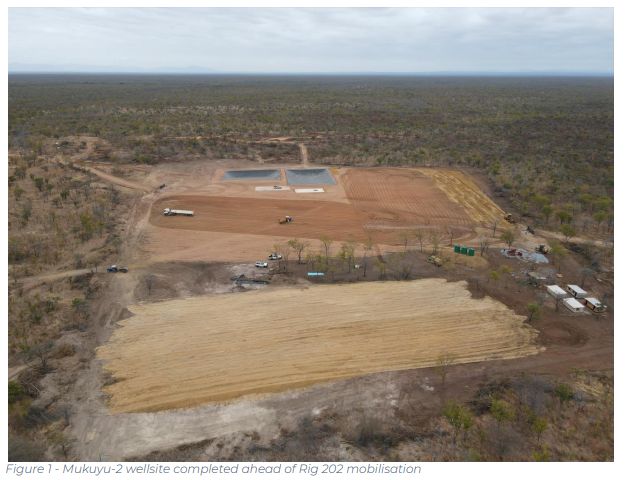 The goal for IVZ?
To find and announce some long gas columns and produce an oil/gas (fluid) sample to surface and officially declare a discovery.
Noble Helium (ASX:NHE) is drilling for helium in September.
NHE's project has a 176 billion cubic feet (Bcf) unrisked prospective resource.
NHE's upcoming first well (Mbelele-1) is going after 15.7 Bcf of helium - ~9% of NHE's overall prospective resource base.
For context - a discovery measuring 6 Bcf would on its own be a company making discovery.
Yesterday NHE announced its rig was loaded up onto the good ship Bohwa Tsingtao and is now enroute to Tanzania.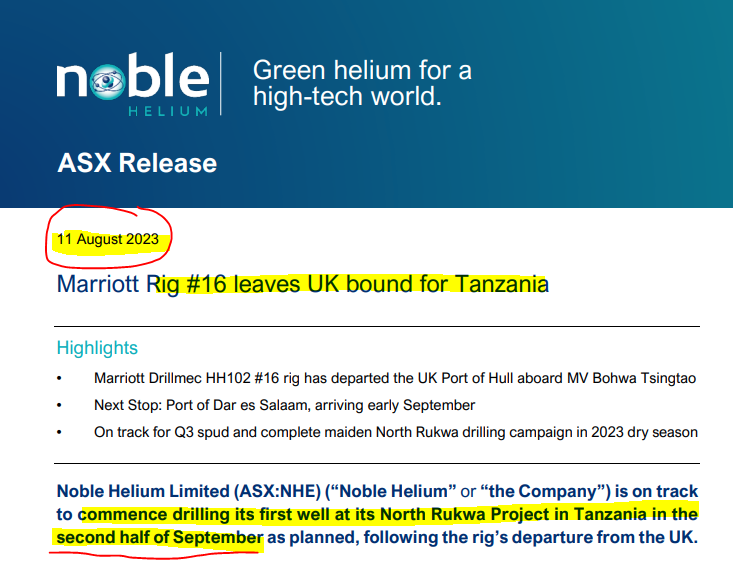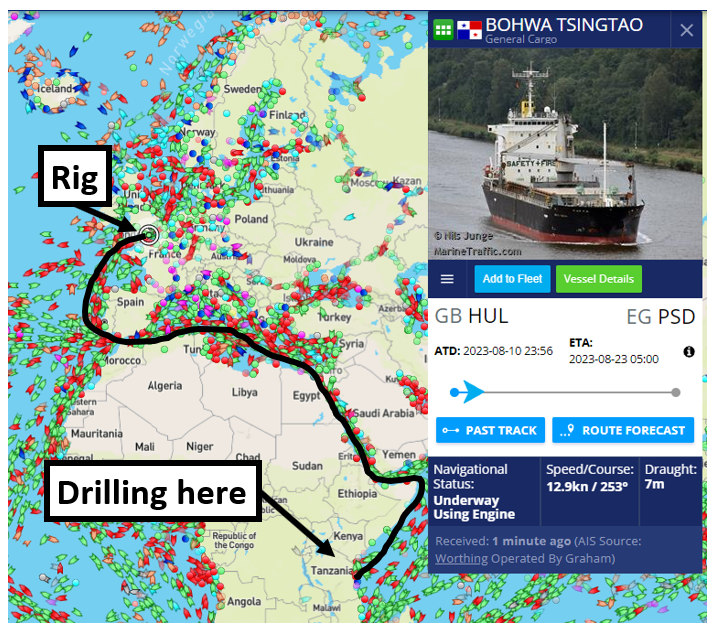 TRACK THE SHIP CARRYING NHE'S DRILL RIG HERE
The goal for NHE?
NHE is aiming to make a helium discovery and unlock a project that has the size/scale potential to be a globally significant helium project.
The primary aim of NHE is to confirm the helium is there and to be able to officially declare a discovery.
Market interest and excitement levels leading up to drilling:
Drilling for both IVZ and NHE could be only weeks away, which means we are getting close to that point in a big drill event where market excitement usually starts to increase.
Junior oil and gas explorers with big drilling events often see a run up in their share price pre-drilling.
As drilling commencement and results approach, interest and excitement builds up and speculators may start entering the stock expecting a positive result.
When drilling is underway investors start to price in blue sky discovery scenarios and the share price may enter the "speculative mania" stage.
We created this chart that roughly approximates the general levels of increased excitement/interest in the lead up to a big drilling result for a small cap oil and gas explorer: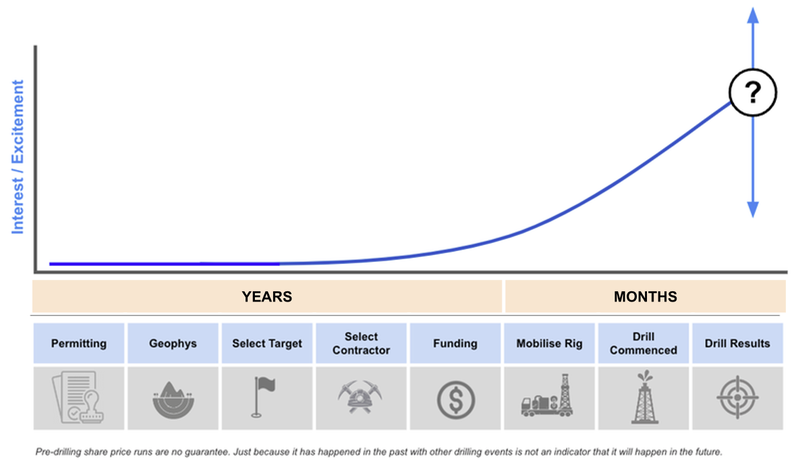 It's important to note that increased excitement/interest shown on this chart does NOT necessarily correlate to share price increases, which depends on many other factors and broader market conditions.
Sometimes oil & gas explorers share prices run leading into results, other times they don't.
Here are two examples:
88E: an example of a share price run leading into drill results:
88 Energy had a good run up in its share price leading up to its drill program back in 2021.
Then 88E saw a 1,000% plus surge off the back of pre-result traders and speculators, we believe driven in part by a cult following on Reddit in the US (88E is listed in the US as EEENF).
Unfortunately, that drill result didn't come in and 88E's share price hasn't hit the 2021 highs since.
PRM and GLV: An example of when a share price run did NOT run up in the lead up to results
Of course a share price run isn't always the case, we have also seen our Investments in Prominence Energy and Global Oil & Gas didn't deliver a pre-drill run up - for a number of reasons that we covered in our post drill result analysis note.
IVZ and NHE about to start drilling...
Going into IVZ and NHE's drill programs this is where we think the two companies sit relative to the investor excitement/interest scale: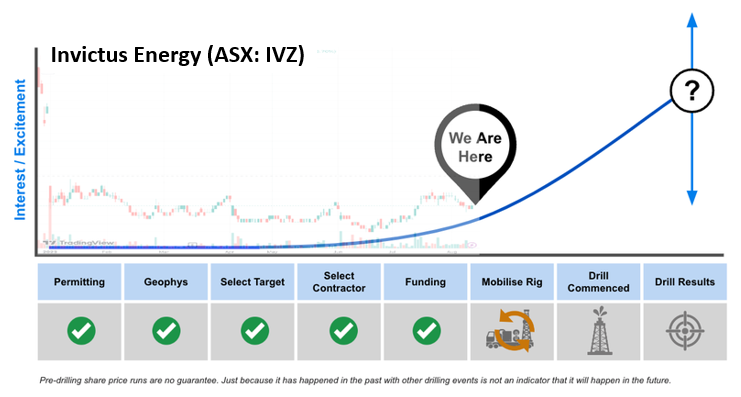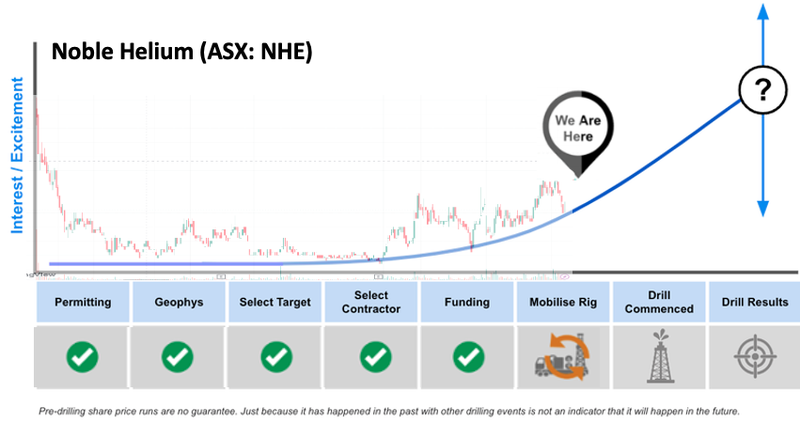 Again, It's important to note that increased excitement/interest shown on this chart does NOT necessarily correlate to share price increases, which depends on many other factors and broader market conditions.
Our Investment approach to big oil and gas drilling events:
We have an almost procedural approach to Investing in big oil and gas drilling events.
Our strategy is to:
Invest long before the drilling starts.
Patiently hold while the company does all of the pre-drilling work.
Wait for the company's share price to rise closer to the drilling date, free carry in the lead up to drill results and ride the rest of our position into a drilling result (hopefully a good one).
We look to gradually Free Carry and (hopefully) Take Profit in the lead-up to the drilling event as market excitement and speculation starts building.
Sometimes it works, other times it doesn't.
It's impossible to predict how speculative small cap stocks will behave in different market conditions.
Ultimately, our plan is to hold a material position going into the drill result that is big enough to deliver a big return (if a discovery is made) BUT not big enough to destroy our portfolio as a whole if the result fails and the share price tanks.
We are conscious of the drilling events being high risk, high reward so we hold these Investments as part of a diversified portfolio.
We should be clear here, this type of investing suits our risk profile as Investors - it may not suit yours.
Invest only what you can afford to lose in small cap speculative stocks, and seek professional advice before investing.
Our other Oil and Gas Investments drilling soon:
The focus for this quarter is on IVZ and NHE but we have a several other portfolio companies gearing up for drill programs over the next 6-9 months: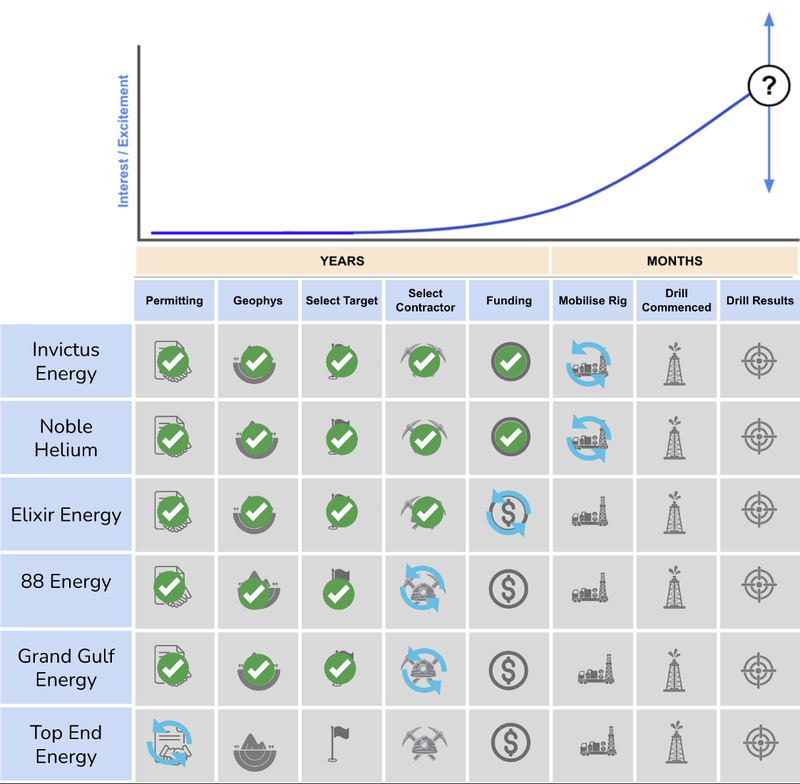 Oil and Gas macro starting to heat up again...
The big surprise in the oil and gas markets was the extensions to voluntary production cuts from the world's biggest oil and gas producer Saudi Arabia.

The Saudis extended the 1 million barrel per day production cuts for another month to the end of September, AND the Russians agreed to reduce their production rates by another ~500,000 barrels per day.
The impact?
A pop in the oil price from ~US$70 per barrel in early July to now trade at US$82 per barrel.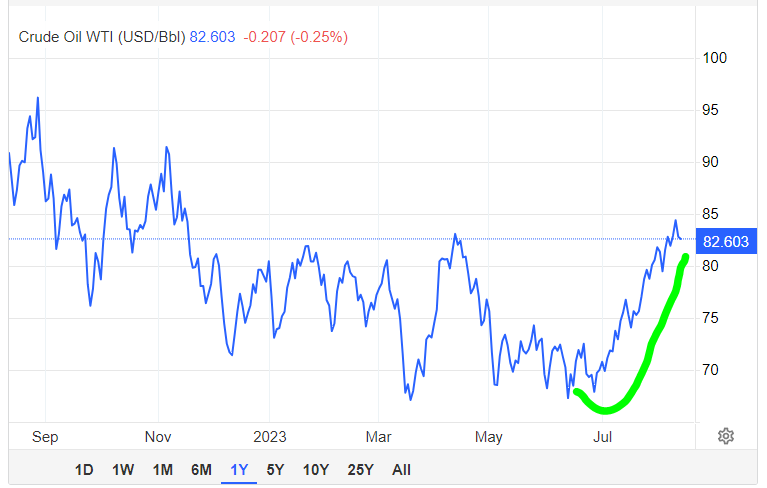 Adding to the potential supply chain issues was the threat of strikes across WA's Liquefied Natural Gas (LNG) projects.
European gas prices responded to the potential supply chain issues in world LNG markets with prices increasing ~40% earlier in the week.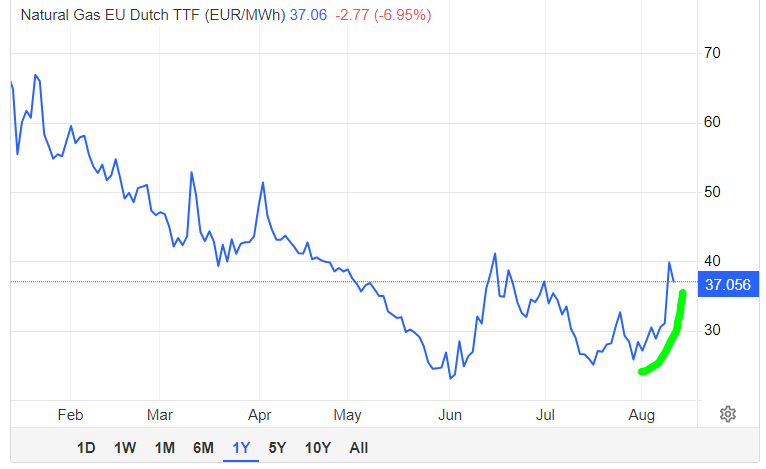 Our takeaway is that higher pricing and more positive sentiment may bring more investor excitement/interest to our small cap oil & gas explorers as they drill potential company making wells.
What we wrote about this week 🧬 🦉 🏹
IVZ rig on its way to drill - scheduled for next month
IVZ's started rig mobilisation for its Mukuyu-2 appraisal well. IVZ expects to have the rig on site, ready to start drilling next month.
EMN's North American battery metals push gathers steam
EMN put out a scoping study on its future high purity manganese plant in Canada. The study showed a Net Present Value (NPV) of CAD$190M, CAPEX of CAD$110M, Internal Rate of Return of 26% and a payback period of 4 years.
Quick Takes 🗣️
NHE: Noble Helium's rig is heading to Tanzania
BOD: Aqua Phase Acquisition Complete
GAL: Releases sulphide assays at Jimberlana
MAN: Increase size and scale of its US lithium project
DXB: Passes second safety hurdle in Phase 3 trial
TTM: Completes $5.5M capital raise
IVZ: 2D Seismic acquisition program completed
KNI: Releases new assays from Cobalt project in Norway
Macro News - What we are reading 📰
Uranium
Putin profits off global reliance on Russian nuclear fuel (AP)
Nuclear Necessity, Battery Metals' Impossible Mission & Avoiding the Herd with Doomberg (Money of Mine)
China Approves Six Nuclear Reactors at $17 Billion Investment (Bloomberg)
US Battery Metals
Saudi metals deal to test Canada's new foreign investor rules (Mining.com)
Lithium
Lithium Deals Cast Doubt on Australia's Onshore Refining Dream (Bloomberg)
Albemarle jumps into global race to reinvent lithium production (Reuters)
The CEO who took Liontown from a bargain to an ASX lithium force (AFR)
Commodities
Surging oil, gas prices reignite inflation fears (AFR)
Cannabis
Tilray Brands Deal With Anheuser-Busch InBev Sets Them Firmly On The National Stage (Forbes)
Biotech
Cancer breakthrough: a tumour-killing pill has been developed, according to new reports (Yahoo)
Rare earths
Rare earths junior says sell to China or 'twiddle your thumbs' (AFR)
⏲️ Upcoming potential share price catalysts
Updates this week:
GAL: Drilling at its Jimberlana & Mission Sill prospects at its PGE project in WA.

GAL hit more sulphides from its Jimberlana/Mission Sill drill program. Assay results from the drill program are due in ~later this month, see our Quick Take on the news here.

NHE: Scheduled to drill two targets at its helium project in Tanzania (Q3 2023).

NHE's rig is now on the boat and en route to Tanzania. See our Quick Take on the news here.

IVZ: Drilling oil & gas target in Zimbabwe, Myuku-2 (Q3, 2023).

IVZ's wellpad construction is now complete and the rig is on the move to the drilling site. IVZ expects to be drilling in September. See our note on the news here.

KNI: Drilling 3/3 of its Norwegian battery metals projects in Europe.

KNI put out the last batch of assay results from its Norwegian cobalt project. See our Quick Take on the news here.

BOD: Phase III clinical trial for CBD insomnia treatment.
DXB: Interim Analysis of Phase III Clinical Trial on FSGS (March 2024).

DXB passed the second safety hurdle in its Phase 3 FSGS (rare kidney disease) trial. See our Quick Take on the news here.
No material news this week:
TMR: Maiden JORC resource estimate for its Canadian gold project.
TG1: Drilling at its NSW gold project in May.
LCL: Drilling at its primary PNG copper-gold target.
SLM: Maiden drill program at its Brazilian lithium project
LNR: >10,000m drill program at rare earth's project in WA.
Have a great weekend,
Next Investors
---