BOD: Aqua Phase Acquisition Complete
Shares Held: 3,535,112
Options Held: 0
---
Our life sciences Investment, BOD Science (ASX: BOD), has officially announced the completion of its Aqua Phase acquisition.
Aqua Phase is a technology that can amplify the bioavailability of lipophilic cannabis compounds, and could improve the effectiveness of BOD's CBD products.
Put simply - more effective CBD dosing, meaning less active ingredient needed and a better tolerance of the treatment.
It can also be licensed to other CBD companies or applied to pharmaceuticals that have poor absorption in the gastrointestinal tract - something BOD flagged the company was exploring in its latest investor presentation.
Last week, we saw BOD release their results from the pharmacokinetic (PK) analysis of Aqua Phase - which outlined significant outperformance compared to traditional CBD - specifically a 311% in CBD bioavailability.
BOD, according to the acquisition terms for Aqua Phase, has now made a payment of £1M (~$2M) to the vendors.
BOD's cash balance as of June 30th was ~$2M, but recently the company raised $1.9M via a placement at 8 cents per share.
With BOD securing adequate funding, the company can now further focus on commercialising its newly acquired Aqua Phase technology, while we await the results of its insomnia trial - the other major catalyst looming for the company.
Importantly, today's acquisition means BOD has the rights to Aqua Phase's intellectual property, including patents and confidential information.
We're looking for BOD to pursue opportunities like CBD-infused beverages, novel treatments, and potential licensing opportunities.
What's next for BOD?
Next, we want to see what BOD can do with this new technology in hand.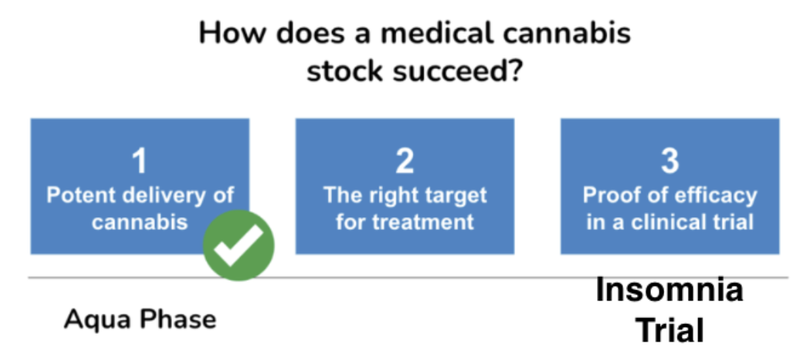 Insomnia Trial Results 🔄
BOD has another major catalyst approaching later this month which will see the company release their results from insomnia trials, which is a crucial precursor to TGA approval and potential commercialisation.