Quarterly report - advancing multiple clinical trials
ASX:BOD
Jul 28, 2022
Announcement
Investment Memo: BOD IM-2022

---
Our long-term Wise-Owl cannabis investment, BOD Australia (ASX:BOD) released its quarterly results earlier today.
While the company improved in several financial metrics that we track on a quarter-vs-quarter basis (total quarterly sales up 46% to $943,608), it declined on a previous-corresponding-period last year basis ($1,173,498).
This is partially explained by the company now focussing more on its R&D pipeline with the hopes of unlocking several growth opportunities (and future revenue sources) in the year ahead.
Bod holds $3.67M cash at bank as of 30 June 2022, which we think likely means the company doesn't need to raise capital for the rest of the year, unless a significant new investment/ growth opportunity arises.
Capped at ~$10.5M, Bod's enterprise value (EV) is now under $7M.
That said, as per our Investment Memo, we are more interested in how Bod's numerous clinical trials are advancing.
On this front, we like the progress being made. During the quarter, BOD dosed the first patients for the following two trials:
Insomnia (Phase IIb) - for an over-the-counter (OTC) treatment available at pharmacists
Long-COVID (Open label, "Proof of Concept")
These both address substantial markets, and hence successful outcomes on either trials could ultimately lead to new products and potentially prosperous revenue sources. Typically this is when significant market re-rates can occur.
Of interest, Bod is planning to launch a new low dose cannabidiol product through Australian SAS-B channels (i.e. via a prescription from a medical practitioner), providing the company with another sales channel and additional delivery format for consumers ahead of any OTC launch.
We will provide a more detailed analysis on the progress of the clinical trials in August.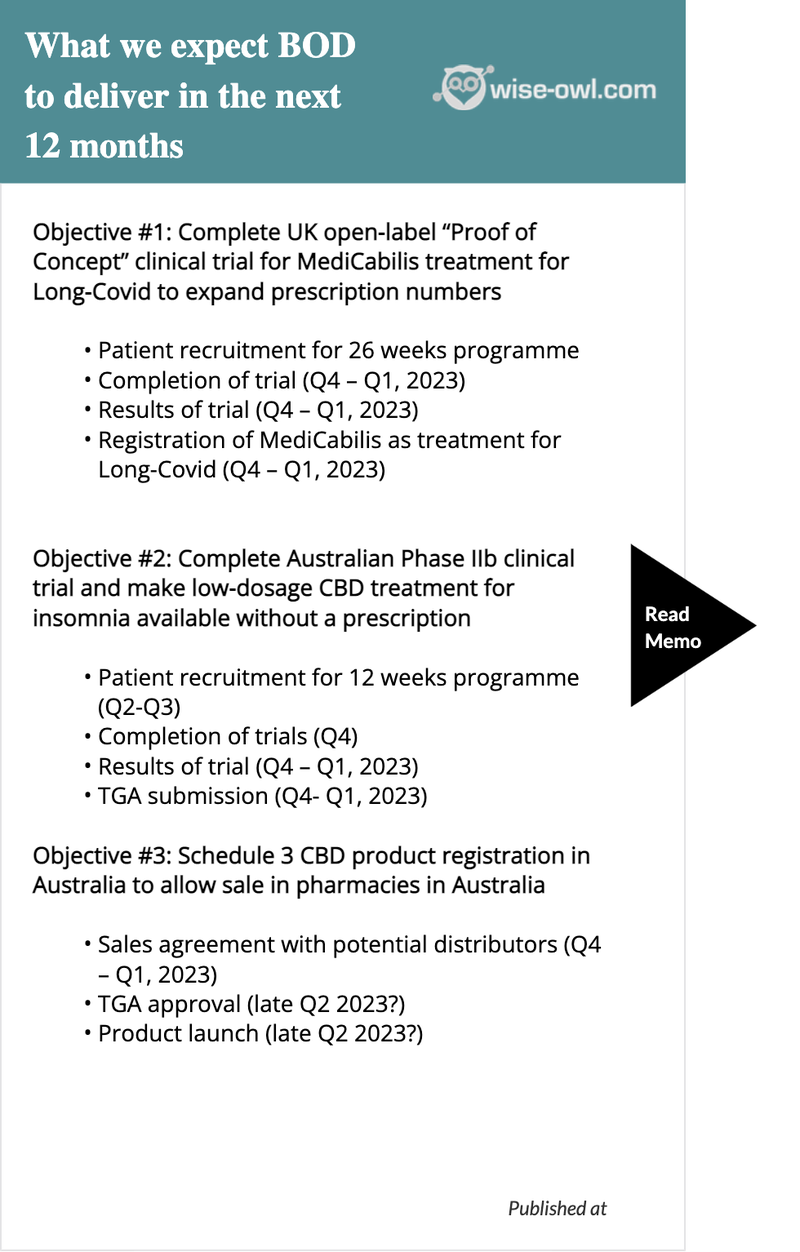 ---