BOD's CBD product improves bioavailability by 311%
Shares Held: 3,535,112
Options Held: 0
---
Today our early stage life sciences Investment BOD Science (ASX:BOD) announced the much anticipated results from its PK study on Aqua Phase CBD.
In today's announcement BOD identified that Aqua Phase CBD was 311% better than CBD oil when it comes to total CBD availability.
In simple terms, it works better.
Aqua Phase is a CBD technology that BOD intends to acquire that improves bioavailability of CBD.
There's an opportunity for BOD to apply Aqua Phase in novel fields, such as pharmaceuticals as well.
Bioavailability improves the potency of CBD products which opens up the commercial opportunities.
A lower-dose, higher potency CBD product can improve the manufacturing costs, adverse side effects and therapeutic outcomes for CBD related treatments.
The 311% PK study result is much higher than the benchmark needed as the condition precedent to BOD acquiring the technology, which was 30% improved bioavailability.
We think that BOD is following on from other successful cannabis companies, by acquiring (or creating) a potent method of cannabis delivery, and then finding the right targets for commercialisation.
Next, we want to see what high-value targets BOD will go after with this new technology in hand.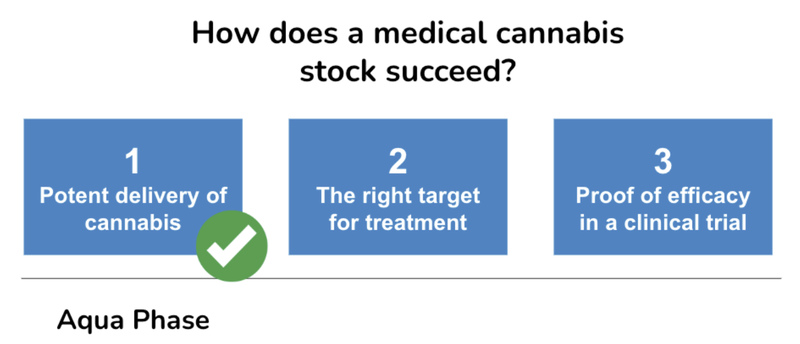 In the announcement today, BOD teased some of the wider commercial opportunities including the ability to enhance the widely used psychiatric drug, Clozapine.
This drug has a very poor side effect profile, and BOD is collaborating with the Kings College London to see if Aqua Phase can help.
There are a number of other opportunities that BOD could go after including CBD drinks, other treatments and licensing opportunities.
With today's news, we believe all conditions precedent in relation to BOD's acquisition of the Aqua Phase technology will have been satisfied. In order to complete the transaction, under the terms previously released to the market, BOD is required to pay £1M (~A$2M) to the vendors.
We note that BOD had a cash balance of A$3.3M as of March 31st, without taking into consideration the June quarter's activities. Based on this, BOD may need to shore up its balance sheet at some stage to make this payment, unless other terms are negotiated.
Once the deal is fully settled, we think that BOD will be in a strong position to capitalise on the commercial opportunities for this new technology.
Next, we want to see BOD narrow down the commercial opportunities to target and deliver a strategy to build value behind the Aqua Phase technology.