Scandinavian Sales Agreement Expands Creso Pharma's European Footprint
PUBLISHED: 04-03-2020 09:51 a.m.
The global cannabis market is estimated to be worth US$150 billion, with Barclays, predicting this to increase to US$272 billion by 2028.
With global acceptance, the benefits of medicinal cannabis also come into play, which points to a burgeoning need for high-quality products and a reliable supply to health users.
There are several cannabis companies working in specific niches and targeting specific markets, but one company that is distributing its animal and human health products on a global scale is Creso Pharma Limited (ASX:CPH, FRA:1X8).
Creso is at the forefront of the animal health sector with an estimated 100,000 dogs already benefitting from the company's anibidiol® hemp oil complementary feed range of products.
As far as human health is concerned it has sold over 2.5 million cannaQIX® lozenges (the equivalent of 100,000 pack sold) since the product's launch in April 2018.
The reason for these sales, other than the quality of the product is the company's reach, which this week expanded following the announcement that it has signed a commercial term sheet agreement with Farmagon, Oslo, Norway to enter the Scandinavia market with Creso products.
Farmagon is a well-established wholesaler in Oslo, Norway with access to doctors and retailers across Scandinavia.
Products to be launched include cannaQIX®50 and cannaQIX®10, with the agreement covering the marketing and distribution of products in Norway, Denmark, Sweden and Finland.
This announcement clearly expands Creso's global reach, which already targets Canada, Latin America, Switzerland, Australia and New Zealand.
Its Scandinavian entry marks another step forward in Europe.
So, let's dive deeper into its latest move and catch up with ...
Creso Pharma
ASX:CPH, FWB:1X8
Share Price: 0.087
Market capitalisation: $16.6 million
Here's why I like Creso Pharma: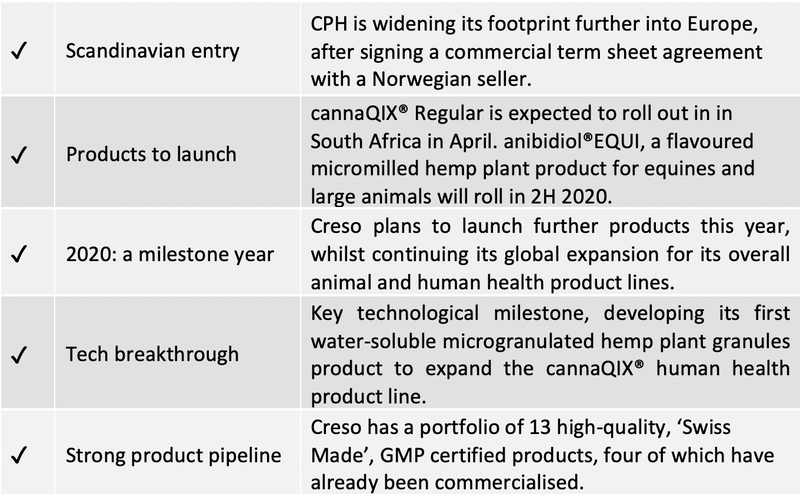 Creso's reach is far and wide
Creso Pharma's commitment to bring to market products that make a difference in the lives of humans and animals continues at pace.
The company is delivering products that help in the management of pain, stress and anxiety to broader markets.
The following graphic gives you an idea of how far reaching Creso's operations are; operations include product development and manufacturing as well as cultivation.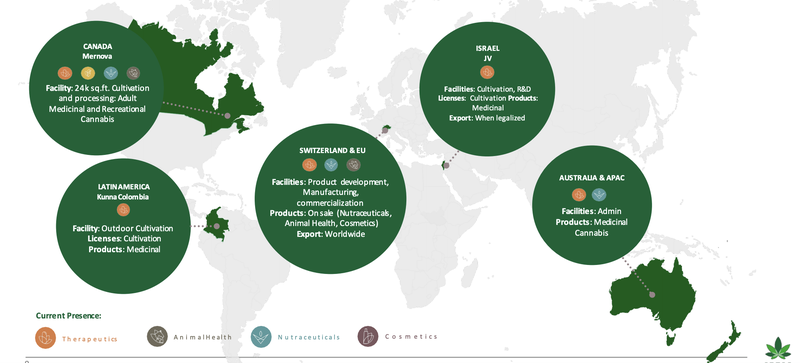 You can read more broadly about its operations in the following articles:
Read: Creso on a Roll: New Hemp Plant Product for Equines and Large Animals Set for Release
Read: CPH's cannaQIX® Products Have Now Exceeded the 2.5 million Lozenges Sold Milestone
Read: CPH Delivers Over 3 Million Anibidiol Doses to Europe's Dogs
Read: CPH Set to Expand cannaQIX® Product Line After Major Technological Breakthrough
It is the products featured in our previous articles that have attracted the attention of retailers and wholesalers.
Here's a look at some of the products it has developed, which all feature unique and innovative delivery systems.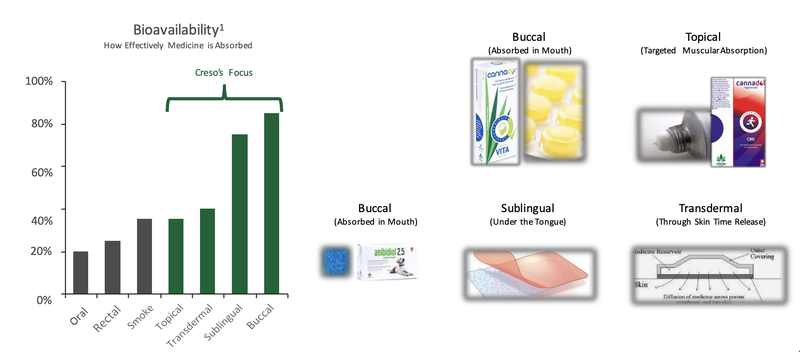 The Farmagon agreement gives Creso more leverage in Europe
Farmagon is an established wholesale distributor in Norway, with over 25 years of experience in pharma in Scandinavia.
It has consistently been in the top 50 list of pharmaceutical providers in Norway and Creso could capitalise on the decades of experience in the pharmaceutical space, deep industry know-how and channel connections this company brings to the table.
Creso is a perfect partner, as Farmagon is poised to bring in-demand medical cannabis products to Scandinavia and surrounding markets.
Farmagon is an authorised wholesale organisation with import to Norway and narcotics licenses for healthcare products (for humans and animals) with an active retailer distribution network in the Territory.
The following graphic illustrates how important this agreement could be:

Creso expects to leverage Farmagon's licences, deep industry know-how and active retailer distribution channels to bring in-demand medical cannabis products to Scandinavia and surrounding markets.
Under the agreement, Farmagon has the right to commercialise Creso's products under co-branding with Creso, or white labelling in the defined territory, subject to prescribed minimum order quantities.
The first phase of the commercial roll out will be the focused on the launching of cannaQIX® 50 and cannaQIX® 10, both of which will be marketed as medicinal cannabis products under a required narcotics licence.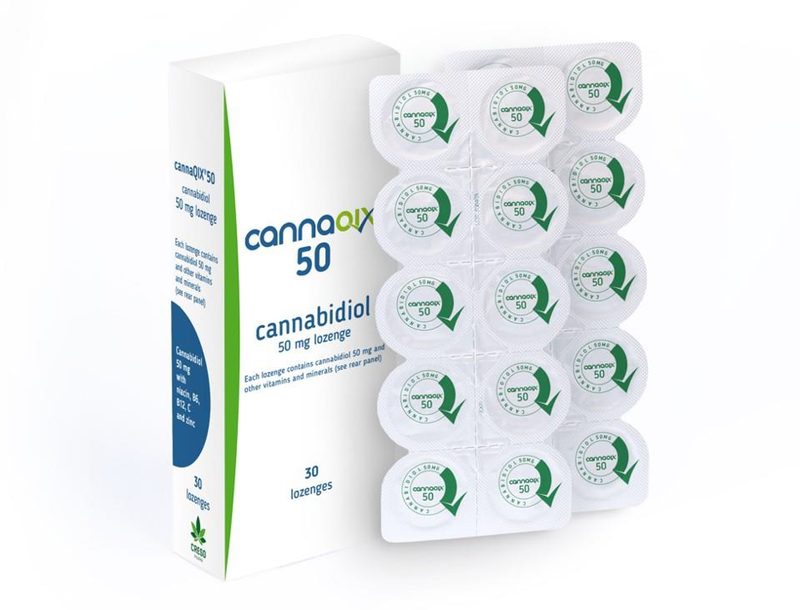 "Besides being an attractive market, this will bring excellent opportunities as Scandinavia is a top-quality reference for marketing science-based products," said Creso Pharma's CEO and co-founder Dr. Miri Halperin Wernli.
Creso expands its supply chain
All aspects of the supply chain from medical professionals to shopfront and online distributors are in place.
The sales channels will comprise doctors across a range of disciplines including alternative medicine, oncologists, neurologists and pain management doctors.
In terms of the group's sales strategy, distribution to retail, pharmacies, drugstores, grocery shops and online is being coordinated.
The agreement covers Norway as a commercial gateway as well as Denmark, Sweden and Finland, and can be terminated by either party giving three months' notice.
There are also obvious benefits that will flow from the group being an authorised wholesale organisation with narcotics licences for healthcare products for humans and animals in place.
Growth in medical cannabis demand
This new agreement with Farmagon puts Creso in an excellent position to capitalise on the growth of the cannabis market.
While 2019 was turbulent, with many companies in the space cost cutting, downsizing and moving on CEOs, 2020 is expected to be a stabilizing year, whilst analysts believe 2021 will be a breakout year.
As Creso continues to expand its footprint, it will be at the forefront of rapid industry growth. Remember, Barclays predicts the cannabis industry to be worth US$272 billion by 2028.
As for the legal cannabis industry, Prohibition Partners estimates that the global legal cannabis market will be worth up to $103.9 billion by the year 2024, driven mostly by the burgeoning international medicinal cannabis market.
Creso executive chairman Boaz Wachtel told shareholders recently, "Although the US and Canada are now home to nine of the 10 largest cannabis firms by market capitalisation, Prohibition Partners predicts that the European market will grow faster over the next five years –and Creso Pharma is already well established in Europe.
The agreement with Farmagon further cements this position, pointing to Europe becoming a thriving market for Creso as it continues to expand its reach.
---