CPH Set to Expand cannaQIX® Product Line After Major Technological Breakthrough
PUBLISHED: 06-02-2020 09:50 a.m.
Hot on the heels of major developments in human and animal health, Creso Pharma (ASX:CPH) has achieved another key milestone.
In an important technological breakthrough that will expand its cannaQIX® human health product line, Creso has developed its first water-soluble micro-granulated hemp plant granules product.
Developed in conjunction with Switzerland's Domaco Pharma, the new technology allows hemp oil-free manufacturing of cannaQIX® hemp plant-based gum arabicum lozenges – Creso's hemp and vitamin-based food supplement.
Just a week ago, Creso announced it had sold over 2.5 million cannaQIX® lozenges (the equivalent of 100,000 pack sold) since the product's launch in April 2018.
Today's news should be the catalyst to further increase those numbers in human health products and complement the innovations Creso is also making in animal health.
For those just catching up on the story this year, Creso's started 2020 with a bang reaching an estimated 100,000 dogs, equating to over three million anibidiol® sachets of its pet complementary feed doses sold since that product's launch in late-2017.
We are only a month and a week into the new year, but already Creso has taken huge strides in the development of its human and animal health products.
So, let's look in more detail at its latest news and what this means for its product growth.
Checking in on ...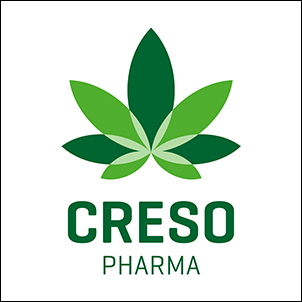 Creso Pharma
ASX:CPH, FWB:1X8
Share Price: $0.15
Market capitalisation: $26.1 million
Here's why I like Creso Pharma: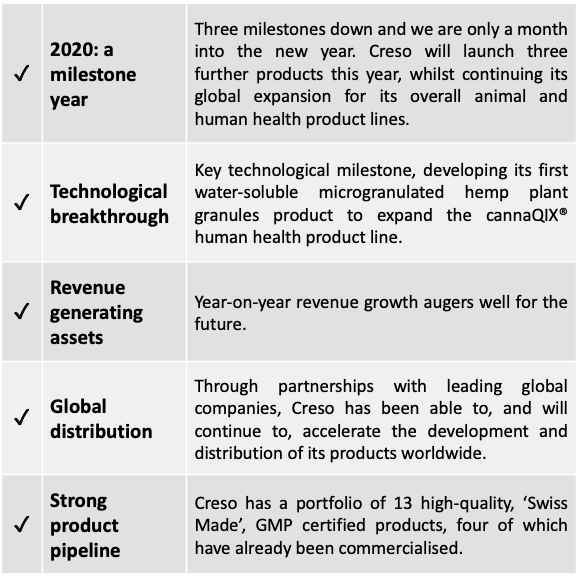 A quick recap
Creso Pharma (ASX:CPH) has had one of its busiest starts to the year for some time, achieving three major milestones only six weeks into 2020.
It began the year by announcing its animal health hemp derived product anibidiol® had reached an estimated 100,000 dogs, which brings the total number of anibidiol® sachets doses sold to over three million since the products launch in late-2017.
Read: CPH Delivers Over 3 Million Anibidiol Doses to Europe's Dogs
Creso backed this news up by reaching another impressive figure: 100,000 cannaQIX® human health products sold – that equates to over 2.5 million lozenges sold.
Read: CPH's cannaQIX® Products Have Now Exceeded the 2.5 million Lozenges Sold Milestone
As you may have read in the previous article, January's positive news resulted in Creso's share price increasing by more than 70% from about 11 cents per share at the start of the month to a high of 19 cents.
The company has come back a little to 15 cents, however with today's news and plenty more catalysts to come, it shouldn't be too long before it heads north again.
The latest milestone
Developed over the past nine months, the new technology developed by Creso in conjunction with Switzerland's Domaco Pharma, will provide a major benefit to natural hemp plant consumers.
Domaco pharma is a division within the Domaco Group and specialises in high quality products with active pharmaceutical ingredients and therapeutic plants.
Creso and Domaco have a long standing relationship. The pair has been working together since 2017, when CPH negotiated at the start a binding Letter of Intent (LOI) with the Swiss based food and pharma development company which saw them work together on the development, manufacture and commercialisation of CPH's human and animal health hemp derived products.
You can read more about its initial relationship in the following Finfeed article: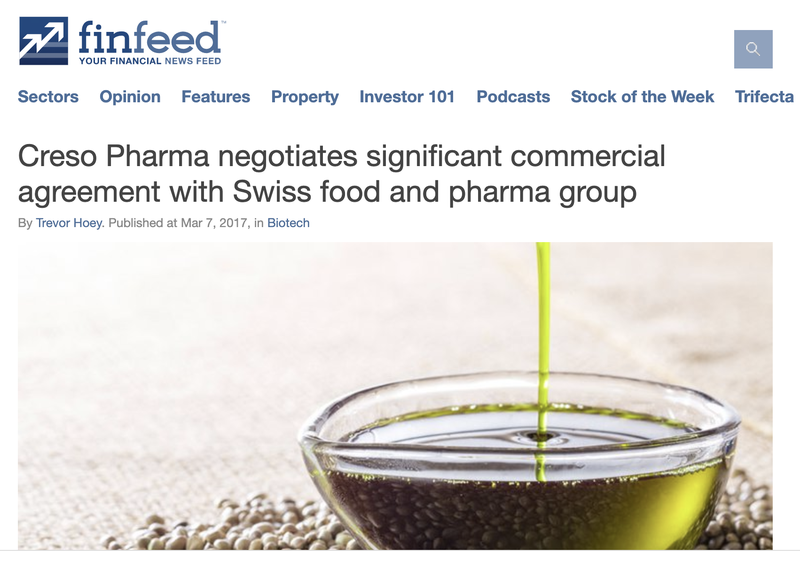 The relationship is now much stronger, with the latest technology developed by Creso and Domaco leading to its first water-soluble micro-granulated hemp plant granules product.
The new technology allows hemp oil-free manufacturing of cannaQIX® hemp plant-based gum arabicum lozenges – Creso's hemp and vitamin-based food supplement.
"We are proud of having successfully developed this innovative oil free hemp plant based technology," said CPH CEO Miri Halperin Wernli.
The hemp compounds within the products are already approved for use in consumer products, which means Creso now has an additional path to market for its hemp-based food supplements without the need for regulatory approval.
This gives Creso significant regulatory advantages in several countries. So, not only does this development expand the product line, it increases the company's commercial options and expands the potential territories it can sell these products in.
The new products use natural hemp plant and provide an "entourage effect" in which various compounds work together to strengthen the key benefits such as helping to manage stress and improving well-being.
Creso Pharma plans to distribute the new products globally with different commercial partners in several countries and expects that the products will be ready for launch in Q3 2020.
Cannabis products increasingly used for stress management
There is some way to go and many studies to be done before cannabis and hemp products are widely accepted as help for stress and anxiety. However, positive steps have been taken in reassuring the public that genuine, legal, regulatory products are a viable alternative.
The following video released by the world renowned Mayo Clinic gives insight into how medical marijuana is being used to treat pain and disease, specifically epilepsy.
Use of medicinal-based cannabis treatments is becoming more commonplace.
Creso is looking to put itself at the forefront of product development in a legal market set to be worth US$66.3 billion (A$98.6B) by the end of 2025.
Yet, Creso's advantage is that it is not only working to support the lives of humans in the management of pain and anxiety, but animals as well.
Given its impressive start to the year, Creso is certainly one company in this space that investors should keep an eye on, especially as it looks to roll out more products during the year.
---