Creso on a Roll: New Hemp Plant Product for Equines and Large Animals Set for Release
PUBLISHED: 11-02-2020 10:10 a.m.
The companion animal segment is anticipated to grow at an exponential rate owing to associated health benefits for humans such as lower blood pressure, greater psychological stability, and reduced anxiety attacks.
According to Grandview Research, the global animal health market size is expected to reach US$73.6 billion by 2027. This growth will be driven by technological advancements, which are anticipated to offer the market future growth opportunities.
One advancement to watch out for is the emergence of veterinary health information systems, specifically in developed economies, which are expected to provide high growth potential in the future.
Forging a path at the forefront of this sector is Creso Pharma Limited (ASX:CPH, FRA:1X8), which, fresh from announcing an estimated 100,000 dogs have benefited from the company's anibidiol® hemp oil complementary feed range of products, today announced the successful development of anibidiol®EQUI, a flavoured micromilled hemp plant product for equines and large animals.
The product will roll out in the back end of 2020, following 12 months of development.
While the focus of this article is on the latest news covering the progress of its animal health products, Creso has already achieved a major milestone this year.
Just last week it announced an important technological breakthrough that will expand its cannaQIX® human health product via its first water-soluble micro-granulated hemp plant granules product.
Developed in conjunction with Switzerland's Domaco Pharma, the new technology allows hemp oil-free manufacturing of cannaQIX® hemp plant-based gum arabicum lozenges – Creso's hemp and vitamin-based food supplement.
Creso also announced recently that it had sold over 2.5 million cannaQIX® lozenges (the equivalent of 100,000 pack sold) since the product's launch in April 2018.
And, as mentioned above, Creso started 2020 with a bang reaching an estimated 100,000 dogs, equating to over three million anibidiol® sachets of its Pet complementary feed doses sold since that product's launch in late-2017.
The announcements come thick and fast as Creso looks to make 2020 a breakout year.
All the latest from ...
Creso Pharma
ASX:CPH, FWB:1X8
Share Price: $0.145
Market capitalisation: $21.9 million
Here's why I like Creso Pharma: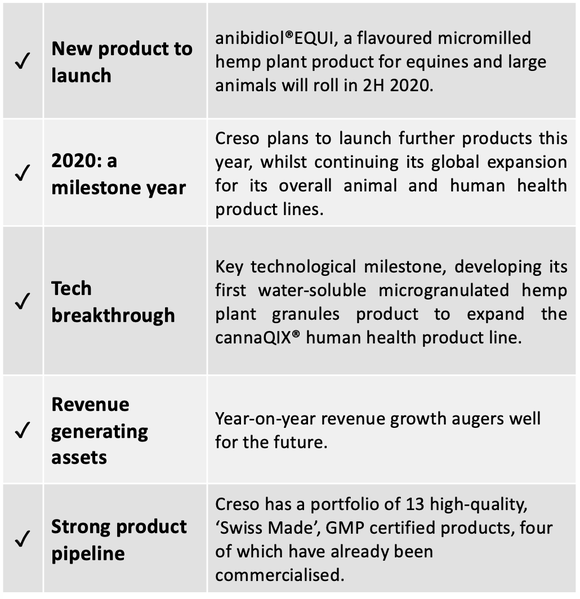 We have covered Creso Pharma (ASX:CPH, FRA:1X8) extensively in the last few weeks. Read our most recent articles for a full update:
Read: CPH's cannaQIX® Products Have Now Exceeded the 2.5 million Lozenges Sold Milestone
Read: CPH Delivers Over 3 Million Anibidiol Doses to Europe's Dogs
Read: CPH Set to Expand cannaQIX® Product Line After Major Technological Breakthrough
The latest news confirms Creso's commitment to bring to market products that make a difference in the lives of humans and animals. These are products that help manage pain, stress and anxiety and their importance shouldn't be underestimated by investors or the broader public.
anibidiol®EQUI – Creso's new hemp plant product for equines and large animals
Creso's new hemp derived animal health product is targeted at equines and large animals. The company has successfully developed anibidiol®EQUI, a flavoured micromilled hemp plant product that has been in development for the past 12 months.
anibidiol®EQUI, developed in conjunction with Switzerland-based CapService is a natural plant product.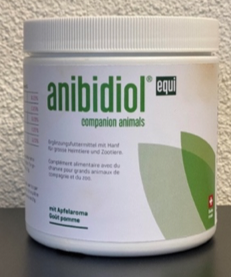 The complementary feed is based on natural hemp plant components and provides the entourage effect in which the various hemp components work together to help manage stress and pain and support fast mobility recovery.
"Creso Pharma is excited to add another innovative product to our growing portfolio," said Dr Miri Halperin Wernli, Co-Founder and CEO of Creso Pharma.
"anibidiol®EQUI was developed to address the equines and large animals' needs for a natural plant based complementary feed product to support the management of stress and pain and to enhance well-being. We are pleased to have this product ready for launch later this year."
anibidiol®EQUI contains natural hemp compounds which are recognised as traditional feed components already approved for use in consumer products. This means an additional path to market for the company's hemp-based complementary feed products avoiding the need for regulatory approval.
This new product is produced out of Swiss Good Agricultural Practice (GAP) compliant industrial hemp and will be mainly commercialised in the Latin America and Asia Pacific regions as well as selected European countries.
The release of the product will again increase Creso's global commercial footprint, which will no doubt be boosted by a capital raise of up to $8.2 million. Indeed, Creso believes the money will help it accelerate its global operations as a result of its refined strategy and reallocation of resources.
The final word
The legal cannabis market is currently in a volatile state. While it is estimated to grow exponentially to US$73.6 billion, the failures of companies such as Aurora has shone a light on the problems the industry faces.
Aurora Cannabis Inc. is slashing 500 staff jobs, taking nearly US$800 million in goodwill writedowns. CEO Terry Booth will also step aside.
Tilray Inc. will lay off 10% of its workforce in a bid to cut costs and Sundial Growers is axing some of its workforce.
More pain is predicted due to some companies' lack of understanding of exactly what the size of the retail market is, how regulatory systems will work and how the international and national cannabis scene will look as it evolves.
However, it is not all bad news.
Omar Khan, the national cannabis sector lead at Hill+Knowlton Strategies says, "The cannabis industry has almost single-handedly saved several Canadian small towns that were suffering from years of decline due to the loss of manufacturing jobs."
And with a change in leadership in several companies, the next phase of life is expected to be a positive one – if they can deal with the current environment.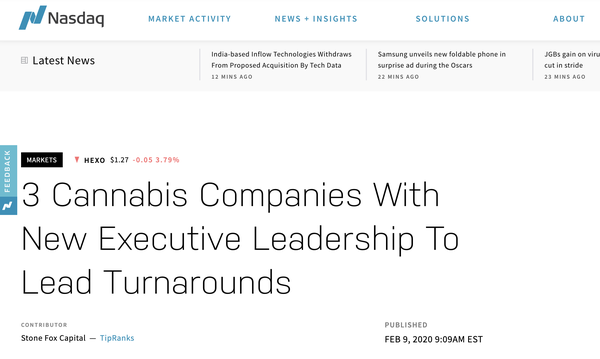 Cannabis has a place in global economies, but it seems the companies that will survive will be the ones who have a solid product offering that benefits consumers and therefore has a positive impact for investors.
Leadership is also important.
Creso Pharma could be a diamond in the rough in this regard. It continues to launch products into the human and animal health markets, with sales of those products continuing to rise and in Halperin Wernli, it has a strong leader who is tireless in driving the company's direction.
Should it continue this momentum, Creso will certainly be one to watch as the industry sorts the wheat from the chaff.
---