CPH's US listing is happening tonight - trading as OTC: COPHF
Creso Pharma (ASX:CPH) is a medical cannabis and psychedelics company, a space which we believe is going to be very big over the next 10 years.
CPH today announced its listing in the US, and the market is opening in around 12 hours - the US pool of investors is huge and they have a big appetite for psychedelics and cannabis stocks.
While CPH releases a lot of random announcements, we think CPH's US listing milestone is important and will be watching CPH open in the US tonight.
Follow CPH's OTC trading here.
We are hoping CPH's share price might pop and get some instant US investors attention given that CPH likes to promote itself - we hope CPH can emulate the $ billion plus market caps of its US-listed peers Mindmed and Compass Pathways.
We suspect that CPH will want to open in the US with a bang and they have probably engaged in some serious promotion over there to get their story out to the huge US investor market that loves medicinal cannabis and psychedelics investments.
We certainly know that CPH is not shy of promoting itself - they ask us to write to you about EVERY single announcement they release, no matter how random - all the way from their hemp based feedstock to stop pig herds biting each others tails in eastern Europe to the launch of its range of CBD teas for immunity, sleep and well being.
Some companies like to announce lots of random stuff often which makes it hard for investors to find and pay attention to the announcements that really matter.
We think less is more, so we only comment when we think an announcement is materially important for our investment, mainly new revenue or significant progress of products - we don't really value MoU's or partnerships without a guaranteed revenue component.
You can see what we think matters below in our CPH company milestones.
We think today's announcement of CPH listing in the US is material and will be watching it on open tonight. Here is the link to watch.
Another recent CPH announcement we felt was important but not registered by the market was it's target acquisition Halucenex securing a 20.3g supply of synthetic psilocybin (which is highly difficult to do) for its Phase II Clinical Trials.
Other CPH milestones that WE think are material and important to watch out for
We try to focus on the key announcements that matter - Here are the other milestones we think are important/material for our investment in CPH and what we are watching out for over the next few months: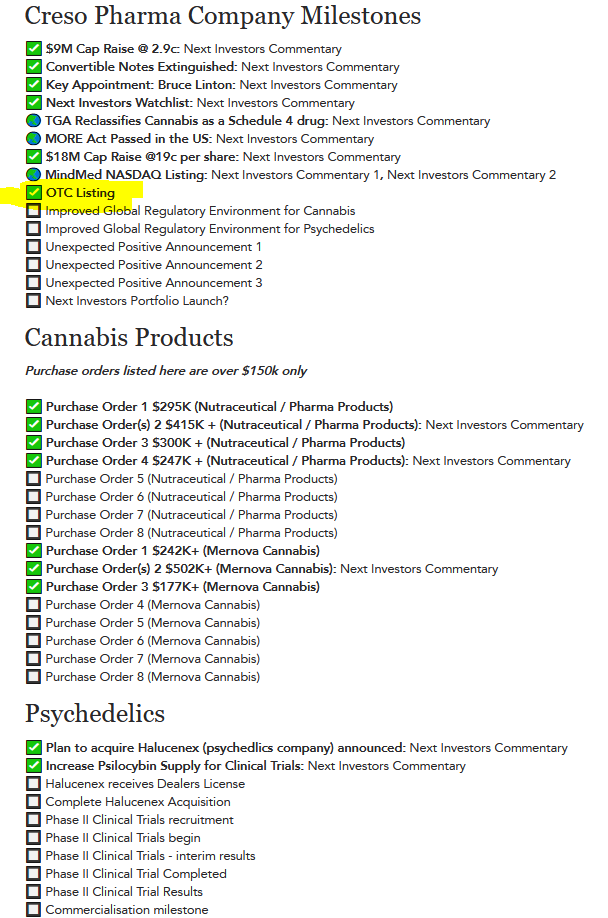 Our investment plan for CPH
ASX:CPH is a medium term investment we hold and write about that is not currently in our long term portfolio. We took a position at 3c in October 2020 as a short term hold which upgraded to a medium hold after the company delivered. On March 26 2021 we increased our position at 19c. We are considering adding CPH to our long term portfolio if it can deliver a few more KEY milestones. We have been investing in CPH for a few years and have had a mixed experience, but are looking forward to see what they can deliver. The below investment plan refers only to our recent investments from 3c and 19c since we introduce our portfolio model.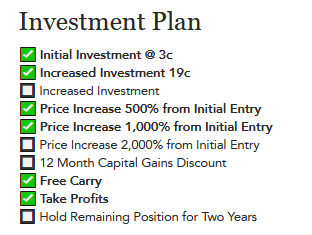 What are we waiting for next?
In the coming weeks we are expecting:
Completion of the acquisition of the psychedelics company
Hopefully some more revenue generating cannabis sales
Ticking off other milestones
All our CPH commentary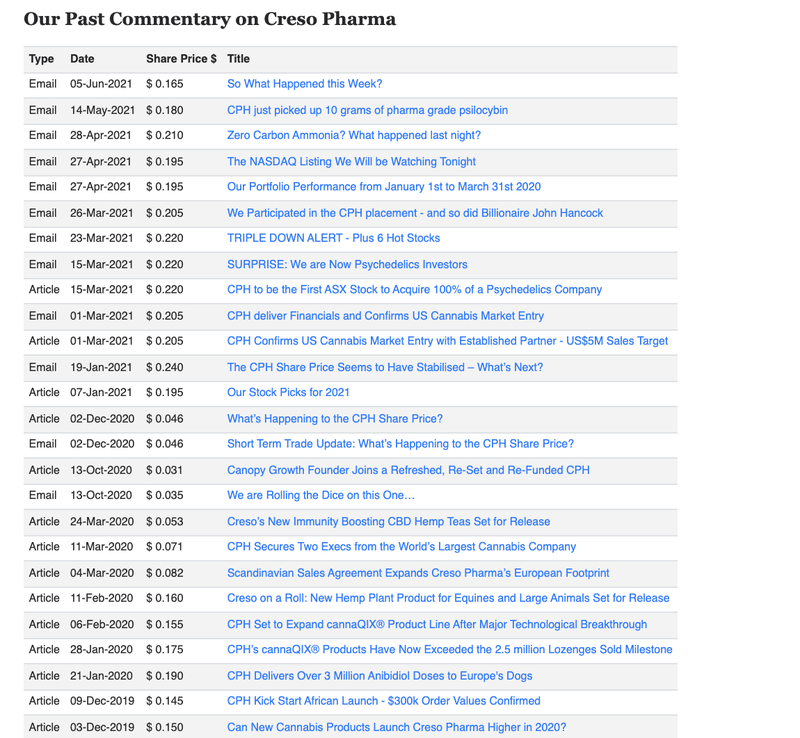 ---