What We DO and DON'T like about the proposed CPH Merger
Today Creso Pharma (ASX: CPH | OTC: COPHF) announced its plans to merge with a Canadian listed psychedelics company called Red Light Holland.
The combination of both companies will lead to the formation of a global psychedelics and cannabis company.
We don't actually know of any other listed companies that have BOTH cannabis and psychedelics products - so this could be a world first.
The merged entity will have over five ex Canopy Growth executives, who oversaw its growth from a penny stock into a multi billion dollar cannabis machine.
Bruce Linton, ex Canopy Growth, is joining the merged company as Executive Chairman. It will also have ex Canopy Growth M&A Director as Executive Vice President and Chief Strategy Officer - William Lay - he has overseen/managed over $5BN in cannabis M&A transactions in the past.
Our reaction to the CPH deal
We have read through today's CPH announcement and merger docs - but it was just a quick read at this stage as there are 162 pages to digest.
Below is our initial reaction to the transaction between CPH and Red Light Holland, including a quick deal terms summary, plus what we DO and DON'T like about the deal.
This is our opinion only as CPH shareholders, which comes after our quick scan of the deal and the documents this morning - so we may have missed some terms or small print at this point in time.
In short, we like the deal (note: we still need to look a bit closer at Red Light Holland) and we think there is good value that can be unlocked by combining the companies, including plugging some of both their respective weaknesses and solving some of the things we don't currently like about CPH's governance.
Our current plan is to hold and see what happens in the lead up to the transaction, especially post tax less selling finishes this month. We will also be watching the webinars to discuss the deal from both Red Light Holland tonight at 10:30pm AEST and CPH and tomorrow at 10am to help inform our view on the deal.
Here is a teaser from Red Red Light Holland CEO Todd Shapiro and ex Canopy M&A guru William Lay talk about the transaction today via these videos posted on Twitter earlier this morning.
Who CPH is merging with:
Red Light Holland is a psychedelics company that produces and distributes premium psychedelic mushrooms (truffles) to the legal recreational market in the Netherlands.
Red Light Holland is listed on both the Canadian Stock Exchange, under the ticker code TRIP, and also on the OTC under the code TRUFF (get it... truffles).
As of last night after news of the transaction broke in Canada, Red Light Holland had a market cap of A$135M.
Short summary of key deal terms:
Red Light Holland will acquire all CPH shares and options.
CPH shareholders will receive 0.395 Red Light Holland shares for every 1 CPH share.
CPH option holders will receive 0.257 Red Light Holland shares for every 1 CPH option.
The two companies once merged will be called "The Highbrid Lab" - with their website already up and running - https://highbrid.co/.
The merged company Highbrid Lab will retain the very easy to remember ticker code of CSE: TRIP.

Once the transaction is complete, the new merged entity is expected to have an implied pro forma equity value of A$371M - based on the closing price of CPH and Red Light Holland shares on 15th June.
IMPORTANT POINT #1:
The ratios of the deal appear to be fixed, so the more that Red Light Holland shares go up, the better the deal is for CPH holders.
If you hold CPH shares, here's how to calculate the hypothetical value of your shares in the merged entity assuming the merger goes ahead (this is our very rough napkin calc - don't make decisions based on this info).
(Number of CPH shares x 0.395) x (Red Light Holland share price x (CAD to AUD conversion)) = hypothetical value of your shares in the merged entity in Australian Dollars
So if you have 1,000,000 CPH shares valued at $155,000 on the ASX, you will get equivalent (1,000,000 x 0.395) = 395,000 Red Light Holland shares.
Red Light Holland shares last traded at CAD$0.38 which is AUD$0.41 at the current exchange rate.
So 395,000 x 0.41 = AUD $ 161,950
1,000,000 CPH shares on the ASX is currently trading at 15.5c = $155,000
These are very rough calcs, and keep in mind both CPH and Red Light Holland prices will fluctuate each day - the key takeaway is that because the deal ratios are fixed, the more that Red Light Holland shares rise, the better the deal becomes for CPH holders.
You can track the Red Light Holland share price under the ticker code CSE: TRIP here. You will need to apply a currency converter to get it into Australian dollars here.
IMPORTANT POINT #2
This merger deal is PROPOSED at this stage, meaning that there are still a bunch of approvals and hoops to jump through before it can go ahead.
Both CPH and Red Light Holland shares will continue to trade during this time.
Ultimately if the deal proceeds, CPH holders on the record date of Friday 24th September 2021 will end up holding Red Light Holland shares listed in Canada.
What we DO LIKE about the deal
CEO of Red Light Holland to run the merged entity - with a strong branding and marketing background that is important for this space - we think this is positive.
Canopy Growth founder Bruce Linton will be Non Exec Chairman - Linton has a very strong track record as founder of Canopy Growth - taking it to a multi-billion dollar market cap. He seems to know how to create value for shareholders.
Ex Head of M&A at Canopy Growth, William Lay will be Exec Vice President and Chief Strategy Officer - it looks like this could be the start of a roll up play into the merged entity. We like the idea of a roll up as this nascent industry is currently fragmented.
Some CPH Governance issues that had been concerning us are reduced in the merged entity, increased board independence and increased arms length from CPH's current corporate advisor.
Instant access to US market: A Canadian listing provides instant access to sell into the massive US market which is not available to CPH prior to the deal.
Both companies have plenty of cash - The merged entity should have approximately A$48M in the bank - plenty of firepower to build shareholder value if invested wisely.
Canadian investors really understand the psychedelics and cannabis space. After a number of small caps turned into multi-billion dollar companies in Canada, it means they can understand the upside clearly.
Stock Code TRIP is cool, great branding.
What we DON'T LIKE about the deal
We have only done a quick scan, and the stuff we DON'T like on deals is usually buried deep in transaction docs in the fine print. We will keep reading over the next few days and provide further updates.
Here is what we found on quick scan:
A bit convoluted to understand - Yes deals are complex, but we found the deal heads of agreement were not easy to understand on a quick scan.
1.798 million CPH Performance shares are being converted without performance achieved - Performance shares are generally given to management and directors to incentivise them to hit business goals like increased revenue etc. Whilst there aren't that many, compared to the total number of CPH shares on issue, the CPH performance hurdles were not achieved, but the shares are being granted if the transaction goes ahead. Generally our preference is that performance milestones should carry across into the newly merged entity and still should be achieved... or better yet just cancel them all if the deal goes ahead. We suspect these aren't shares for management though, more for the operational team doing the groundwork, which is less offensive.
Oversight on Corporate fees: CPH's corporate advisor EverBlu Capital will earn 2 million CPH shares if the deal is implemented (i.e. ~ $400k at CPH share price of 20c) and a A$3.25M share based transaction fee... We have some governance concerns around the corporate advisor also being on the CPH board which reduces oversight, checks and balances on corporate and deal fees. As mentioned above, we do like that governance issues will be reduced in the merged entity's new board. We also note that this fee is less than 1% of the proposed fully diluted value of the deal - which is below market standard, and it is taken in shares which we suspect will be locked up from sale under Canadian exchange rules.
Canada listed shares - While this won't happen for a few months, some holders may not like to hold shares listed on a non-Australian exchange (personally we aren't too fussed about it as these days it's relatively easy to trade global stocks - but it's not everyone's cup of tea).
General Market Conditions: CPH almost got a merger style deal done last time we invested a few years ago, but the medical cannabis market went very soft while the deal was in the last stages and it unfortunately fell over. Fingers crossed the market stays buoyant for the next 6 months and we should be OK.
CPH is one of our bigger positions after we invested at 3c then again in the placement at 19c, so we will be taking a close look at this deal and will continue to provide you our insights as we work through the 162 page deal document.
Here is the timetable of events ahead: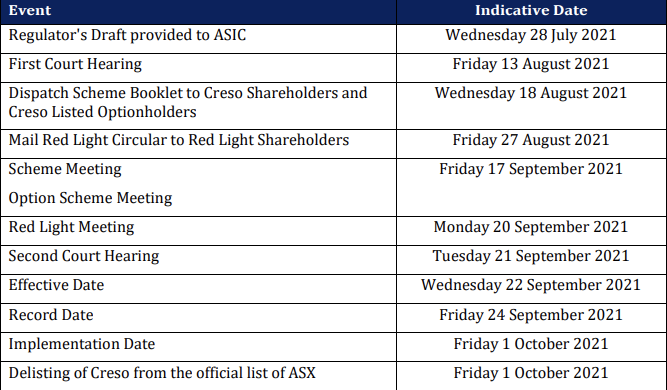 ---