CPH releases material announcement
Creso Pharma Ltd (ASX:CPH | OTC:COPHF) has just confirmed two consecutive quarters of record revenue growth.
CPH posted $1.71M revenue this quarter - up from $1.38M in the previous quarter - that's 24% growth.
Revenue is up 451% compared to the same quarter last year.
Today's CPH news is ACTUAL material news... actual revenue generated from business activities.
Obviously we haven't seen the full details of the June quarterly yet (it will be out in a few weeks), but in our opinion today's revenue news is positive - adding strength to CPH in the lead up to the planned merger with psychedelics company Red Light Holland.
CPH tends to release a lot of announcements and it can be hard to keep track of the company's strategy and activities. This can be a good thing as it signals the company is working hard, but at times can be a little overwhelming as investors struggle to keep up with the various arms of its operations and pick out the news that matters.
So, yes we think today's CPH announcement is actually good - Posting A$1.7M revenue in the quarter is a pretty big achievement - and it shows positive growth, as it's up 24% from the previous quarter, and up 451% compared to the same quarter last year.
CPH is one of our bigger positions after we invested at 3c then again in the placement at 19c. We entered CPH as a short term trade, but having seen its progress, decided to hold a position for the medium term and now into the proposed merger.
CPH went into a trading halt last Friday - which at times can be a bit like the 'boy who cried wolf' with CPH, with no material news after trading halt - but given today's news relates to material revenue for CPH and is a solid step in the right direction, we thought it worth a comment.
Let's first recap the merger and see what successful cannabis entrepreneur Bruce Linton, who will take on the role of Chairman for the new entity, thinks of it.
What we might see from CPH's planned merger
CPH is planning to merge with a Canadian listed psychedelics company Red Light Holland (CSE:TRIP | OTC:TRUFF).
You can read our commentary on CPH's planned transaction here.
The merged entity would be called "The HighBrid Lab" and maintain its Canadian Stock Exchange (CSE) listing under the ticker TRIP (the same as Red Light Holland is now).
Bruce Linton, from Canopy Growth founder and CEO, is planning to head up the merged entity as Executive Chairman.
In a recent interview, Linton explained the key reasoning behind the merger. You can view the full Linton interview here.
This was probably our favourite video describing the impact of the planned merger and how this is a good result for CPH investors.
Here's our insights from the Linton video:
Biggest insight #1 - US market opens up for CPH products as a result of merger
Through the merger, CPH will be listed on the CSE, which means CPH will be able to sell its products into the US.
Linton reckons, "If Creso stayed on their own on the ASX, they couldn't enter the US THC market. Which means that there's an opportunity that they can't exploit because of who regulates what they do as a trading entity. So when you put the two together ... ... a CSE listing could have an enormous impact on CPH's sales opportunities moving forward."
We think this merger could be a game changer for CPH, giving it access to bigger North American cannabis and psychedelics markets - from both a sales and investor access point of view.
Biggest insight #2 - more acquisitions coming?
In the video above, we think Linton seemed to hint at more acquisitions on the horizon.
As part of CPH's planned merger with Red Light Holland the new entity will also bring in Executive Vice President and Chief Strategy Officer William Lay.
William Lay is an ex Canopy Growth M&A Director, having overseen/managed over $5BN in cannabis M&A transactions in the past...
To us it looks like he has been tasked with doing similar M&A deals for HighBrid Lab alongside Linton.
The merged entity is expected to have a pro-forma equity value of $347 million, with a fairly healthy cash balance of approximately C$45 million for deal making.
So we are starting to read between the lines and see what Hybrid Lab might be looking to do over the coming months.
Despite the advantages of the intended merger, there's an air of necessary cautiousness here, as the last time a CPH entered a big acquisition discussion with PharmaCielo (which was about to happen, until the medical cannabis market tanked and the deal fell over, causing CPH's shares to bottom out and many investors to get burnt).
We also think some investors might be concerned about transferring their shares over to a Canadian broker as well, which has caused some selling pressure in the stock.
CPH's record quarter of revenue growth
On its own CPH has already started its revenue machine - And a merged entity should create larger revenue opportunities...
CPH's revenue currently comes from two sources:
CPH's Canadian cannabis growing facility, Mernova (~A$1M in total sales last quarter).
CPH's Swiss animal and human health products (~ A$670,000 in total sales last quarter).
Strong sales growth CPH is delivering on now should hopefully fuel ongoing growth after the planned merger.
Before that takes place, we are expecting a few more decent catalysts on the horizon - hopefully more sales, and the completion of CPH's Halucenex psychedelics acquisition.
CPH Milestones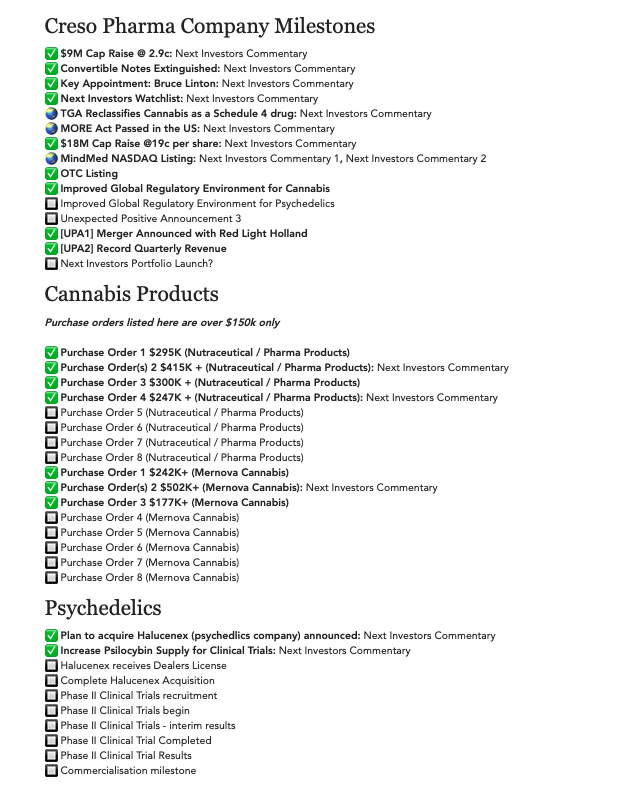 Our Investment Strategy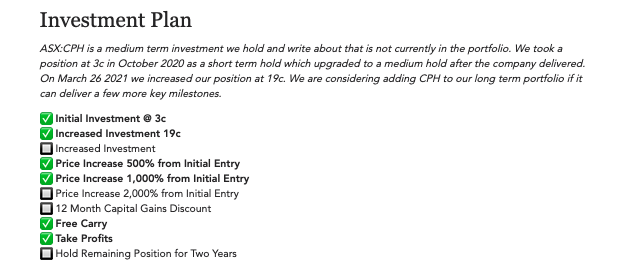 Our past commentary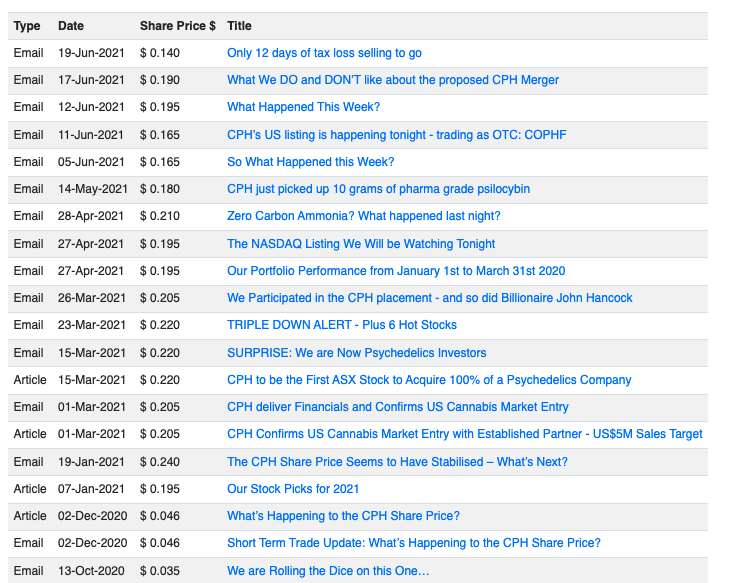 ---