ONE, VUL all grown up… BPM, LCL finding targets. PUR drilling again.
Published 20-SEP-2021 12:56 P.M.
We hope everyone had a great weekend.
Like last week, a bunch of our portfolio companies have news this morning - seems to be a thing on Mondays lately...
Again, rather than choosing our favourite announcement to focus on we've made a quick comment on what we think of each one.
Featured today are comments on:
ONE, BPM, PUR, VUL & LCL
Oneview Healthcare (ASX:ONE)
Telehealth and health tech provider Oneview Healthcare (ASX:ONE), our 2021 Tech Pick of the Year and biggest holding behind VUL and PRL, today entered the ASX all technology index.
ONE provides hospital patients with a "virtual care and digital control centre" at their bedside to deliver the best possible patient experience during their stay.
If you have ever spent some time in a hospital you could observe how archaic the existing technology is - meals ordered via pen and paper, and clipboards to monitor patient health... ONE is aiming to dramatically improve this experience for healthcare providers and patients alike using its technology.
We like ONE over the long term as the health tech market continues to gain momentum after COVID broadly accelerated the adoption of technology in traditionally slower moving sectors (like hospitals).
To enter into the "ASX all technology index' a company needs to meet certain criteria around market cap, liquidity and free float that make the stock investable by larger funds.
ONE has ticked all of these boxes.

More about how index funds use the ASX All technologies index:

Being added to this index is a big deal for ONE because the larger funds that are only allowed to invest in index companies OR follow indexes are now able to invest in ONE.
Health continues to be a focus of big tech including Apple, Google, and Amazon. The global pandemic has led to significant growth in online, telehealth need and acceptance, and has substantially rerated the value proposition for bedside technology and care experience platforms that moved up the list of hospital's capital priorities.
If ONE delivers on its revenue forecasts for this half of the year and the health tech thematic takes off as we hope, we think ONE will do very well over time. Here is our commentary on the recent ONE investor call and company outlook provided by the CEO.
To date, ONE's management has under promised and over delivered — doing everything they said they will do, and we hold a position that we plan to keep for many years to come.
Here is an explainer of the ASX All Technology Index:
ONE joins some great Australian tech success stories, there are currently 79 companies in the index: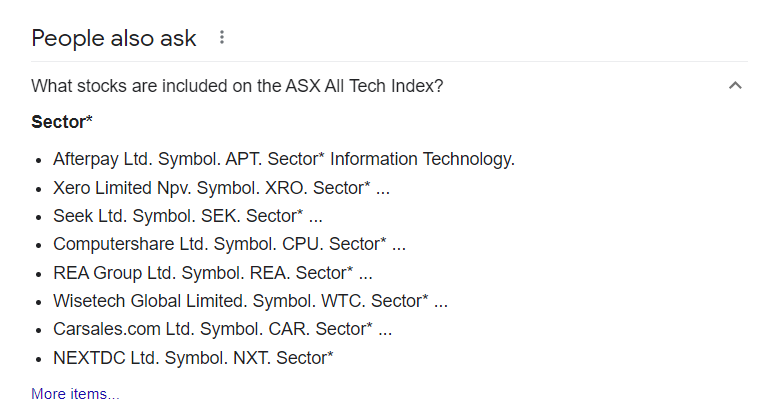 Here is all our past commentary on our investment journey with ONE, one of our favourite holdings.
BPM Minerals (ASX:BPM)
We invested in BPM Minerals (ASX:BPM) for its lead zinc project, located near $303M capped Rumble Resources. This is our "Main Bet" on BPM and drilling is set to happen here before Christmas.
But as we wait for that drilling event, BPM also has a number of other projects they are working on that we like to call our BPM "Side Bets". And one is starting to look more interesting due to increased activity next door and the announcement of some drill targets today.
One of our BPM "Side Bets" is the Claw Gold Project in WA, which delivered a pleasant surprise recently when $800M capped Capricorn Metals acquired the Mt Gibson project NEXT DOOR to BPM. This project is a 2.1 million ounce gold project that abuts BPM's ground.
Capricorn bought this project for $39.6M and wants to spend $5M exploring it in the next 12 months, including 30,000m of RC and diamond drilling...
It's always a good sign when there is a lot of activity by bigger companies near an early stage exploration project, because the big company delivers lots of data from exploration that assists with our stock interpreting their own piece of ground.
Whilst the acquisition next door alone is a great sign, today BPM announced "walk up" drill targets on this ground following a review of historical information. (A 'walk up' drill target means no more pre-exploration work is required before drilling).
Here you can see the $39.6M Mt Gibson project now owned by the $800M capped Capricorn Metals - and BPM's tenements literally next door to this project.
BPM's main interest is the two anomalies that sit within a 33km long structural corridor that hosts the Mt Gibson gold - one is as close as 1km along strike: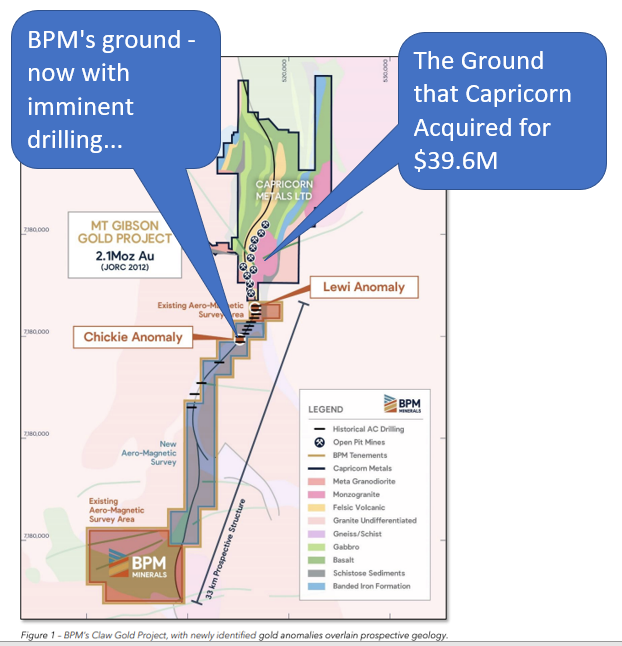 BPM is planning an aero mag survey for Q4 2021 to further refine the drill targets and make sure they drill in the right place, but already they are looking pretty attractive.
Capricorn has indicated a "super pit" approach to mining Mt Gibson - so one day that open pit mine might need to grow, and it might be of strategic interest for Capricorn to look south to BPM's ground for expansion...
BPM's Claw tenement is due for granting in the coming weeks, with exploration to start immediately after.
We will be keeping a close eye on any RC/diamond drilling BPM undertakes here... but this is just a bonus bet as we are primarily invested for the drilling of the lead zinc prospect in a couple of months time.
Here is all our past commentary on our investment journey with BPM.
Pursuit Minerals (ASX:PUR)
Pursuit Minerals (ASX:PUR) is exploring for platinum group elements, nickel and copper in the Julimar Province of WA, and is actively drilling right now.
Today they announced they have better locked in on the location of the EM conductor (their first drill missed it by 10 metres) and are now already drilling towards newly revised EM target location.
After completing the first two drill holes of its maiden 1,500m diamond drilling a couple of weeks ago, PUR paused drilling to run downhole EM (DHEM) surveys to get a better idea of what lies beneath. This ensures that the rest of its diamond drill program will be focussed on locating the rocks that give a strong conductive response. DHEM surveys provide improved resolution and allow for better targeting of conductors.
Results from these DHEM surveys on the first two diamond drill holes were received a week ago, confirming the presence and refining the location of several highly conductive anomalies — some aligned with visible sulphide mineralisation.
With that information in hand, PUR today advised that the drill rig is back on site and drilling has recommenced on a revised EM target at Phil's Hill.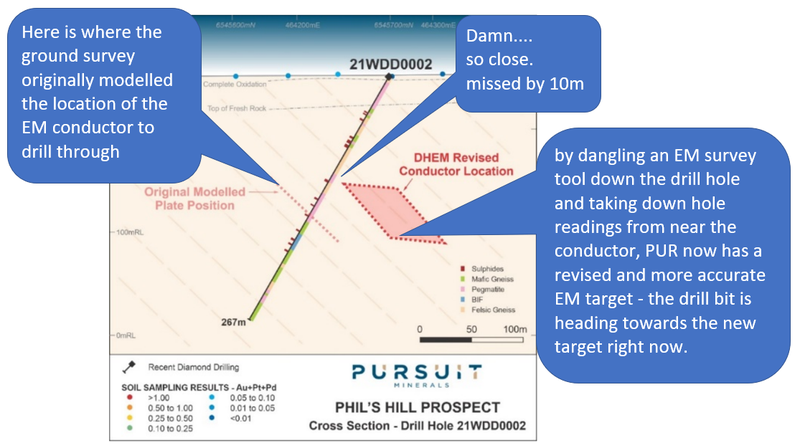 So what happens next? Pretty simple, we wait for the drill results to come in and hope that we hit some visible PGE, copper, and nickel bearing sulphides... and then the cores get sent to the assay labs to confirm the grades. After that, we take the learnings and come up with some new drill targets to prove out what (if anything) is underground.
For all our past commentary and investment plan for PUR click here.
Vulcan Energy Resources (ASX:VUL)
Vulcan Energy Resources (ASX:VUL) was added to the S&P/ASX 300 Index this morning — a major milestone as it makes the stock attractive to fund managers and large institutional index investors.
In response, VUL's share price jumped on huge volume in the closing market auction on Friday as buyers rushed in ahead of its addition to the index.
VUL, which is developing the world's first Zero Carbon Lithium Project in Germany, last week completed a $200M placement at $13.50/share and is now looking to raise a further $20M via a share purchase plan to existing Australian and NZ shareholders at the same price. The share price has come off a bit today but it is still near all time highs.
Today also saw VUL announce the addition of two new communications professionals to the team, one in Germany and one in Australia.
We are firm believers that good communications to investors is crucial for a company to succeed over the long term. How else would new investors find out about a story, and how would existing investors stay informed on how the company is executing on its plan over time?
We welcome the addition of these two well credentialed comms professionals to the VUL team.
In Germany, Beate Holzwarth has been brought in as Chief Communications Officer. Holzwarth has over 20 years' experience in various communication and marketing roles within Mercedes-Benz Cars and Daimler Trucks. At Mercedes-Benz she was responsible for national and international ground-breaking events of new production sites with the involvement of state representatives and local politicians. Beate lives in and is familiar with the region in which VUL is operating.
We are very excited for VUL to list on the main German stock exchange and for the new chief comms officer to start banging the drum about VUL to the deep pools of German capital.
In Australia, Jessica Bukowski was appointed Public and Investor Relations Manager. Bukowski was previously Senior Media and Corporate Affairs Specialist at Fortescue Metals Group where she was involved in transforming Fortescue towards becoming an integrated resources-renewable energy company. Prior to that she was Adviser to former Australian Prime Minister Kevin Rudd and External Affairs Coordinator at Origin Energy.
For all our past commentary and investment plan for VUL click here.
Gold explorer Los Cerros (ASX:LCL) made a pretty big porphyry discovery in Colombia last year in a region that's dotted with many multi-million ounce gold deposits.
LCL has already delivered a number of significant gold hits and is now aggressively drilling to determine the extent of the gold contained ahead of delivering a JORC resource.
Today, LCL provided an update on its exploration progress at the Quinchia Gold Project in Colombia as it continues to work methodically over 8 regional porphyry and epithermal targets.
The key points from today are:
Initial deep penetrating induced polarisation (IP) survey over the Miraflores-Tesorito area is now complete: results are being interpreted and assimilated into geology and drill targeting models (IP surveys are a geophysical imaging technique used to identify the electrical chargeability of subsurface materials).
Expanded IP survey programme - running til the end of the year: LCL is now extending its IP program to cover multiple areas of interest. The new IP survey program is roughly 3 times larger than the area covered in the recently completed IP program.
Backlog of drilling assay results to be cleared shortly: Global COVID-19 issues have caused delays in assay turnaround times from drill core and surface exploration programs, causing a backlog of assays for the lab to work through. But LCL expects this to be resolved shortly.
LCL has also completed the first section of its drone magnetic survey over the Ceibal and Ceibal East targets: results should be released alongside the drill hole assay results that were impacted by the lab backlog.
That same drone is currently flying the Miraflores-Tesorito area: the survey results will complement the completed IP program findings over the same target area ahead of drill testing.
LCL is still aggressively drilling: LCL now has four drill rigs drilling at the Tesorito South prospect with three rigs pursuing extensions to the north of the established zones of interest. The fourth rig has commenced testing southern extensions which remain open on a wide front.
11 Tesorito drill holes with assays pending or currently underway.
Having only recently completed a $20M capital raise (that introduced two new major institutional funds to the register) and adding a further $2.3M to the bank via the exercise of 16 cents options, LCL is well funded to continue its expanded exploration program. We are looking forward to additional newsflow from LCL soon.
For all our past commentary and investment plan for LCL click here.
---