Oil Strikes Back. 88E Leveraged to Exploration Success in Coming Weeks
PUBLISHED: 11-01-2021 10:49 a.m.
Momentum is clearly building in 88 Energy Ltd (ASX:88E | AIM: 88E) and that looks set to continue, given the company has a highly active 6-8 weeks ahead of it.
88E's drilling programme on the North Slope of Alaska - one of the oiliest places on earth - has been timed with investors' renewed attraction to oil once again.
Oil has rallied to 10 month highs, buoyed by a looming re-opening of the global economy. So, it's not a bad time for a junior oil explorer to make a large discovery, exactly what 88E is aiming to do in the coming weeks.
For 88E investors, the main event is the drilling of the Merlin-1 well on its Project Peregrine in mid-to-late February.
88E's Project Peregrine has a 1.6 billion barrel gross mean unrisked recoverable prospective resource, located on trend to recent discoveries, including one by oil super major ConocoPhillips (NYSE: COP).
88E's Merlin-1 well is the first to drill test this billion barrel plus gross prospective resource.
88E is currently capped at $95M: a large oil discovery at Project Peregrine has the potential to return many multiples of this.
88E also has a rig contracted for a second well - Harrier-1 which could be drilled immediately after Merlin-1, schedule permitting. The targets at Peregrine are relatively shallow, which means it won't take long for Merlin-1 to hit target depth. 88E confirmed the farm in partner and funding arrangements for Merlin-1 in December last year.
To give you an idea of the potential value that could be unlocked, just take a look at what's unfolding at ConocoPhillips discovery Willow, on trend to the north of Peregrine.
Willow has a resource estimate in the range of between 400-750 million barrels of oil and it is estimated that the project could be producing in excess of 100,000 BOPD.
ConocoPhillips plans to build a large amount of infrastructure to support that oil production and we think they'd be foolish not to be watching 88E's drilling to the south and on trend to Willow.
We continue to hold a large position in 88E.
Our investment strategy will be to lighten our position prior to the spudding of Merlin-1 in mid-to-late February, taking some money off the table. However, we will also hold a reasonable position into drilling, to capture the upside on drilling success.
Investing in oil explorers is a high risk / high reward style of investing, and not for the faint of heart. Remember, when it comes to speculative stocks, only invest what you can afford to lose.
Merlin-1 timetable - what to expect over the coming weeks
As 88E edges closer to drilling Merlin-1, it continues to tick off key milestones.
Construction of the snow road is now well underway: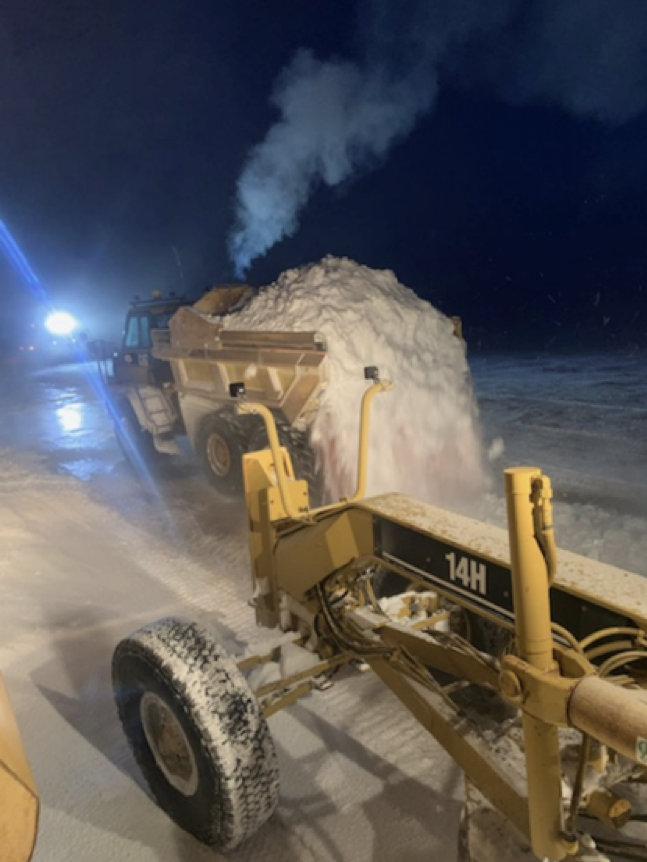 Construction of the snow road.
Commissioning of the drill rig is also underway: the rig is being re-assembled post deconstruction as part of the commissioning process prior to handover and mobilisation to site: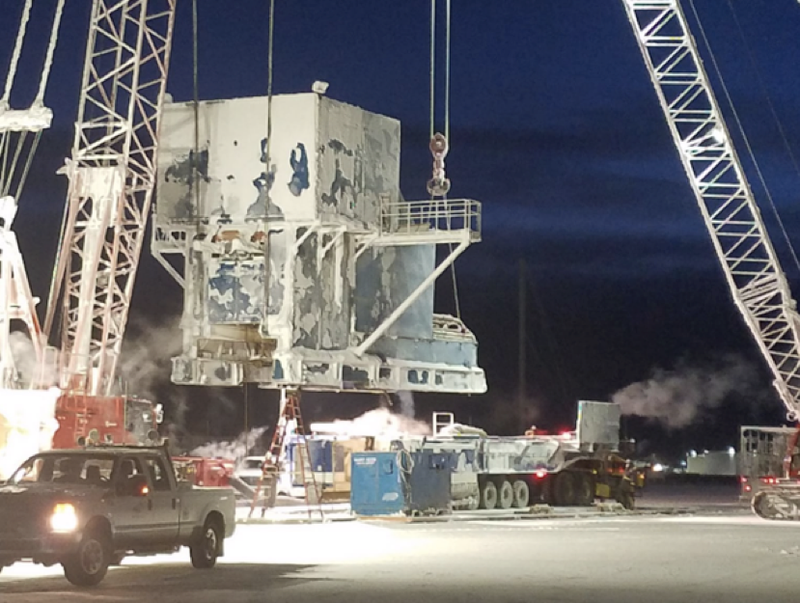 Rig mobilisation to occur in late January.
At this stage it looks like rig mobilisation in late January, followed by spudding in mid-to-late February.
Not long to go now.
Before this, there is another drilling event 88E investors will be keeping their eyes on ...
88E's Project Icewine neighbour is drilling for a billion barrels - starting any day now
Before the Merlin-1 well is drilled, a neighbour is gearing up to spud its own well at 88E's other Alaskan asset - Project Icewine.
Pantheon Resources (AIM: PANR) is drilling the Talitha#A well close to the northern border of Icewine, with spudding likely to occur any day now.

Pantheon Resources is drilling close to the northern border of Icewine.
Talitha#A is targeting four distinct horizons which PANR estimates has the potential to contain in the region of a billion barrels.
Several of the prospective horizons in Talitha-A are interpreted to extend into 88E acreage: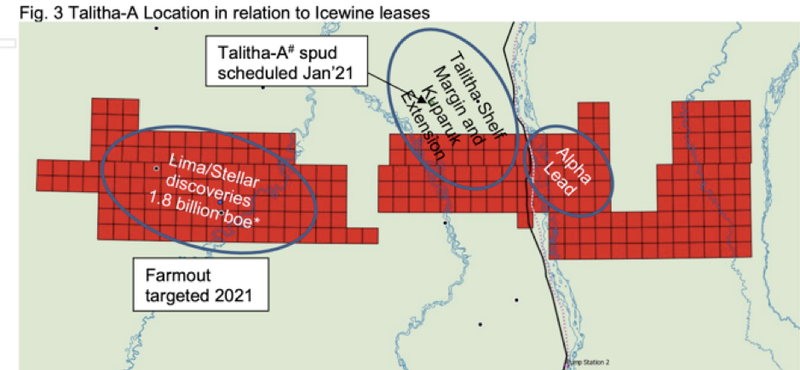 Several of the prospective horizons in Talitha-A are interpreted to extend into 88E acreage.
This is great news for 88E: by keeping an eye on what PANR discovers, 88E is going to be able to understand a lot more about the horizons that extend into Icewine.
If PANR is successful and strikes oil in those horizons, that is likely to increase the value of Icewine and spur interest from potential Icewine funding partners.
88E is targeting a farm-out partner to be secured by Q3 of 2021, to fund the next phase of exploration at Icewine off the back all the work done to date.
We will be keeping an eye on the progress of PANR's well, and hopefully it produces something meaningful for 88E investors.
88E Acquires the Umiat Oil Field on southern boundary of Peregrine
This morning 88E revealed the acquisition of the Umiat Oil Field. Umiat is an historic oil discovery, made in 1945, located immediately to the southern boundary of Project Peregrine.
This asset has the potential to add significant value to 88E, possibly as a standalone development, but even more so if 88E make a material discovery at Project Peregrine's upcoming drilling.
Gross 2P reserves were independently estimated at 123.7 million barrels of oil (94 million barrels attributable to 88E's 76% net revenue interest) in 2015.

88E has revealed the acquisition of the Umiat Oil Field.
The consideration for the purchase was a 4% overriding royalty interest (ORRI) and sub-summation of the liability for the abandonment of the Umiat-18 and Umiat-23H wells, drilled by Linc Energy in 2014. The estimated cost to abandon the two wells is approximately US$1m.
Substantial environmental work was also done by Linc Energy in support of a potential future development.
One of the routes for access to infrastructure runs directly through 88 Energy's Project Icewine leasehold where there are substantial independently estimated resources of oil and gas.
88 Energy will now undertake a full field review to determine at what oil price Umiat may be commercial as a stand alone development.
In the event of a discovery at Project Peregrine, where drilling is set to occur in the coming weeks, it is expected that Umiat would contribute significant value to any development.
1 TCF Gas at Project Icewine - 88E Plotting Commercialisation
88E's Charlie-1 well drilled in early 2020 at Project Icewine discovered gas condensate in the Torok formation. The discovered resource comprises over 1 TCF of independently estimated gross mean prospective gas as well as associated condensate.
The commercialisation options include, but are not limited to:
Possible local power generation
Compressed natural gas
Conversion to hydrogen using steam methane reforming (SMR) with carbon capture and storage (CCS) processes.
The company will move this to a formal feasibility stage during 2021, and should provide additional newsflow and interest in 88E post Peregrine drilling.
Is 2021 the year oil strikes back?
It looks like 88E is timing its run well, given industry pundits are predicting a 'commodity supercycle' ahead of us.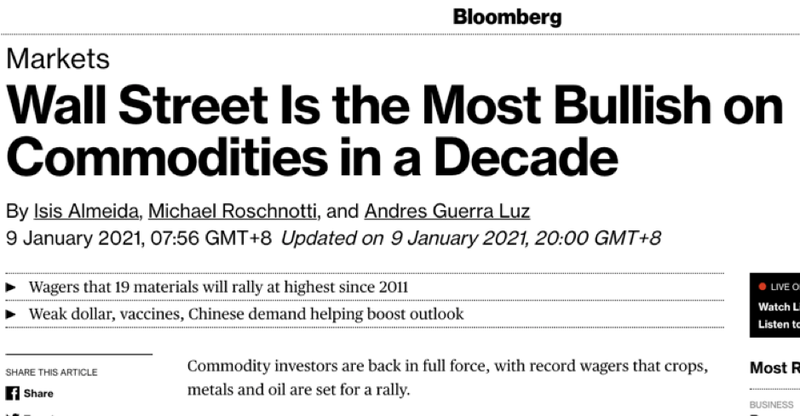 Is a commodity supercycle' ahead?
Oil has rallied to 10-month highs after Saudi Arabia's surprising decision to unilaterally cut production by 1 million barrels a day for February and March.
Investors are betting on oil as the world economy reopens, demand picks up and people build confidence around a vaccine.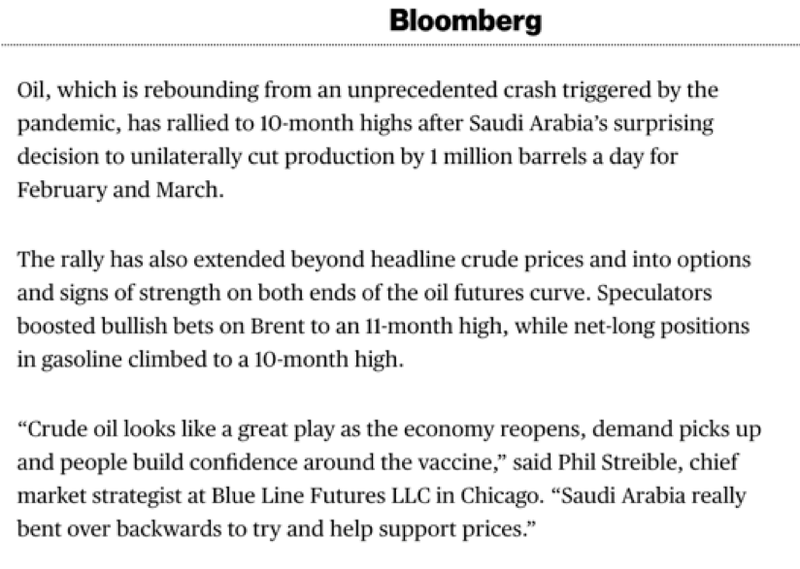 Investors are betting on oil as economies re-open post COVID-19.
This all bodes well for an exciting couple of months for 88E shareholders, ahead of the first drilling at Project Peregrine.
We continue to maintain a large position in 88E, and will be keeping a close eye on its exploration.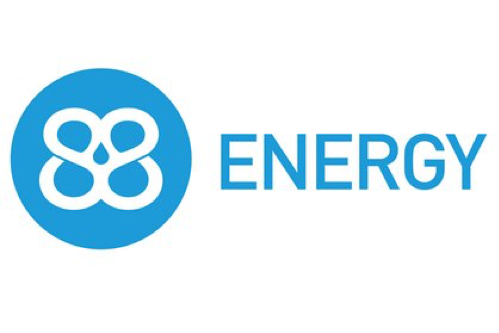 88 Energy
ASX:88E, AIM:88E
---