Friday Stock Pick: Will it Happen Again...
It's Friday again and here is our portfolio stock that we think has a strong chance to rise in the near term.
We continue to be delighted with the Friday results so far: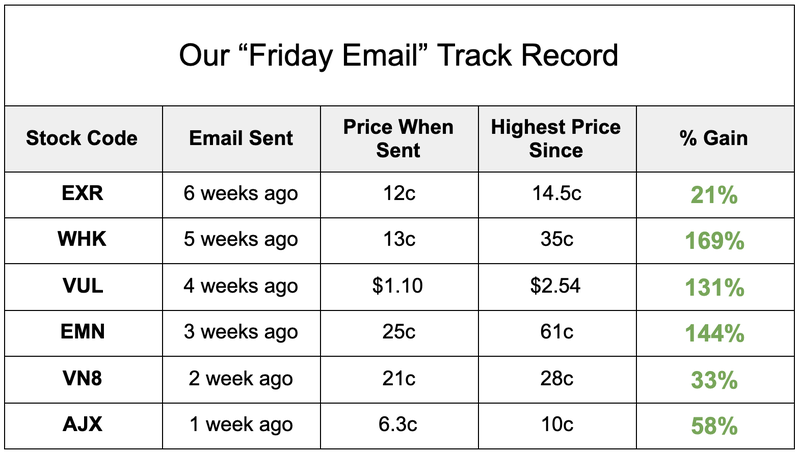 88 Energy (ASX:88E) is a junior oil explorer that is determined to hit the next multi-billion barrel oil discovery on the North Slope of Alaska.
88E has a major drilling event in February 2021, testing a 1.6 billion barrel mean unrisked recoverable prospective resource:
Today, 88E announced that a group of US oil investors have agreed to pay for almost the entire drilling cost of the next well (up to US$11.3M) - in return to earn 50% of the project.
This is a huge result for 88E investors, essentially giving 88E a "free hit" at this next drill target.
88 Energy
ASX:88E, AIM:88E
88E is drilling in the North Slope, what industry pundits call a "Super Basin", and one of the oiliest places on Earth.
We have been long term backers of today's company and its management team, and we currently hold a large position in the stock ahead of a few months of significant newsflow.
Will it happen again?
While past performance is not to be taken as an indicator of future performance, this company always seems to run up in the lead up to it's drilling events.
Here is why we think 88E's share price could rise in the near term
Drilling in February: We expect a significant share price run in the coming months, on strong volumes in the lead up to this important drilling event.
History: As news in the build up to drilling is released to market, the momentum builds. We are betting this will happen again.
What's our plan?
Hold for the near term and sell enough to recoup our initial investment in the lead up to drilling. We are aiming to "free carry" into spudding.
If drilling is successful, it will be transformational for 88E and we would expect to make multiples on our investment.
Investing in oil explorers is a high risk / high reward style of investing, and not for the faint of heart. Only invest what you can afford to lose.
Oil stocks remain out of favour, albeit with early signs of recovery, so we think it's a great time to invest ... and we have been buying.
We invested in VUL at $0.20 when lithium stocks were out of favour.
This has delivered us a more than 10x return in less than 18 months.
Anything in oil right now is a counter cyclical investment – wait for the inevitable return to favour.
Bring on February 2021.
---