EXR joins the race to start drilling its long awaited gas well
Disclosure: S3 Consortium Pty Ltd (the Company) and Associated Entities own 2,795,000 EXR shares at the time of publishing this article. The Company has been engaged by EXR to share our commentary on the progress of our Investment in EXR over time.
We have a spud date...
EXR has joined the "who will drill first" race with its long awaited DayDream-2 well.
Drilling is set for the last week of October, which is around 2 months away now.
The rig starts moving to its Queensland drill site this month.
Our energy Investment Elixir Energy (ASX:EXR) will be drilling an appraisal well that aims to materially increase the existing contingent resource estimate of ~395 billion cubic feet of gas.
EXR will be drilling near three wells that all flowed gas, including one 4.5km away. The project is close to existing gas pipelines and infrastructure, which will help it get its gas to market on success.
Any whiff of success could immediately become of interest to the billionaires already invested in the region, and energy majors like Shell and Santos, which have had their eyes on the region for years, and happen to hold ground next door to EXR.
Being an appraisal well, the program will be more about working out whether or not the resource can be developed into a commercially viable project rather than chasing a new discovery.
The upside for the drill program comes from the overall prospective resource number, which sits at ~3.3 trillion cubic feet on an unrisked mean basis.
This means that with the drill program, EXR could:
Prove commercially viable flow rates - Commercially viable flow rates would signal to the market that the project can be developed into a producing gas asset.
Book a maiden reserve number - EXR will be looking to convert some of the existing contingent resource into the reserve category. Booked reserves typically mean commercially developable resources.
Increase its contingent resource number - There is also a chance EXR converts some of the ~3.3 Tcf prospective resources into the contingent category - increasing its overall contingent resource.
🎓To learn more about reading oil & gas resources read: How to Read Oil & Gas Resources
The following video provides an easy-to-understand overview of EXR's upcoming well:
On this well, EXR will be looking to replicate the success of the Daydream-1 well which was drilled by BG Group (now Shell) ~10 years ago, just ~4.5km away.
Daydream-1 was drilled to a total depth of ~4,140m and produced flow rates of ~3.5Mcf per day, which today would be considered commercially viable.
EXR plans to drill to a total depth of ~4,200m and target the same reservoir units proven at Daydream-1.
The last time these reservoir units were tested was about a decade ago by BG Group (now Shell).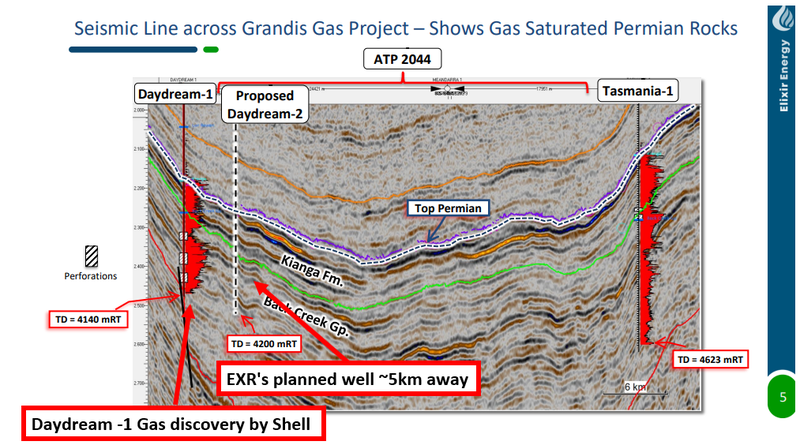 Again, with EXR's neighbouring ground held by Santos and Shell, any whiff of success could immediately become of interest to the billionaires already invested in the region and energy majors like Shell and Santos, which have had their eyes on the region for years.
The project is also in a position whereby if commercial, it could be put into production to supply the gas hungry Australian east coast as well as the international markets through Queensland's existing Liquefied Natural Gas (LNG) plants.
After all, commenting on the Taroom Trough, Santos' CEO Kevin Gallagher said in November 2018, "If the play works, then we believe there is multi-TCF potential" - EXR is looking to prove this point...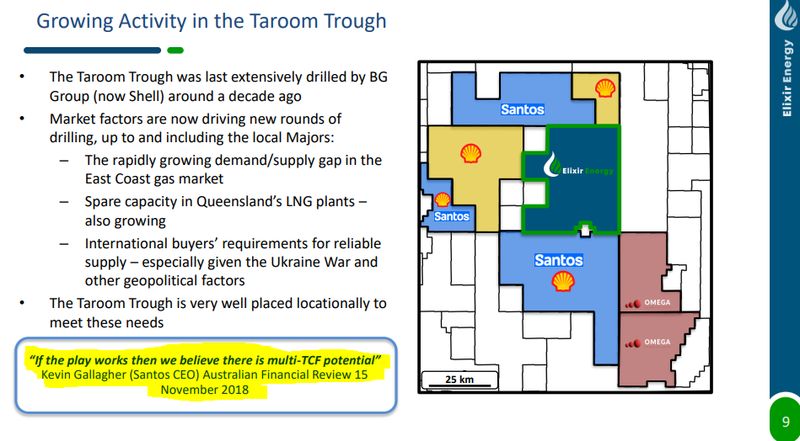 EXR's team have "been there and done it" all before so we are hoping they can deliver success with the drill bit in late October in QLD:
Managing Director Neil Young is ex-Santos management.
Director Stephen Kelemen ran Santos' Coal Seam gas portfolio,
AND
EXR's chairman Richard Cottee is seen as "the Godfather" of Coal Seam gas in QLD - he famously took Queensland Gas Company from a $20M junior into a $5.8BN takeover target
EXR also reaffirmed in yesterday's announcement that effectively ~43.5% of the funding for the well had been secured through the R&D rebate facility provided by the Australian Federal government.
The remaining 56.5% of the well costs will need to be covered by EXR's existing cash balance ($11.7M at 30 March 2023) and/or through debt or equity funding - which could be via a farm in partner or a placement of new shares.
At this stage, it's hard to know which route EXR will go down, with expected drilling costs unclear.
Timeline for EXR's drilling:
Over the coming weeks in the lead up to the late October spud date, EXR will be focused on preparing for drilling.
In the short term EXR will:
Procure long lead items for drilling
Mobilise its rig to site, followed by a water well later this month.
Finalising contractor for the construction of well pad and access track's - all of this to be done in September.
Appoint contractors for drilling support services
Following spudding, over the next ~12 months, EXR plans to run a stimulation/production test on the well, with results from the program expected to come in ~Q2 2024.
Below is the timeline EXR released in a recent presentation for the project: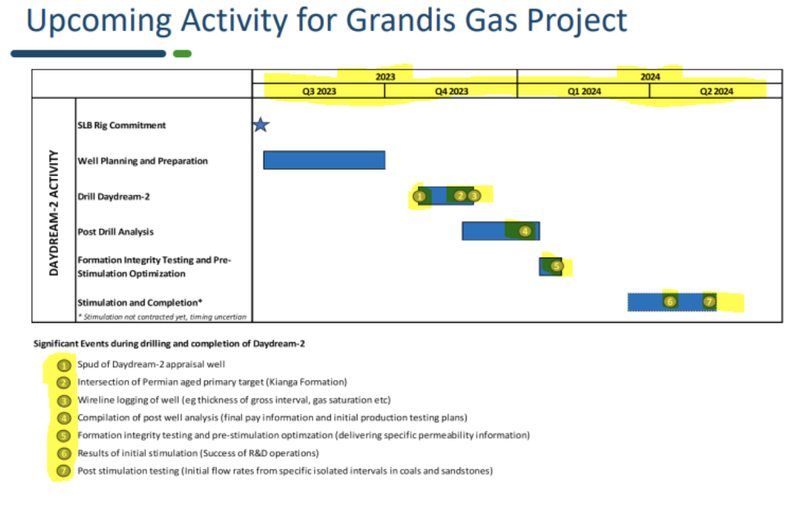 EXR is now capped at ~$77M, trading at almost 3-year lows for its share price.
Should EXR deliver a material flow rate and prove its project can commercially produce gas on its upcoming well, the company could deliver a re-rate, especially considering this would be just one of the three core projects the company is advancing.
All of this forms part of our EXR Big Bet which is as follows:
Our Big bet for EXR:
"EXR to achieve a $1BN market cap through successfully advancing one or more of its three projects: its Mongolia gas project, Mongolia green hydrogen project, and/or its Queensland gas project."
NOTE: our "Big Bet" is what we HOPE the ultimate success scenario looks like for this particular Investment over the long term (3+ years). There is a lot of work to be done, many risks involved - just some of which we list in our EXR Investment Memo. Success will require a significant amount of luck. There is no guarantee that our Big Bet will ever come true.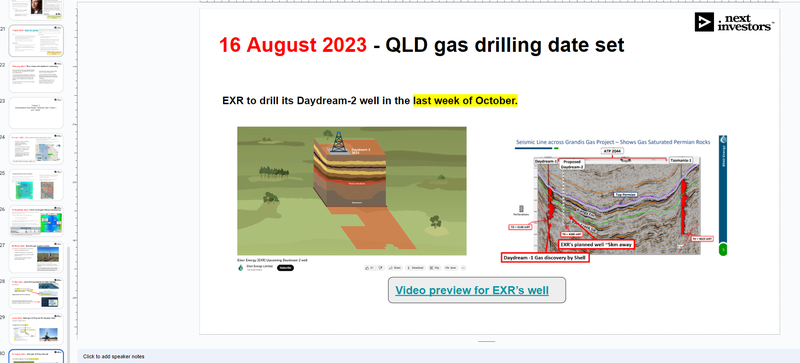 Details of EXR's October drilling
1) Well design ✅
EXR's well design is largely a mirroring of the Daydream-1 well drilled by BG Group in 2012.
BG Group (now owned by Shell) at the time drilled to depths of ~4,140m and managed to produce flow rates of ~3.5Mcf per day.
Below is a side-by-side comparison of the two wells from a technical perspective: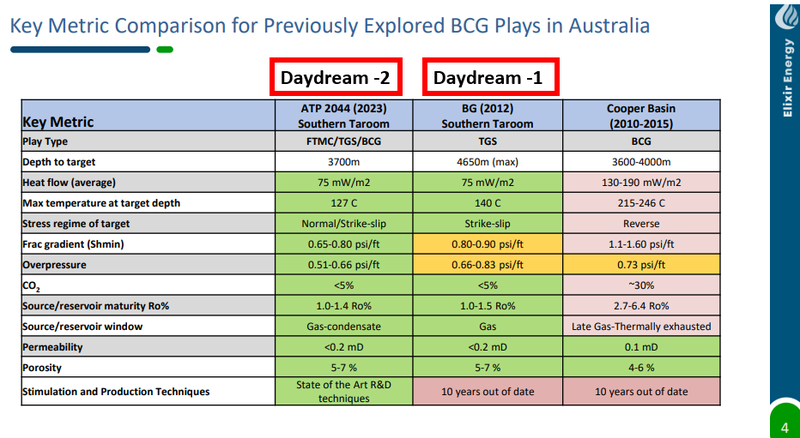 The Daydream-1 well was drilled in 2012, prior to the "fracking revolution" that changed the game for the oil and gas industry over the last decade.
EXR will be looking to use available modern stimulation/production methods when it drills Daydream-2, in the hopes of delivering a flow rate identical (and we hope better) to the Daydream-1 well.
EXR will drill to a Total Depth (TD) of ~4,200m.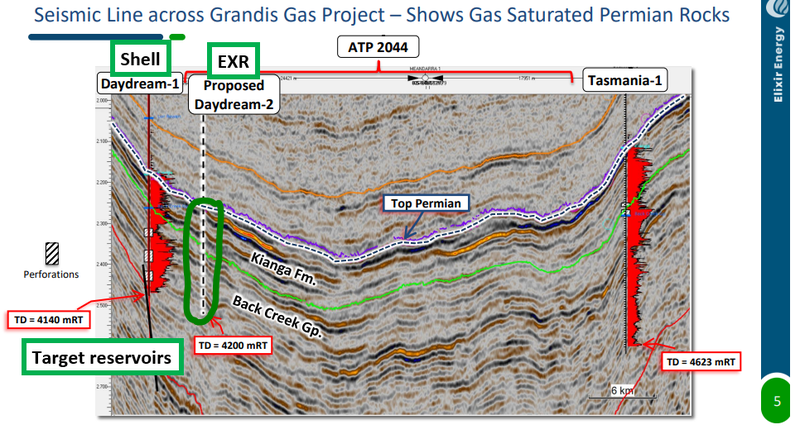 2) Rig secured ✅
EXR has already secured the SLB 185 land drill rig for the program - the same rig that delivered ASX listed Omega Oil and Gas' drill programs next door.
So EXR is essentially using a contractor who just finished a drill program in the same neighbourhood.
Being in the same region, we are hoping this means a lower cost to secure the rig (with lower costs related to moving the rig into position) AND hopefully some technical learnings from any issues faced when drilling the neighbour's wells.
The rig is expected to start moving to EXR's drilling location later this month.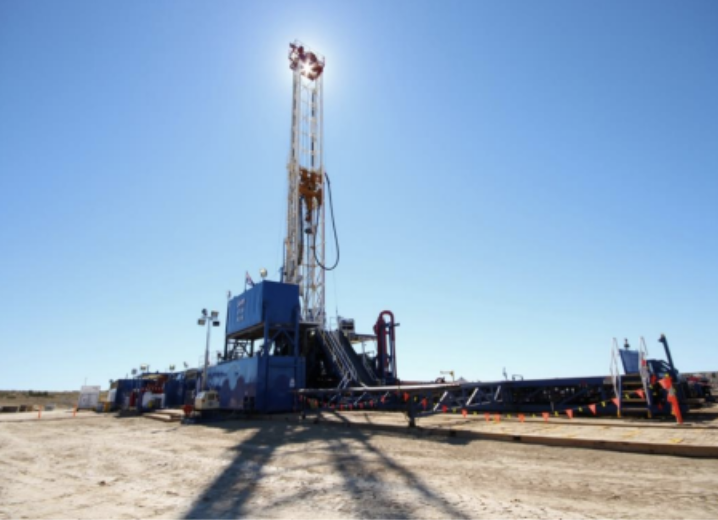 3) Permitting ✅
EXR recently completed all of the necessary landholder and regulatory approvals to start civil works.
4) Key catalysts leading up to drilling 🔄
The next major catalyst we are looking forward to will be for EXR to start building its well pad.
EXR expects to start and complete the wellpad construction work in September.
After this, it will be all about mobilising its rig to site, shoring up the company's funding position and then starting drilling in the last week of October.
What is EXR up to in Mongolia?
Update on the company's Coal Seam Gas (CSG) project:
In early June, EXR kicked off its 2023 exploration program in Mongolia.
Today EXR announced it has brought in a second rig and has already completed the first well (Bluebill-1S) from the 2023 program.
In the background, EXR is still running its pilot production program, focusing on working out the optimal technical specifications for its testing equipment to try and get the best gas flow rate possible.
As of today, EXR has managed to bring its existing pilot well (Nomgon-8) back into production - the well is flaring gas which means gas is being brought to surface.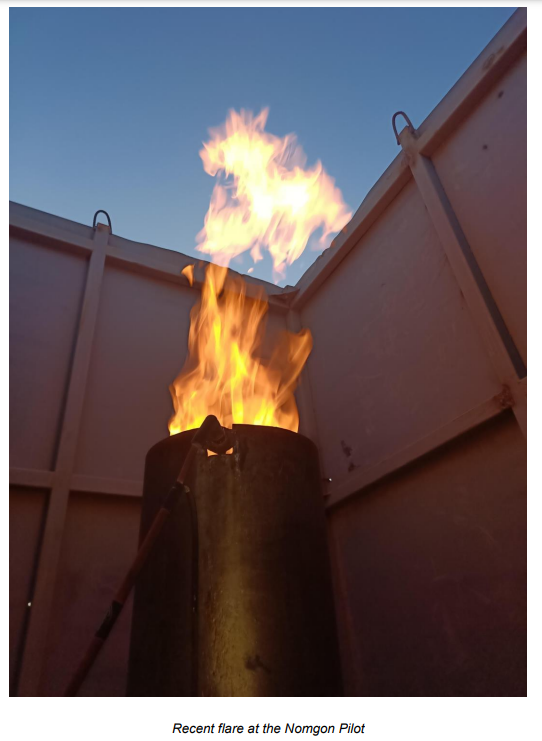 (Source)
Managing to produce a flare is always a good sign but EXR did say in today's announcement that production rates were slightly lower than the initial flow rates from the first program.
Next, EXR will drill a new pilot well (Nomgon-10).
Drilling on the new well is expected to start towards the end of this month.
After drilling is complete, EXR will look to put that well into a longer term production test - we are hoping the new well shows stronger and more consistent production rates.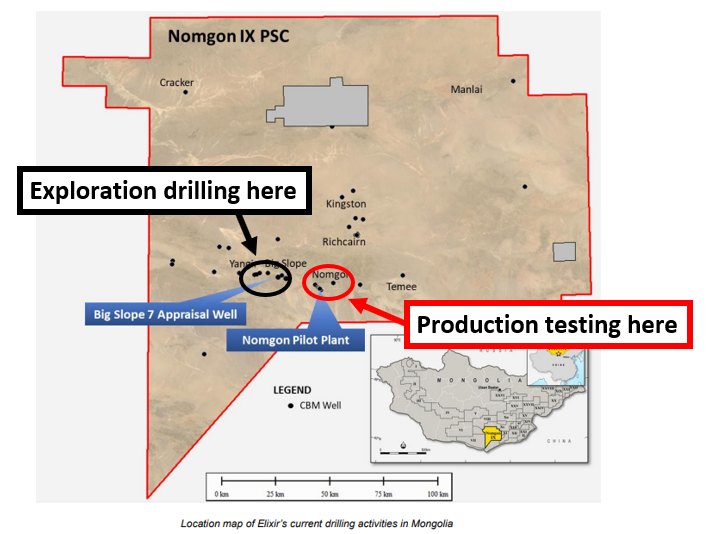 (Source)
Update on the company's green hydrogen project:
In early May, EXR released an updated Investor Presentation for its green hydrogen project.
The slides we found most interesting were on:
Regional infrastructure and Chinese energy demand (Page 3 of the presentation):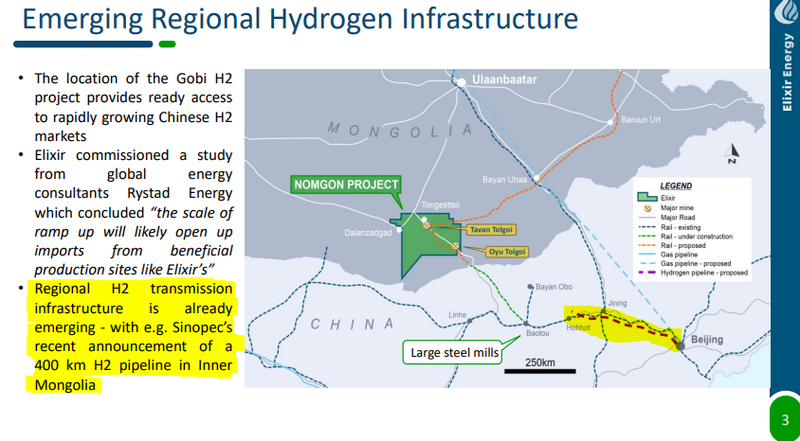 PFS is being used as a framework for 50/50 Joint Venture negotiations (Page 9 of the presentation):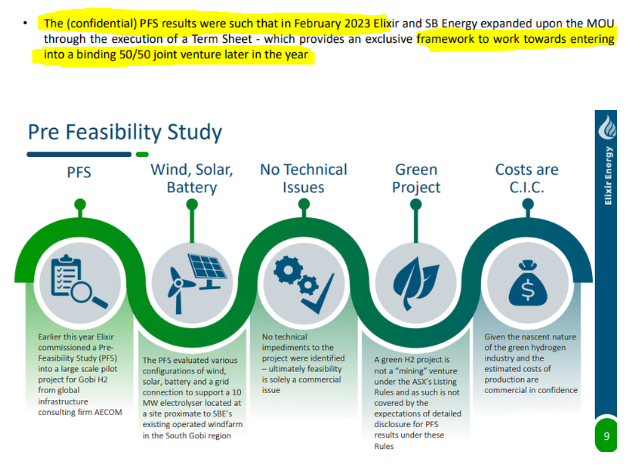 EXR's Strong renewable energy supply (Page 7 of the presentation):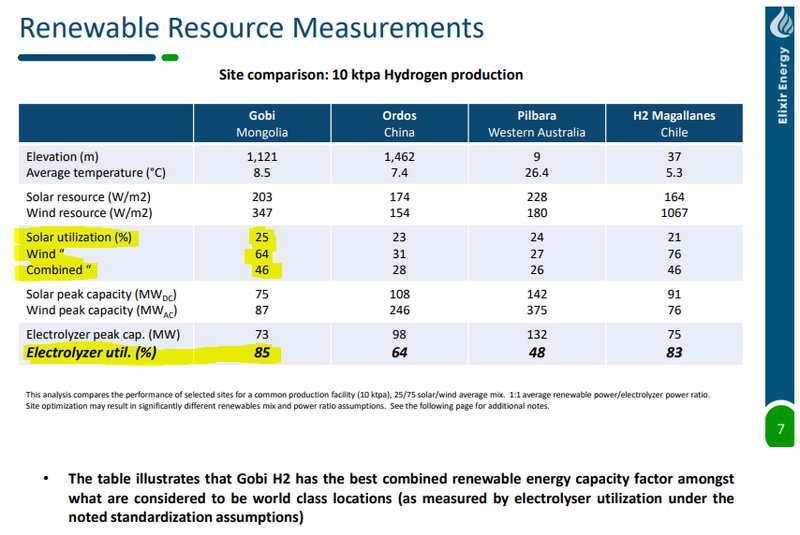 We covered the latest from EXR's green hydrogen project in a recent Quick Take: Update on EXR's green hydrogen project.
What's next for EXR in Mongolia?
Coal Bed Methane (CBM) gas project:
Extended production testing 🔄
2023 exploration program 🔄
Green hydrogen project:
Financing for a pilot plant 🔄
Offtake agreement for the pilot plant 🔄
50/50 Joint Development Agreement (JDA) 🔄
What are the risks?
With drilling in QLD now less than four months away, the primary risks to our EXR Investment are:
Commercial risk - It's possible that the drill program fails to prove commercially viable flow rates and a subsequent material re-rate to EXR's valuation. Uneconomic flow rates would mean EXR spends a lot of capital for very little return in terms of shareholder value, which we think would lead to a re-rate down in EXR's share price. Energy exploration and appraisal campaigns are high risk / high reward endeavours.
Funding risk - Drilling costs money. EXR may elect to raise funds either before (to fund the program) or after (to finance the rest of the company's operations), which could result in a dilution of existing shareholders ownership of EXR
To see all of the risks to our EXR Investment thesis check out our EXR Investment Memo here: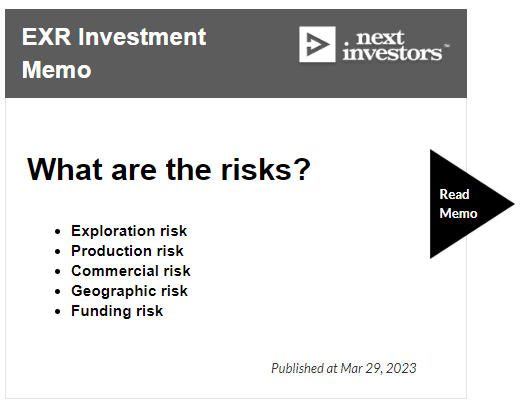 Our EXR Investment Memo:
Below is our newest EXR Investment Memo, where you can find a short, high level summary of our reasons for Investing, including the following:
Key objectives for EXR
Why we are Invested in EXR
The key risks to our Investment thesis
Our Investment plan
---