EXR drilling in the heart of the billionaire playground
Disclosure: S3 Consortium Pty Ltd (the Company) and Associated Entities own 2,795,000 EXR shares, and the Company's staff own 100,000 EXR shares at the time of publishing this article. The Company has been engaged by EXR to share our commentary on the progress of our Investment in EXR over time.
The Perth Basin has become a "billionaire's plaything" in recent years, as multiple families have gone into hard fought bidding wars over prime gas ground.
Stokes, Rinehart, and Ellison have each thrown money around to grab a stake in the Perth Basin following material gas discoveries.
On the east coast, billionaire interest in finding gas in Queensland's "Taroom Trough" has only recently started...
... which plays right into our Investment in Elixir Energy (ASX:EXR), who is drilling in the Taroom Trough later this year.
EXR has ground in the right spot, targeting the right play, and is gearing up to drill later this year.
It's clear to us that given recent moves by discerning billionaires in the area, that Taroom Trough is now considered prime real estate for gas discoveries.
The starter gun was fired late last year with the IPO of Omega Oil & Gas.
Omega is targeting the Taroom Trough for gas, going after the same play type as EXR.
Omega is heavily backed by the billionaire Flannery family.
Another billionaire group, the Texan Butler family's privately-owned "Tri-Star", also became major Omega holders in December last year.
Tri-Star are pioneers of Queensland gas - having drilled Queensland's first commercial coal seam gas well in the 1990s. Those initial investments and subsequent discoveries laid the foundations for Queensland's $80 billion LNG industry.
Our bet is that these families who have pumped billions of dollars into Queensland energy assets know what to look for when it comes to promising new gas plays.
The evidence is strong as just last week, the billionaire-backed Omega announced a gas discovery right near EXR in the Taroom Trough — remember, this is the same play EXR is targeting.
The discovery sent Omega's share price up as much as 80%.
Our Investment, EXR, is best known for its Mongolian coalbed methane project and a proposed green hydrogen project in the Gobi desert.
But we really like the addition of EXR's Taroom Trough gas project to its portfolio. The EXR team has extensive past experience in Queensland's gas industry, and it is now gearing up to drill its own appraisal well later this year.
The main goal of EXR's upcoming Daydream-2 appraisal well — just 3km from Shell's previous successful well — will be to see if it can flow gas at sustained commercially viable flow rates.
This region of Queensland has a long history of oil and gas exploration and production. However it's the deeper underexplored sandstones and coals in the Taroom Trough that appear to have captured the billionaires' attention - plus majors Shell and Santos.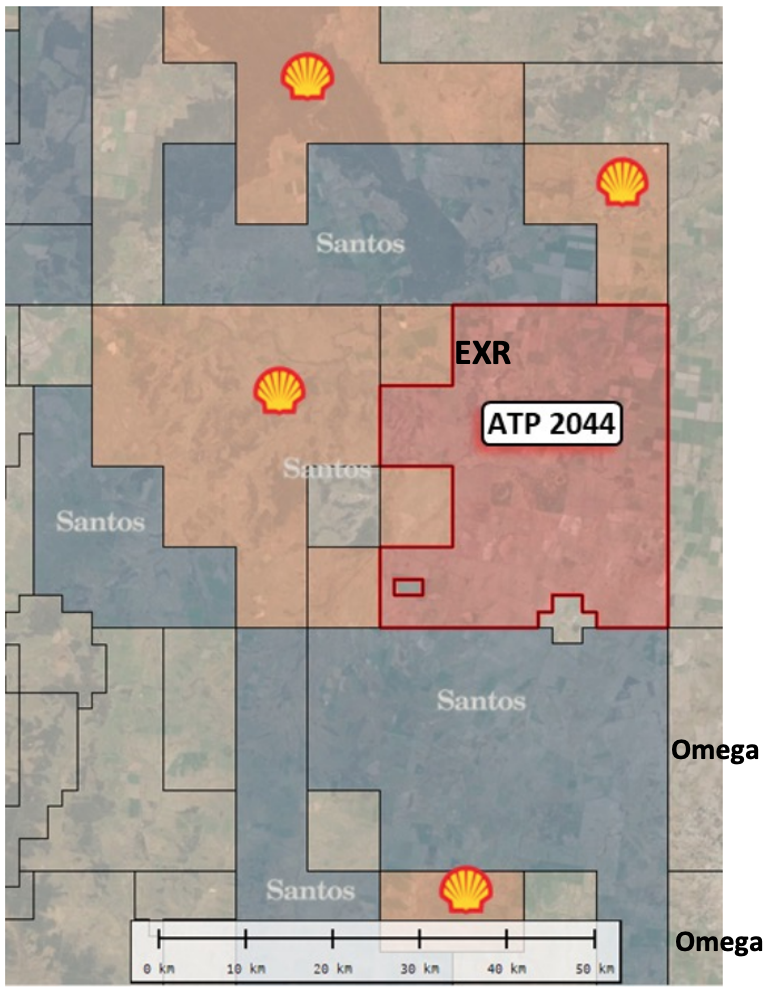 This accelerating interest means the Taroom Trough could emerge as the east coast's next gas hot spot ... and EXR is right in the thick of it.
Here's EXR's place on the map - its Queensland gas ground is almost completely surrounded by majors Shell and Santos.
Plus Omega's new gas discovery — which intersected ~300 metres of gas and liquid hydrocarbon shows — is just kilometres away from EXR to the south.
Remember, that Omega's new discovery was made in the exact same play that EXR is targeting.
This is also an extension of the plays that Omega says are now being appraised by Shell — see the map above for all those Shell logos surrounding EXR.
In summary:
Later this year EXR will drill test the exact same play that Shell is appraising right now, AND where Omega just made a discovery.
Plus Omega is now drilling a second well, bringing even more investor interest to the region.
With multiple wells being drilled in the Taroom Trough this year (by EXR and its peers), we think this frontier basin is about to be put into the spotlight.
As Santos' CEO said, "If the play works then we believe there is a multi-TCF potential across it".
Here's the past and current activity around EXR's acreage and its proposed well location: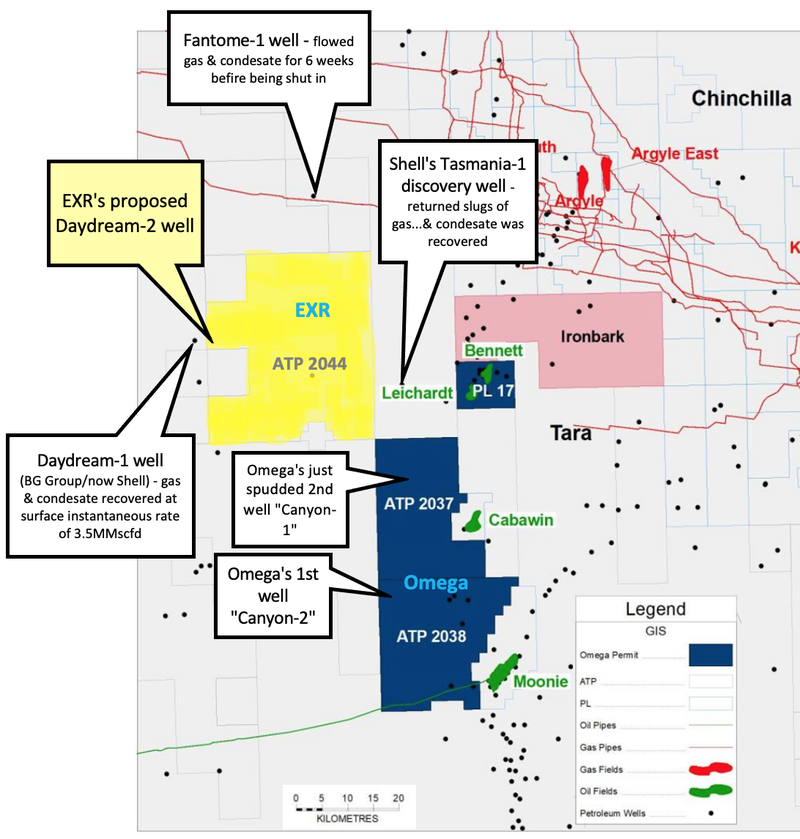 Source: Map adapted from Omega Oil & Gas
The focus of today's Note is EXR's Queensland gas project and upcoming well, but of course, this is not all that EXR has going for it.
EXR is also progressing two project in Mongolia:
The Nomgon coalbed methane (coal seam gas) project
Gobi H2 green hydrogen project
Our EXR Investment Memo outlines what we want to see from EXR over the coming year along with the reasons why we Invested, our Investment Plan and the risks involved.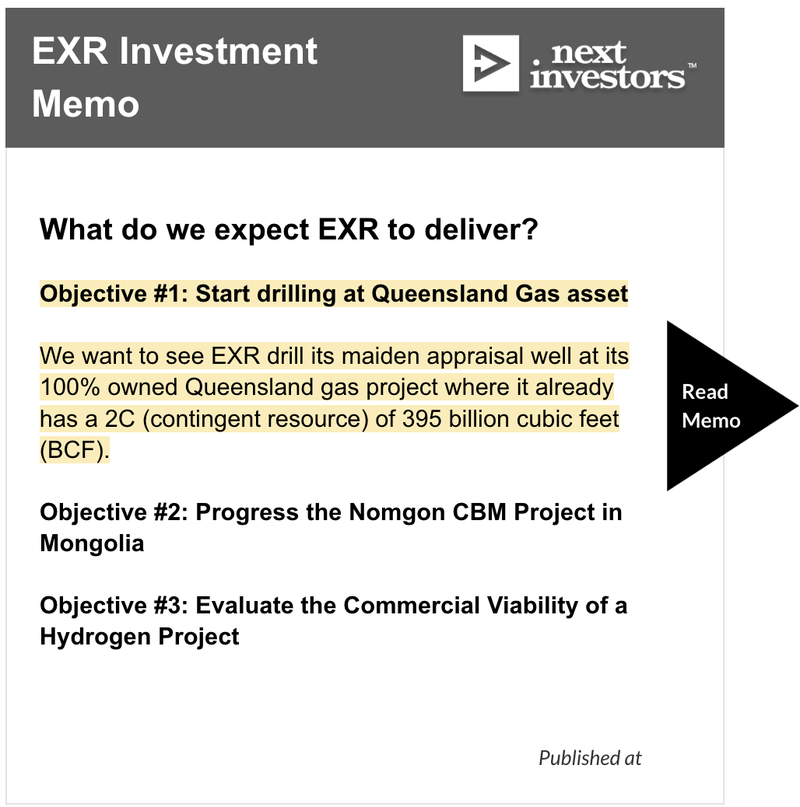 And for an overview of what EXR has achieved to across each of its projects see our Progress Tracker: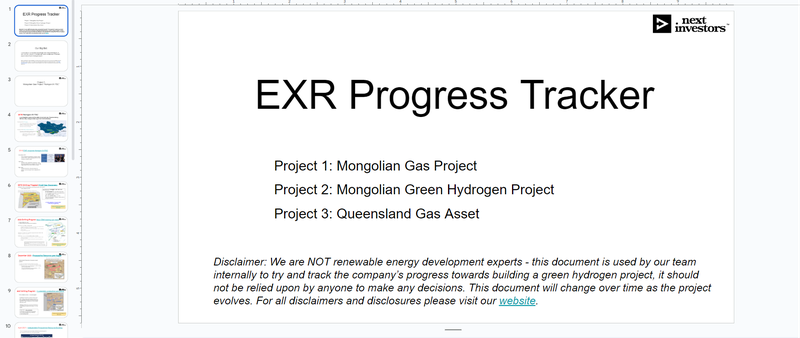 Click here to check out our EXR Progress Tracker
More on the billionaires backing Taroom Trough gas ventures - is this the next Perth Basin?
As we noted earlier, gas exploration in the Taroom Trough is attracting the attention of some very deep pocketed investors.
The billionaire Flannery family have been the major investors in Omega since before its October IPO. The family subsequently cornerstoned its IPO with a $4.2M investment and Quentin Flannery joined the Omega Board.
Not long after the IPO, Omega secured a further multi-million-dollar strategic investment ($4.9M) from major US-based oil and gas investor Tri-Star in December.
Tri-Star is a privately owned venture by the Butler family, originally from Texas, and one of the pioneers of Queensland's coal seam gas industry.
Tri-star invested $4.9M to become major shareholders in Omega in December and Tri-Star's Andrew Hackwood joined the Board.
We suspect that the trend of big money entering the Taroom Trough might just be getting started.
Firstly, because the underexplored Taroom Trough may be one of just a handful of "low risk" locations in the world with access to spare liquefaction plant capacity.
But also, as we observed in Perth Basin, once one billionaire group enters the picture, it gives the green light to others to enter the scene.
Recent takeover battles in the Perth Basin were really driven by billionaire interests rather than more big company interests (which are much more conservative and need to consider factors such as decarbonisation and ESG).
It started with Perth Basin gas player Warrego Energy attracting takeover bids from Gina Rinehart's Hancock Prospecting, as well as MinRes, Strike Energy and the Kerry Stokes controlled Beach Energy.
Rinehart ultimately succeeded and MinRes instead moved on to takeover oil & gas explorer Norwest Energy.
This type of battle for control of prime assets is a trend that we expect to continue - this time in Queensland - to the benefit of EXR.
As the Flannery's say, the leases here offer "the best opportunity ... to unlock the tight gas closest to the east coast infrastructure and market including the under-supplied Gladstone LNG facilities."
What exactly is the Taroom Trough?
The two active petroleum systems of the Surat Basin and the underlying Bowen Basin in Queensland, have a long history of conventional oil and gas production with extensive gas transmission infrastructure to supply local and international gas markets.
However, the deep sandstones and coals in the Permian age Taroom Trough are yet to be thoroughly explored.
BG Group (now Shell) first discovered gas in the Taroom Trough >10 years ago, flowing gas and condensate to surface from a well that's just 3km away from EXR's planned well.
There have been major advances in technology and knowledge since then that make a compelling commercial case to now extract gas from the deep Permian age sandstones and coals.
So it's all about the gas potential of this deeper Permian age sediments that has attracted these new waves of investment.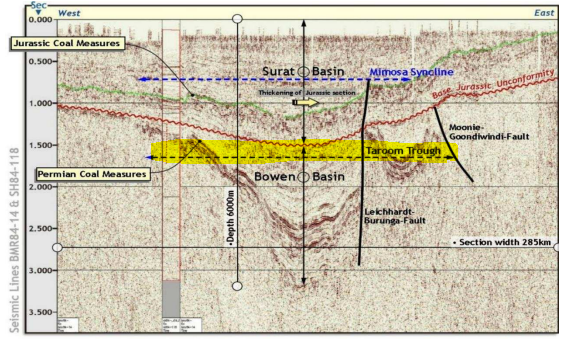 What does Omega's recent discovery mean for EXR?
When making its new discovery, Omega observed the strong presence of gas over the sandstones and coals, intersecting almost 300 metres of gas and liquid hydrocarbon shows from 3,367m deep.
And as announced yesterday Omega has now spudded its second well nearby.
Not only does the success of Omega's well provide EXR with confidence from a technical perspective, but it gives an idea of how the market could react to drilling success.
After announcing its successful well in mid-April, Omega's share price was up ~80% on strong volume. At its peak Omega's market cap hit ~$53M.
Considering that the company had $9.9M cash in the bank (at 31 March), the market was basically valuing Omega's projects at ~$43M.
Importantly, EXR is preparing to drill the exact same play as Omega — as has been defined by seismic and prior drilling. (Note: 'play' refers to prospects in the same region that are controlled by the same set of geological circumstances).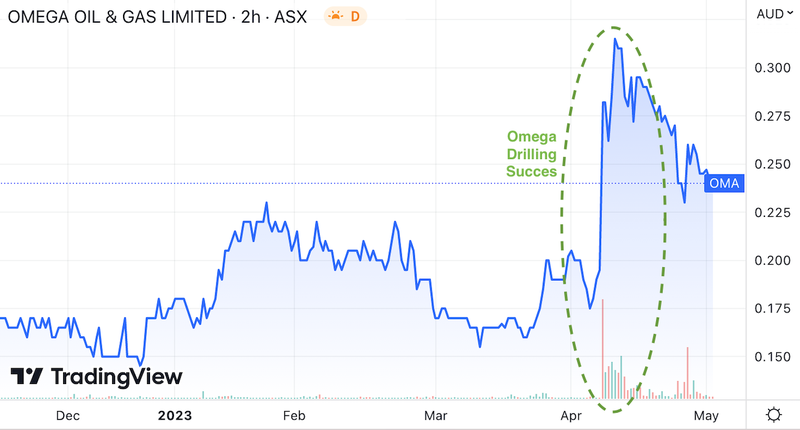 By comparison, when EXR acquired its Queensland gas asset last August, which is next door to Omega's ground, it paid just $3.5M in a combination of cash and shares.
Since then, we don't believe that the market has assigned any value to EXR's Queensland asset...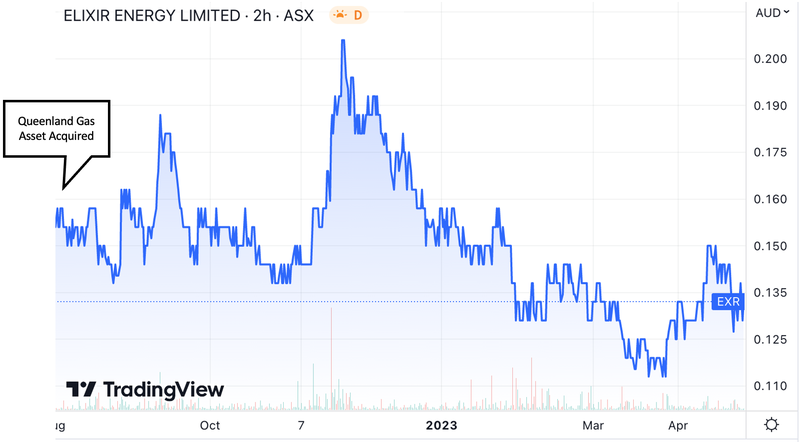 That said, while both EXR and Omega are exploring the same play, we note that Omega's assets had a pre-drill prospective resource of 3 Tcf of gas.
EXR, meanwhile, has a 3.3 Tcf unrisked mean prospective resource, plus a 395 bcf gas contingent resource, pre-drill - which offers more certainty than simply a prospective resource.
Given Omega recently made a discovery, we are looking forward to seeing what the drill bit can deliver for EXR.
🎓 See our explanation of how to read oil & gas resources.
EXR's planned well is still +6 months away, so it is not surprising that we haven't yet seen a run up in the share price in anticipation.
However, if what we have seen in our years of oil & gas investing holds true, EXR should attract increased market attention potentially causing its share price to run as drilling approaches.
When it comes to oil & gas Investing, we like to get in well ahead of big drilling events.
We take a Position early and hold on as the market's interest builds. It's a strategy that has delivered for us over the years when executed to plan.
And it's exactly what we are doing as we approach the spud of EXR's well later this year .
Ultimately we want to see EXR drill and deliver a similar, or ideally much better, re-rate to Omega.
This leads us to our EXR "Big Bet" which is as follows:
Our Big Bet for EXR:
"EXR to achieve a $1BN market cap through successfully advancing one or more of its three projects: its Mongolia gas project, Mongolia green hydrogen project, and/or its Queensland gas project."
NOTE: our "Big Bet" is what we HOPE the ultimate success scenario looks like for this particular Investment over the long term (3+ years). There is a lot of work to be done, many risks involved - just some of which we list in our EXR Investment Memo. Success will require a significant amount of luck. There is no guarantee that our Big Bet will ever come true.
Deep dive on the EXR geology; & what's happening on the ground now
EXR's Queensland project is prospective for gas and condensate trapped in conventional and unconventional sandstones and fractured coals.
These reservoirs are proven in the Taroom Trough — appraisal drilling of multiple wells by BG Group (now Shell) that flowed gas and condensate to surface from multiple wells over ten years ago identified it as a thick gas bearing section of Permian age.
That work included the Daydream-1 well that flowed gas at rates of up to 3.5Mcf/day.
This proved up the Back Creek Group play concept that has since been further explored by groups including Shell and now Omega.
The Daydream-1 is well just over the border of EXR's licence area and 2-3 kilometres from EXR s proposed Daydream-2 appraisal well.
It's important to understand that there are two types of layers of gas bearing sediment here - sandstones and coals.
Ten years on from Daydream-1 and EXR's reservoir modelling suggests flow rates can be significantly improved by accessing not only the sandstones, but the fractured coals as well.
Today, state of art stimulation techniques are available, so the full Permian section (both the Kianga and Back Creek Formations) is attracting attention.
This concept is also being explored by EXR's neighbour Omega.
Three weeks ago Omega's reported its Canyon-2 well revealed a strong presence of gas over sandstones and coals and, as announced yesterday, confirmed a discovery with net reservoir and porosity coming in even better than expected.
The strong presence of gas over the sandstones and coals of the Kianga Formation was observed, as well as encouraging gas shows deeper in the upper Back Creek Group, which it says could potentially be another resource.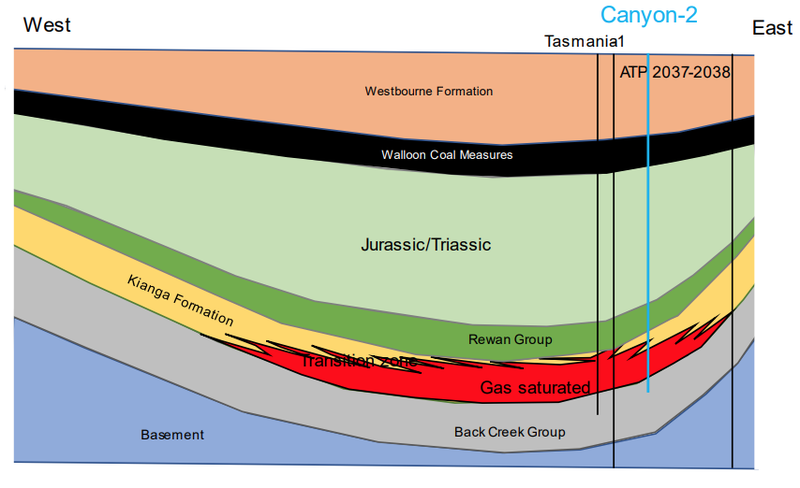 Source: Omega Oil & Gas
Omega has now spudded its second well (Canyon-1). Once complete, it will apply the data from its wells along with existing data from surrounding wells such as Shell's Tasmania-1 and Daydream-1, to design and optimise a stimulation program.
Here you can see the location of Omega's Canyon-2 discovery well and it's second well that's now being drilled, Shell's Tasmania-1 and Daydream-1 wells, and EXR's landholding and upcoming Daydream-2 well located within its Grandis Project (or ATP2044) area:
Another thing that's encouraging is that this is very similar to work undertaken by Santos in the Cooper Basin — where it leaves a legacy of success in extracting tight gas from deep coals. These very thick, very impermeable coals are accessed using different techniques than more shallow CSG.
Also interesting to note, is that Omega says its discoveries are an extension of the plays currently being appraised by Shell.
Shell, and other majors, tend to be tight lipped about their exploration works, so this comes as welcome confirmation that EXR is on the right track with if Shell is also conducting appraisals.
EXR's Daydream-2 well: drilling later this year
EXR's project already has a large 395 billion cubic feet (BCF) contingent resource (which sits inside an initial 3.3 Tcf unrisked mean prospective resource) — so we know the gas is there.
The main goal of the upcoming Daydream-2 appraisal well — just 3km from Shell's previous successful well — will be to see if it can flow gas at sustained commercially viable flow rates.
If EXR can flow gas from the deep coals, it expects that the contingent resources will increase "very materially".
We would also like to see EXR add even more certainty around what it has on its hands by converting the contingent resources into gas reserves.
In summary, EXR's appraisal well will have the following aims:
Prove commercially viable flow rates
Increase EXR's already large 395 bcf contingent resource.
Book the project's first gas reserves (converting contingent resources into reserves).
While the drilling will be deep, EXR says it is not challenging, rather the key will be how to best stimulate fracture coals to release a lot of gas.
Like Omega, EXR also plans to utilise advantages in the stimulation of fracture coals since BG Group drilled and stimulated its wells more than 10 years ago.
BG Group's gas was only from the sandstones and it missed out on the gas from coals, which EXR (and Omega and presumably Shell too) are now targeting.
Government emission policy
The landscape for domestic gas projects has changed a lot in Australia in the past few months.
With the temporary gas price cap announced last December and the new Safeguard Mechanism that regulates gas developments' emission, gas supply uncertainty remains high within Australia.
However, the uncertainty related to long term supply issues for natural gas may present an opportunity for EXR and the government's evolving emissions policies may actually support its Queensland gas project.
EXR's project could help bring on much needed gas supply in the east coast primarily because its project has:
Low carbon footprint structure - The very low CO2 (around 1%) in the raw gas in the Taroom Trough which meet gas pipeline specifications (are not scope 1 or 2 emissions).
Nearby transmission infrastructure - The project's close proximity to existing transmission infrastructure allows for a lower emissions profile.
Access to energy - The existing electrical infrastructure in the region will facilitate the electrification of future gas developments. Renewable energy power purchase agreements will facilitate a future gas development project with minimal scope 1 and 2 emissions.
Supply shortfall on the east coast - The rapidly emerging shortfall between gas demand and supply on the east coast. The new policy arguably does reduce supply options, placing advantaged projects such as EXR's in an even stronger competitive position.
What's next for EXR's QLD gas project?
Before the drill bit starts turning later this year there are a handful of milestones that we want to see EXR tick off.
The company has already secured land access agreements, but still needs drill permits, to secure a drill rig and, most importantly, a partner and/or funding for drilling.
Land access agreement ✅
EXR and a local landowner executed the land access agreement for the well in late March allowing EXR to commence field work — we gave our view on the news in this Note - EXR's major gas drilling event coming in 2023.
Contractor selection 🔄
EXR recently sought expressions of interest from drilling providers and says that interest has been strong.
In parallel, EXR says it is negotiating with a drilling service company and a significant local operator regarding cooperation of things such as sharing mobilisation costs.
Omega used a SLB (formerly 'Schlumberger') rig to drill its two recent wells (one still underway).
While the timing of EXR's Daydream-2 well potentially hinges on when rigs become available, we wouldn't be surprised if EXR uses the same SLB rig. Given the success of Omega's first well, EXR would surely be keen to replicate that performance.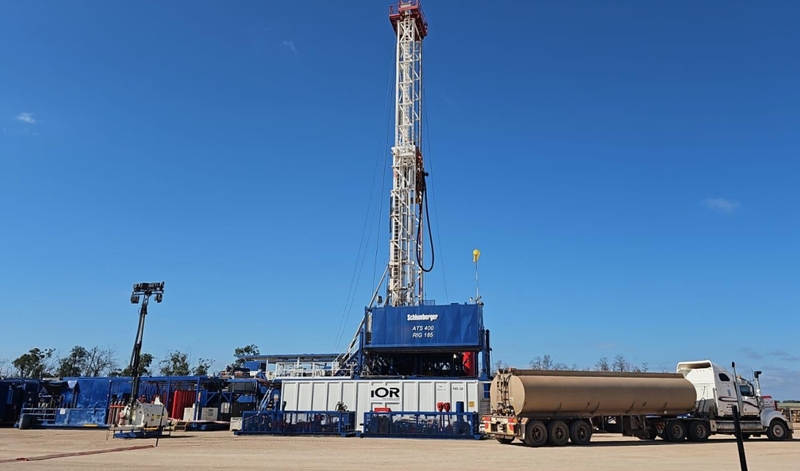 SLB Land Rig 185 (Source: Omega Oil & Gas)
Financing 🔄
EXR had $11.8M cash in the bank as of 31 March.
Whilst we don't know well costs yet, we will be watching for more clarity around how drilling will be funded.
One option that we would like to see is a partner announced to share the risk and help fund drilling.
Either way, EXR is now set to commence field work and there's plenty more newsflow to come in the lead up to the planned well in late 2023.
As we've covered extensively, small cap gas explorers share prices usually run higher in the lead up to big drilling events. This is because after a period of relatively inactivity, the market wants exposure to the drilling event and anticipates a positive result.
What could go wrong?
As outlined in our recently revised EXR Investment Memo, there are a number of risks to our Investment in EXR. Click on the image for more detail and to read our full Investment Memo.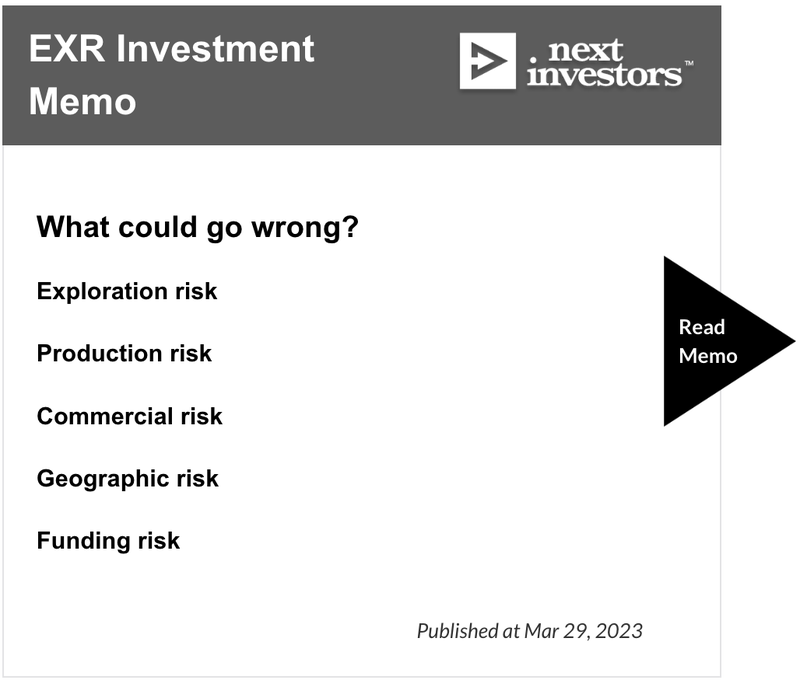 In regards to the upcoming Queensland drilling event, while EXR say the drilling is not challenging, it does present a risk.
Specifically, the risk is that EXR does not achieve the desired flow rate from appraisal drilling at its Daydream-2 well.
Further, EXR had $11.8M in the bank at 31 March and the cost to drill its Queensland well will likely be somewhere around that mark, so we expect EXR will need to secure financing which could be dilutive to shareholders.
For the other risks to our Investment (from across all three of EXR's projects), along with what we want to see from EXR over the coming year and our Investment Plan for EXR, see our Investment Memo here.
What's happening in Mongolia?
While our Note today focused on EXR's Queensland gas project that doesn't mean the company isn't continuing to make progress on its Mongolian projects.
Last year at its Mongolian coalbed methane project, EXR got to the point of flaring gas as part of its extended pilot production test and has since continued to pass key production milestones.
EXR says it will continue to gather data from the pilot project until mid-year before initiating a formal process with the Mongolian government to start moving towards commercial production.
In parallel, EXR will continue its regular annual CBM exploration and appraisal drilling programs across its giant landholding on the Mongolia-China border, which is due to commence "very shortly".
EXR Investment Memo
Below is our newest EXR Investment Memo, where you can find a short, high level summary of our reasons for Investing including the following:
Key objectives for EXR for the coming year
Why we are Invested in EXR
The key risks to our Investment thesis
Our Investment plan
---