EU urgently needs ESG grade cobalt for EV transition - Russia and DRC supplies are ruled out
Disclosure: The authors of this article and owners of Next Investors, S3 Consortium Pty Ltd, and associated entities, own 2,661,667 KNI shares on the day of publishing. S3 Consortium Pty Ltd has been engaged by KNI to share our commentary on the progress of our investment in KNI over time.
Our European battery metals investment, Kuniko (ASX:KNI), is set to drill for cobalt in Norway, at a time when Europe is desperate for local supply.
KNI was spun off in August 2021 from our best investment to date, Vulcan Energy Resources.
KNI aims to deliver Zero Carbon battery metals to the lucrative European EV market.
The next couple of months could prove to be a big period for KNI because with drilling permits now secured, they can start drilling in the first week of May.
The KNI share price was quick out of the blocks following the IPO and went as high as $3.60 only to retrace to where it is now at ~66 cents, with short term traders and speculators most likely having left the building.
We're long term investors in KNI because we think its battery metals project portfolio is ideally located to play a role in the European EV supply chain.
KNI's main focus at the moment is its cobalt project in Norway. For context, the cobalt price is moving up rapidly and now near 2018 levels at US$82,000/tonne.
We also think that KNI's nickel-copper project holds promise - especially considering that the nickel price recently shot up above US$100,000 a tonne in a big short squeeze.
But for now it's all about cobalt.
Cobalt is an essential part of the EV supply chain and the majority (~70%) of it is sourced from the Democratic Republic of Congo which produced 120,000 tonnes in 2021.
The country has faced criticism for the ethical standards of its cobalt mines, and in late February The New York Times reported that a Congolese court had ruled that Chinese administrators at the world's largest cobalt mine would be 'sidelined' while it investigates concealment of reserves.
As a result, we think cobalt and its other battery metal peers are now a matter of serious geopolitical significance.
We note that the second largest producer of cobalt is Russia, which produced 7,600 tonnes in 2021.
Given powerful macro tailwinds, we think this is a pivotal moment for KNI, as drilling success at their cobalt project would likely be enthusiastically received by the market.
With KNI's low number of shares on issue and tight register, we have seen what the share price can do in the past.
KNI's project is located in an area that was historically the largest cobalt mining region in the world.
Because of this, we think the KNI's prospects for drilling success are good at this particular project.
KNI's maiden 7 drill hole campaign is targeting a trio of large EM conductors at its primary cobalt project.
In our last KNI communication, we said that we liked how EM surveys turned up two additional targets - and now we want to see what kind of grades KNI can deliver in the coming diamond drilling.
Today, we'll highlight the latest permitting news, explain the significance of Zero Carbon European cobalt, and examine the potential of KNI's nickel-copper project.
We'll finish with a quick look at one recent acquisition near KNI's projects, which demonstrates market appetite for battery metals projects in Scandinavia - the €45M ($68M) cash purchase of a Finnish cobalt exploration company called Latitude 66 by a much larger mineral investment company called SunMirror (€420M/$638M).
Below is a quick summary of why we invested in KNI: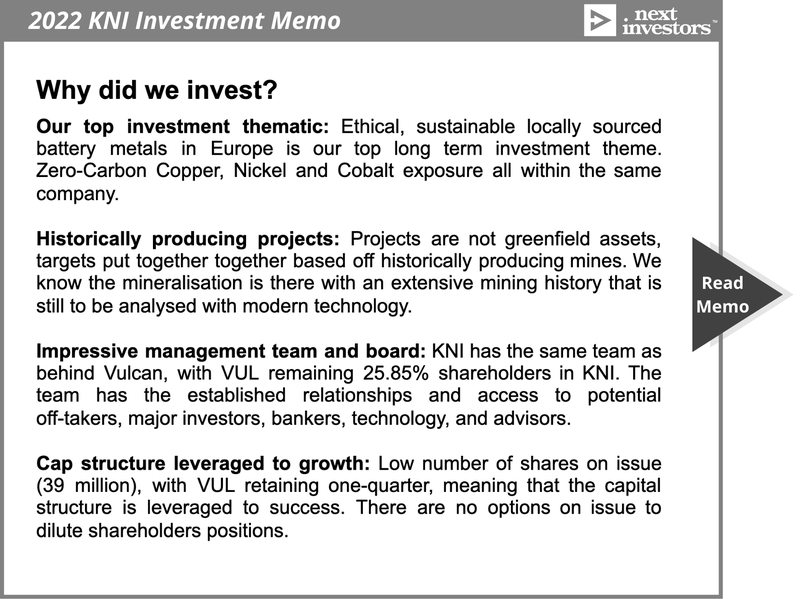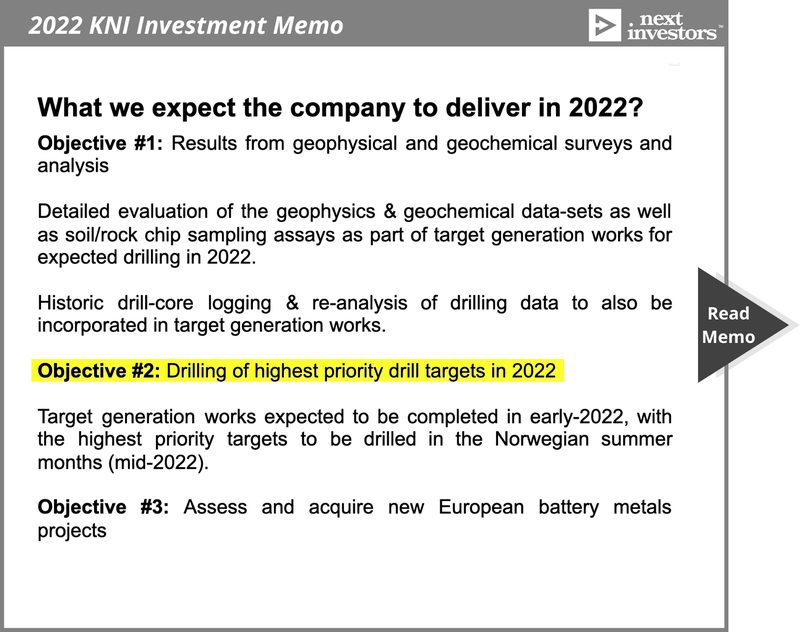 KNI is ready to tackle Key Objective #2, but we also expect more targets to be generated at their other projects in the coming months, further advancing Key Objective #1.
Yesterday, KNI announced that it now has the permits it needs and can proceed in May to drill circa 2,800 metres with 7 diamond core holes.
KNI will drill these 7 holes at 3 sites which you can see highlighted below: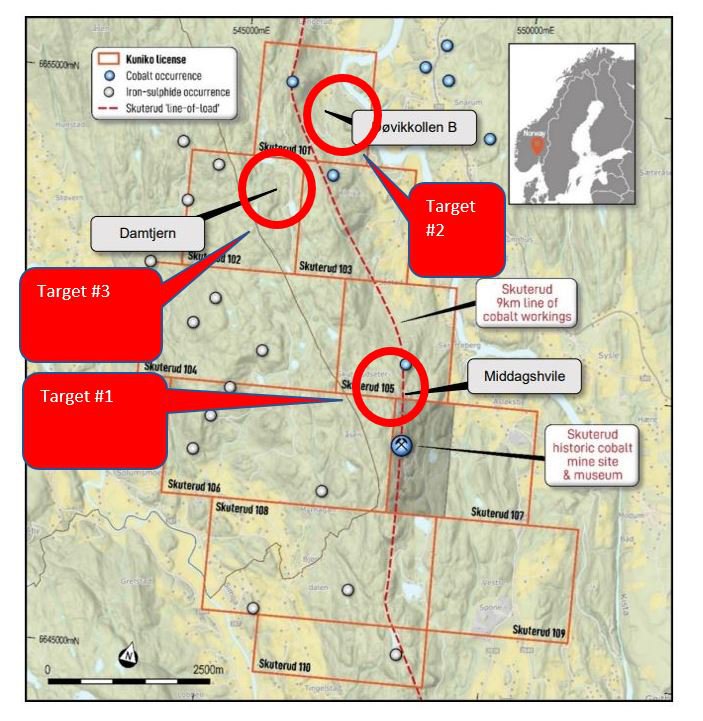 Target's #2 and #3 were unlocked in addition to Target #1, which for us is the main target given its proximity to the historical cobalt mine.
Previously, KNI found these other two targets to the North of Target #1 through modern geophysical surveys. It was an added bonus because it gives KNI more bites at the cherry.
This is what Target #1 looks like (our favourite blob):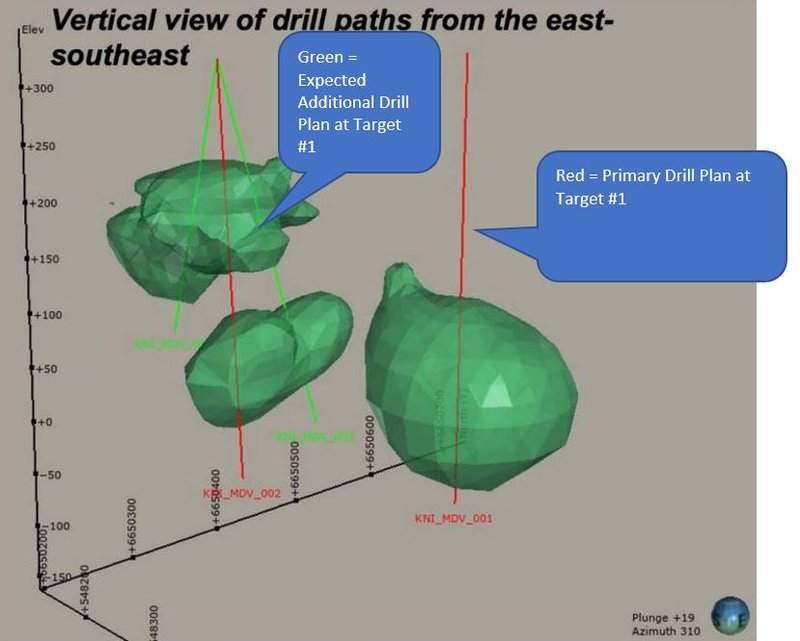 KNI says these are "confident Co-Cu mineralisation targets," which when combined with the closeness of these targets to the trend line of previous mining in the area, we think bodes well for the May drilling campaign.
For our deep-dive on the early geophysical works results see the note we put out late-last year here.
Macro theme: Why we think Europe needs KNI's Zero-Carbon cobalt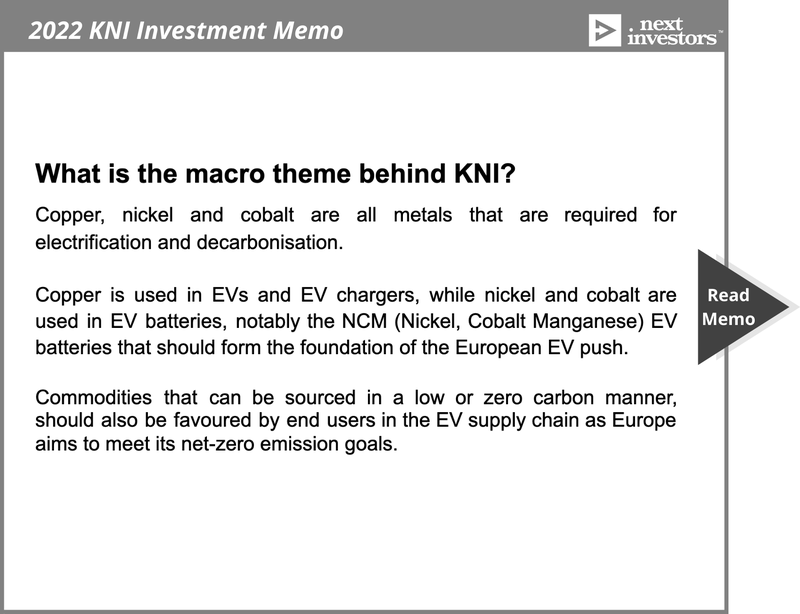 KNI cobalt project is in Norway, the leader in Europe in terms of EV market penetration.
By one estimate, the cobalt content of Lithium-ion batteries (LIBs) in electric cars and vans produced in the EU in 2025 is estimated at 52,000 tonnes of cobalt metal (potentially conservative) - nearly one third of total 2021 production.
This gives you a sense of how quickly EVs are advancing in Europe compared to other jurisdictions.
And to feed the burgeoning European EV beast, battery manufacturing plants are springing up all over the continent: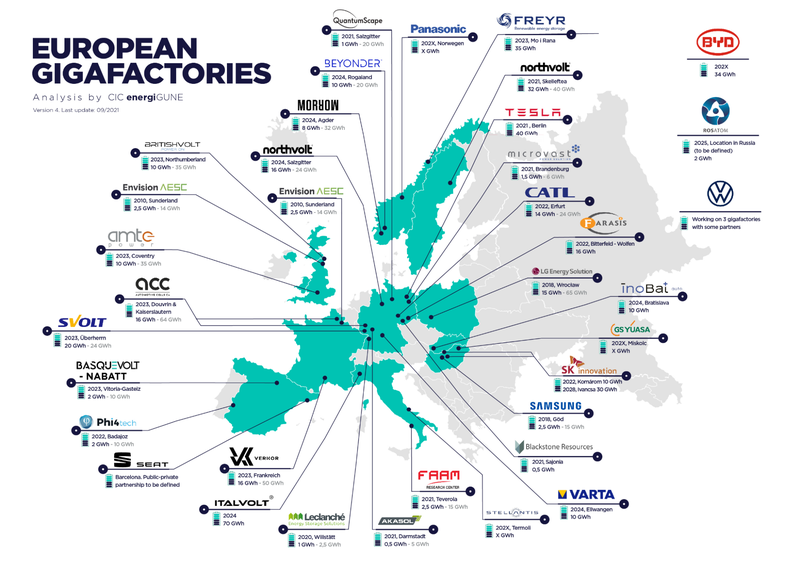 These gigafactories need cobalt, and because cobalt production is currently concentrated in the Democratic Republic of Congo, the blue battery metal is considered to have a high supply chain risk.
This is in part due to geopolitical factors as China and the US vie for DRC cobalt supply, and a long history of poor conditions for mine workers in the country.
In fact, due to a combination of supply chain bottlenecks from lockdowns and an increase in Chinese imports from the Democratic Republic of Congo, the cobalt price is punching higher, near 2018 levels: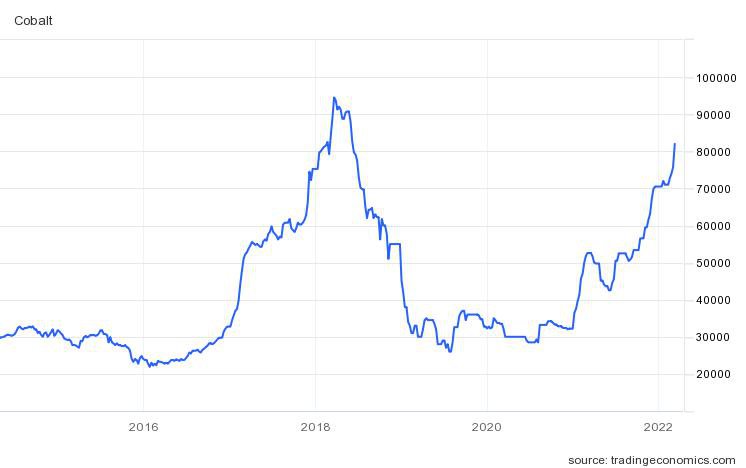 In our view though, the longer-term cobalt demand story is more geared towards electrification rather than any short-term shocks.
Nearly 50% of cobalt demand comes from the lithium-ion batteries in consumer electronics and EVs in 2021: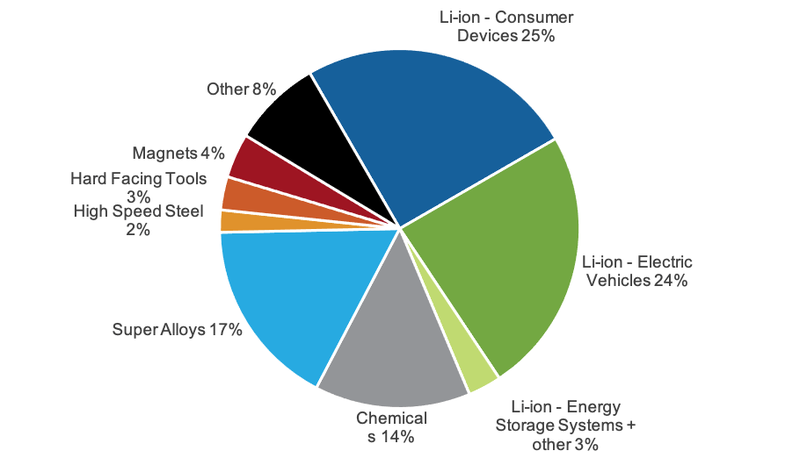 We think these two sources of demand will make up an ever larger piece of the cobalt demand pie.
EV batteries can have up to 20kg in their battery packs and cobalt makes up to 20% of the weight of an EV battery cathode.
While there has been a concerted push to reduce cobalt content in EV batteries, with Tesla's Elon Musk arguing for a diminished reliance on the metal, for now it remains a key component of the electrification initiative.
That's because cobalt's properties make it particularly suited to high performance batteries due to a good mix of high voltage, energy density and compatibility with lithium ions.
In terms of factors specific to Europe, there are two bits of EU policy that are pertinent to KNI's cobalt.
The first, is the EU Batteries Directive which "aims to improve the environmental performance of all operators involved in the life cycle of batteries."
Second, there is the more recent proposal for a "Directive on corporate sustainability due diligence."
The second bit of EU policy promises to make large battery manufacturers in Europe accountable for how they source their raw materials.
Taken together, it's clear that Europe is pushing to clean up its battery supply chain.
Which is where KNI's appeal starts to shine through. A Zero Carbon cobalt project which is working on grounds that were formerly the largest cobalt producing region in the world.
Interesting fact: KNI's cobalt project is called Skutterud and it was such a big cobalt area in the day, that there's a specific cobalt mineral called Skutterudite named after the location.
With Europe being the fastest growing battery market in the world, there's one KNI project that caught our eye in a recent investor presentation.
KNI's nickel-copper project
KNI also has a nickel-copper project up its sleeve called Ringerike.
KNI picked up the nickel-copper project in October 2021 and intends to review the current resource there in the coming months.
The resource is not a JORC resource, and is instead recognised under a different code called NI 43-101.
This is a Canadian resource reporting code, so it's possible KNI could bring this project up to speed by tweaking a few things and re-examining old drill cores.
In terms of scale, the nickel-copper project is 220.44 square kilometres and includes a historic mine which produced ~400kt ore at 1.04% Ni, 0.69% Cu and 0.17% Co.
While those grades may not immediately capture the imagination, it's worth bearing in mind that this mine was in operation well over 100 years ago. So we're hoping KNI might be able to find some good nickel and copper here with their modern geophysics techniques.
The same techniques turned up the additional two targets at their cobalt project.
It's nice and close to the cobalt project which is just 15km away as well, so there may be some operational synergies down the track as it progresses.
Cobalt acquisition in Finland demonstrates market appetite
We picked up on one transaction recently in Finland, which we believe demonstrates market appetite for Scandinavian battery metals like KNI's projects.
The acquisition in question is a €45M ($68M) cash purchase of a company called Latitude 66 by a much larger mineral investment company called SunMirror (€420M/$638M).
Latitude 66 says that it has over 100 cobalt targets in Finland, while their primary development project is the fourth largest known cobalt deposit in the EU and the second largest not yet in production.
So we think if Latitude 66 is worth that much, and if KNI is working on ground that used to be the world's largest cobalt producing region, there's significant upside to be found if the May drilling program goes well. Keeping in mind that this is just one of five KNI projects in Scandinavia.
One academic paper on cobalt deposits in Europe, notes that there are, "104 deposits in Europe that are currently being explored for cobalt, of which 79 are located in Finland, Norway and Sweden."
There are cobalt deposits littered all over Finland, Norway and Sweden:
So it's a good part of the world to go drilling for cobalt then, KNI just needs to hit it in May.
KNI is an early stage exploration company though, and we've identified the following risks for our KNI investment: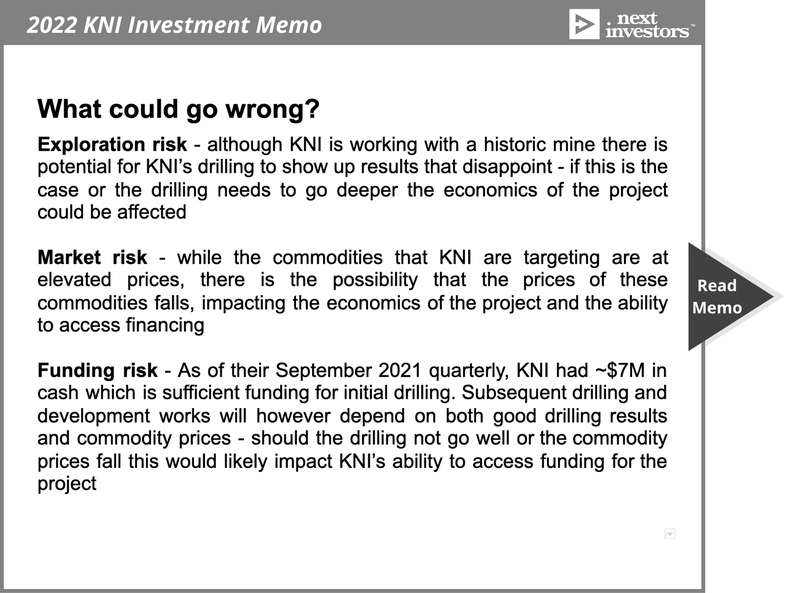 KNI discloses Environmental, Social and Governance (ESG) progress
Global fund managers, high net worth family offices and millennials are now actively seeking to invest exclusively in ESG companies. Consumers are demanding best in class ESG products and smart people only want to work with top ESG credentialed companies.
KNI uses the world economic forum ESG framework to regularly report their ESG progress so they can best tell their story to international ESG investors, potential offtake partners and community stakeholders.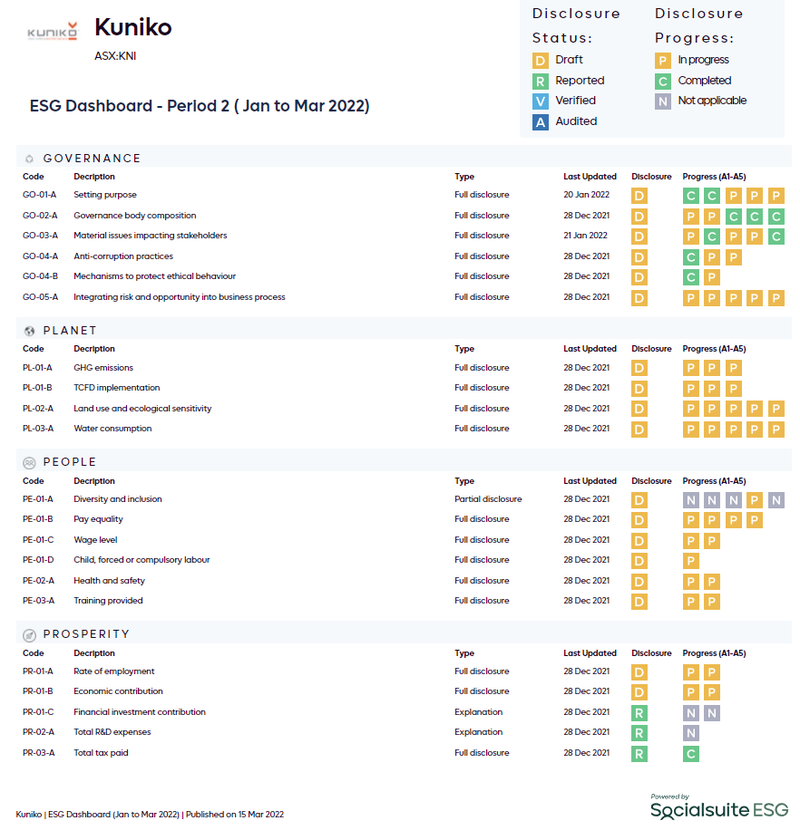 Our 2022 KNI investment memo
In our KNI Investment Memo you'll find:
Why we invested in KNI
Why we continue to hold KNI in 2022
The macro theme behind KNI's project
Key risks involved in our KNI investment
Our KNI investment plan

---