KNI Geophysics Unveils EM Conductor Under Historic Cobalt Mine
Our investment Kuniko Ltd (ASX:KNI) is exploring for battery metals in Norway, specifically targeting copper (Cu), nickel (Ni), and cobalt (Co).
Some of our best winners have come from our investments in the battery metals space, particularly those with a commitment to Zero Carbon projects.
KNI was spun out from the best performing stock in our portfolio in 2021, Vulcan Energy Resources - Vulcan still owns 24.34% of KNI.
Similarly to Vulcan, KNI's main point of difference vs other exploration plays is its commitment to delivering battery metals projects using a Zero Carbon process locally in the EU.
We invested in KNI at the IPO, and in line with our investment plan, we still retain 92% of our holdings.
A large part of our investment thesis was that KNI was sitting on historically mined projects. With modern exploration techniques applied, we think this could lead to new discoveries.
Add to this mix the experience, expertise, and relationships of the Vulcan team, and we think KNI is well positioned for long term success. However - as with all early stage exploration stocks, there is no guarantee here - exploration is a risky space to invest in.
KNI's Norwegian cobalt project sits on and around a historic cobalt mine which was previously considered the largest cobalt mining area in the world.
Today, KNI announced the initial results from the geochemical soil sampling program at the project plus some further details on its geophysics investigations.
For us there were two key takeaways:
An EM anomaly was mapped and indicated the previous drilling (by the former owner) may have missed the conductor target.
Soil sampling confirmed the presence of cobalt mineralisation over that anomaly of interest.
Takeaway 1:
The most important for us is takeaway number 1 - the previous owner of the project, Berkut Minerals, drilled close to the EM anomaly in 2018... but completely missed it.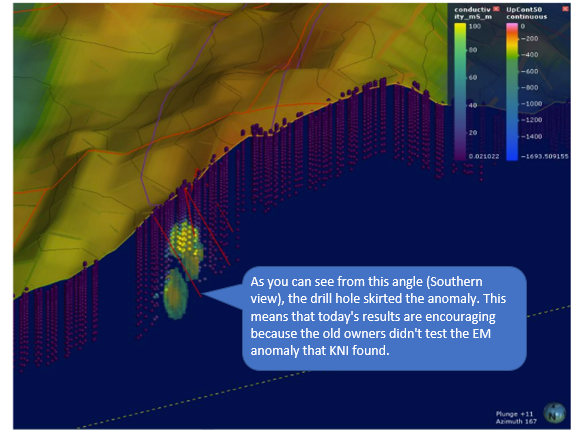 Berkut's drilling program was based only on soil sampling results, without any modern geophysics, geochemistry or EM surveying to assist with target selection - so a near miss like this makes sense.
Armed with the Berkut data, and applying additional exploration technology, KNI has overlaid its EM, geophysics and geochemistry data to get a much better idea of where it needs to drill to test the large anomaly that Berkut slightly missed.
Takeaway 2:
The second key takeaway is the confirmation of a presence of cobalt mineralisation in the geochemical soil samples over the target area.
Peak results from the soil sample assays contained up to 2,660 ppm Arsenic, 90.3 ppm Cobalt, and 818ppm Copper.
The assays received to date are still only a partial representation of the larger soil sampling program with 131 of the 713 soil samples received to date.
We expect the remaining results to come through leading up to the end of next quarter, and this will all feed into KNI's drilling targets for 2022.
Today's announcement from KNI confirms what we had been hoping for in our last note, in that the geochemical assays are lining up with the geophysics previously undertaken.
This increases the probability that KNI will find something at its Middaghsville cobalt target. Of course the only way for KNI to understand the target is to drill.
We mentioned in our last note that the results from the geochemical soil sampling program were important and that traces of cobalt could be a good indicator that the deeper anomalies contain cobalt.

We now have exactly what we were looking for: a targeted area where geophysics, geochemistry and EM surveys are all telling KNI to drill.
This sets up the Skuterud Copper Project as a key exploration target for KNI going into 2022.
More on Today's Announcement:
Today's results follow on from KNI's geophysical survey results which were announced to the market in early November.
KNI's Skuterud Cobalt Project is located at a historical mine which was previously considered the largest cobalt mining area in the world.
This mine delivered a total estimated production of 1 million tonnes of ore with 0.1–0.3% Cobalt, up to 2.0% Copper.
The EM surveys done around the historical mine produced several new EM conductors, including a big and deep one that was totally new and previously unknown.
The most significant of those being the newly delineated conductor at the Middagshvile target (Conductor #3 from the figure below) which produced the highest levels of conductivity.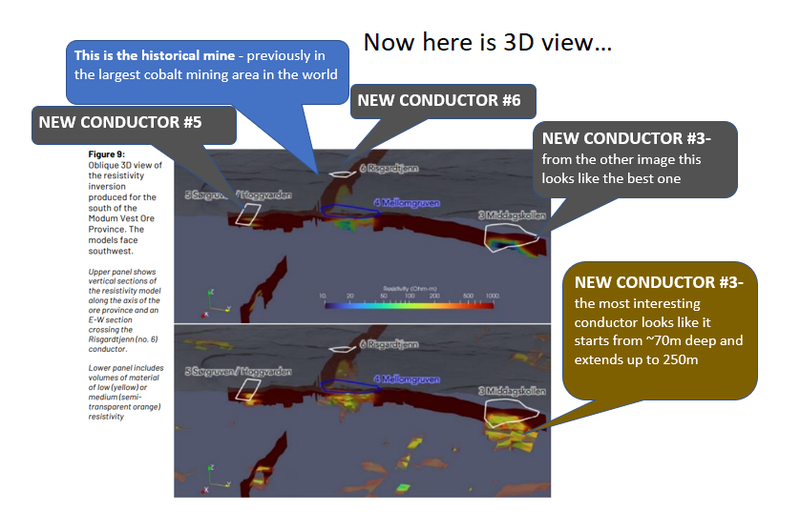 Today's geochemical soil sampling results confirmed the presence of cobalt in the area where this particular EM conductor is located.
The purpose of the geochemical soil sampling is to try and support the findings from the geophysical surveys before identifying the best target to drill.
The more the two exploration techniques match up and confirm a location as a target area, the better the chance of a successful drilling outcome.
The presence of cobalt from soil sampling is a step in the right direction but the more significant takeaway from today's announcement was the detailed mapping of previous drilling done at that conductor of interest.
How the previous owners missed the mark:
The previous owners, Berkut Minerals, did some drilling here in 2017-18 without all of the geophysical and geochemical data that KNI has secured.
It appears from the mapped EM survey that Berkut did not drill deep enough to test the main conductive bodies that were identified by KNI.
This is what that looks like in Figure 6: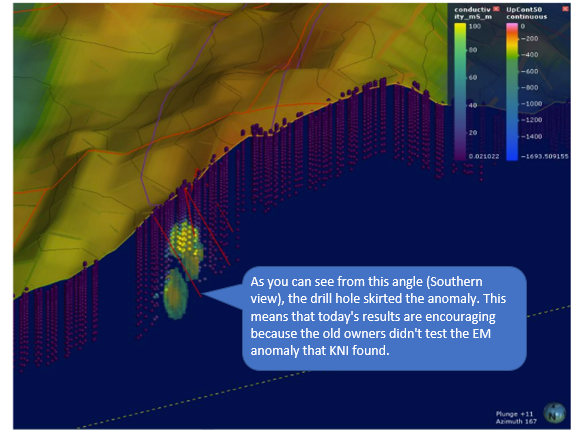 Berkut's drilling was all done "blind" meaning they drilled only based on soil sampling results. So a near miss like this is understandable.
This highlights just how important being able to do all of the preparation work for a drilling program can be to avoid "near misses" like this.
KNI has now done all of the modern pre-drilling exploration works and looks like it knows exactly where it needs to drill.
We can also see from the image below that the anomaly (yellow/red blobs) looks like it's many times bigger than the old cobalt mine.
Of course yellow/red blobs are not enough to confirm a discovery - KNI will need to drill test this target.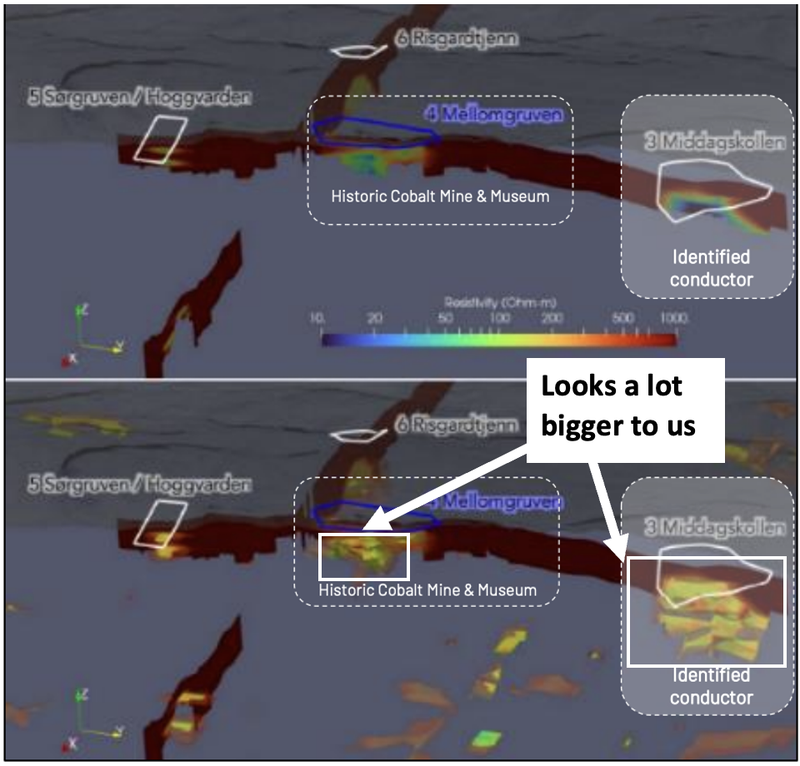 We covered Berkut's past ownership of this project in a previous note. The key takeaway was that just as they completed the initial drilling program, the cobalt price tanked. So work stopped before modern exploration techniques could be applied (EM Surveys/Geochem/Geophysics).
The significance of all of this is that it looks like Berkut just missed the massive anomaly, and KNI has the opportunity to test it.
In this image, we are hoping that Berkut is the miner that turns around just as it is about to find the diamonds (In KNI's case the Cobalt... or maybe nothing - only drilling will confirm):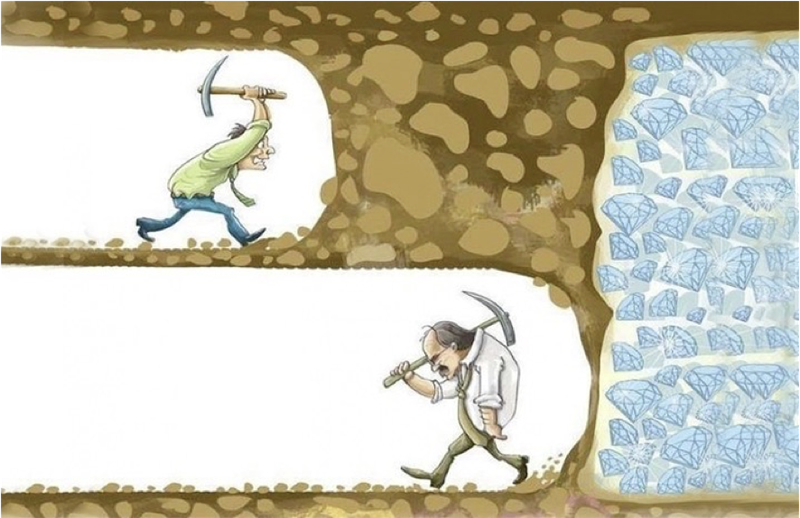 All of this is exactly what we wanted to see from the geophysics and geochemical soil sampling programs, setting up the Skuterud Cobalt project as a key part of KNI's exploration plans going into the 2022 drilling season in Q2-3 2022.
What's Next at KNI's Skuterud Cobalt Project?
There are still 550 soil sample assays yet to be received from the current Geochemical sampling program, we expect to see these results come in next quarter.
After all of the EM/Geophysics and Geochemical sampling results are available to KNI, we want to see a drilling program put together aiming for the highest priority targets surrounding the historic mine.
We are particularly interested in seeing KNI drill Target 3 (Middaghsville) - where Berkut fell short of piercing the massive EM anomaly.
What has been happening with KNI share price
It has been a wild ride so far for the IPO investors in KNI with the share price reaching a high of $3.60 a few days after the IPO.
Since then, the KNI price has been more or less in a downward trend. Volume has dried up in recent months - so we think if KNI can move to drill testing its targets or generate additional material newsflow, we might see the KNI share price re-rate upwards.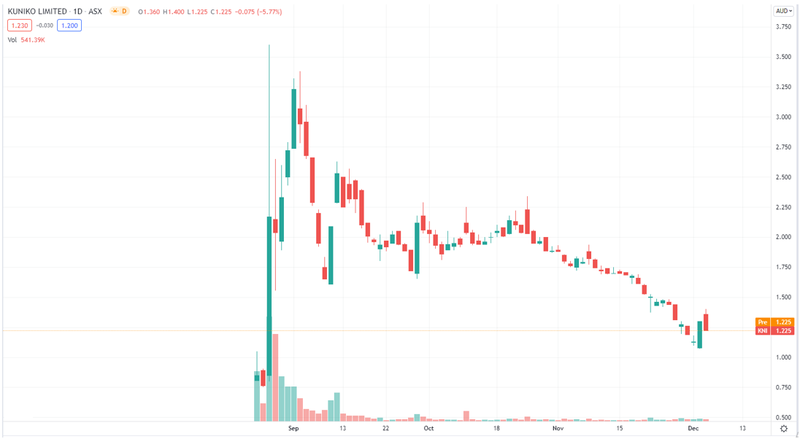 Markets in the short term are unpredictable and share price movements are often uncorrelated with the performance by the company at the project level.
Investors will generally get over-excited about a company's prospects and then as time passes become impatient & lose sight of what they were initially excited about. Delivering key milestones for company's can take time.
We believe this sort of time delay in company performance and share price performance creates opportunities for the patient investor who remains calm & calculated during the turbulent periods and make their investments based on company's delivering what they promised over time.
We made our investment in KNI hoping to see them make new discoveries around the historically producing mines that their assets sit over, with a hope that the guidance & backing from the team behind Vulcan Energy Resources these new discoveries could be turned into company making projects.
So far KNI are delivering exactly what they promised and what we expected - they are firming up the highest probability exploration targets leading up to drilling sometime in 2022.
This is why we are more focussed on long term company performance which we think dictates the overall trend in the company's share price.
You can find out more in our e-book "How to Make Money Investing in Small Cap Stocks"
In order to track our investments and challenge our investment thesis internally, we recently started producing investment memos on all of our portfolio companies.
We aim to review our thesis as our company delivers on what we expected of them.
You can view our Investment memo for KNI here
2022 is shaping up nicely for KNI
The purpose of a spin out can be quickly forgotten in markets where investors are short term focussed and want a new discovery to be made yesterday. With that in mind, we think it's worth reminding markets why KNI's projects were spun out of Vulcan.
When a company has a flagship project that is approaching the development stages, it will generally go into cash preservation mode and stop spending money on regional exploration targets.
Think of this as the company saying "we have found our company maker, we don't need to look for anything anymore".
It's only been four months since KNI's projects were spun out of Vulcan and we think KNI is making good progress towards working out which of the projects deserve the highest allocation of company time and funds.
It looks to us like the Skuterud Cobalt Project might just be shaping up as KNI's "flagship project" for investors to follow - but we'll have to wait and see.
What's Next for KNI:
We want to see the remaining geochemical results from KNI's Copper projects, combined with a detailed interpretation and explanation of where the highest priority drill targets will be.
After this, all eyes will be on KNI detailing the timeline for the 2022 drilling program in the Norwegian summer months.
Investment Milestones in KNI
In line with our general investment strategy for early stage explorers, we have sold 8.04% of our KNI position. We are moving towards achieving free carry prior to the initial drilling results, which we expect to complete in the first half of 2022.
✅ Initial Investment: @ 20¢ (Majority Escrowed for 2 Years)
🔲 Increase Position
🔲 Increase Position
✅ Price increases 500% from initial entry
✅ Price increases 1000% from initial entry
🔲 Price increase 2000% from initial entry
🔲 12 Month Capital Gain Discount
🔲 Free Carry
🔲 Take Profit
🔲 Hold remaining Position for next 2+ years
Skuterud Project - Cobalt
✅ Field Studies - Geochemical Sampling
🔄 Assay Results (Geochemical Sampling)
🔄 Drill Targets Identified
🔲 New Milestones Added
Disclosure: The authors of this article and owners of Next Investors, S3 Consortium Pty Ltd, and associated entities, own 2,881,667 KNI shares at the time of publication. S3 Consortium Pty Ltd has been engaged by KNI to share our commentary on the progress of our investment in KNI over time.
---