YPB Secures Vital Pharma Contract: Expects Circa $1M in Revenue
PUBLISHED: 10-09-2019 09:50 a.m.
YPB Group Limited (ASX:YPB) has secured another large sale in the giant pharmaceutical industry — a major coup for the sub-$10M Australia-based product authentication and consumer engagement solutions provider.
YPB reinforced its relationship with leading Indonesian pharmaceutical and wellness company PT Combiphar, by signing a new three-year Master Services Agreement (MSA) that delivers the ASX listed technology company revenues of circa $1 million over the life of the contract.
When you consider that Combiphar also acts as a contract manufacturer for global pharma giants including GlaxoSmithKline (GSK), Sanofi and Abbott, and has obtained Therapeutic Goods Administration (TGA) certification to export certain products to Australia, this deal takes on a whole new relevance for the Australian business and could open some important doors.
This breakthrough comes at a time when YPB is dedicated to focusing on it's key verticals including Pharma, but also the huge Indonesian market, where YPB has already appointed PT Meidanum Imperii as a channel partner where it will focus on medical equipment and packaging for beauty, cosmetics, food, beverage and baby products.
YPB has also seen its tracer thread adopted by one of the world's largest cotton garment manufacturers, Esquel Group, in China.
Furthermore, Vintail, YPB's high-end authentication and engagement solution for premium wines is being adopted in China to combat re-use and refilling of originally exported wines.
The latest three-year MSA with PT Combiphar, a company that has been an important YPB client since 2016, allows for the extension of product coverage to others in Combiphar's 170 SKU product portfolio.
Essentially, this extension will enable YPB to apply its technology to a whole range of PT Combiphar's SKUs beyond the currently covered cough syrup.
There are several advantages to this updated agreement:
Continued application of proprietary QR codes known as ProtectCodesTMon Combiphar's cough syrup;
Increased volumes from broader SKU coverage; and
New YPB Connect SaaS platform and support fees – all-important recurring revenue.
That's a million reasons to smile for the product authentication company. So let's dig a little deeper.
Catching up with...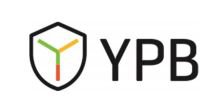 YPB Group Limited
ASX:YPB
Share price: 0.005 cents (at market close 9 September)
Market Capitalisation: $5.75 million
Here's why I like YPB Group: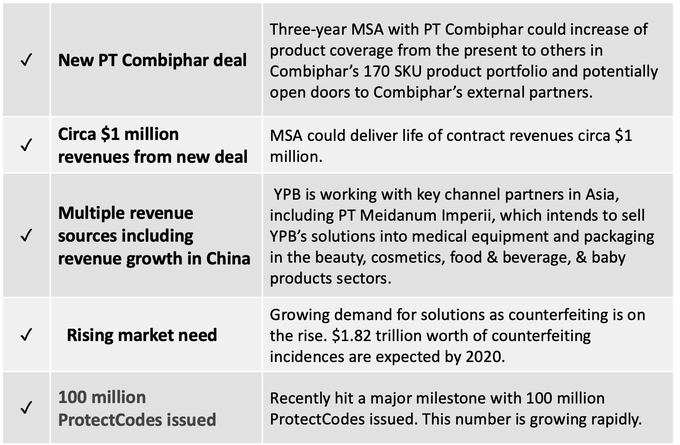 Combating counterfeit
Counterfeit pharmaceutical products are a growing issue. The criminals are getting smarter but this also means businesses are becoming more adept at protecting their products and brands.
A major problem, of course, is the safety of patients.
In a recent TED Talk, Amy Kao explained that the counterfeit drug problem is a $320 billion market linked to over 1 million deaths per year.
"Yet, there is currently little interest for developing countries in putting counterfeit medicine as an issue on the global agenda because the ecosystem that is needed to support such innovation is too great and the return on investment too little."
Indonesia is one developing country bucking this trend and YPB Group (ASX:YPB) is assisting. Specifically, it is working closely with leading Indonesian pharmaceutical and wellness company PT Combiphar to deliver safe pharmaceutical products.
Combiphar has been around since 1971, when it was founded in Java. It produces more than 170 product lines across the prescription and over-the-counter segments including OBH Combi cough syrup, Insto eye-care solution and JointFit gel-based relief for joints.
Since 2016, this respected Indonesian company has been a leading user of YPB's ProtectCodeTMproduct authentication solution.
In potentially market moving news for YPB, the new MSA allows for the extension of product coverage to others products in Combiphar's 170 SKU product portfolio.
YPB anticipates broader product coverage and given the planned SKUs, volumes and pricing under the new MSA. In fact, YPB expects revenues over its three-year life to be circa A$1 million.
Plans are in development for the rollout of coverage to further products and YPB will inform the market when new SKUs are activated – which hopefully shouldn't be too far away.
YPB Group CEO John Houston said:"Our refreshed strategy has health products as a key vertical market of focus and we are delighted to extend and expand our close collaboration with Combiphar. We anticipate our solutions enhancing Combiphar's engagement with greater numbers of its consumers by assuring the authenticity of a broader range of its products."
To protect and serve
Combiphar isn't the only company that sees the value in YPB's ProtectCodeTMproduct.
During the last quarter, YPB reached the significant milestone of over 100 million ProtectCodes issued to existing customers of its Connect platform.
This was an important milestone for YPB, which has continued to expand quickly in fiscal 2019.
From May to August, the take up of ProtectCodes has increased by 25 million. To put that in perspective, it took circa two months to reach 75 million. Suddenly, the uptake has exploded.
This has mainly been due to YPB's cannabis and pharmaceutical customers. This segment has been predominantly responsible for over 29 million codes being issued in the past 60 days.
The company's growth rate, as well as news that it had recently negotiated a MSA with cannabis extraction specialist Halo Labs, has attracted significant investor interest.
The MSA was formalised in mid-July. The company's shares doubled on the back of it.
You can read more about it in the following Finfeed article: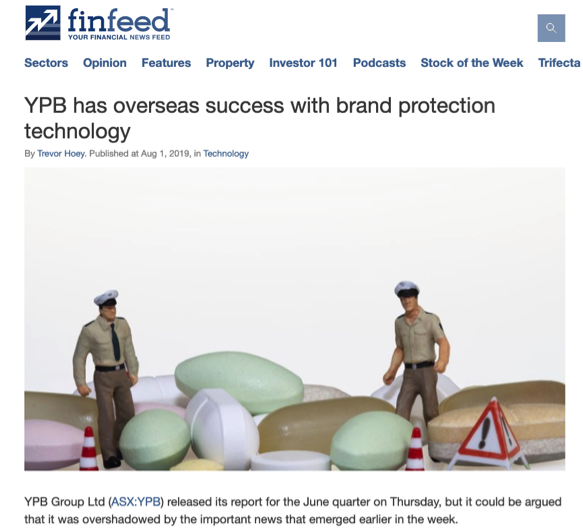 The cannabis market is one of the fastest growing markets in the world. Grandview Research suggests the global legal marijuana market size is expected to reach US$66.3 billion by the end of 2025 and expand at a CAGR of 23.9% during the forecast period.
To put that in perspective, Evaluate estimates worldwide prescription drugs sales are predicted to reach $1.18 trillion in 2024, with a compound annual growth of 6.9% — significantly higher than the 1.7% CAGR between 2011-2018.
One is a growing market, the other is an established market, but both significantly expand YPB's market reach.
YPB expands market reach, whilst implementing operational efficiencies
YPB has narrowed its focus to sectors that are non-discretionary and where brand protection is essential.
It has therefore developed relationships with overseas organisations, such as Combiphar, where counterfeit risks are greater, not only for the brand, but for its customers.
YPB has struck partnerships with key packaging suppliers to brands in order to gain leveraged market access and reach and has also refined its sales process, despite there being a noticeable drop in Retail Anti-Theft (RAT) sales. YPB's RAT activities are presently under review.
It has also reduced cash consumption by approximately $800,000. Net operating cash burn has fallen 18% from the March quarter and 48% from the previous June quarter in 2018.
Quarter on quarter reductions in staff costs of 27% and corporate overheads of 23% were the primary drivers of the improvement, and this can also be attributed to ongoing operational refinement and refocusing.
The improved June quarter result occurred despite a 33% fall in cash receipts on a quarter on quarter basis.
Future quarters are expected to see the trend of falling cash burn continue.
In terms of funding, in August YPB undertook a capital raise of $1.6 million at $0.714 cents per share.
The funds from the $1.6M raise were used to pay down debt and for business development, which is continuing to evolve, particularly with the rollout of its Motif Micro technology.
Like all small cap companies, one can never rule out additional capital raises over the coming months. Adequate funding enables the company to take full advantage of its current opportunities and momentum.
A new YPB motif
YPB will soon roll out the first iteration of Motif Micro (MM1), after it adds curved-surface readability to smartphones using the Motif Micro app.
The roll out is expected to have a positive impact on revenues.
You can read more about Micro Motif in our previous article: YPB Continues Push into Multi-Billion Dollar Cannabis Industry
Testing of MM1 is in the final stages and YPB expects significant potential to license as well as attract early adopters as soon as the first commercial release is technically possible. YPB expects MM1 to be commercially ready by the end of 2019, with smartphone readability of high integrity authentication marks deemed as a generational technical leap with mass-market applications.
Wine of the times
Bottled goods such as wine will benefit greatly from the release of MM1 and of YPB's Vintail technology.
YPB has already moved into the wine space with the co-launch of Vintail with Seppeltsfield one of Australia's largest wine producers.
Vintail is a high-end authentication and engagement solution for premium wines where counterfeiting in export markets is a major problem.
This technology is a highly innovative solution, solving multiple significant problems especially evidence tampering.
YPB's Vintail solution is highly relevant to Australian wine exporters to China and Asia where a major issue is re-use and refilling of the originally exported wine bottles.
YPB's solutions protect brands, whilst providing security solutions.
Suppliers receive protection and consumer data
The potential for sustained growth appears achievable given the benefits that YPB's technology offers, as well as the vast size of the markets that it could tap into.
YPB's Connect platform is sold to customers on a monthly subscription SaaS offering that complements the use of ProtectCodes which are sold on a per unit basis in connection with other YPB anti-counterfeit product markers.
As YPB's markers are applied to more products the usage of the Connect platform continues to grow.
The Connect platform receives data from consumer scans and provides subscribing brands with detailed information and reports on their end-consumer behaviours including the location, timing and other purchasing information that significantly adds to their market knowledge.
There is no doubt, that Combiphar has extended its agreement with YPB to enable it to protect its brands, but the ability to also connect with consumers, would also have been highly attractive.
All in all, given the ability of YPB's technology to serve multiple purposes, this ASX brand protector should realise its growth potential at the same pace it is increasing the uptake of its ProtectCodes.
---