YPB Confirm Another Sale on the Back of Recent Tech Breakthrough
PUBLISHED: 03-12-2019 10:49 a.m.
You can be forgiven for thinking that buying a knock-off pair of sunnies or handbag doesn't much hurt anyone, besides maybe their multinational parent companies and shareholders.
Yet the illegal counterfeit goods market poses major risks to not only businesses, but also to consumers — and even their health — as counterfeit cosmetics, electronics, food, health products and even cannabis fall into the hands of unsuspecting buyers.
Like the rapid growth of counterfeit products themselves, solutions to combat these counterfeits are seeing increasing demand.
Leading the way is ASX-listed YPB Group Limited (ASX:YPB), which is advancing product authentication for customers with a wide range of products including dairy, cannabis, pharmaceuticals, alcohol, and cosmetics. It has a particular focus in Asia where counterfeiting of consumer goods is a major issue.
Its technological solutions continue to expand and evolve and are being embraced by manufacturers across industries as the group rapidly advances its technological solutions.
The latest news from the group is that it has signed on a second early adopter of its high security, smartphone readable, authentication technology, MotifMicro, which scans a product and identifies whether it is authentic or counterfeit.
MotifMicro works in combination with the company's ProtectCode, a hidden QR code with a unique identifier embedded on the product or packaging.
YPB Group has had a busy few weeks, also reporting the highly commercially significant news that additional technology patents have been approved by the US Patent Office that extend the coverage of the company's MotifMicro family of patents.
Let's take a closer look at all the latest from: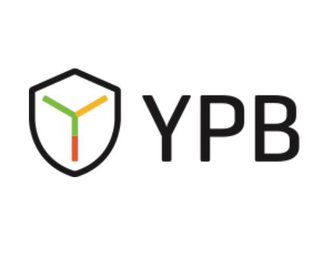 YPB Group Limited
ASX:YPB
Share price: 0.007 cents (at 02 December)
Market capitalisation: $10.55 million
YPB Group's investment case: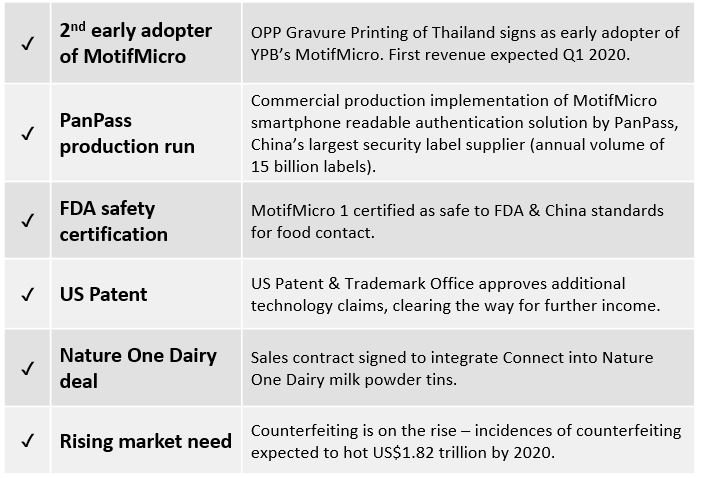 YPB Group Limited (ASX:YPB) is an Australia-based product authentication and consumer engagement solutions provider. Its proprietary smartphone enabled technology suite allows consumers to confirm product authenticity, and triggers consumers engagement for brands.
YPB is currently focused on dairy, cannabis, alcohol and cosmetics in the rapidly growing Australian, South East Asian, and Chinese markets where the viral growth of fake products, affects brand value and endangers consumers.
Second early adopter of MotifMicro secured
YPB this week signed an agreement with OPP Gravuere Printing Co Ltd — a second early adopter of its high security, smartphone readable, authentication technology MotifMicro.
OPP Gravure Printing is a leading printer in Thailand with a range of domestic and multi-national consumer brands producers — including Kelloggs — as customers, and with specialisation in industries such as food packaging, pharma, personal care products and vehicle spare parts.
The agreement saw OPP Gravure sign a six-month early adopter agreement to explore product innovation and the commercialisation of MotifMicro with its customer base in Thailand and South-East Asia. This initial six-month contract has potential to be upgraded to a three-year licence at the end of the adopter term or at OPP's request, and includes an upfront licence fee, supply fee on a per unit basis and a minimum order quantity.
The contract is expected to produce revenue in the first quarter of 2020 from the six-month early adopter agreement with customers charged on a per unit basis, leveraging contract revenues to OPP's clients' production volumes of around 250 million items per annum. However, at this stage it is too early to predict revenue figures.
OPP's particular expertise is in PVC products and shrink wrap with its output applied to approximately 250 million units of its customers' production per annum.

This second early adopter (OPP) follows the September 2019 agreement with China's leading security label producer, PanPass Inc, as the first early adopter of MotifMicro.
The program saw the successful commercial production implementation of YPB's MotifMicro smartphone readable authentication solution at the PanPass' flexo printing line in China. High functionality was achieved under "real world" conditions with PanPass, and this this second partnership further reflects the uniqueness and commercial potential of MotifMicro. The deal also strengthens YPB's route to market in Thailand and SE Asia with a capable, innovative and widely respected partner.
MotifMicro Shrink Wrap
As announced in early November, YPB has already worked with OPP Gravure Printing, having recently created a high security, smartphone readable shrink wrap in collaboration with OPP at its Bangkok plant.
This production saw the creation of the world's first high-security, smartphone readable PVC shrink-wrap product, by incorporating MotifMicro particles into a shrink-wrap production line, while it was completed under high volume production line conditions.
This value-enhancing product demonstrates the flexibility of the MotifMicro technology, its simplicity of inclusion in existing technologies and production processes, and its wide market potential.
PVC shrink-wrap is easily applied on high speed production lines and is a simple and fast way for brands to achieve a "tamper evident" and "authentication" feature on pharmaceutical, beverages, nutraceuticals, and other products.
The product is now being productised for commercial release in the upcoming calendar year. And it offers a significant opportunity — Bloomberg News say the global shrink and stretch film market is set to grow by US$4.91 billion between 2019 and 2023.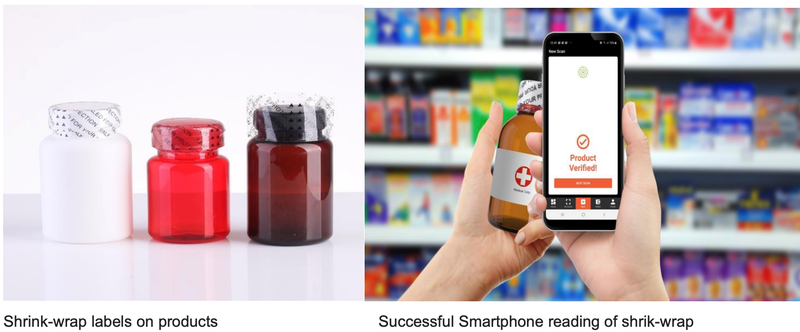 Additional US patents approved
On 28 November, the US Patent and Trademark Office opened the way for YPB Group to generate further income from its MotifMicro authentication technology by approving additional technology claims.
YPB already holds the perpetual rights to the MotifMicro family of patents from MIT, while these additional key claims also now formally allowed by US Patent and Trademark office. This confirmation advances the development path of the second generation of MotifMicro in 2020. The following Finfeed article explains more...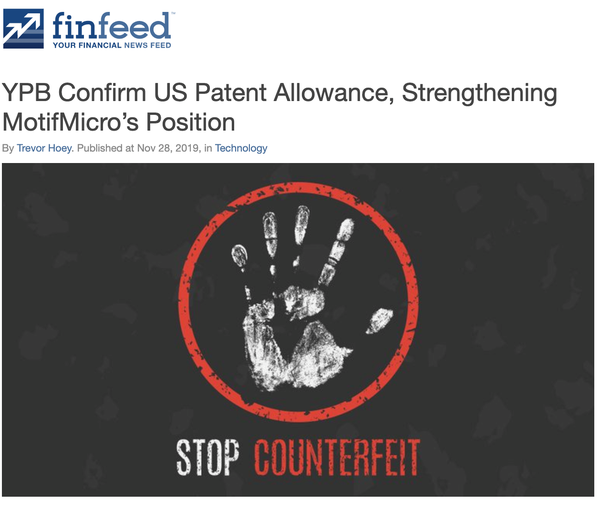 YPB Group goes from strength to strength
The past week's news of the additional US patent claims and second adopter of the MotifMicro technology, comes on the back of other important developments in November, including the negotiation of a new contract with Nature One Dairy and FDA certification for MotifMicro.
In mid-November, MotifMicro 1 (MM1) was certified as safe to FDA standards for food contact by the world leading certification Swiss company SGS. SGS tested the overall stability and food safety of inks and plastics infused with MM1 to both US Food and Drug Administration and China standards.
This certification not only ensures an open door to the vast food packaging industry but also to the large and rapidly growing wellness, health and beauty sector whose products are ingested or applied to the skin.
The deal with Nature One Dairy — one of Australia's only milk formula manufacturers accredited by China's Certification and Accreditation Administration (CNCA) for export to China — gives the company credibility in a highly competitive market and its consumers peace of mind.
Understandably, product protection is important to Nature One Dairy and is one reason why it engaged YPB to apply its product protection technology. This was a huge agreement for YPB, not only from a revenue generation perspective, but also as it strengthens its foothold in potentially lucrative Chinese markets — in this case the baby formula market.
You can read more on that contract, as well as the FDA safety certification, in our last article from November 20, YPB Strike Sales Deal in Booming Chinese Milk Formula Industry.
A final word
With technology patents approved by the US Patent Office, YPB has been concentrating on expanding the reach of its anti-counterfeit technology.
In a matter of weeks, it has now signed on two early adopters of its high security, smartphone readable, authentication technology, MotifMicro.
OPP Gravure Printing, the second adopter based in Thailand includes the likes of Kelloggs as a customer.
Whilst a sales contract signed to integrate Connect into Nature One Dairy milk powder tins opens up the vast powdered milk market worth billions.
With counterfeit on the rise a solution is needed and YPB is at the forefront of helping to protect brands and consumers from the damage fake goods can do.
With plenty of news still expected, YPB enters the new year with a strong belief that it can continue to deliver significant solutions and shareholder value.
---