We just Increased our Position in IVZ - Drilling Event Next Quarter
Disclosure: S3 Consortium Pty Ltd (the Company) and Associated Entities own 3,932,102 IVZ shares and 1,383,768 options and the Company's staff own 60,000 shares and 10,845 options at the time of publishing this article. The Company has been engaged by IVZ to share our commentary on the progress of our Investment in IVZ over time.
Finally, it's almost time to drill again...
Let the news flow begin.
Our 2020 Energy Pick of the Year, Invictus Energy (ASX:IVZ) is now just months away from drilling its second oil and gas well - Mukuyu-2 in the Caborra Bassa basin, Zimbabwe.
IVZ's first well (Mukuyu-1) was drilled late last year and was certainly a wild ride for IVZ shareholders.
The IVZ share price ran from 10c, to touch a high of 40.5c, in the months before the result of the first drill campaign was announced.
After the final result was announced in January 2023 the share price came off and has hovered around ~12c for the last five months.
As always with oil and gas explorers, we look to increase our position well before a drilling event (while the share price is boring) and hold in anticipation of a potential price run into drilling.
Ideally we de-risk our Investment in the lead up, and hold a Free Carried position into the result.
So, in anticipation of IVZ's upcoming second drill campaign, and what should be an eventful 6 months for IVZ, we have increased our position in IVZ.
We participated in both the recent IVZ placement AND applied for the current Share Purchase Plan (SPP) at 12c per share.
Both capital raises came with a free attaching 1 for 2 option, exercisable at 20c and expiring in May 2026.
This Investment is in addition to the position we held into the last drill result (and still hold).
We applied for our maximum SPP entitlement across all our Associated Entities that hold IVZ shares.
Note: this is NOT financial advice - this is what we are doing and it suits our personal investment strategy and financial circumstances.
Investing in high impact oil & gas exploration wells is very high risk and the result of drilling will be near term and binary. Depending on the result we expect the share price could rise OR FALL significantly.
Today is the closing date for the SPP.
Our view is that once the SPP closes, any holders who may have been selling their IVZ shares to fund participation in the SPP (and get the free oppie) will finally dry up and we might see a little rally in the share price once that SPP selling weight is removed.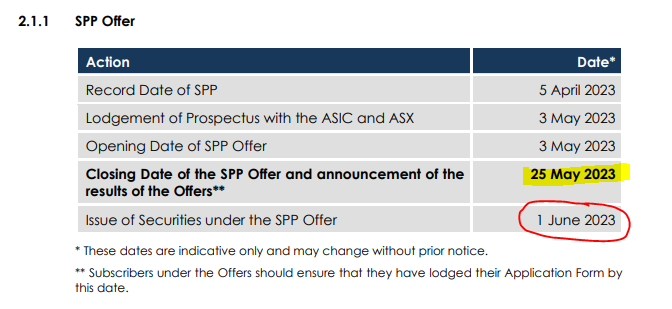 Any potential rally may be slowed down or snuffed out on June 1st when the 12c SPP shares are allocated and holders may decide to sell if the IVZ share price is well above 12c and just keep the free option, or a run may continue if there are material scale backs on the SPP and people miss out.
We also note that the 12c stock from the April placement has been allocated and digesting in the market since April 14th.
The above is all just our speculation and attempts to predict the collective behaviour of thousands of individual shareholders, which is nearly impossible.
Either way, whatever happens in the next couple of weeks is irrelevant in the grander scheme of things, which is the lead up to drilling the second well in the next few months - that is where we think things will get interesting.
IVZ has a very large retail following, similar to stocks like LRS, VUL and EXR.
We have observed that stocks with a huge retail following generally run hard in good times, but also fall hard when things go wrong or markets get soft, an extremely large retail following can be a blessing AND a curse.
We will soon see if IVZ can deliver a similar price run in the lead up to the second well, and hopefully this time a positive result.
As always we are sticking to our oil & gas investment plan to Invest when things are quiet, patiently wait for the share price to run in anticipation of drilling, and Free Carry before the result.
Sometimes it works, other times it doesn't.
IVZ's project sits in one of the last untested frontier rift basins in Africa - the Caborra Bassa Basin in Zimbabwe.
The project has a gross unrisked mean prospective resource of ~5.5 billion barrels of oil equivalent.
Up until last year the project had never been drilled before.
In September 2022 IVZ started drilling (Mukuyu-1) and by December had opened up the system defining a "working hydrocarbon system".
On the first IVZ drill event the share price started running ~4 months before the drill started, this was after it had hovered around 14c for ~6 months.
Off the back of the drill results IVZ's share price hit a peak of ~40.5c per share.
Our Initial Entry Price for IVZ was at 3.5c per share and we announced the stock in our Portfolio in September 2020.
Since then we have Free Carry our position AND Taken Profit, yet still held a large chunk of our Total Holdings through to the drilling results.
This strategy took 2+ years to execute.
At its peak, post drilling, our (paper) return on our IVZ Investment was ~1,100%.
Since then the company's share price has come back down to ~12c per share - likely because an official discovery wasn't declared with its last drill program, which was what the market was expecting.
We are hoping that this time will be different and IVZ officially declare a hydrocarbon discovery.
Here is how the story played out: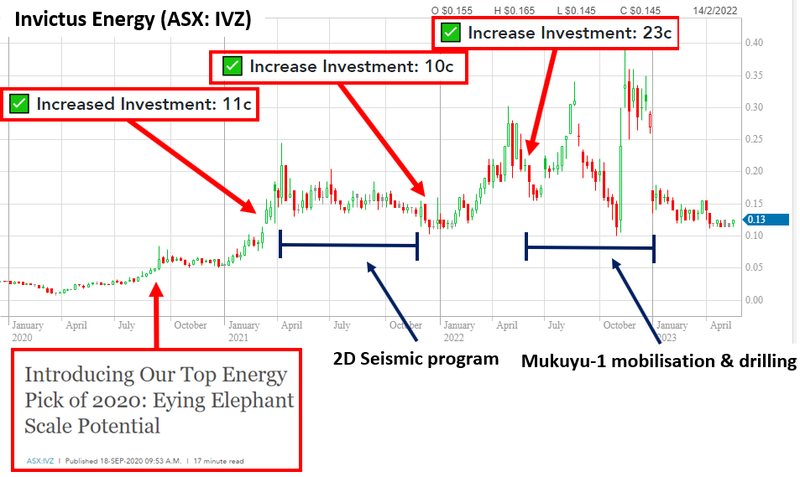 Now, IVZ is preparing to drill again with Mukuyu-2 where the ultimate objective will be to prove movable hydrocarbons (get a fluid sample to surface) and declare an official discovery.
Drilling for Mukuyu-2 is scheduled for Q3 this year.
Over the last 6 months we have started to build up our IVZ position again.
We first increased our Investment in the IVZ placement at 12c per share back in April.
We then doubled down, Investing more at the recent SPP, again at 12c per share.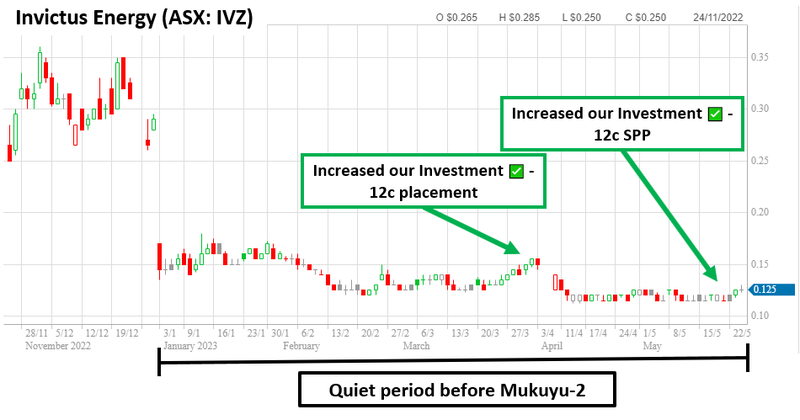 Regular readers know that we like to Invest in oil & gas explorers when they are temporarily out of favour and when the market is looking elsewhere for more immediate catalysts.
We also like to Invest in explorers that are taking a big "swing for the fence" style approach to exploration - chasing a potentially mammoth discovery.
A mammoth discovery is when a company is chasing a target that has company making potential - if the company is successful and a discovery is made then its share price re-rates multiple times over.
We think that IVZ ticks all of these boxes right now
IVZ is currently in a quiet period - The market sold down IVZ after the Mukuyu-1 drill results, we suspect the selling is just a mismatch of expectations where the markets were expecting an official discovery to be declared. IVZ did however define a working hydrocarbon system which in our view is a big win going into the next round of drilling.
IVZ is preparing to drill a big oil and gas target - IVZ is only months away from drilling its Mukuyu-2 well.
We think the upside scenario is multiples of IVZ's current valuation - IVZ is currently capped at ~$120M and is trading at far less than the valuations other African rift basin operators reached once they made discoveries (Africa Oil went to >$1Bn). So there is room for a large re-rate if IVZ is successful with Mukuyu-2.
This is why we have been increasing our Investment in the company at the recent capital raises at 12c per share.
With the SPP due to close at 5:00PM (WST) today we expect IVZ's share price to start moving higher as SPP sellers dry up and IVZ's second well approaches.
Ultimately we are hoping IVZ successfully declares a discovery and re-rates to multiples of its current valuation - this forms the basis for our IVZ Big Bet which is as follows:
Our IVZ "Big Bet":
"To see IVZ make a basin opening oil/gas discovery in Zimbabwe and re-rate by over 1,000% - similar to the move Africa Oil experienced after making its basin opening discovery in Kenya."
NOTE: our "Big Bet" is what we HOPE the ultimate success scenario looks like for this particular Investment over the long term (3+ years). There is a lot of work to be done, many risks involved - just some of which we list in our IVZ Investment Memo. Success will require a significant amount of luck. There is no guarantee that our Big Bet will ever come true
To monitor the progress IVZ has made since we first Invested and how the company is doing relative to our "Big Bet", we maintain the following IVZ "Progress Tracker":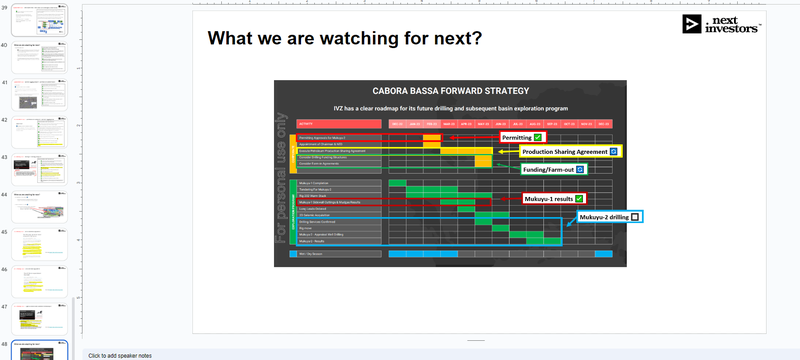 Where is IVZ now and what has the company been doing?
IVZ first drilled its project in Q3/Q4 last year, here is what we know from the results of that drilling:
✅ Gas readings 135x above background levels
✅ Multiple (up to 13 in the sidetrack well) potential gas-bearing reservoir units.
✅ ~900m gross interval (225m in potential hydrocarbon bearing zones in one of the primary target areas (upper Angwa target).
✅ Multiple seals identified with several hundred-metre thicknesses above the deeper primary targets. This was a key risk going into drilling.
✅ Elevated (100%) fluorescence, indicating condensate or light oil.
✅ Elevated Logging While Drilling resistivity.
✅ Commercial helium grades up to 0.1% (helium could be a valuable by-product for IVZ's project.
✅ Most importantly 🛢️A working conventional hydrocarbon system declared. 🛢️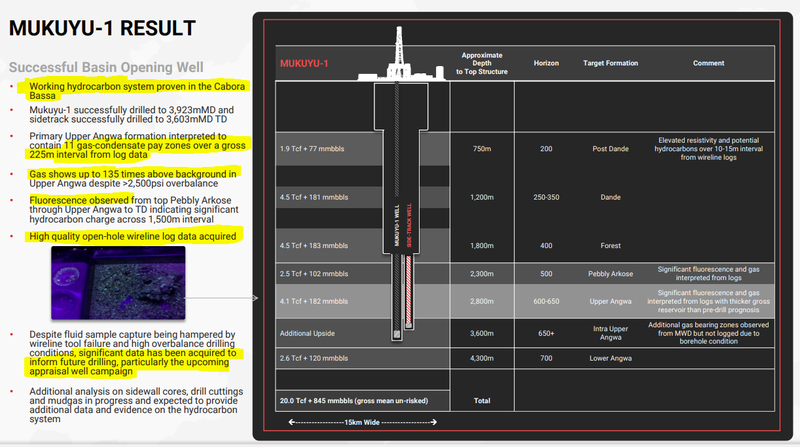 Importantly the Mukuyu-1 results de-risk all of the key requirements for a working hydrocarbon system, including seal and containment risks, trap risks, reservoir risks and source & maturity risks.
The slide below from IVZ's recent investor presentation sums all of this up nicely.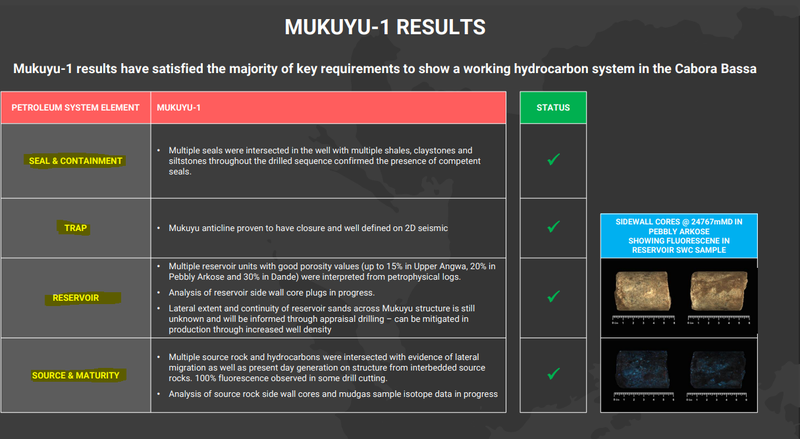 What has IVZ been up to recently?
Since our last IVZ note in February, IVZ has completed all of the following:
24 February 2023 - IVZ detailed its forward plan for Mukuyu-2 & put out an update on the ongoing analysis of the Mukuyu-1 well results.
See our Quick Take on the news here: Mukuyu-2 to be drilled in Q3-2023. What else is IVZ up to?
6 April 2023 - IVZ raised $10M via a placement at 12 cents per share.
See our Quick Take on the news here: IVZ raises $10M to fund long lead drilling items and 2D seismic
3 May 2023 - IVZ launched a Share Purchase Plan (SPP) to raise up to $10M from existing shareholders at 12 cents per share.
See our Quick Take on the news here: IVZ looking to raise $10M through a Share Purchase Plan (SPP)
8 May 2023 - IVZ confirmed light oils and high grades of helium from the Mukuyu-1 well results.
See our Quick Take on the news here: Light Oil, Gas-Condensate and Helium confirmed for IVZ
17 May 2023 - IVZ awarded the contract for a 2D seismic program on the eastern parts of its acreage in the Caborra Bassa basin.
See our Quick Take on the news here: IVZ 2D seismic contract awarded - Drilling set for Q3 this year
18 May 2023 - IVZ confirmed that all environmental permitting had been completed and that all permitting hurdles had been cleared for the drilling of Mukuyu-2 and the 2D seismic program across the eastern parts of its acreage.
See our Quick Take on the news here: IVZ completes environmental permitting - drilling on track
What's next for IVZ?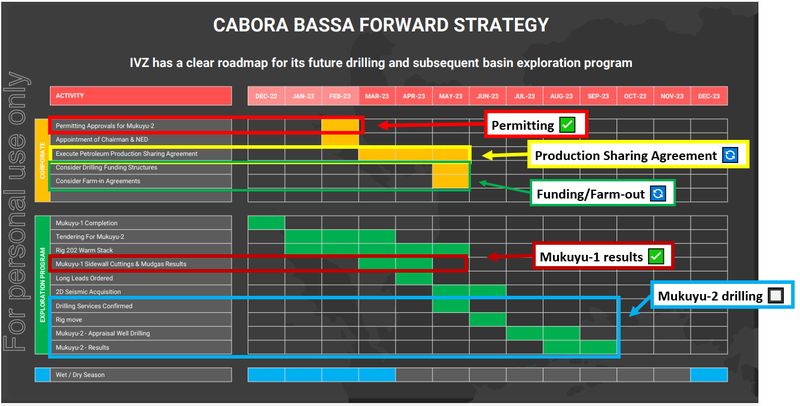 The latest from Managing Director Scott MacMillan
Off the back of the placement in March, Managing Director Scott MacMillan hosted an investor webinar laying out the results from Mukuyu-1 and what the company is planning to do with Mukuyu-2.
The webinar gives great context on where IVZ is at right now and what's next.
It is a relatively long watch at ~1 hour, but Scott runs through everything going in detail, and we think it is a must watch leading up to Mukuyu-2.
What could go wrong?
Investing in high impact oil & gas exploration wells is very high risk and the result of drilling will be near term and binary. Depending on the result we expect the share price could rise OR FALL significantly.
Here some of the key risks we have identified for our IVZ Investment.
Exploration Risk
IVZ will be doing a drilling program at its gas project, there is a chance the drilling finds no gas which could mean the project is stranded.
Economic Production Risk
If gas is found it doesn't guarantee that it can be economically produced, there is a risk that the water content of the gas flows is too high making it uneconomic to extract.
Flow-rates will need to prove that any gas found can be economically produced.
Geopolitical Risk
The project is located in Zimbabwe which has a history of political & economic instability, there is a risk that geopolitical issues make it difficult to advance the gas project.
The first half of the Production Sharing Agreement has been finalised but second half not completed, there is a risk that the government tries to take a large part of the proceeds from the project if it is successful.
Commodity Price Risk
Ultimately demand for Gas and its price will dictate the economic viability of the project.
Our IVZ Investment Memo
With IVZ now having laid out its plan for the Mukuyu-2 well, we will be publishing our new IVZ Investment Memo shortly.
Our new IVZ Investment Memo will list:
Everything we want to see IVZ achieve this year.
Why we are Invested in IVZ
The key risks to our investment thesis
Our investment plan
At that point, we will also share our "report card" on how well IVZ performed against our first Investment Memo, including achievement of objectives, which risks materialised and how we did on sticking to our investment plan.
Be on the lookout for our new Memo in the coming weeks.
In the meantime, it's important to remember the general risks of investing in early stage oil & gas explorers.
---