TMR raises $6.28M at ABOVE current share price. Ten drill results coming next. Drill season is ON.
We are invested in Tempus Resources (ASX:TMR) for its gold exploration project in Canada and were very pleasantly surprised this morning when TMR announced completion of an oversubscribed capital raise at an average of slightly ABOVE the last market share price and the 15 day VWAP.
A cap raise at or above or the recent share price is pretty rare in small cap investing and very positive in our opinion.
TMR now has an extra $6.28M in the bank to accelerate drilling for the rest of the current Canadian drilling season and have welcomed some institutional investors onto the register.
The next 120 days is going to be peppered with TMR drill results, and we are hoping TMR delivers some big gold hits and a significant share price re-rate that will attract later stage institutional interest at the higher share price to fund further development.
TMR isn't a typical early stage gold explorer. Their Elizabeth project had historical production of over 230,000 ounces of gold, and comes with a permitted, and previously producing mine, a mill, and a tailings storage facility that can be re-started if TMR prove out a decent resource size over the next few months.

Even though TMR still has some drilling to do to de-risk the project with a new increased resource estimate (how much gold they realistically believe is in the ground), we are highly encouraged to see institutional investors and specialist gold funds now on the register.
We have been invested for almost two years and while TMR had a false start during the 2020 drill season with COVID delays, the 2021 season is now in full swing. TMR has already started some big results, and now we are going to see ~$6M worth of drilling squeezed into the rest of the Canadian drilling season, providing a steady clip of news.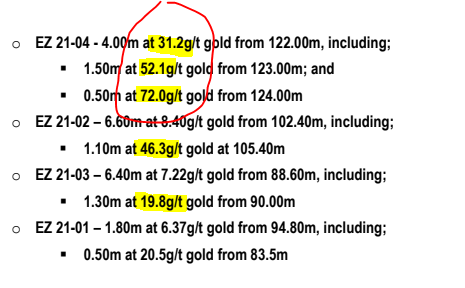 We want to see a significant TMR share price rerate on a few big results over the next few months. Four drill hole results are in (as above) and 10 more are in the lab and expected any day now.
TMR's Canadian gold project already has a resource of over 200,000 ounces at 12.26 g/tonne (inferred), plus permitted mine infrastructure that could fast track it into production.
Our high level investment plan for TMR
Our basic investment plan for TMR is pretty simple (this is our opinion only and our personal investment plan we are sharing)
Build an early position - We have built our investment position over the last 18 months at an average price of ~18¢, investing while the project is still considered "early stage" and "risky".
Drilling and testing derisks project, share price rerates - TMR now has ~$6M to accelerate drilling and HOPEFULLY deliver some great results over the next 120 days (before the drilling season finishes) to significantly re-rate the share price. For the risk we are taking, we are expecting (hoping) for above $1. As there are only 125M shares on issue, this looks achievable with some good hits.
Later stage Institutional funds invest in the derisked project at the share higher price - We would consider it a success if TMR raised say $15M from institutions at above 80¢ to fund the next drilling season and deliver a resource estimate to develop the project and restart the infrastructure. Early stage risk investors like us will be along for a free ride and holding an uplifted paper profit.
It's a pretty simple plan: the risk lies squarely on TMR delivering high grade drill results over the next few months.
We can see the early signs of TMR preparing for institutional investment
At 25¢ TMR is capped at $32M which reflects the uncertainty about the upcoming drill results, and the slow progress made during COVID-delayed 2020.
Investment mandates for big gold funds often don't not allow them to invest until an early stage company de-risks a project and delivers a string of good drill results and a resource estimate.
As a rule of thumb, most institutional funds won't invest in companies until they reach a certain market cap (valuation), usually above a $100M (each fund is governed differently, this is not a hard and fast rule).
For TMR, a $100M market cap represents a share price of around 75¢, which we believe is achievable with a couple of good results.
Investors like us take the early stage risk in the hope that the company can attract large institutional investors if drilling is successful, providing an uplift on initial investment AND having the new investors finance the next stage of development. Remember though, things can go wrong too, that's why early stage investing is risky.
Two recent TMR announcements tell us that they are getting ready to pitch to later stage institutional investors.
Before investing, big funds want to know there is a lot of gold AND that it's economically extractable because with big $ cheques they can't just jump in and out of a stock like early stage investors do. They need to know it's viable over the long term.
Over the last four weeks TMR has delivered two key updates:
13th August 2021: Geophysical surveys prove TMR's gold system is much bigger than first thought :
"Significantly increases the footprint and depth extensions of potential gold mineralisation."
The same rock formations that host TMR's high grade gold covers an area four times bigger than previously known.
The gold system appears to extend at least 2km below surface - 10 times deeper than has been currently drilled.
Two new anomalies (colourful blobs) have been identified - These two anomalies show strong continuity along strike and are also extensive at depth.
19th July 2021: Metallurgy work proves the TMR's gold can be economically extracted
The high-grade gold mineralisation is NOT refractory: This means the gold CAN be economically separated from other mineralisation.
TMR could get gold recoveries of up to ~95%. This is high, and was calculated after modelling various processing routes.
TMR can use the existing, permitted 300 tonne/day Blackdome Gold Mine processing plant or use standalone plant options. TMR's existing plant continues to demonstrate its value as it can be used for future processing.
Use of existing infrastructure will assist in driving down upfront capital expenditure costs.
So we now know that TMR's gold system could be a lot bigger than we first thought AND that TMR's gold is proven to be economically extractable, we just need an upcoming few drill results to come in for the share price rerate and institutional funds to come in.
We are watching for TMR to deliver some big results over the next 120 days and will be reporting back on what happens.
But what will significantly re-rate the TMR share price?
Obviously continued positive drill results like the first four that already came back. These helped move the price from ~14¢ to around 25¢, allowing the company to raise at a higher level and providing an uplift to anyone who entered TMR in the last few months.
There are 10 more TMR drill results currently being processed, so more big results should re-rate the TMR share price again ... we will know in the coming weeks as the results are announced.
There is also new drilling happening right now (with the cash just raised) that will provide a steady stream of drill cores to test and results to deliver.
We think the big kicker will be drilling out satellite deposits. These are away from the main known deposit and prove that the gold system extends:

We think the trigger point for a substantial TMR re-rate is to deliver a positive drill result on a satellite deposit. In the mind of institutional investors, this will show there is significantly more than was initially expected and increase the economics of building and extraction and processing operation.
TMR company milestones
Here are the company milestones ticked off today, including a new one we have added at the end.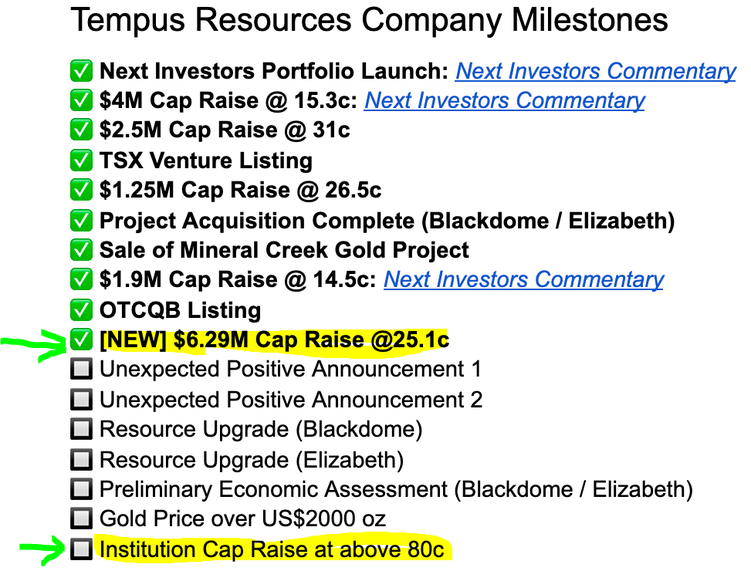 TMR Project milestones ticked off today: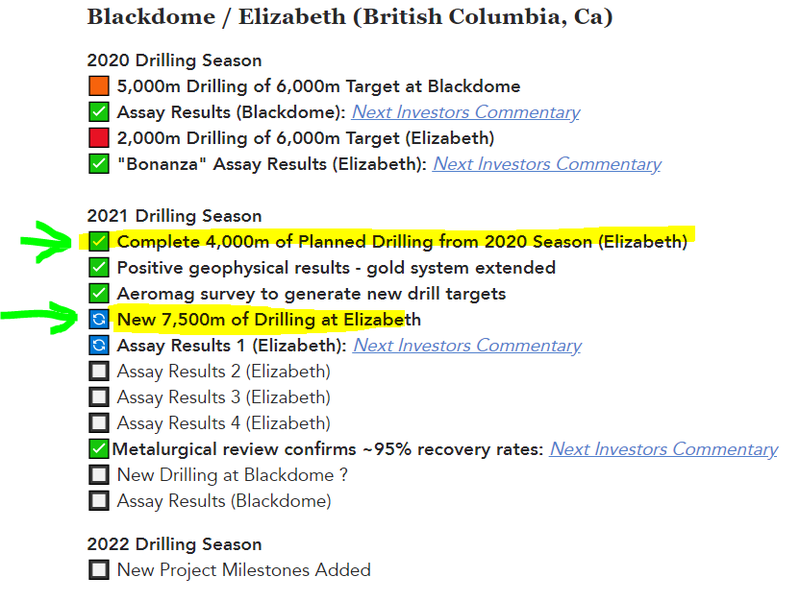 Here is the progress of our investment plan for TMR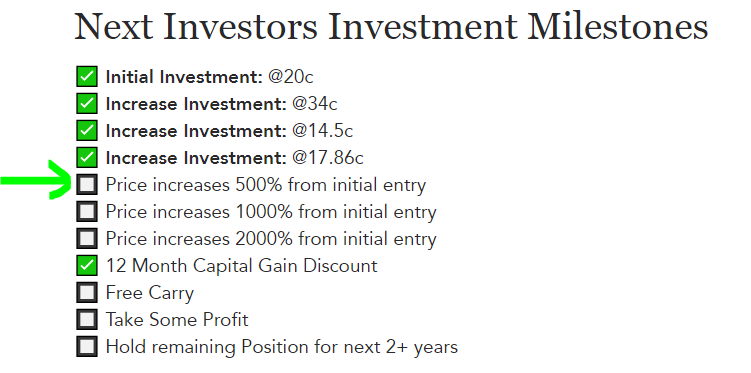 REMINDER: Our TMR investment and what is coming next
We originally took a position in Canadian Gold explorer Tempus Resources (ASX:TMR) at 21c back in February 2020 because we liked its Canada and Ecuador Gold projects, active drilling campaign plans and sub 100 million shares on issue. We increased our position in November 2020 at 34c.
For a number of reasons, which we cover in this article the TMR share price has only moved sideways since we invested 12 months ago.
However, with the next drilling campaign now started after a few months' pause due to winter weather, and the gold price looking like it wants to make a comeback, we recently tripled our holdings in TMR by participating in the last placement at 14.5c.
After the placement, our new average entry price on TMR is 18.2c. We haven't sold a single TMR share since we first invested last year and are pleased that our first batch of TMR shares has now hit the 50% capital gains tax discount after we held for 12 months.
Our goal with all our portfolio companies is a long term hold for hopefully a 1,000% plus gain, assuming the company executes on its plan (and has some exploration luck in TMR's case). We hope 2021 is TMR's year and we get some positive drilling results over the next few months.
TMR was one of our very first investments back in early 2020 alongside VUL, WHK and EXR — all but TMR have so far been on a big run.
TMR's Canadian gold project already has a resource of over 200,000 ounces at 12.26 g/tonne (inferred), plus permitted mine infrastructure that could fast track it into production.
TMR's goals for the current Canada drilling season are to extend as much as possible the high grade veins that have already been discovered. The 2021 Canada drilling season is only a week old and ends in December, so expect plenty of action to come over the next few months, especially now that the geophysical surveys have shown that the whole system is a lot larger than previously known and work has shown the gold is economically extractable.
COVID delays in the 2020 season meant TMR could only deliver a fraction of the drilling they wanted to, especially at Elizabeth. But we think the 2021 season is going to be full steam ahead.
TMR is one of those exploration stocks that has a finite window to drill each year (thanks to the Canadian winter), so all the share price activity is concentrated into those drilling season windows. The share price runs up in anticipation of a positive drilling campaign and if the results beat what the market is expecting, then we think there will be a share price re-rate (hopefully more than the last highs of around 40c). In this case, we will look to free carry.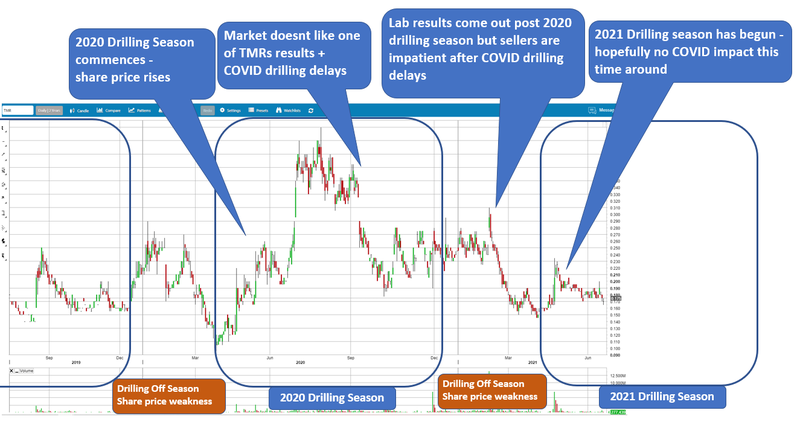 https://nextinvestors.com/company/asx-tmr/When TMR is expecting drilling and results within a drilling season window, the share price should run up in anticipation like it did early in the 2020 season.
If the drilling delivers above expected results we should see a rerate in the TMR share price. TMR only has ~125 million shares on issue so its share price can move quickly (up OR down).
So why didn't we sell some last year when the price was trading at above 40c?
We invest for 1,000% price increases over the long term and, in our opinion, TMR didn't get a chance to really get going in 2020 due to COVID. They only managed to do 2,000 metres of drilling out of a planned 6,000 metres at Elizabeth and the market didn't like the slow progress.
If we are going to take the risk on a small cap explorer then we want to see it reach its full potential. We also saw the opportunity to secure the 12 months capital gains discount on our initial batch of TMR shares into the 2021 drilling season (the 50% CGT discount is very valuable against the tax that can come with investing for 1,000% plus returns).
With only 125 million shares on issue (138.8 million fully diluted), we think TMR has a lot more to offer than 40c on the back of a better than expected drilling result, so we held on at the 40c mark. But unfortunately a result came in that the market didn't like AND drilling was impacted by COVID ... and then the drilling season finished.
We didn't mind and were happy to hold and wait for the 2021 drilling season, which is now upon us.
We are hoping that drilling season 2021 will deliver what we hoped TMR would do during the 2020 drilling season before COVID struck.
---