PRL's Green Hydrogen Project awarded 'Lead Agency Status' by WA Government
Disclosure: The authors of this article and owners of Next Investors, S3 Consortium Pty Ltd, and associated entities, own 24,200,000 PRL shares at the time of publication. S3 Consortium Pty Ltd has been engaged by PRL to share our commentary and opinion on the progress of our investment in PRL over time.
Our 2021 Small Cap Pick of the Year, Province Resources (ASX:PRL) is aiming to advance a green hydrogen project in WA.
Green hydrogen is widely tipped to play a large role in the world's energy mix over the coming century (think transport, aviation, energy storage).
Today, we learned that the WA Government has awarded PRL's green hydrogen project 'Lead Agency' status.
This is an important achievement for PRL as it means the WA Government is supporting PRL's project as one of 'significant' state importance, and provides a streamlined pathway to permitting and project approvals.
PRL also announced that it has opened a central operations hub in the Carnarvon Shire, to educate the public about the project, with WA Hydrogen Industry Minister Alannah MacTiernan in attendance.
You can see PRL's CEO David Francis in the middle there, next to Ms MacTiernan: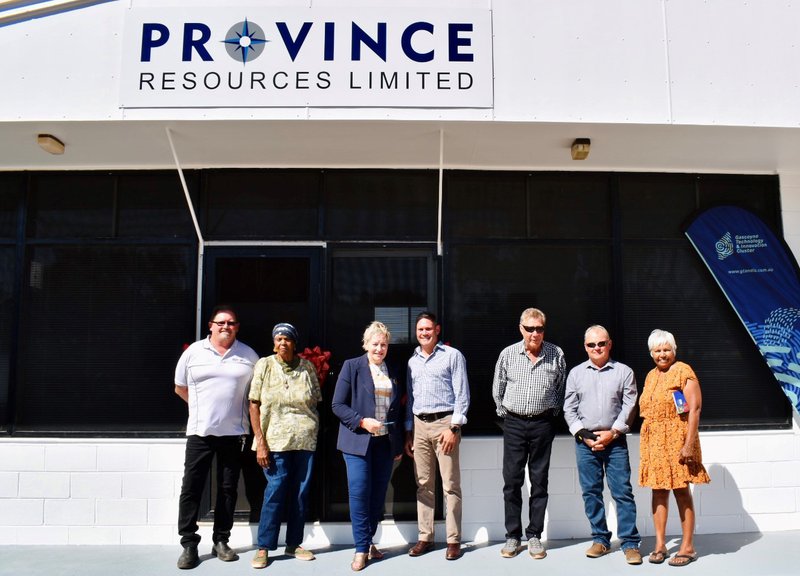 Also in attendance were representatives of the Yinggarda (Ingaarda) and Baiyungu who hold native title over the majority of the project area.
We believe that the initiative announced today is indicative of a broadening support for the project across key areas - Native Title, State and Local Government.
We are keenly anticipating the Scoping Study which will give us a much better idea of the economics and viability of PRL's project, which today's announcement says is 'close to being completed.'
Despite being early days for the green hydrogen project, it appears to us that PRL is advancing on multiple fronts, not least of which is the personnel front.
Today, we'll break down what 'lead agency' status means for PRL, a significant recent board appointment and what we expect to see from PRL going forward.
Also, here is a link to our Investment Memo explaining why we are holding PRL during 2022 and the key objectives we expect them to achieve next year.
What is Lead Agency Status?
Lead agency status is a designation by the State Government which aims to support the development of strategic infrastructure projects.
The nuts and bolts of lead agency status mean that a department is assigned to the project, in this case the Department of Jobs, Tourism, Science and Innovation, in order to liaise with other government departments to advance permitting approvals.
Governments at the best of times are slow, and at the worst of times can delay approvals and significantly hamper a project financing.
By centralising the approvals through one single department, with a dedicated government liaison helping navigate permitting, 'lead agency status' can streamline approvals necessary for project development.
Without 'lead agency status' the project is still viable, but permitting will be slow as PRL would need to follow-up with and liaise with multiple Government agencies individually for approvals - which takes time and resources.
What does Lead Agency mean for PRL
In practical terms, this means that PRL will have a number to dial when they need additional information on an approval, or if they need support getting that approval application in the right hands.
At a broader symbolic level, lead agency status means that the WA Government is committing personnel resources to the project's development as they see it as a 'significant project' in the State's interest.
Lead agency status is often reserved for major infrastructure projects that bring critical jobs and development opportunities for the State - think major railway projects, port development and urban infrastructure projects.
So for PRL to secure this status for its proposed Green Hydrogen project, demonstrates that it is making strong inroads with the State Government and on the right pathway to development.
Part of PRL's successful stakeholder engagement comes down to what we believe is one of the most experienced boards of any hydrogen project in Australia.
Key personnel with deep project development experience and the ability to build relationships is important for PRL's prospects going forward.
Which is why we want to highlight another major appointments that PRL recently made.
Earlier: PRL Adds Bateman to Board
Prior to today's announcement, PRL announced on 23 November that it had appointed Cameron Bateman as Chief Development Officer for the company.
Given Bateman's previous experience in senior roles at oil and gas giant Woodside, this represents a milestone for PRL, and could be part of a broader trend of prominent fossil fuel executives leaving for new homes in the green economy.
In previous commentary we highlighted the important appointment of Roger Martin, also formerly of Woodside, and his key role in lobbying the state government for important legislative reform for green hydrogen projects in the area.
The Bateman announcement firms up the leadership team at PRL as it looks to complete its Scoping Study which will give investors, such as ourselves, a clearer picture of economics behind the green hydrogen project.
While it is certainly early days for our investment in PRL and there are no guarantees with emerging technologies OR markets for green hydrogen, today's 'lead agency' announcement and the Bateman appointment are important steps for the company.
Mr Bateman has an impressive resume and we believe his expertise will be particularly valuable down the track for PRL.
How will Cameron Bateman support PRL?
With over 30 years experience in engineering, Bateman is no novice when it comes to developing big projects.
Here's why we think the appointment is the right move:
Bateman's experience and ability to work with stakeholders is well proven
Macro trends point to increased competition for experienced employees from the oil and gas industry
Bateman was previously working on Woodside's proposed Canadian LNG project at Kitimat which Woodside eventually exited with a significant write down as LNG prices cratered.
We think that as there is now more money flowing back into the legacy energy market, Bateman's appointment comes as a big coup for PRL.
Late last year, Deloitte highlighted a 'great compression' in the oil and gas industry labour market:
'Put simply, the green energy business is now at a level playing field with the traditional OG&C (Oil,Gas & Chemical) model. And on average, the weighted average cost of capital of 8-10% for an oil and gas company is twice that of top renewable companies.'
This led to a significant exodus of labour from the industry.
But with fossil fuel prices rising, we think many of these companies would love to take back some of their best employees.
This macro theme surrounding oil and gas employees should only strengthen if prices continue to rise.
Which underlines why we really like the appointment of Cameron Bateman.
After the Scoping Study is complete, Bateman's role as Chief Development Officer should come into focus as PRL moves into the feasibility study phase.
Until then, PRL still has a number of milestones to knock down.
Relationship strengthened with Native Title Holders
The office opening over the weekend was well attended by key stakeholders in the Gascoyne region - including representatives of the Yinggarda (Ingaarda) and Baiyungu people, who hold native title over the majority of the project area.
Last month we wrote about the WA Government's proposed change to the laws that help provide a clear path for PRL (and other green energy projects) to secure the necessary approvals for development.
Key to the legislation is that "Traditional Owners remain key stakeholders in renewables projects".
PRL has spent the last nine months engaging with communities and traditional owners in the Carnarvon region, and today's announcement confirms the bond with these traditional owners that have native title over the project.
This engagement demonstrates that PRL is well placed to secure key deals such as 'heritage agreements' that are necessary for the project to eventuate.
What's next for PRL?
We've been eager to see the Scoping Study for a few months now and we're excited to see the finished product. Today PRL suggested that the Scoping Study was 'close to being complete' and this is the major milestone that we are looking forward to next.
Progress on Key Objectives
Key Objective 1: Evaluate the Prospect of a Zero Carbon Hydrogen Project:
In order to secure funding support for the project PRL will need to undertake various feasibility studies to evaluate the commercial viability of the HyEnergy project.
✅ Key Management Appointment (Cameron Bateman): Ex-Woodside executive Batement was appointed as Chief Development Officer to support with Feasibility Studies.
Key Objective 2: Secure Key Stakeholder Support
In order for PRL to advance their Zero Carbon Hydrogen Project it is important that they have support from the community to help them advance the permitting process to get the project up and running. Because this is the first project of its kind on the ASX, it is important that PRL works with state and federal governments to provide a pathway to legal 'tenure' and permitting.
✅ PRL given "Lead Agency Status": This is a big milestone for PRL as gives the project a streamlined pathway to permitting and recognition by the WA state government as of significant importance.
PRL Investment Milestones
We have completed our investment memo for PRL which you can read here.
✅ Initial Investment: @2.5c
✅ Increase Investment: @1.5c
✅ Increase Investment: @13.9c
✅ Price increases 500% from initial entry
🔲 Price increases 1000% from initial entry
🔲 Price increases 2000% from initial entry
✅ 12 Month Capital Gain Discount
✅ Free Carry
🔲 Take Profit
🔲 Hold remaining Position for next 2+ years
Disclosure: The authors of this article and owners of Next Investors, S3 Consortium Pty Ltd, and associated entities, own 24,200,000 PRL shares at the time of publication. S3 Consortium Pty Ltd has been engaged by PRL to share our commentary and opinion on the progress of our investment in PRL over time.
---