Is LCL One Step Closer to the Next Multi-Million Oz. Colombian Gold Deposit?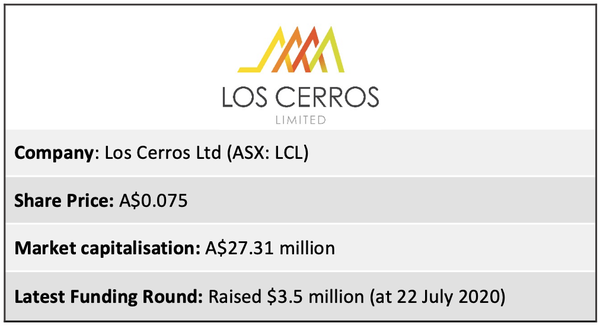 The Mid Cauca Porphyry Belt in Colombia is host to a number of large multi-million ounce gold discoveries.
This is most definitely elephant country, with large gold and copper deposits discovered such as La Colosa "the big one" in Spanish, the largest to date with over 28 million ounces.
Also in the region is Titribi at 10.6 Moz, Marmota at 14.4 Moz and Nuevo Chaquiro's 30 Moz AuEq (gold plus copper)— to name a few.
Los Cerros (ASX:LCL) is a small, $25 million capped explorer, intent on finding the next multi-million ounce resource in this well-endowed region.
We have been investors in LCL for some time, and the story continues to build.
Today it has edged one step closer to a significant gold discovery, with yet another highly promising drill hit of exceptional thick gold mineralisation from surface.
This exceptionally wide gold intercept was returned from the company's first diamond drill hole or the current program at the southern Tesorito anomaly.
The hole returned an impressive 230m at 1.0 g/tonne gold from surface.
LCL continues to post very promising drill hits and looks to be rapidly fleshing out the true potential at Tesorito.
The question is, just how big could Tesorito be?
The company currently has two, — soon to be three — drill rigs operating and is expecting significant amounts of newsflow over the coming months, and is intent on unlocking the true scale of Tesorito as quickly as possible.
LCL's broader Quinchia Gold Project currently hosts four discoveries, Miraflores, Tesorito, Dosquebradas, and Chuscal and has a total JORC Resource of 1.3Moz gold, including a JORC Reserve of 457,000oz for the Miraflores deposit.
Today's result at hole TS-DH08 is comparable to near-by holes TS-DH02 (384m @ 1g.t) and TS-DH07 (253g/t @ 1g/t and perpendicular to TS-DH08) and hints at further potential at depth.
Looking at TS-DH08 specifically, it returned 230m @ 1.0g/t gold from surface (uncut) including:
18m @ 2.0g/t Au from surface including an interval of 6m @ 4.1g/t Au; and
116m @ 1.38 g/t Au from 114m to 230m including 74m @ 1.6g/t Au from 114m, including 4m @ 3.18g/t Au from 148m and 2m @ 9.58g/t Au from 176m within 6m @ 4.86 g/t Au from 174m.
Importantly, Tesorito is around one kilometre from the Miraflores Mineral Reserve and half a kilometre from the proposed plant site described in the Miraflores DFS.
As shareholders in the company, it is these kind of results at Tesorito that have us energised about what's to come from Los Cerros in the near and far term.
Since we picked up shares in Los Cerros in May 2020, the company leveraged to the rising gold price, given the quality of its exploration assets and inherent upside.
That's turned out well, with the company up ~150% since then.
We recently added to our position in LCL, as we see significant upside from its current $25M valuation.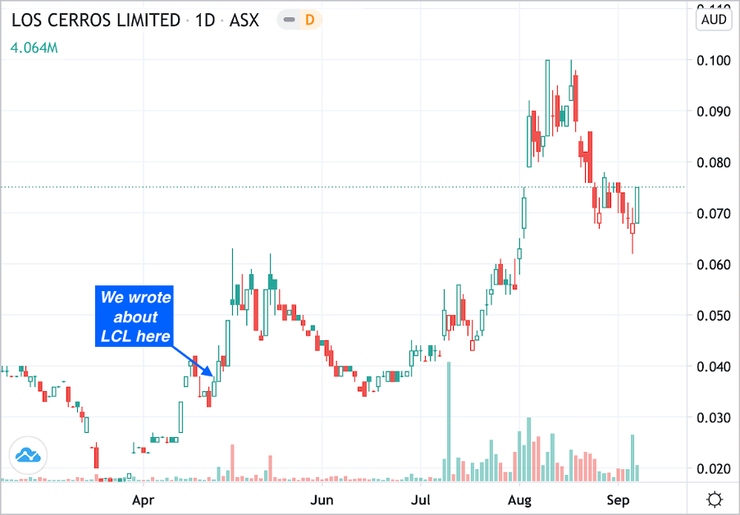 Our position in LCL complements our other South American gold stocks – Titan Minerals (ASX: TTM) – up 162% and Tempus Resources (ASX: TMR) – up 115% since we first invested.
With a surging gold price and a bullish market for gold explorers and developers, we see strong upside over the coming months for these companies.
There are two further points of interest here for LCL investors.
The first is the recent interest shown by prominent gold analyst, Far East Capital's Warwick Grigor, who gave an excellent overview of the company in his late August newsletter.
On LCL, Grigor wrote: "The market capitalisation of $25m is modest in this gold climate. There have been a number of very significant intercepts with respect to size rather than grade with these pointing to a large gold endowment.
"This is "elephant" country, meaning anything is possible. It may be that the heavy lifting has to be done by a joint venture with a major, but let's see what the current drilling program delivers. I'm sure that there will be some larger North American companies doing the same."
The second point of note is Tesoro Resources' (ASX: TSO) recent assay results from two of its holes at the El Zorro project in Chile.
Similar to Los Cerros, Tesoro has been successfully targeting wide zones of gold mineralisation, and the recent results in management's words "confirmed the large scale potential at El Zorro".
The two holes returned 231 metres at 0.8 g/t gold from 72 metres and 76 metres at 0.9 g/t gold from 75 metres. The market reacted accordingly, and TSO's shares are now up 30% since the drilling results were announced.
If this is a yardstick, Los Cerros could be in for a significant rerating given it is building on a much more substantial platform of large intercepts and the superior widths and grades intersected in TS-DH08.
Tesoro has a market capitalisation of $100 million – four times that of Los Cerros' current $25 million market cap.
While we can't directly compare the assets of each company given its early stage exploration, it's clear that LCL has more leverage to future successful exploration.
What also attracted our attention was LCL's agreement with the US$11 billion AngloGold Ashanti Limited (JSE: ANG | ASX: AGG | NYSE: AU), to become a shareholder in the Colombian focused ASX gold junior.
The companies were already working together as JV partners for one of the assets in the vast Los Cerros portfolio.
This deal in April saw AngloGold relinquish its JV interest to become a Los Cerros shareholder and gain exposure to the entirety of its highly prospective portfolio.
Shareholders would be pleased with events so far, especially as Los Cerros has picked up the pace in the back half of 2020.
The company isn't pulling in the reins any time soon, looking to add a third drill rig to the project shortly, that should see even more aggressive exploration, and drill results flowing.
The drill rig is currently drilling hole TS-DH09 testing the northern Tesorito target located 200m north of hole TS-DH08. The rig will then return to the southern target to further test extensions to the higher-grade porphyry core both laterally and at depth.
This all points to further news to come in the last few months of 2020 and beyond.
A quick catch up
LCL has a dominant position within the Andes and Quinchia regions of the Mid-Cauca Gold belt of Colombia.
The Mid-Cauca belt hosts many major discoveries, including the 14Moz Marmato Gold Mine and the 29Moz La Colosa gold project.
LCL's Quinchia Gold Portfolio comprises the Andes and Quinchia Projects located within the same structural trend as Marmota and La Colosa.
In the following video, LCL managing director Jason Stirbinskis explains to CGS Mining & Exploration the formation of the company and how a merger of equals created a large, high potential portfolio of assets.
Within Quinchia lies the Miraflores Gold Deposit with a Resource of 877,000 Au ounces at 2.80g/t Au and Reserve of 457,000 Au ounces at 3.29g/t Au.
Within three kilometres of Miraflores is the Tesorito near surface porphyry where Los Cerros is currently drilling. Furthermore, LCL's Chuscal target is where a maiden drilling program was completed January 2020 and where drilling is scheduled to re-commence in October 2020.
You can gain a sense of the location of LCL's Project and its proximity to highly rated neighbouring deposits from the map below: Note they all sit in a roughly north – south line and the major discoveries are equally spaced with Quinchia on the same line and similar spacing.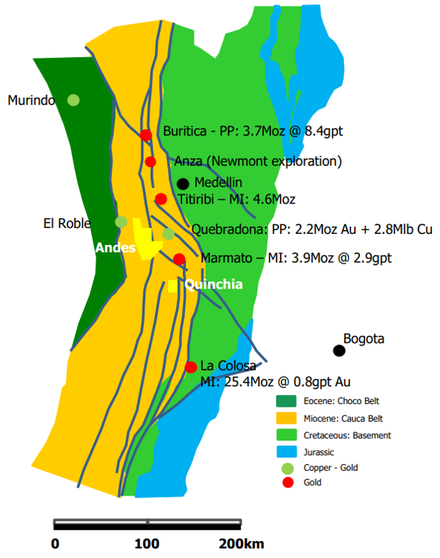 LCL has several other targets within the region including the Dosquebradas deposit which has an Inferred Resource of 459,000 Au ounces grading 0.71g/t Au.
Finally, 70 kilometres to the north of Quinchia is the Andes Project (as seen above), a substantially underexplored tenement package of international significance where only ~10% of the land parcel has been explored with modern techniques.
As Next Mining Boom has previously reported, over 14,000 surface and rock chip samples have been collected to define multiple vein hosted and porphyry targets including the Gibraltar porphyry copper/gold target just 22km from, and in the same porphyry belt, as AngloGold Ashanti's Nuevo Chaquiro (called Quebradona on the map above) deposit.
Tesorito continues to impress
As stated, Los Cerros has delivered a promising start to its current drill campaign, with the first assay results from drill hole TS-DH08 at Tesorito confirming the encouraging results of previous drill holes TS-DH02 and TS-DH07.
The previous holes are located either side of TS-DH08, which demonstrates the deeper gold-copper porphyry and the near surface high grade epithermal gold potential.
Here's a look at the results: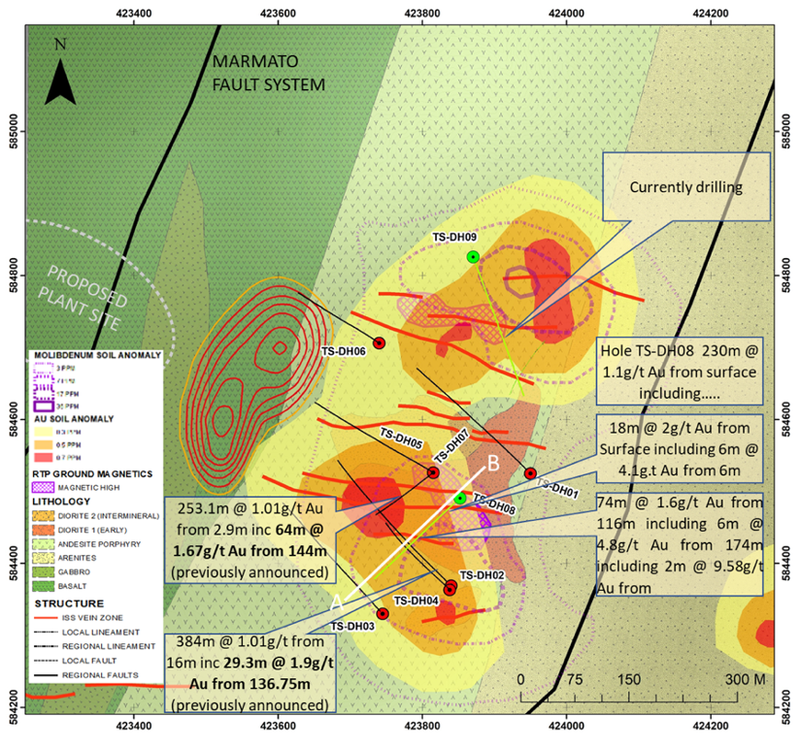 Note the highly promising 230m @ 1.0g/t gold from surface (uncut).
Hole TS-DH08 entered mineralisation immediately at surface with 18m @ 2.0g/t including an interval of 6m @ 4.1g/t correlating to a mapped epithermal vein. Porphyry mineralisation with epithermal vein overprinting continued for 230m down hole before altered country rock was encountered from 277m to end of hole at 325.5m.
It is important to note this drill hole is interpreted to have entered the cupola (porphyry cap) of the potassic core at 110m as evidenced by banded veining, UST textures and the presence of primary bornite, a copper mineral classically associated with porphyry gold-copper deposits.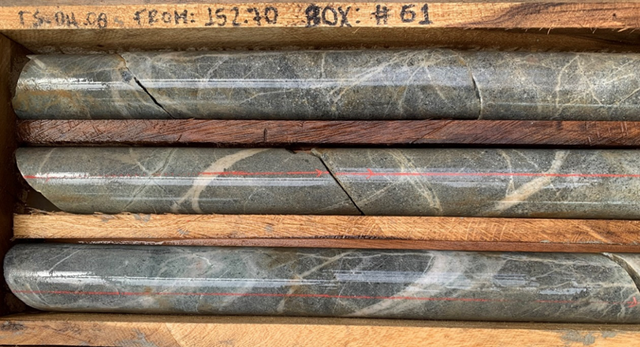 Drill core from TS-DH08
This all points to strong assay results in this zone.
Results were subsequently validated with intercepts of 4m @ 3.18g/t Au from 148m and 6m @ 4.8g/t Au from 174m including 2m @ 9.58g/t Au from 176m, all within 116m @ 1,38g/t Au from 114m.
Down hole thicknesses exceeding 230m of gold mineralisation of 1g/t or above, essentially from surface, have now been described in three drill holes over an area of 300m x 250m and the mineralisation remains open to the north-northeast and east direction as well as showing additional promise to host copper with gold in depth extensions.
"This is a highly encouraging start to the drill campaign as not only has it provided a sense of near-surface porphyry mineralised volume given similar results of nearby holes, it has hinted that there is further potential at depth," Stirbinskis said.
"Primary bornite is a copper rich mineral species, its presence, based on visual logs, correlates to elevated copper in assays and has raised the possibility of more copper occurrences as we chase depth extensions in subsequent drilling.
"In this regard it is interesting to note that TS-DH02 recorded an intersection near end of hole, of 35m grading 0.19% Cu from 365.5m downhole including 0.7m at 2.63% Cu from 390.8m downhole depth, some 90m vertically below the TS-DH08 hole depth.
"The 18m intersection grading 2.0g/t Au from surface including 6m @ 4.1g/t Au also provides encouragement to further pursue the east-west trending epithermal veins for high grade gold resources to supplement existing resources and reserves at the nearby Miraflores deposit.
"Our Senior Geologists, both of whom have worked at the multi-million ounce Nuevo Chaquiro, deposit, 51km to LCL's north, have noted textural and mineralogical similarities to that deposit, especially its porphyry core which also carries banded veins, UST textures and primary bornite."
Nuevo Chaquiro is a globally significant gold/copper porphyry held by AngloGold Ashanti and has a M+I+I resource of 602Mt containing 7Moz Au @ 0.37g/t and 9.7Moz copper @ 0.73%.
Previous drilling at Tesorito
The latest drilling program at Tesorito's TS-DH08 began on 24 August.
TS-DH08 was sited to test for continuity of encouraging gold intersections in previously drilled holes TS-DH07 and TS-DH024:
384m @ 1.01g/t from 16m incl 29.3m @ 1.9g/t Au from 136.75m in TS-DH02; and
253.1m @ 1.01g/t Au from 2.9m incl 64m @ 1.67g/t Au from 144m in TS-DH07.
It was an encouraging start and based on the preliminary visual drill log, consistency in the lithology, alteration and veining was noted with what was seen in previous holes TS-DH07 and TS-DH02, which were drilled 50m and 100m respectively from TS-DH08.
"The geologists have reported higher vein density than anticipated in some sections of the core, which is encouraging for gold grade in those sub-zones," Stirbinskis said at the time.
"These sub-zones include a 69m downhole intercept of potassic alteration from 131m to 200m, believed to be the porphyry core, which potentially correlates to a 64m wide zone of higher grade material at similar depth in TS-DH07."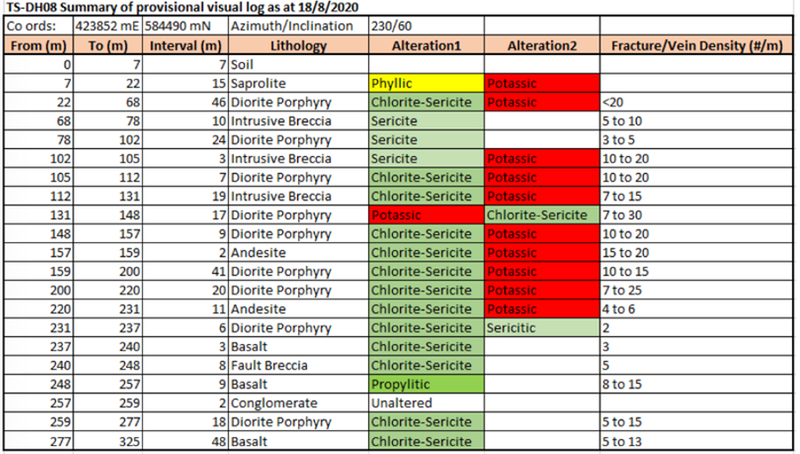 The company's first hole of the current drill program (TS-DH08) has further explored the southern anomalous zone. The second hole (TS-DH09) will test the northern anomalous zone, defined by strong gold and molybdenum assays in soil over a magnetic high.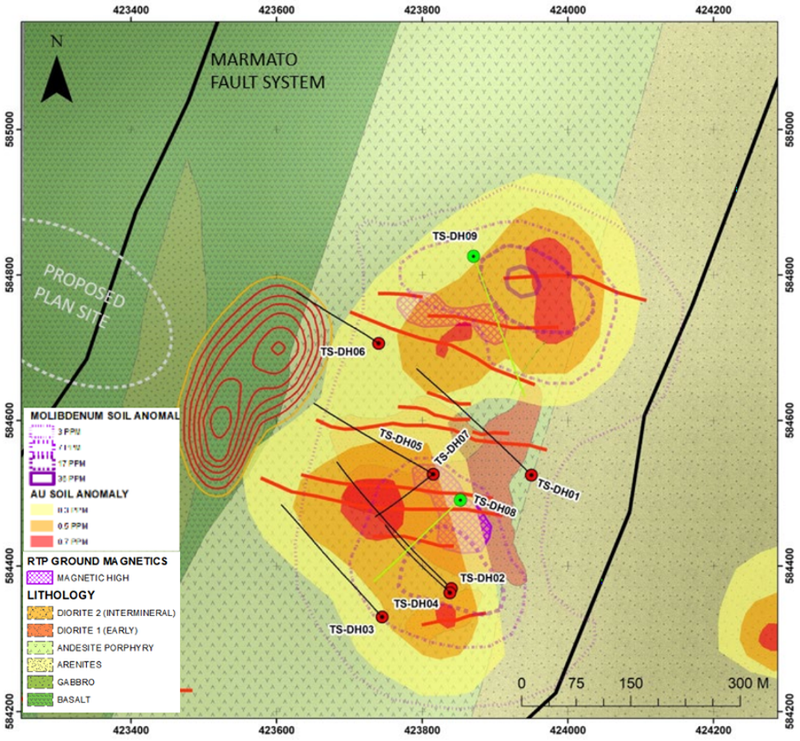 Chuscal Prospect is also on the radar
With all the excellent news coming out of Tesorito, we shouldn't ignore the work going on at Chuscal.
Los Cerros has secured an additional contractor rig for a minimum 1,000m to 2,000m shallow diamond drilling program at the Chuscal gold target, just 1km south of the current drilling at Tesorito.
The rig is expected on site in mid-September 2020 will initially be dedicated to exploration and drilling at Chuscal.
Chuscal has two styles of mineralisation: porphyry associated gold mineralisation; and higher grade mineralised epithermal (ISS) veins which overprint the porphyry mineralisation.
The approaching Chuscal program will focus on near surface, high grade epithermal vein gold.
In January 2020, LCL completed a four-hole maiden drilling program which revealed that the ISS veins are far more extensive than previously modelled and are associated with a regional fault structure generating gold bearing veins in a dominant E-W direction with secondary veins or splays from these major veins also carrying mineralisation.
Vein related results from the recent drilling program include:
2m at 8.28g/t Au from 248m in CHDDH002;
0.5m at 17.1g/t Au from 333m within 7m @ 2.07g/t Au from 331m in CHDDH002
6m @ 2.97g/t Au from 250m including a 0.4m high grade vein from 253.3m grading 31.8g/t Au in CHDDH003;
6m @ 2.52g/t Au and 10.25g/t Ag from 0m to 6m, including 2m @ 5.56g/t Au and 29g/t Ag from surface in CHDDH0001;
2m @ 6.44g/t Au and 87.40g/t Ag from 324m to 326m in CHDDH001; and
8m @ 2.82g/t Au and 29.96g/t Ag from 342m to 350m in CHDDH001.
And remember these intercepts are within huge low grade disseminated porphyry associated intercepts such as 350m @ 0.57g/t gold from surface in CHDDH001 and 320m @ 0.43g/t gold from 32m in CHDDH002.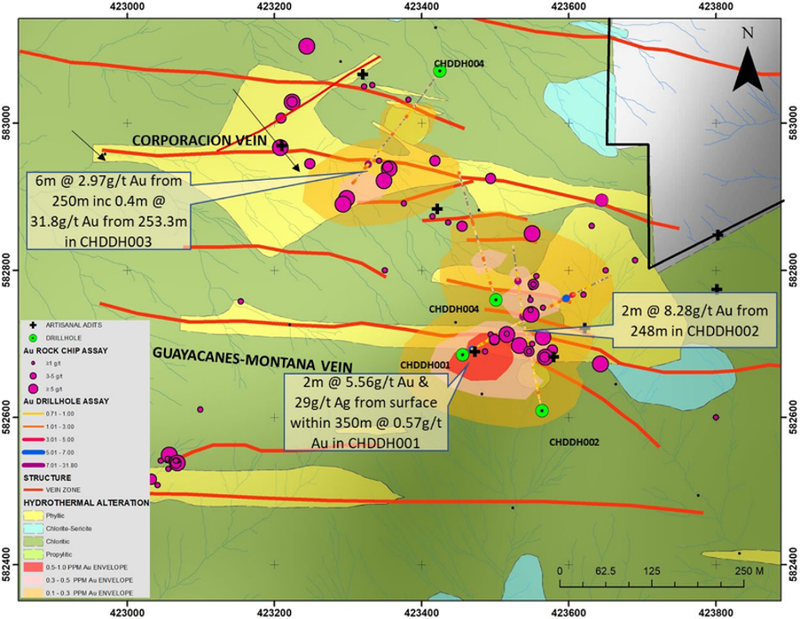 The pending drill program is planned to consist of multiple shallow holes specifically targeting the strike extent of two major high grade vein sets – the Corporacion and Montana/Guyacanes veins, both of which are interpreted to be accountable for most of the above mentioned intercepts and have hosted successful artisanal miners for extended periods.
"We are in an enviable position following our recent capital raising, providing funding and optionality to pursue multiple gold targets within our Quinchia Project which in itself has the foundation of the Miraflores Feasibility Study and 0.475Moz mineral Reserve.
"We are also expecting the arrival of our own drill rig in October which could potentially add a third drill rig to the mix and provide the opportunity to chase, in addition to the ongoing programs, high grade gold targets at Miraflores as well as the porphyry targets at Chuscal and Tesorito.
"Results from the shallow Chuscal drilling will be integrated into vector targeting of the underlying Chuscal porphyry target to enable the Fathom modelling to be fine-tuned," Stirbinskis said.
Los Cerros expect to provide more detail of the Chuscal program as it develops over coming weeks.
The final word
In recent comments, Stirbinskis referred to the possibility of adding high-grade gold resources to supplement the existing resource at Miraflores.
This could become an integral part of the company's strategy, particularly with the gold price hovering in the vicinity of US$2000 per ounce.
Other options were pursued ahead of Miraflores when the gold price was approximately US$1300 per ounce, but another $700 per ounce could make the mine highly economical, even more so if the resource was expanded and complemented by the addition of higher grade ore.
With that in mind and considering the interest of Warwick Grigor, the similarities with Tesoro and news expected every couple of weeks, Mr Grigor's note that LCL'S $25 million market cap is modest, could be right on the money.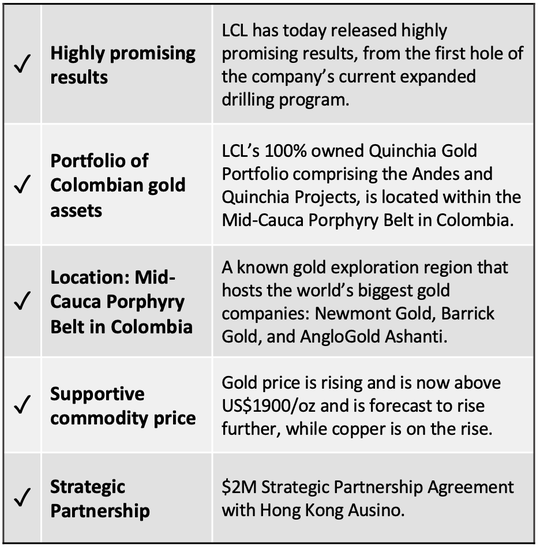 ---