KNI Now Drilling - First of Three Drill Campaigns this Quarter
Disclosure: S3 Consortium Pty Ltd (the Company) and Associated Entities own 2,752,564 KNI and the Company's staff own 7,500 shares at the time of publishing this article. The Company has been engaged by KNI to share our commentary on the progress of our Investment in KNI over time.
Three drilling campaigns for three critical metals over the next three months.
Today our European metals exploration Investment Kuniko (ASX:KNI) kicked off the first of its three drill programs for this quarter.
Each drill campaign will focus on a different metal - nickel in January, cobalt in February and then copper in March.
A significant new discovery in any one of these drilling events has the potential to re-rate KNI upwards from its current $35M market cap. However, like all speculative explorers, this is no guarantee.
KNI is currently focused on unlocking a critical metals discovery in Norway.
A globally significant - and Europe's largest - rare earths discovery was just made next door in Sweden - and we are hoping there's a few more discoveries to be made in this part of the globe yet.
This is a part of the world that is fully embracing the transition to emissions free energy, and is starting to become aware of how much metals need to be mined to build out clean energy infrastructure - think battery metals and copper wires.
Europe also wants to reduce its reliance on Russia and China - and making giant metals discoveries in its own backyard certainly helps this.
Here's KNI's plan for this quarter:
January - Drill for nickel - KNI will be drilling 5 diamond drillholes. The ultimate aim is to convert the existing mineral resource of ~2.7mt at 0.83% nickel, 0.69% copper and 0.06% cobalt into a maiden JORC resource.
February - Drill for cobalt - KNI will be following up the high grade cobalt hits from its drill program last year with ~10 diamond drillholes. The ultimate aim here will be to extend the strike length of ~450m and to drill deeper to see if mineralisation extends at depth.
March - Drill for copper - KNI will be drill testing two geophysical anomalies where outcropping sulphide mineralisation has been found and where rock chips grading 1.7% copper and 2.8% zinc were collected.
On the 30th September 2022, KNI had ~$8.3M in cash in the bank. Although we don't yet know how much was spent in the most recent quarter, we do expect KNI to still have a reasonable amount of cash - enough to deliver these upcoming drilling programmes.
We will get a better look at the cash balance once the new quarterly report comes out at the end of this month - this is where we will see KNI's cash balance at December 31st.
Why is KNI's drilling important?
According to the European Battery Alliance, Europe imports ~80% of its battery material needs (Source).
In 2021, Russia accounted for 42% of the EU's nickel imports (Source).
And in 2020, Russia accounted for the majority of the EU's refined copper imports in 2020 - ~70% (Source).
For metals like cobalt, the number is even worse with Europe importing more than 80% of its cobalt consumption (Source).
As a result, Europe is hell-bent on securing domestic supply of these materials.
This brings us to our "Big Bet" for KNI:
Our 'Big Bet'
"To develop a sustainable battery metals mine within European borders that is of strategic importance - and hence highly valuable as an acquisition target."
NOTE: our "Big Bet" is what we HOPE the ultimate success scenario looks like for this particular Investment over the long term (3+ years). There is a lot of work to be done, many risks involved, and it will require a significant amount of luck. There is no guarantee that it will ever come true. Some of these risks we list in our KNI Investment Memo.
For our summary of KNI's progress over time and how today's announcement contributes to our Big Bet see our KNI Progress Tracker: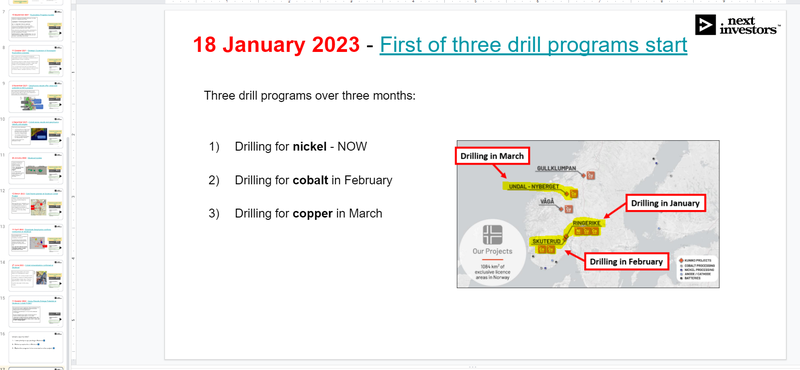 More on the three drill programs:
1. Drilling its Ertelen nickel project - Drilling underway
The Ertelien nickel project is not entirely untested by drilling. The project was drilled before by former licence holders, with around 66 diamond drillholes completed across the same area KNI will be drilling this month.
Off the back of that drilling, the previous owners compiled a mineral resource of ~2.7mt at 0.83% nickel, 0.69% copper and 0.06% cobalt - however this resource is not currently JORC compliant.
Interestingly the inferred mineral resource estimate was put together using a nickel price of US$2/lb, a copper price of US$2/lb and a cobalt price of US$8/lb back in 2009.
The price of all three commodities trade at higher prices now with:
nickel at ~US$12/lb (five times higher),
copper at ~US$4.20/lb (more than double) and,
cobalt at ~US$22/lb (almost three times higher).
Higher pricing for commodities allows a lower economic cut-off grade for a resource - which means KNI could deliver a much larger JORC resource than the previous estimate.

First up, KNI will be looking to duplicate one of the holes drilled by the previous owners - which will confirm that the mineralisation is actually where the company thinks it will be.
The remainder of the drilling program will be focused on extending the mineralisation at depth and along strike.
In today's announcement, KNI also mentioned it would look to resample some of the historic holes. This means we may see some quicker assay newsflow while the drill program is ongoing.
KNI will be drilling a total of 5 diamond drillholes for ~1,200-1,500m of drilling.
Drilling started today and is expected to run through till the end of February/early March.
Turnaround on assay results are hard to predict and KNI didn't provide any guidance in today's announcement.
Usually we expect to see them within 30-60 days of a drilling program being completed - which means assays could arrive in around April/May this year.
Ultimately KNI will be using the drilling data to build a new resource model for the project, and it will look to define a maiden JORC resource.
A JORC resource is the benchmark for resource estimates in Australia. That maiden JORC resource will allow the market to fairly compare KNI's resource to the resources of other ASX companies. If there's a big value discrepancy with its peers, we could see KNI's share price head upwards.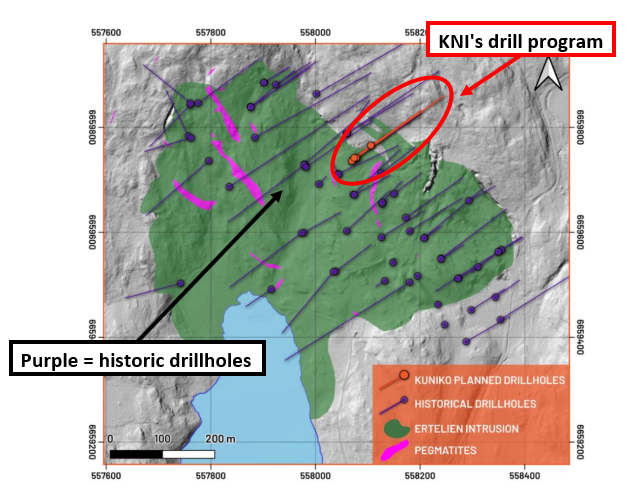 2. Drilling its Skuterud cobalt project - Drilling to start in February
Here KNI will be following up its exploration success from its 2022 drill program where the company hit significant cobalt mineralisation in all 8 holes at its primary drill target.
At the time, KNI mentioned that the cobalt mineralisation was open in all directions (including at larger depths than KNI drilled down to) and that there were a number of EM targets that needed to be drilled.
To read our detailed deep dive on the previous drill results and what KNI will be drilling for with this round of drilling check out our last KNI note here - KNI hits cobalt in all 8 drill holes at primary target.
KNI is aiming to drill ~10 diamond drillholes across ~2,500m of drilling.
Drilling is expected to start in February and run through till the end of March.
Again it's hard to predict when assay results will be available but for reference, last year's drill program was completed on the 20th of July and the assays released on the 11th of October - just under four months later. It might depend on how much the lab is backed up with assays to process.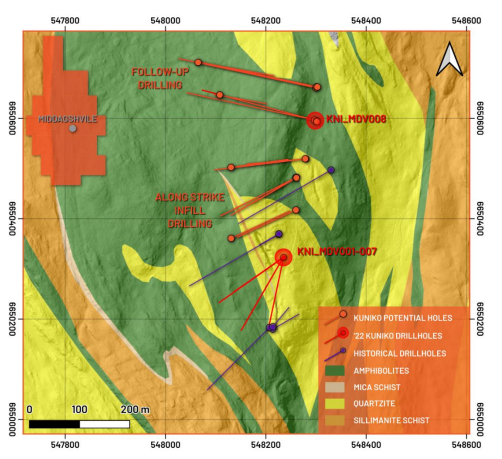 3. Drilling its Undal-Nyberget copper project - Drilling to start in March.
Here KNI will be drilling two strong geophysical conductors that sit right under outcropping sulphide mineralisation.
The two targets were uncovered after KNI completed geophysical/geochemical surveys late last year.
We wrote about the results of the programs in a Quick Take at the time - which you can read here.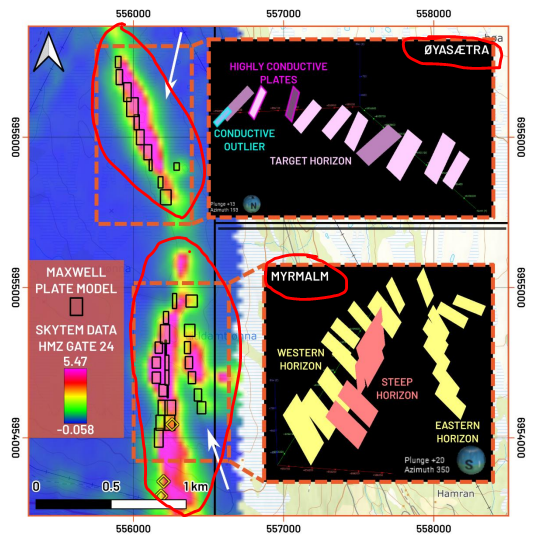 KNI plans to drill both targets with a minimum of five holes planned at the Myralm target and a further three holes planned at the Øyasætra target.
Drilling is expected to commence in early March 2023.
We are conscious of this being the last of the three drill programs planned - so timing on assays is even harder to predict.
There could be delays at the first two drill programs that mean these targets are not drilled on time - and this could mean assay results come in at a much later date than expected.
That being said, we expect plenty of newsflow from KNI and we like the busy start to the year the company has planned.
What's next for KNI?
Assays from nickel project drilling 🔄
Given that the focus here is on drilling out a mineral resource and bringing it up to JORC status, we haven't set any expectations for the drill results.
Instead we will look to see what comes from the drill program before trying to work out how much of the current mineral resource could be converted into JORC status.
We will then set up our expectations following the results.
Drilling results from the cobalt drilling program 🔄
We're hoping KNI can significantly improve its knowledge of the ore body at Skuterud, where it has already hit cobalt mineralisation in 8 of 8 of its previous drillholes.
We want to see the strike extended beyond the already existing ~450m and for more cobalt to be found at depth.
For the assay results we will be looking for the following:
Bullish case = Several intercepts with cobalt grades ranging from 0.05 to 0.1%.
Base case = At least once intercept with cobalt grades around 0.05%.
Bearish case = No mineralisation found in any of the drillholes.
Drilling results from the copper drilling program 🔄
Here KNI is testing EM targets where the company has never drilled.
At this stage we view this drill program as a free option on a discovery and so our expectations are as follows:
Bullish case = KNI hit copper mineralisation from one of the two geophysical conductors.
Bearish case = Drilling returns no significant mineralisation.
Our KNI Investment Memo
Below is our KNI Investment Memo, where you can find a short, high level summary of our reasons for Investing including the following:
Key objectives for KNI for the coming year
Why we are Invested in KNI
The key risks to our Investment thesis
Our Investment plan
---