KNI hits cobalt in all 8 drill holes at primary target
Disclosure: S3 Consortium Pty Ltd (the Company) and Associated Entities own 2,752,564 KNI and the Company's staff own 7,500 shares at the time of publishing this article. The Company has been engaged by KNI to share our commentary on the progress of our Investment in KNI over time.
Amid Russia's aggressive moves to withhold energy supply, Europe is making an accelerated push for energy independence.
Cobalt is a key ingredient in electric vehicle batteries - so securing ethical and local cobalt supply is of critical strategic importance to Europe.
The majority of cobalt, some 70%, is currently mined in the Democratic Republic of Congo, whose mining industry is riddled with human rights abuses. The cobalt is then processed for end use by China, an increasingly unfriendly geopolitical actor.
Russia is the world's second largest producer of cobalt.
Today, our Europe based battery metals explorer Kuniko (ASX:KNI) announced it has hit significant cobalt mineralisation in all 8 holes from the primary target at its Norwegian project.
The cobalt mineralisation is open in all directions (including deeper than was drilled) and there are still a number of EM targets still to be drilled.
KNI says it has already started planning its next drill campaign based on what it has found so far.
The thickness and grade of the intercepts are a material improvement on those found by previous project owner, Berkut Minerals.
KNI hit cobalt inside all eight of its diamond drillholes at its primary target, returning a peak intercept of 11.1m at 0.09% cobalt and 0.23% copper.
It also hit a smaller 1m intercept that returned a high grade of 0.34% cobalt.
When it comes to cobalt projects, anything above a 0.05% grade is considered economic in today's climate. So while compared to other commodities the grades are on the lower side, not all commodities are valued equally.
Cobalt currently sells for over US$52,000 per tonne, making grades >0.05% economic, and in some instances highly profitable. Contrast this with a commodity like copper, which is selling for ~US$7,200 per tonne.
We also believe that the strategic importance of cobalt supply from within European borders will be preferred over that from higher grade projects in potentially unfriendly locations.
In today's rapidly deteriorating geopolitical climate, slightly better mine economics is simply not worth it if the project is in a country that could threaten to withhold supply to gain political leverage.
This is reflected in the current high cobalt price, which is encouraging local secure projects to come online (we are very carefully watching this trend, as we believe it will throw up some very interesting opportunities, but this is a longer discussion for another day).
This means that when it comes to cobalt, a project doesn't need to have a nominally high grade, ESPECIALLY if it is located in a friendly country, or better yet, inside the country where the supply will ultimately be used.
Some comparable projects where grades are similar to KNI's drilling results are:
Vale's Goro nickel mine (New Caledonia) which used to produce cobalt at grades of ~0.11%.
Latitude 66 (Finland) has a 26 MT cobalt resource with grades of ~0.064%
Cobalt Blue (Australia) has a 118 MT resource with cobalt grades of ~0.068%.
What's more interesting to us is the location of KNI's cobalt project inside Europe, where cobalt is listed as a "critical mineral" by the European Commision.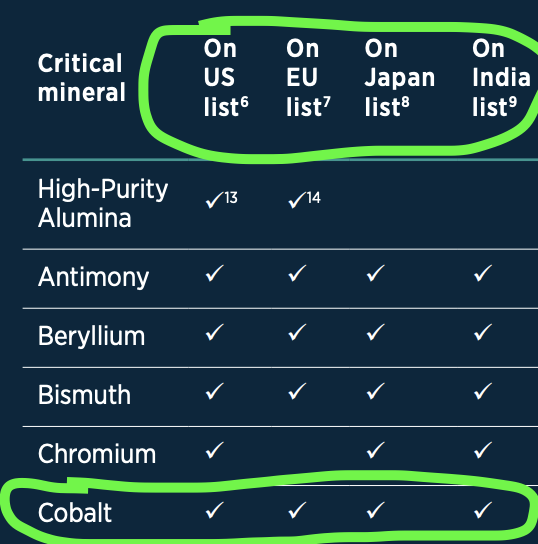 Europe currently imports ~86% of its cobalt needs, and with electric vehicle (EV) take up increasing, Europe needs local supply.
KNI has confirmed cobalt mineralisation in all of its drillholes, and we think it has the potential to prove out a strategically important cobalt resource inside Europe.
This brings us to our "Big Bet" for KNI:
Our 'Big Bet'
"To develop a sustainable battery metals mine within European borders that is of strategic importance - and hence highly valuable as an acquisition target."
NOTE: our "Big Bet" is what we HOPE the ultimate success scenario looks like for this particular Investment over the long term (3+ years). There is a lot of work to be done, many risks involved - just some of which we list in our KNI Investment memo. Success will require a significant amount of luck. There is no guarantee that our Big Bet will ever come true.
For our summary of KNI's progress over time and how today's announcement contributes to our Big Bet see our KNI Progress Tracker: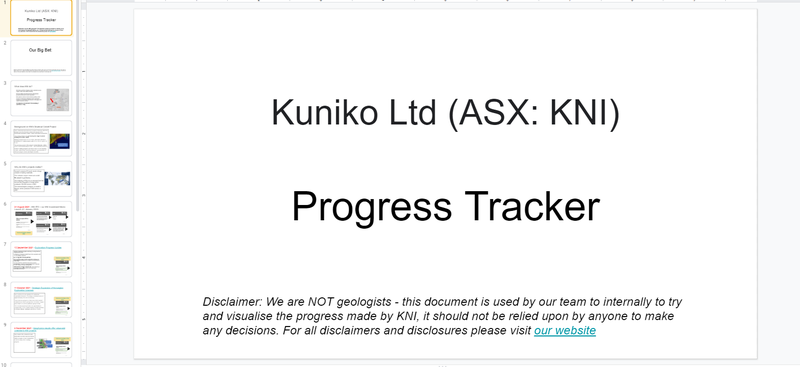 More on today's news:
Our key takeaways from KNI's announcement is as follows:
Enough cobalt mineralisation to warrant further drilling - This was our base case expectation for KNI's maiden drilling program.
Peak cobalt grade more than twice historical results - Previous owners of KNI's project (Berkut Minerals) previously drilled and hit peak grades of 0.16% cobalt. KNI has delivered a peak cobalt grade almost 2X higher than this, measuring 0.34% cobalt.
All eight assays were at or above the 0.05% economic cut-off grade - Grades required for a cobalt project to be considered economically viable is generally 0.05%. All eight of KNI's drillholes returned assays higher than this.
Current mineralised zone measures 450m - KNI has cobalt sitting across a ~450m strike zone. Importantly KNI can follow up with future drilling to extend this zone, with a particular focus to the south.
In short, we think today's announcement confirms that modern exploration techniques are yielding success at KNI's cobalt project - a good start for our KNI Investment.
Going into this round of drilling we laid out the following bull, base and bear case expectations: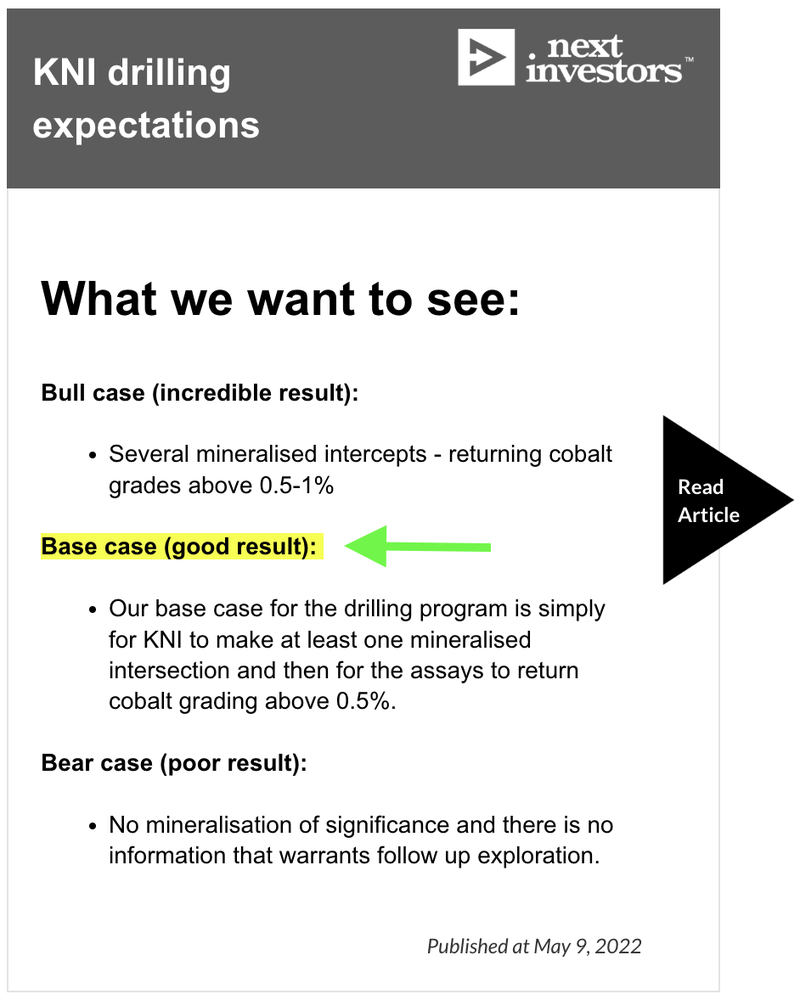 KNI's results today were good enough to warrant further drilling and although the company fell short of delivering the single 0.5% cobalt intercept we were looking for, it did manage to hit grades higher than the economic cut off in all eight of its holes.
As a result, today's results satisfy our "base case" expectations - a good result for KNI.
We also note that KNI got close to that single intercept we were looking for with assays returning a cobalt grade of 0.34% over a 1m intercept.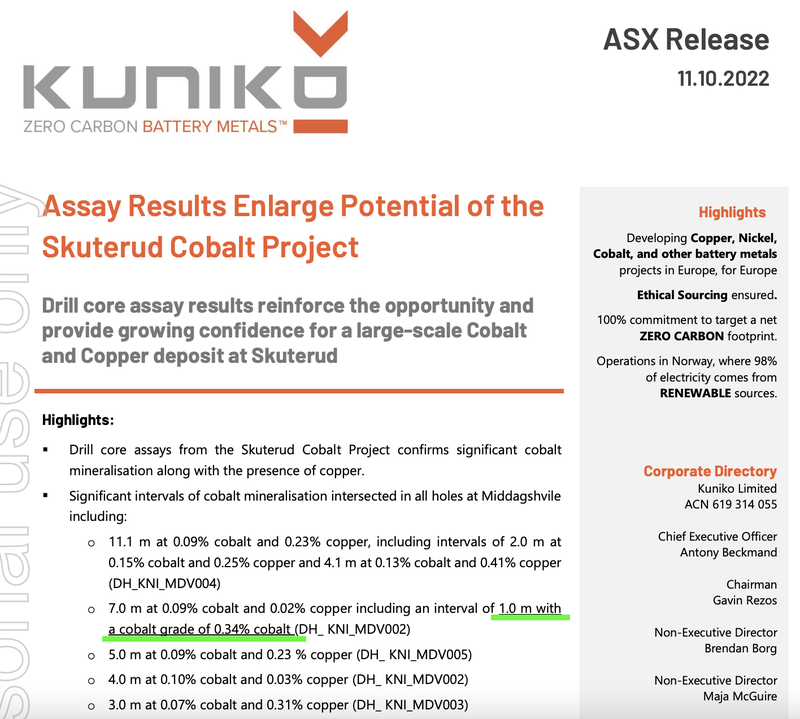 Overall, we wanted to see KNI show that its project contained cobalt (which we got) - the 0.5% cobalt grade expectations we set were high relative to already operational cobalt producing mines around the world.
For some context, Glencore's Kamoto copper-cobalt mine in the Democratic Republic Of Congo (DRC) is producing cobalt with grades of ~0.48% — really high grades, but still below our base case expectation.
On reflection, we probably put out bull case grade a little too high for KNI, given what grades are economic in the world right now.
What's more important is that for KNI's project to be valuable - it simply doesn't need to have grades this high.
Outside of the DRC, Vale used to produce cobalt from its Goro mine in New Caledonia at grades as low as ~0.11% and Glencore from its Australian projects with cobalt grades as low as 0.06%.
Other cobalt resources put together by other explorers also have low grades such as:
Latitude 66 (private company) has a 26 MT cobalt resource with grades of ~0.064%.
Cobalt Blue (ASX listed) has a 118 MT resource with cobalt grades of ~0.068%.
With the cobalt price up by almost 100% from where it was trading in 2020 and KNI's project sitting inside Europe, the grades required for its project to be deemed commercially viable could be relatively lower to its peers' projects.
What's next for KNI?
Lower priority assays pending at Skuterud 🔄
Today, KNI put out the assay results from eight of the highest priority intercepts taken from its 11 hole drilling program.
KNI noted that lower priority assays were still pending, meaning there could still be some more assays to come from this round of drilling.
Given these were considered "lower priority" by the company, we do not expect for anything material to be announced from these, however if we do get a material assay announcement then this will come as an added bonus.
Follow up exploration at Skuterud 🔄
KNI also confirmed today that planning is already underway for more drilling at its Skuterud project including:
Additional drilling to test for continuity in mineralisation at depth.
Downhole geophysics including EM surveys to throw up more drilling targets.
Geochemical sampling (including mapping and soil sampling) to throw up more drilling targets.
At this stage, we don't have any guidance from KNI as to when all of this is likely to commence.
Exploration programs to be announced on other projects 🔄
KNI recently completed soil sampling at its "Ringerike" project ~15km north-east of its Skuterud project.
Here, KNI put together four future drilling targets and returned assays from rock chips with grades of up to 1.55% nickel and 4.12% copper.
On top of this, KNI has soil sampling results from fieldwork completed this year over its other projects in the region.
We will be watching to see what KNI is planning over this project area.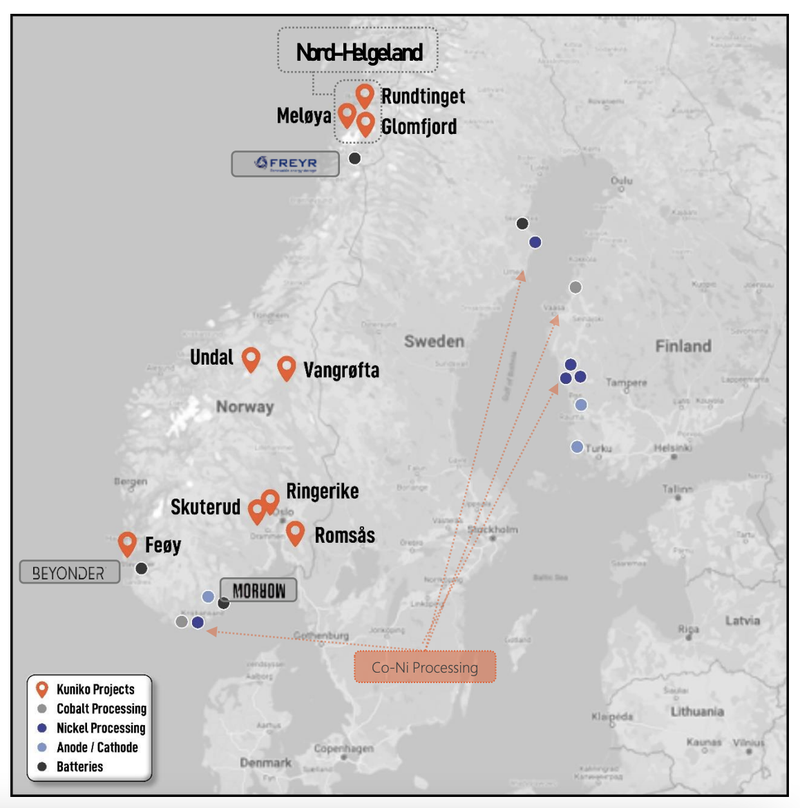 Our KNI Investment Memo
Today's news contributes to key objective #1 of our KNI Investment Memo.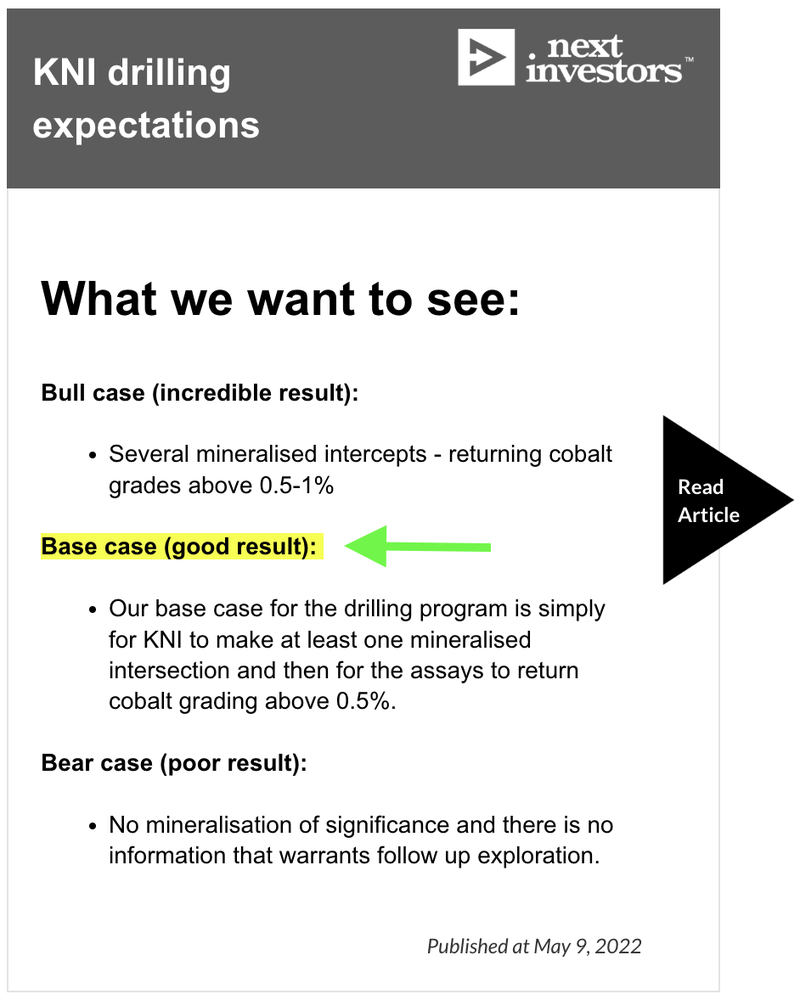 Below is our KNI Investment Memo, where you can find a short, high level summary of our reasons for Investing including the following:
Key objectives for KNI for the coming year
Why we are Invested in KNI
The key risks to our Investment thesis
Our Investment plan

---