GAL Just Days Away from Fraser Range Diamond Drilling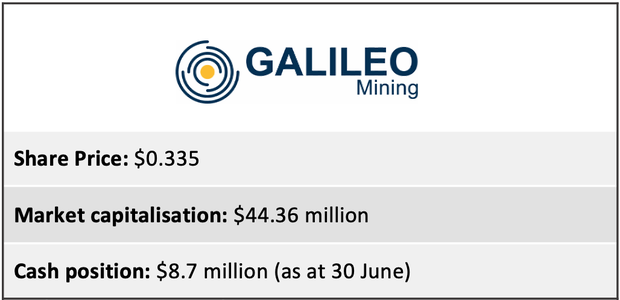 Western Australia's Fraser Range is highly prospective for nickel sulphides — a key battery metal ingredient that is seeing a resurgent rush in demand.
Elon Musk has gone as far as saying "nickel is the biggest challenge for high-volume, long range batteries", while recognising that Australia has major untapped nickel deposits that could help meet this demand.
This is a future proof commodity that is going to be in demand for decades to come.
The Fraser Range Nickel Belt holds particular promise and huge exploration potential, having seen less than eight years of mining so far and only two discoveries over its 150km of prospective strike length, including the 14.4Mt Nova mine that single-handedly brought the Fraser Range to life.
By way of comparison, Canada's analogous Thomson Nickel Belt has total known resources of 146 Mt discovered over 50 years of mining and exploration.
That's almost 10 times the amount of nickel compared to the Fraser Range — so clearly here in Australia we are only just getting started.
Next Investor's choice of "pure play" Fraser Range nickel explorers is Galileo Mining (ASX:GAL) — a company that we first brought to investors' attention in early March 2020 when it was trading at 15¢.
The stock is highly leveraged to a Fraser Range nickel discovery, with later stage peers such as Legend Mining (ASX: LEG) capped at circa ten times that of GAL.
GAL is charging ahead with its Fraser Range Nickel Belt exploration program, set to kick off its maiden diamond drilling program in just days.
Recent RC drilling and the upcoming diamond drill program follow the company's first ever reverse circulation (RC) drilling at the Lantern Prospect earlier this year that demonstrated disseminated nickel-copper sulphide mineralisation of up to 0.66% nickel and 0.75% copper.
Building on that data, the imminent 500 metre diamond core drilling program at Lantern is planned across three separate areas where each zone shows potential for sulphide mineralisation.
The three diamond drill holes, with planned depths from 200 to 380 metres, are designed to test an EM conductor, a structural target, and the known disseminated sulphide mineralisation.
The RC drilling program has established pre-collars at each of three high priority diamond drill targets where core drilling is on track to soon begin, and assay results expected next month.
Following the upcoming initial diamond drilling program, GAL have further RC and diamond drilling programs planned for later in the year.
With a pipeline of prospects and a solid cash balance to progress its exploration plans, we expect to see a steady stream of newsflow until the end of the year.
GAL managing director Brad Underwood says that if Galileo are successful in these drilling programs, "we would love to be here to complete a resource drill out by the end of the year".
Here, Underwood discusses the drilling program at the Lantern prospect, what this program hopes to achieve, and upcoming exploration plans for Galileo in the Fraser Range.
Galileo Mining: Next Investors' Pick of the Fraser Range
The Next Mining Boom first covered GAL back in early March 2020, when it was trading at around 15¢ per share. Even with the ensuing global pandemic and market volatility, GAL was able to secure $5 million at $0.22 per share via a well supported placement to fund its high potential drill campaigns.
Now trading at 34¢ per share with a $47 million market cap, the stock has more than doubled since our first coverage.
That said, a comparison with other Fraser Range nickel exploration companies suggests that GAL remains significantly under appreciated by the market.
I've discussed Legend Mining (ASX:LEG) in comparison to GAL before. LEG saw its stock double immediately after its initial discovery in December 2019 at its Mawson Prospect — just 50km along strike from GAL. The pair have striking geological similarities and comparable ground in the Fraser Range.
Now 240% higher since the discovery, LEG has a market cap of $360 million — a valuation that points to the huge upside potential for GAL shareholders on news of its own discovery.
Galileo, with a sub-$40 million market cap (and ~$8.7 million cash at June 30) has all the elements required for a significant kind of share price run on drilling success.
While LEG is slightly further along in its exploration pursuits, another comparison — this time with a much earlier stage Fraser Range explorer — also suggests that GAL may be currently undervalued.
S2 Resources (ASX: S2R), a new entrant to the region, is attracting increasing market attention. The stock is close to doubling since its Monday announcement that it has identified a large strong EM conductor at its Fraser Range exploration licence.
While this looks promising, we note that GAL is much further ahead in its exploration program. It has undertaken a significant amount of ground work over the last 18 months, completing three rounds of AC drilling and on ground EM surveying, which was followed up with its first RC program completed earlier this year, and is now set to commence diamond drilling.
Given S2R's $63.5 million market capitalisation, we suggest that GAL (at $37 million) continues to fly under the radar and offers more leverage to a discovery.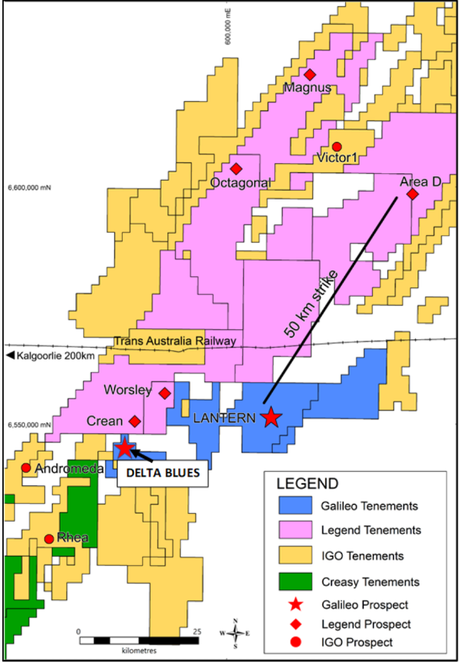 Galileo tenements (blue) surrounded by Legend Mining (pink) and IGO (yellow) tenure
As is the case for GAL — and LEG — Mark Creasy and members of the Sirius Resources team that was behind the Nova-Bollinger nickel-copper discovery are also involved with S2R.
Creasy made a fortune discovering the Nova nickel deposit (14.4Mt, 2.3% nickel) in 2012. The deposit (located 80km from GAL) first put the Fraser Range on the map and was eventually sold by Sirius to IGO Ltd for $1.8 billion.
Creasy has spent years privately accumulating positions in the most attractive parts of the Fraser Range and backing juniors that he has confidence in.
Reflecting the prospectivity of its ground, Creasy is a major shareholder of GAL, having initailly sold this ground to GAL from his private company.
To keep a close eye on the ground and make sure its potential is unlocked, Creasy installed an experienced MD Brad Underwood to run the company.
Underwood has more than ten years' experience in the Fraser Range with much of that spent working alongside Creasy, including the discovery of the Creasy Group's Silver Knight nickel-copper deposit.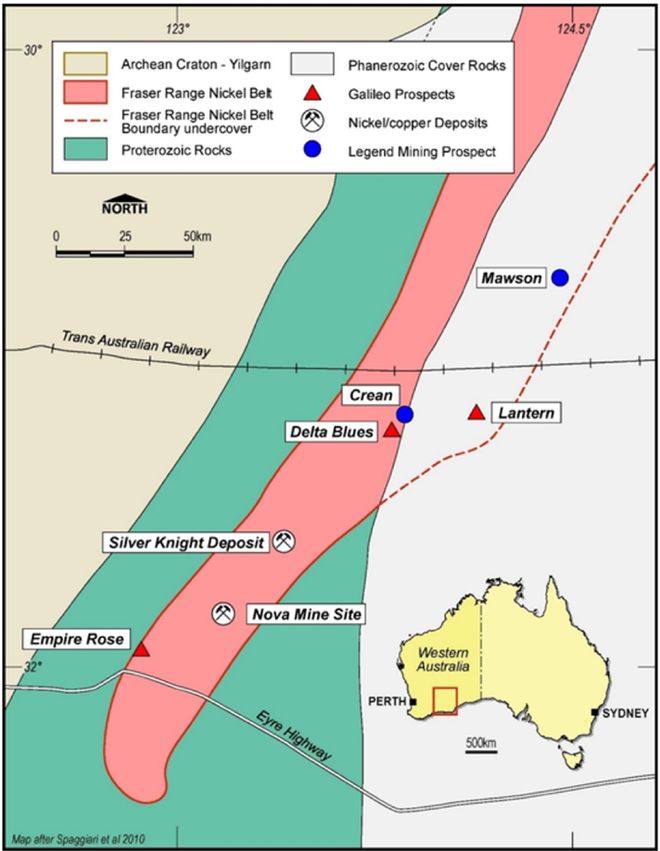 Fraser Range Nickel Belt: GAL"s prospect locations (Lantern, Empire Rose & Delta Blues) alongside LEG's Mawson & Crean, Creasy's Silver Knight Deposit and IGO's Nova Mine.
Diamond Drilling set to commence
Galileo is ready to commence diamond core drilling at its highly prospective targets at the Lantern prospect with the diamond drilling company on track to begin work within the next week.
Three diamond drill holes with planned depths from 200 to 380 metres are designed to test an EM conductor, a structural target, and the known disseminated sulphide mineralisation.
Reverse Circulation (RC) drilling program has established pre-collars at each of three high priority diamond drill targets.
The three significant nickel targets to be drilled include:
An electromagnetic conductor at the Lantern East prospect (Hole 1),
A structural target on the margin of a major intrusion (Hole 2), and
A disseminated sulphide target at the Lantern South prospect (Hole 3).
Here are the relative locations of Lantern East (Hole 1), the structural target (Hole 2), and the disseminated sulphide target at Lantern South (Hole 3):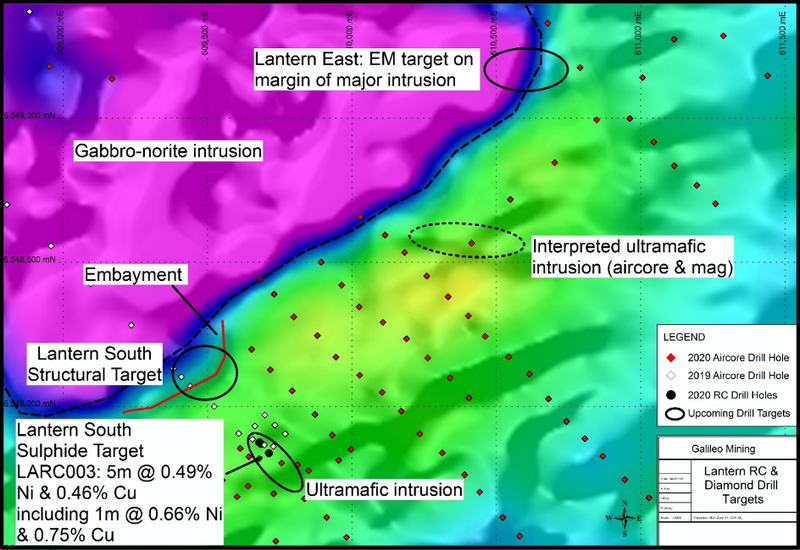 Drill targets at Lantern South & Lantern East Prospects (TMI-1VD Magnetic Image)
Commenting on the upcoming drilling program Brad Underwood said, "This is our first diamond drilling program at our northern Fraser Range project which lies between the Nova mine to the southwest and Legend Mining's Mawson prospect to the northeast. It is a great area to be exploring for nickel sulphides and our first opportunity to test the ground with core drilling.
"We have approximately 500 metres of diamond drilling planned at three separate areas with each zone showing potential for sulphide mineralisation. This is an exciting part of the exploration process and we look forward to moving into the next phase of work at this promising Fraser Range nickel project."
June results from fixed loop EM surveying revealed the presence of a conductor 1.5km along strike from drilling that intersected nickel and copper sulphide mineralisation at the Lantern South prospect. (The target was renamed Lantern East to better reflect its position relative to the major intrusion.)
This was an encouraging sign in GAL's exploration for new nickel deposits as conductive targets can be associated with significant amounts of nickel sulphides.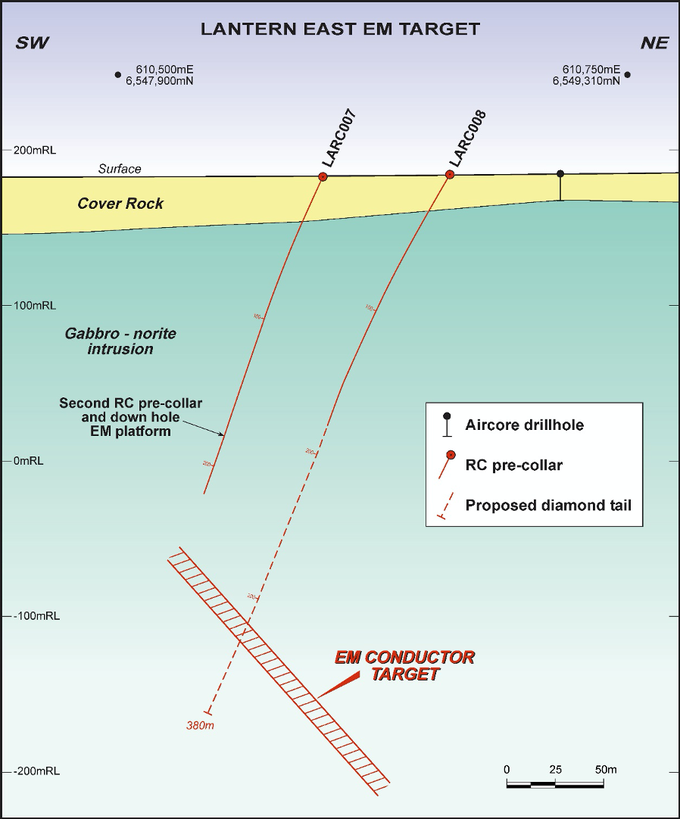 Lantern East Conductor with RC Pre-collars and Proposed Diamond Core Drilling
Previous drilling around the near surface ultramafic intrusion at Lantern South has identified disseminated nickel and copper mineralisation, while a structural and geological target 200 metres northwest of the sulphide mineralisation will also be tested.
The magnetic image at this prospective structural position shows an embayment which may be related to post emplacement modification of the major intrusion associated with a mineralising event.
EM surveying over this zone showed some evidence of a conductive body at an estimated depth of 200 metres, however the conductive cover rock prevented definitive modelling of the target.
The targets are well defined and have a good chance of success.
This could lead to a true resource discovery and on to development – as early stage investors this is what we are hoping for.
RC drilling
GAL's first ever RC drilling program at the Lantern Prospect was completed in March this year and results demonstrated that the area contains disseminated nickel and copper sulphide mineralisation.
The sulphide mineralisation (LARC003) included:
- 5m @ 0.49% nickel and 0.46% copper from 126 metres down hole, including
- 1m @ 0.66% nickel and 0.75% copper from 127m.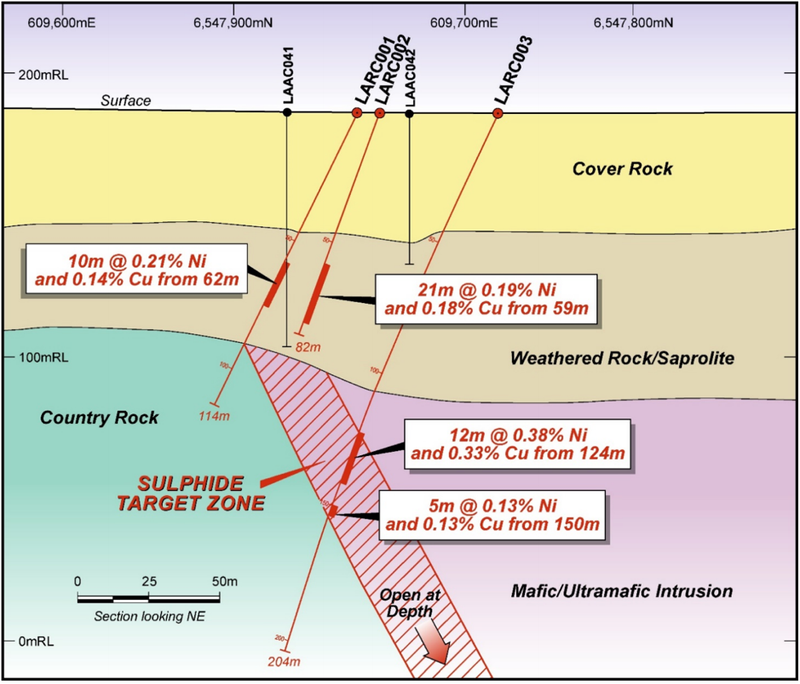 Initial RC drilling program results at Lantern Prospect
The second RC drilling program commenced in late-July and was designed as a lead-in to the highly anticipated first diamond drilling program that is about to commence.
Each of GAL's identified targets have been carefully assessed and are known to contain features indicative of nickel mineralisation.
GAL: A Next Investors' portfolio stock
As I mentioned, Next Investors are long term holders of this stock and have invested for the large potential upside on genuine exploration success.
Following its well received placement earlier this year, GAL has plenty of cash in the bank to accelerate its exploration plans.
Results to date have been impressive, including nickel-copper sulphide mineralisation of up to 0.66% nickel and 0.75% copper at the Lantern South prospect.
Also encouraging is the presence of a conductor (Lantern East) 1.5km along strike from drilling that intersected nickel and copper sulphide mineralisation with conductive targets often associated with new nickel discoveries.
With diamond drilling now set to begin, we expect further market attention to turn to GAL and plenty of newsflow ahead.
This ground has never before been explored for nickel and while there are certainly no guarantees, GAL has a significant chance for a high value discovery.
We are looking for a binary outcome here – a large nickel discovery that would see GAL's valuation skyrocket from its current levels.
Whilst early stage metals exploration is always risky, GAL has the right ingredients for success – plenty of cash in the bank, a low market cap, and a tight capital structure.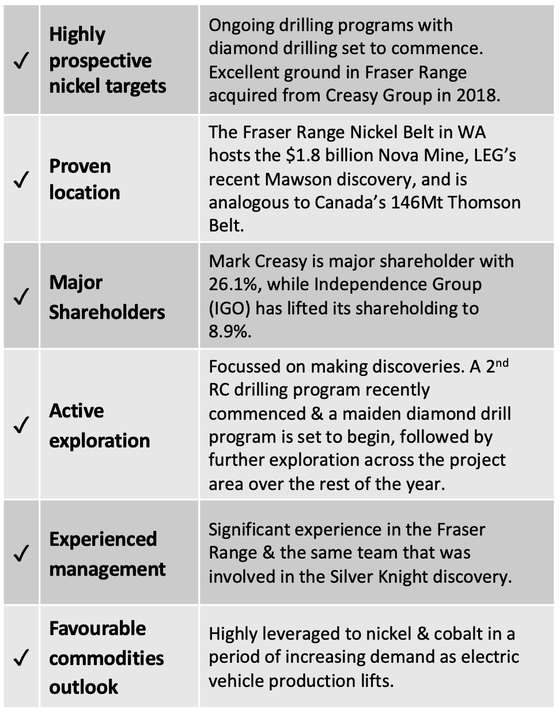 ---