EXR signs data sharing agreement with Santos - Drilling next month
Disclosure: S3 Consortium Pty Ltd (the Company) and Associated Entities own 4,937,858 EXR shares and 1,071,429 EXR Options at the time of publishing this article. The Company has been engaged by EXR to share our commentary on the progress of our Investment in EXR over time.
Our energy Investment Elixir Energy (ASX:EXR) has confirmed it will start drilling next month at its gas project in Queensland.
And today, EXR announced a "data sharing agreement" with major Australian gas company, Santos.
$25BN capped Santos owns licences surrounding EXR's project.
Global energy major Shell also surrounds EXR.
So EXR is spudding next month, and Santos is planning to drill wells next door, and each party has agreed to share their data.
EXR is now collaborating with a multi-billion dollar neighbour and gets access to all the valuable data Santos will be gathering on its neighbouring ground - data that would have cost millions of dollars for EXR to gather.
And Santos gets access to EXR's data...
We hope Santos likes what they see, especially if EXR can deliver a big drill result over the next couple of months.
We mentioned in a past note that in a success scenario, EXR's project could become of interest to the billionaires invested in the region and majors like Shell and Santos.
What we didn't expect was for an agreement to be struck with a major before drilling even begins...
EXR's project sits in a part of QLD where some of Australia's biggest energy producers are drilling projects.
EXR's data sharing agreement with $25BN capped Santos includes:
Data shared on wells across two permits - Santos and EXR will share data from all wells drilled on EXR's permit (ATP 2044) and Santos' permit (ATP 2056).
Exploring regional prospectivity - As part of the deal, Santos and EXR will also start technical discussions about the deeper exploration plays in the region.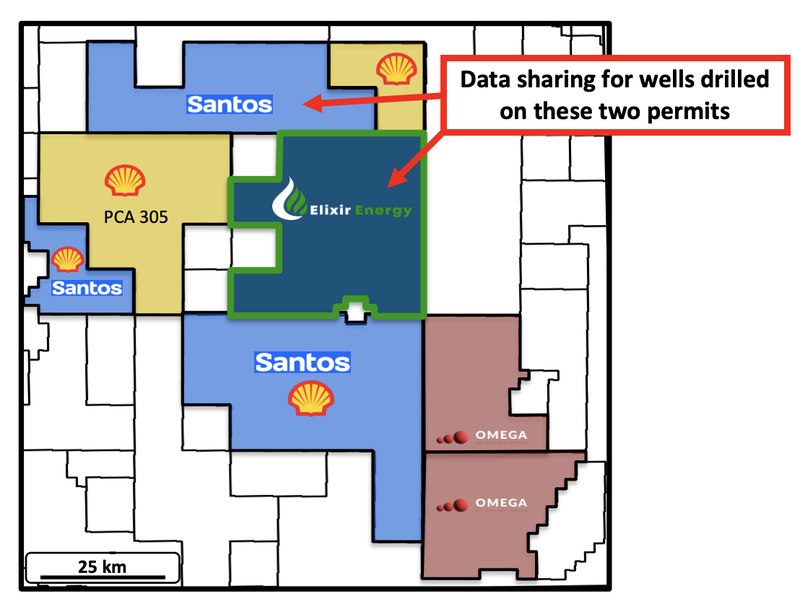 Clearly Santos are keeping an eye on EXR.
And it is not hard to see why the majors are taking an interest in EXR's activity.
The east coast of Australia is structurally short of gas supply and production is in decline.
The Bass Strait, which has been producing and supplying much of the east coast for decades, is dropping production rates year on year, and the outlook doesn't look great for domestic gas production.
EXR's project sits in a part of QLD whereby it could be connected into existing infrastructure in the region and start supplying the east coast markets.
Realistically, the project would be part of a larger oil & gas field which is why the interest from majors was something that we were expecting.
EXR's Queensland gas project already has:
An existing contingent resource estimate of ~395 billion cubic feet of gas - meaning the company already knows there is gas there.
The resource sits inside a ~3.3 trillion cubic feet prospective resource (on an unrisked mean basis) - meaning there is scope for that resource to grow.
Plans to drill an APPRAISAL well - meaning EXR's Daydream-2 well will be testing to see whether the resource can be developed into a production asset.
A few weeks back EXR locked in a $7M capital raise at 7c per share to fund its upcoming well.
After the raise EXR should have ~16.5M in cash in the bank - $9.5M at 30 June 2023 + $7M raised.
The placement shares came with attaching options exercisable at 12c with a 3 year expiry.
We participated in this capital raise.
EXR is now running a Share Purchase Plan (SPP) offering existing holders the opportunity to invest at the same terms as the placement, with that offer closing Friday, 6th October.
The SPP will be looking to raise another $3.5M.
On top of that, EXR also has R&D grant funding in place with the Australian government for 48.5% of the total costs of its upcoming drill program.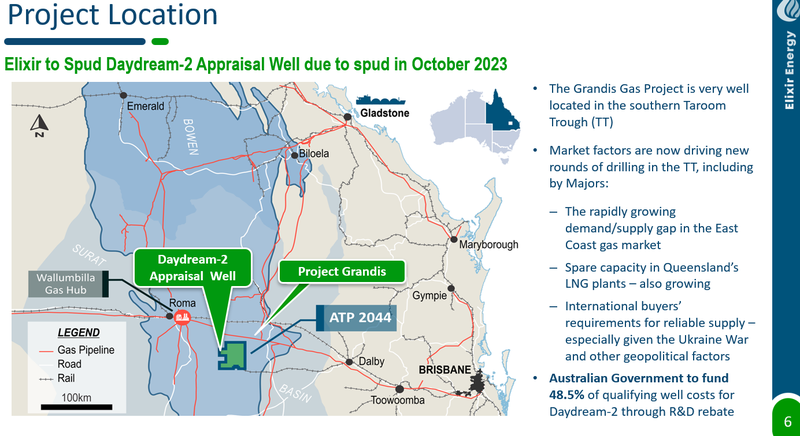 EXR's project inside an "Energy Super Basin"?
Neil Young, the managing director of EXR, teased the idea of an "Energy Super Basin" at the RIU Good Oil Conference in Perth last week.
An Energy Super Basin is an area where large hydrocarbon resources are co-located with clean electricity supply and Carbon Capture and Storage facilities.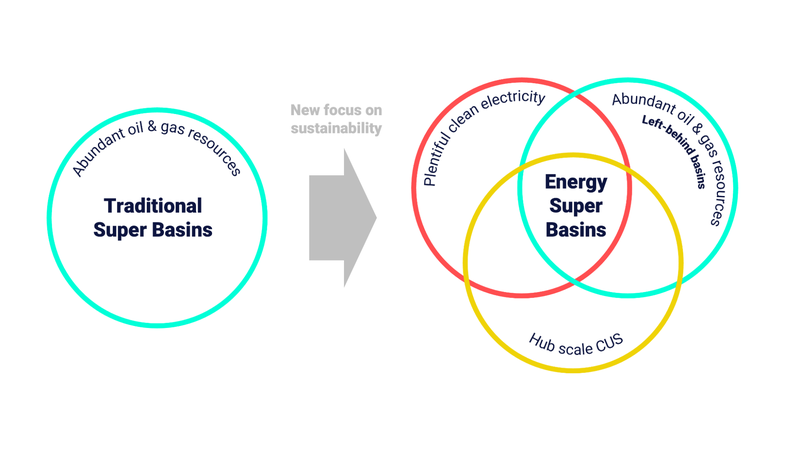 (Source)
Big oil has been investing capital into this idea for years, and it is a key pillar of the decarbonisation strategy for the industry.
The global decarbonisation push has put pressure on the major oil & gas companies to reduce their carbon footprints.
For an oil and gas producer, the answer isn't to just shut up shop and close down all hydrocarbon projects, the reality is that without oil and gas, the world can't function.
So the oil and gas majors have come up with the idea of "Energy Super Basins" where they can combine existing operating projects with low carbon (and carbon offset projects) to make sure the carbon footprints of projects are lowered.
Neil had quoted Wood Mackenzie on the concept:
"The future [for oil & gas] is upstream, co-located with low carbon"
"These are basins with the co-location of upstream hydrocarbons, clean electricity, standalone and/or hub scale CCS"
The idea at its core is that large scale oil and gas projects can come together with renewable energy and carbon offset projects to minimise the carbon footprint of fossil fuels production hubs.
That's where EXR's location fits in perfectly...
EXR's project sits in a part of QLD where:
There are significant fossil fuel resources - Tcfs of contingent and prospective gas resources (with low CO2)
There are overlapping carbon capture storage projects
Major electricity infrastructure – with solar projects adding to thermal power stations
It's also no surprise that Origin is one of the companies with a GHG (greenhouse gas) licence over EXR's project area - another major oil and gas producer looking at carbon capture opportunities in the region.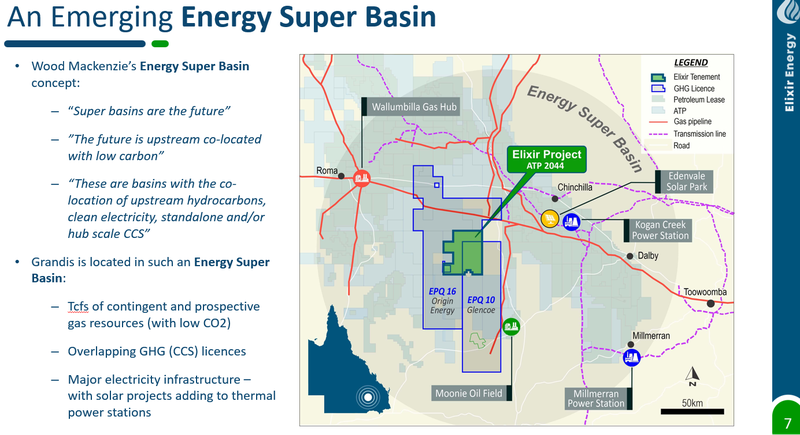 More on EXR's upcoming well
EXR's Daydream-2 will be drilling into a ~395 billion cubic feet contingent resource.
EXR's appraisal well will be aiming to:
Prove commercially viable flow rates.
Increase EXR's already large 395 bcf contingent resource.
Book the project's first gas reserves (converting contingent resources into reserves).
EXR will be looking to duplicate the success from the Daydream-1 well ~4.5km away - now owned by Shell.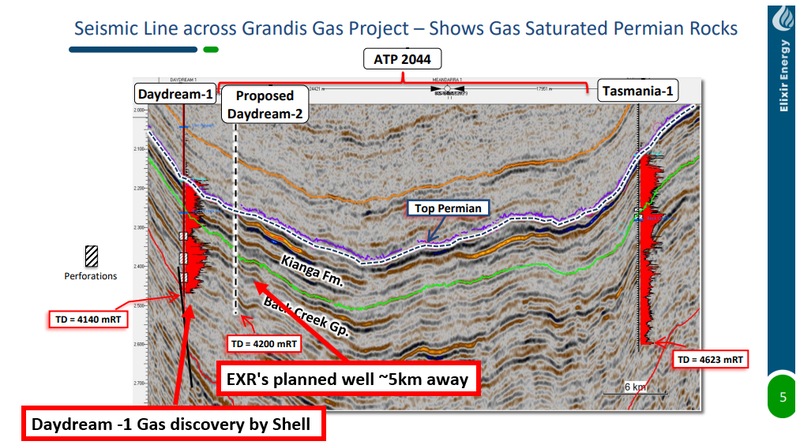 What's left to do before EXR drills?
Procure long lead items for drilling.
Mobilise its rig to site, followed by a water well later this month.
Finalising contractor for the construction of well pad and access track's - all of this to be done in September.
Appoint contractors for drilling support services
We are hoping EXR is able to deliver a commercially viable flow rate and prove its project can economically produce oil and gas - we are then hoping the company achieves our Big Bet which is as follows:
Our Big bet for EXR:
"EXR to achieve a $1BN market cap through successfully advancing one or more of its three projects: its Mongolia gas project, Mongolia green hydrogen project, and/or its Queensland gas project."
NOTE: our "Big Bet" is what we HOPE the ultimate success scenario looks like for this particular Investment over the long term (3+ years). There is a lot of work to be done, many risks involved - just some of which we list in our EXR Investment Memo. Success will require a significant amount of luck. There is no guarantee that our Big Bet will ever come true.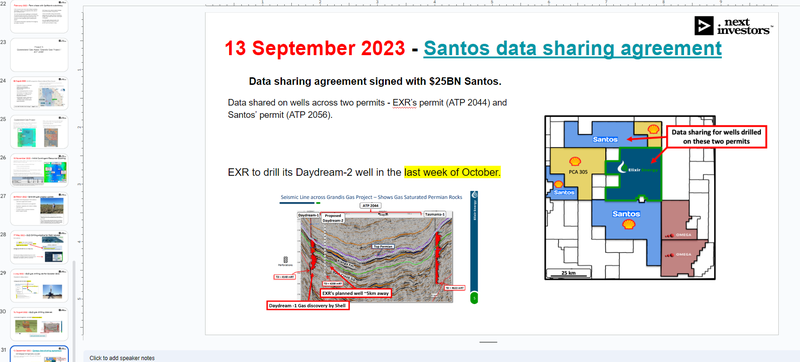 What's next for EXR?
QLD gas project: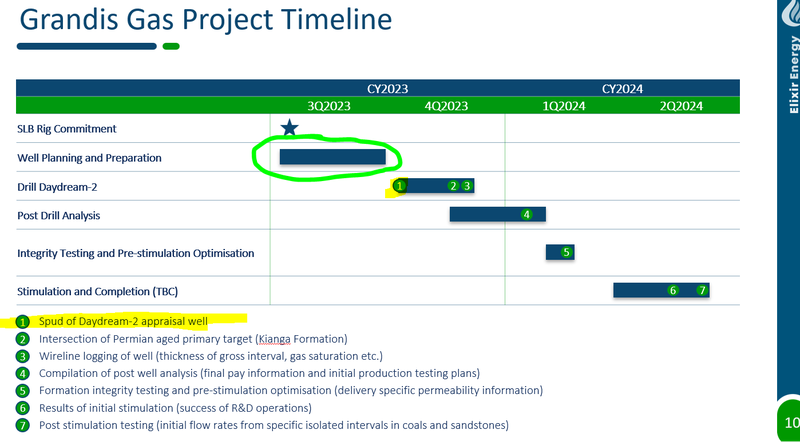 Mongolian Coal Bed Methane (CBM) gas project:
Extended production testing 🔄
2023 exploration program 🔄
Mongolian Green Hydrogen Project:
Financing for a pilot plant 🔄
Offtake agreement for the pilot plant 🔄
50/50 Joint Development Agreement (JDA) 🔄
What are the risks?
With drilling in QLD now weeks away the key risk is "commercial risk"
It's possible that the drill program fails to prove commercially viable flow rates and a subsequent material re-rate to EXR's valuation.
Uneconomic flow rates would mean EXR spends a lot of capital for very little return in terms of shareholder value, which we think would lead to a re-rate down in EXR's share price.
Energy exploration and appraisal campaigns are high risk / high reward endeavours.
To see all of the risks to our EXR Investment thesis check out our EXR Investment Memo here.
Our EXR Investment Memo:
Below is our newest EXR Investment Memo, where you can find a short, high level summary of our reasons for Investing, including the following:
Key objectives for EXR
Why we are Invested in EXR
The key risks to our Investment thesis
Our Investment plan
---