CM8 Positioned for a Monster FY18 as it Taps the $3.5BN Digital Influencer Market
PUBLISHED: 18-09-2017 08:55 a.m.
Today's brave new online world is vastly different to the advertising ways of the past.
Millennials connect with both the world at large and with brands in a new and different way that's emphatically mobile-centric – and they are extremely suspicious of old school advertising methods.
The challenge for companies is to keep a pace and continue to sell to this new generation – a generation that has stopped watching TV, regularly turns on ad-blockers on their web browsers, and has been marketed to all their young lives.
One company that's astutely tapping into this rapidly evolving digital landscape is Crowd Mobile Limited (ASX:CM8 | FWB: CM3), a global mobile entertainment and digital media company.
CM8 has three technology platforms:
A Q&A and mobile subscription platform
Digital Influencer commerce technology
Both backed by a global mobile payments & distribution network.
CM8 netted $43.9M in revenue over FY17, with $9.4M in EBITDA – so they clearly know what they are doing.
Interestingly, CM8 is currently trading at just a 4.6 times Enterprise Value / EBITDA multiple – so perhaps investors haven't fully cottoned onto this rising tech story yet.
Pivotal to the way CM8 is profiting from mobile technology are its major Crowd Mobile divisions: a Q&A ("question and answer") platform and a mobile payments network, built by CM8 and its predecessors over a 15-year period.
Alongside these business streams, CM8 has also launched a new division called Crowd Media, which stands to capitalise on the $3.5 billion digital influencer advertising market.
However, it should be noted that there are no future performance guarantees and any investment decision should be made with caution and professional financial advice should be sought.
As its name suggests, Crowd Media is driven by something that cuts to the heart of millennial digital culture: influencer marketing.
Digital influencers are people with large social media followings who inspire us to engage and spread the word – and ultimately buy something.
You probably see them every day in places like Instagram, Snapchat, Facebook and YouTube, but maybe not even realised it.
The kind of influence they wield is casual, intimate and importantly human, rather than corporate and formal.
So, in turn, influencer marketing focuses on using key social influencers to drive a brand's message to their fans and followers, creating a deeper and more personal connection.
Cultivating this kind of influence benefits businesses in highly tangible ways.
On average, businesses generate $6.50 for every $1 invested in influencer marketing.
While it's a small-cap tech disruptor, CM8 is no tentative start-up.
It's a cash flow positive company with a highly diversified revenue base, supported by 212 telco partners in 64 countries and 30 languages.
With revenue up 16% in the 2017 financial year , and June serving as its strongest quarter yet, CM8 is poised to deliver further growth in FY2018.
Currently capped at a modest $41 million, and at work rapidly growing its newest business division, this nimble ASX tech company has a lot more up its corporate sleeve.
Re-acquainting you with: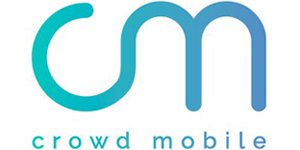 FWB | CM3
Crowd Mobile (ASX:CM8 | FWB: CM3) is a global mobile entertainment and digital media company that monetises mobile products through its own proprietary technology platforms which in turn leverage digital influencers and social media channels.
In short: a sharp distilment of the most critical elements of today's mobile-oriented, social media-crowded, digital universe.
Supported by a new institutional investor – Collins Street Asset Management (CSAM) , which has taken a significant stake in CM8 – and a healthy balance sheet, CM8 has been flourishing since we last caught up with the company in June.
We have been tracking CM8 for some time now here at the Next Tech Stock , and over the course of 2017 its share price has been travelling rather well indeed.
Since our January 2017 article on the stock – CM8's share price has been up as high as 70%: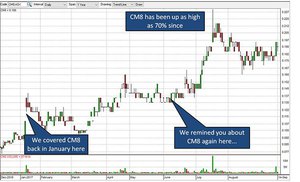 The past performance of this product is not and should not be taken as an indication of future performance. Caution should be exercised in assessing past performance. This product, like all other financial products, is subject to market forces and unpredictable events that may adversely affect future performance.
Currently capped at just $41M, CM8 is really only just getting started though, and given its FY17 financial results, its giving every indication FY18 will be just as fruitful for its long term investors.
As it comes into its own as a major player in the Australian tech space, CM8 is clearly demonstrating that it's made of sturdy stuff – let's take a closer look at its most recent financials.
CM8's results from fiscal year 2017 are confidence-inspiring: its revenue is up 16%, and its EBITDA is up 49%. No wonder investors have been enthused.
Here is a snapshot of the key financial headlines: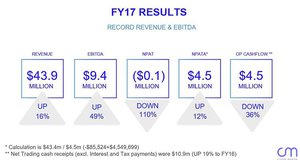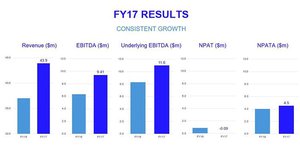 For all the details, in this video CEO Domenic Carosa and CFO Christian Shaw discuss CM8's full year results:
CM8's productive year and leading technology has also attracted Wise Owl analyst Tim Morris, who has also been tracking the company's trajectory for a while.
This month, a Wise Owl report from Morris places CM8 as a speculative buy, with a valuation of $0.30, at a 66% premium to recent trade:

Although, it should be noted that broker share price targets are only estimates based on a number of assumptions that may not be met. So don't invest on a price target alone.
Morris's favourable report comes on the back of CM8 meeting his previous forecasts for the 2017 fiscal year and restoring balance sheet health – this, he posits, puts the cash flow positive CM8 in a sound position to invest in its digital influencer strategy.
Bearing CM8's consistent growth and increased liquidity in mind, let's take a look now at the full spectrum of CM8's business plan, as well as its newest division – the digital influencer component of its business model.
CM8's diversified divisions
CM8's operations comprise three distinct but interconnected streams, which look something like this: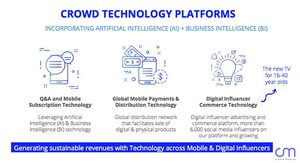 And the following image shows you how CM8's corporate structure is laid out.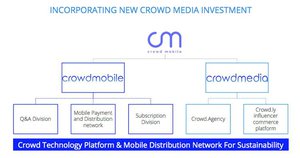 As you can see, CM8's main assets are represented by its Crowd Mobile divisions: Q&A, its mobile payment and distribution network, and its subscription division. This is the bread and butter of the broader CM8 machine.
Yet CM8 is also leveraging Crowd Mobile's digital influencer expertise to launch its Crowd Media division, the newest addition to this business model.
CM8 will be incubating Crowd Media within its Q&A division over the coming months.
Q&A division – expert advice as entertainment
Leveraging and blending together artificial intelligence (AI) and business intelligence (BI), CM8's Q&A arm is about entertaining and informing customers by developing engaging mobile products that connects those seeking answers with qualified experts.
This facet of CM8's business works mainly across the entertainment and infotainment sectors, with questions answered in 30 languages across verticals such as fashion and legal.
Q&A has had its strongest year yet. In the 2017 financial year, this division created $24.9 million in revenue.
It also generated record billed message volumes of 4.1 million in the June quarter, an increase of 58% compared with the same quarter of the prior year, and an increase of 10% over the previous quarter. Here's a look at the quarterly growth since FY2014.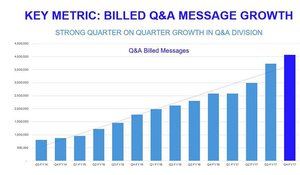 Whether it can keep this momentum or not, remains to be seen and this remains a speculative stock for which investors should maintain a cautious approach if considering an investment in this company.
Subscription division
The business was acquired in 2015 via the Netherlands-based Track Concepts, providing CM8 with a large and valuable mobile distribution network.
CM8 delivers mobile content including games, mobile security, applications, education, music and videos to millions of consumers worldwide. Its mobile products are promoted across targeted websites and via marketing agencies.
Revenue generated from this subscription division amounted to $19 million in the 2017 financial year.
Mobile payment and social distribution network
This division is underpinned by a seamless process through high-impact partnerships with a collection of telcos, as well as heavyweights like Apple and Google, offering a payment experience that's faster and more convenient than that which credit card payments allow.
As mentioned earlier, CM8's mobile payments network is the result of 15 years of innovation, spanning across 212 telco carriers, 64 countries and 30 languages.
As widely recognised brands like these indicate, this network has global resonance:

This area of the business is leveraged by CM8's subscription and Q&A divisions, so it can be seen to serve as the meat in this corporate sandwich.
Which brings us to the newest faction of CM8's business...
Crowd Media and digital influence marketing
Crowd Media is a digital influencer marketplace, connecting digital influencers, brands and their fans across advertising and mobile commerce.
As such, this business leg comprises two interconnected spaces: a digital influencer agency, and an influencer commerce platform...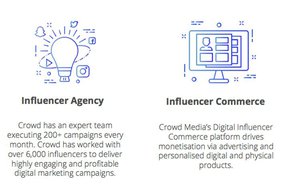 CM8 launched its new global data-driven digital influencer agency, Crowd Agency , in order to service the demand from third party brands and agencies looking to harness its deep experience within the digital influencer space.
CM8's expert team works with over 6,000 digital influencers to deliver highly engaging and profitable influencer marketing solutions, and is continuing to build and refine its own digital influencer commerce platform.
Here, it also harnesses a powerful CRM, which gives marketers the ability to scout, negotiate, track, analyse and optimise campaigns with daily, weekly and yearly statistics of influencer growth in their overall audience performance, locations, age groups and more, making for high levels of precision.
This division is rapidly growing. In the last financial year, the number of influencer campaigns across Crowd Media grew to 700.
Here's Domenic Carosa again, explaining how CM8 has built a marketplace around digital influencers.
Backtracking slightly, why would you use influencer marketing as a business?
As we've already touched on, the way brands connect with audiences is changing, especially in terms of digital innovation, the constantly connected spirit of social media channels like Twitter, Facebook and Instagram, and the way our engagement levels themselves are harnessed.
Let's face it – we don't just watch television any more. Brands know this, and are desperate to connect with consumers in innovative new ways.
More and more, audiences are plugged into social media and are constantly bombarded with a dizzying array of ever-changing, highly competitive brands.
This is a digital culture of saturation, and it's not going anywhere. It's therefore harder than ever to capture audience's attention.
The most effective and engaging way to do this is by aligning a brand with the right influencer – and CM8 have the platform to serve brands what they want in this space.
This can also create considerable media value and return on investment.
That's the crux of what influencer marketing does; it focuses on using key social influencers to drive brand messages to fans and followers.
Influencers can connect with and impact audiences more personally, directly and effectively than traditional advertising, and brands need to know how to effectively connect with them to better reach their own target audiences.
This, in turn, enables a whole spectrum of benefits: a large active follower base and increased consumer reach, strong engagement and brand connection, sales upticks, increased site traffic, and heightened brand awareness.
In turn, the financial advantages are considerable – on average, businesses generate $6.50 for every $1 invested in influencer marketing.
It also has a clear resonance that's beginning to trump traditional marketing devices, with 70% of teenage YouTube subscribers now trusting influencer opinions over traditional celebrities.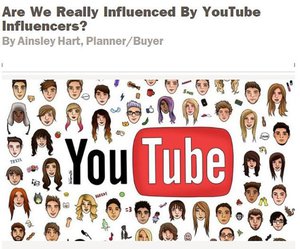 Interestingly, 86% of the most viewed beauty videos on YouTube were made by influencers, compared to 14% by beauty brands themselves.
Some stats that further highlight just how important influencer marketing can be:

Given all of this, CM8 is clearly tapping into a highly fertile market with its newest Crowd Media division – one that's worth some $3.5 billion.
So, what next for CM8?
The plan from here
CM8 has a lot going on in its corporate pipeline, which is likely to produce a considerable flow of news over the coming months.
The company is currently focusing on growing its Digital Influencers division, building on the already impressive number of influencers in its arsenal, with a broader plan to grow brand-funded content across social media and live streaming.
How much of this market CM8 is able to attract in the long-term remains to be seen, so investors should seek professional financial advice if considering this stock for their portfolio.
Part of its trajectory will be increasing global scalability by exposing its leading-edge technology via APIs. With its Q&A API now available, CM8 is in the process of building a mobile payment API.
We also understand CM8 is conducting some R&D on blockchain...
Blockchain is a digital ledger in which transactions are made in bitcoin or another cryptocurrency are recorded chronologically and publicly
On the back of recent surges in bitcoin, blockchain related companies are grabbing headlines, and investors' attentions.
This is the kind of stuff that could be transformational for CM8, especially given the strong fundamentals already at play with the company.
As an aside, regular readers of the Next Tech Stock may well have seen our stories on blockchain tech company DigitalX (ASX: DCC) . It's been a wild ride for DCC investors this year: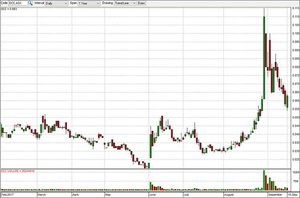 The past performance of this product is not and should not be taken as an indication of future performance. Caution should be exercised in assessing past performance. This product, like all other financial products, is subject to market forces and unpredictable events that may adversely affect future performance.
But back to CM8.
CM8 is also working towards expanding its Payment and Distribution Network, and is in the process of launching a new payment method called 'Content Locking,' which is especially useful for the considerable millennial market.
Underpinning CM8's overall longer-term strategy is a focus on next generation media and entertainment built on a razor-sharp tech edge, and this lies at the core of its business plan – CM8 is building new platforms for a new generation.
As a profitable global mobile entertainment and digital media company, the $41 million-capped CM8 is showing rapid growth and strong potential as a market disruptor.
With its strengthening balance sheet, favourable results for the 2017 financial year, and increasing global growth opportunities, especially in the digital influencer market space, CM8 is an emerging bright spark that we'll be watching closely into the future.
---