You're Probably Staring at it Right Now: How CM8 Makes Money from Your Smartphone
PUBLISHED: 14-06-2017 10:02 a.m.
The life of today's youngsters, otherwise known as 'millennials', is vastly different compared to the past — and it is companies like mobile commerce company and digital influencer Crowd Mobile (ASX:CM8) that has positioned itself to best profit from these ever evolving markets.
CM8 is a revenue generating tech small cap that is rapidly monetising an array of mobile products through its own technology platform that leverages digital marketplaces.
With its Q&A products serving millions of customers each month, and its global distribution network that facilitate the sale of digital products, its previous quarter saw the company post revenue of $10.8 million, with an underlying EBITDA of $3.0 million.
However, it should be noted that there are no future performance guarantees and any investment decision should be made with caution and professional financial advice should be sought.
In essence, CM8 develops engaging 'mobile first' products that connect those seeking answers with those qualified to give them. Everything from financial advice to fashion is covered: a person pays a small amount to connect to an actual expert – who is then paid for their time.
Not content on resting on its laurels, the company is now diversifying its business model by moving into the 'Digital Influencer' space – where it has already secured its first paying customer.
CM8's early moves into digital influencing are ideal to hoover up potentially millions in cash from eager-beaver consumers addicted to their smartphones.
Here's a look at how CM8 is expanding its reach and attempting to build a digital influencer network: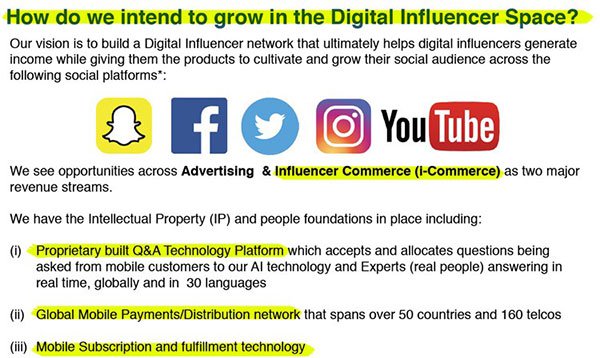 As you can see, that's three primary platforms by which CM8 is currently expanding its business model.
In essence, the $30 million capped CM8 is a poster-child for doing anything you can dream of on your mobile phone. CM8 wants to cater for huge groups of people by empowering them with interactive technology and letting their imaginations do the rest.
CM8 is no start-up run out of a teenager's garage – the company is already operating across 54 countries and 30 languages, having partnered with more than 160 mobile carriers.
Armed with some rather new-age digital concepts and trailblazing tech development, CM8 is marching stoutly towards commercial tech success. It's done this with its quirky products and brands, including its various Q&A brands, and Q&A app across verticals such as fashion, legal and entertainment.
CM8 is now projected to generate over $40MN per year in revenue, boasting an annual earnings of circa $5MN (excluding acquisition amortisation), quickly paying down its debt and best of all, continues to launch new products and branch further out into the global digital influencer marketplace.
Staying adrift in the slipstream of: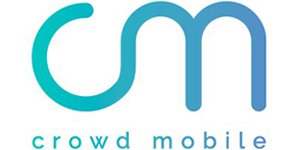 Crowd Media Holdings Ltd
ASX:CM8, FWB:CM3
Crowd Mobile (ASX:CM8 & FWB-XETRA: CM3) is still a small tech company, but with rather large global ambitions as it looks to tap into a millennial market searching for digital solutions that offer accessibility and mobility.
CM8 is offering these solutions through a world leading Q&A platform that provides professional expert advice, a content subscription service and a mobile payments division.
As mentioned above, these business streams have led the company to post strong revenue figures over the past year, with over $10 million in the last quarter alone.
Here's a look at how its business model works: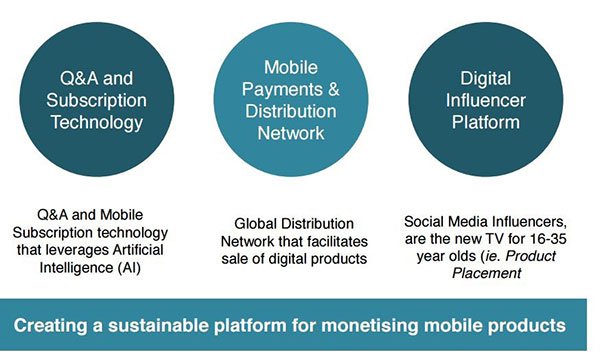 CM8's expansion into the digital influencer network is also expected to build on the company's growth:
Here is CM8 CEO Domenic Carosa explaining how CM8 has built a marketplace connecting brands with digital influencers.
Essentially success in the digital influence market comes down to I-Commerce.
If you've never heard of I-Commerce, it stands for 'Influencer commerce' and it's the notion that digital influencers are driving an increasingly larger portion of consumer spending.
In other words, very popular individuals with over 1 million subscribers to their YouTube/Instagram channel now influence the same numbers of thrifty consumers (encouraging them to buy various products over others).
CM8's recent trajectory has caught the eye of several analysts, most recently Tim Morris at Wise Owl. A recent Wise Owl report from Morris places CM8 as a Spec Buy, with a valuation of $0.29, a significant upgrade on their hold recommendation just last month, and over double CM8's current share price.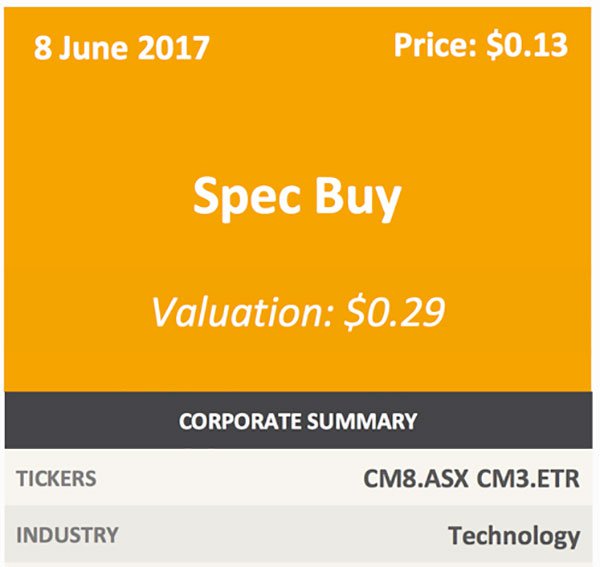 Of course, it should be noted that broker price targets are based on a number of assumptions that may not eventuate, so don't invest on the back of price targets alone.
Meanwhile, Paul Adams from DJ Carmichael said CM8 was a 'Buy' at its $0.13 share price. He has a $0.33 12-month target price on the stock — if that target was to be hit, it would translate to a share price gain of 154%: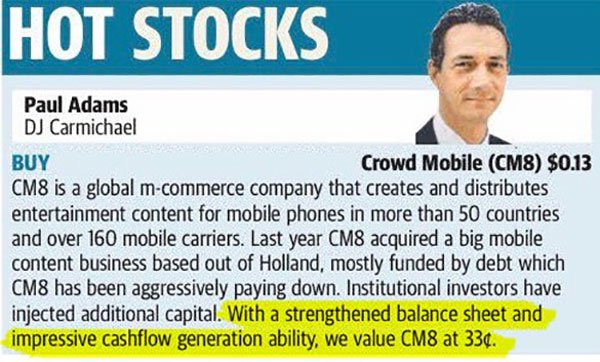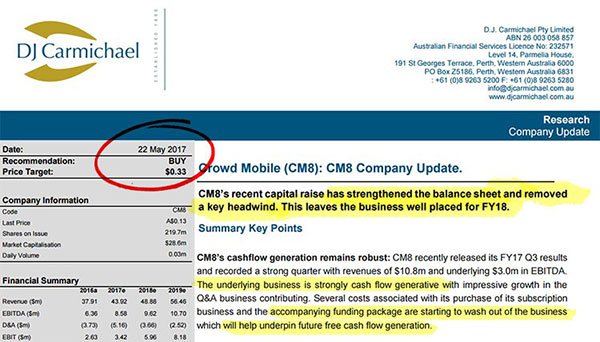 However, just like all analysts, Mr Adams doesn't have a crystal ball, and there is no guarantee his price target for CM8 will eventuate.
So with interest in CM8 building, let's have a look at just how the how its mobile focused products are capturing users' imaginations.
Enter the digital influencers
Despite being capped at around $30MN and priced at $0.14 per share, CM8 has achieved what most other companies in its peer-group have failed to achieve: off-the-bat revenue and positive EBITDA/cashflow.
This has been made possible by sturdy growth in CM8's core business and best-selling digital product to date — Question and Answer services that have captivated the imagination of its customers.
The following graph indicates just how strong consumer uptake has been: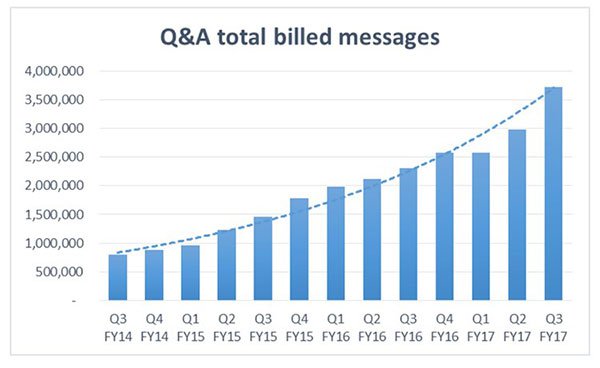 CM8 is promoting a spectrum of digital ideas, with its Question & Answer (Q&A) of its three platform offerings currently grabbing the headlines.
The great news for early CM8 investors is that its Q&A idea has been a success story – up 60% year-on-year and 25% month-on-month.

The Q&A unit fits snugly alongside other business units such as mobile content subscription services which facilitate a pipeline of follow-up customers to spend cash on apps and content, via Google Pay and all other major payments platforms.
Below is a look at one example of how CM8 is monetising its digital platforms.
In China, which is home to over 1 billion people, CM8 along with its partner, SmartTrans, has launched a pilot product targeting the country's young adults, Bobo.
The launch follows technical testing and integration and gives CM8 access to the world's largest e-commerce market set to top $1.1 trillion per year by 2020.
How much of this market CM8 is able to attract remains to be seen, so investors should seek professional financial advice if considering this stock for their portfolio.
China was seen as the next logical step on the path to global expansion for CM8's Q&A app offering.

High performance?
As many of our readers are aware, we like to look under the covers and into the nitty- gritty of any stock we consider.
So too with CM8.
Let's take an in-depth look at its actual financial performance.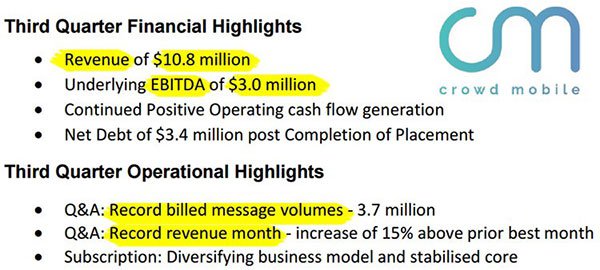 Over the past financial year, CM8 has continued to set a decent pace of growth and development , achieving $21.5MN in revenue, $3.3MN in EBITDA, and generating $1.5MN in operating cashflow – and that is just in six months .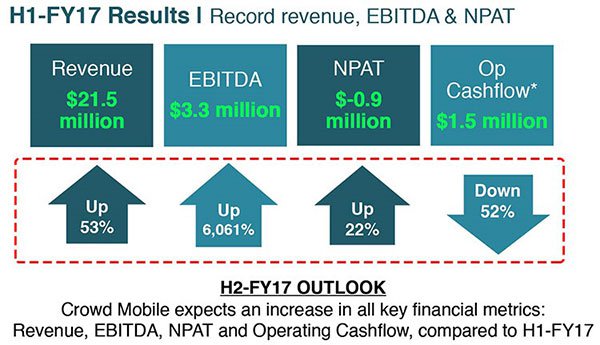 CM8's debt burden, largely due to its deal with SmartTrans is also well on its way to being completely alleviated:
De-leveraging via Debt Reduction
Crowd Mobile is paying debt off in cash and is targeting
Gross Debt of less than $1.0m (before Cash deduction) by June 2018
With its aggregated net debt standing at circa $3MN after a recent capital raising, we think CM8 will have very little trouble servicing its debts for the next year or so.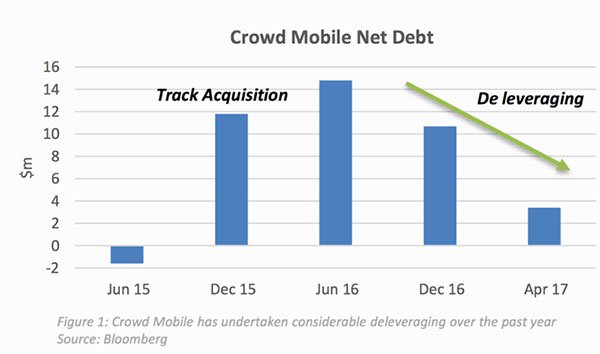 CM8 will soon be debt-free, with current debt repayment schedule forecasting February 2018 as CM8's target date, if not before.
This is significant because as soon as CM8 pays off its debts, it will mean more capital flowing back into the business; not to mention, validate CM8's core business strategy of monetising mobile brands and ideas.
We're most definitely looking forward to this moment, and the circa 118%+ EBITDA improvement since last year again reinforces CM8's overarching digital strategy and digital influencer focus.
Where is the growth coming from?
As its name suggests, CM8 is all about servicing crowds via mobile-focused technology, which in this day and age means innovative smartphone apps, micro-transactions and media celebrity/digital influencer deals that help to drive popularity.
CM8's deal with Viacom and MTV, to promote various Hollywood A-list and pop stars is yet another example of how technology can be harnessed to generate social 'buzz', steady revenues and brand-launching kudos for CM8's enablers.
Despite its size and young age, CM8 operates across 54 countries and 30 languages and has partnered with more than 160 mobile carriers.
These figures are likely to keep growing as CM8 plants its flag in more territories, wins new distribution deals, continues its brand promotion efforts and moves further into the digital influencer market.
So you want to be a Digital Influencer? Here's the lowdown...
If you happen to be a budding 'digital influencer' yourself, you may want to have a gander at this video — its CM8's CEO Dom Carosa explaining 'How to become a digital influencer and make money'.
To give you an idea of the person most compatible with becoming a digital influencer, take a look at the industry figures below compiled by Business 2 Community (B2C) — these figures are by no means authoritative, but they do nevertheless paint a vivid picture of 'what it takes' to become a digital influencer.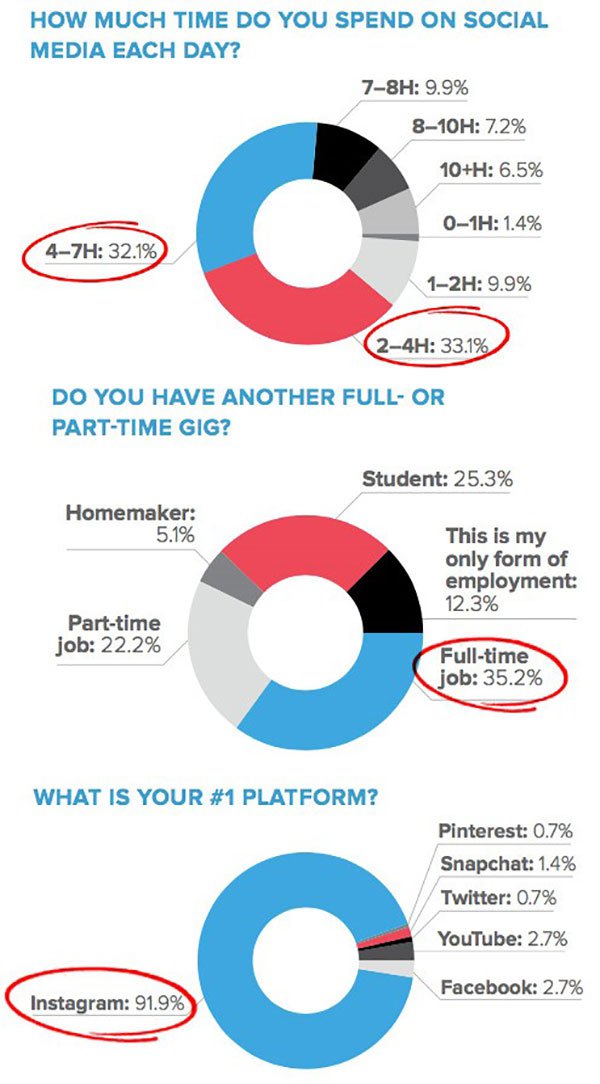 Why is this important? Because over the coming decade, the digital influencer market is in line to undergo what SEO/SEM did in the early 2000s — a gargantuan ramp-up of broad-based commercial interest, corporate funding and spotlight media attention.
'Digital-influencers' tend to drive engagement rates that are several multiples higher than those of celebrity sponsored content. There are several reasons why a makeup artist with 10,000 Instagram followers may drive better engagement for your brand than Brad Pitt.
That seemingly humble make up artist, compared to Brad Pitt:
Has more relevant and engaged audiences
Has a more intimate connection with the audience
Is more likely to engages with their audience beyond the initial post.
By the way, just to reinforce the point: the influencer with 10,000 followers isn't just 'better' because it's what you can afford.
These smaller, niche influencers can actually deliver significantly more return on a brand's investment.
Even if you could afford Brad Pitt, a brand may likely see better results by spreading the marketing dollars around several digital-influencers that command incredibly high trust from their audience.
Digital influencers are already accounting for 22% of new customers, for all sorts of online/mobile related content.
The days of organic search, SEO and email marketing are fading...
...and being replaced by more interactive (and more human) alternatives such as product-conscious teenagers and young adults.
It's these folks that are driving new brand recognition and existing brand loyalty amongst consumers. The good news for digital-content junkies and CM8 as a commercial business is that this trend is set to continue.

From a top-down perspective, CM8 is attempting to take commercial advantage of the following tectonic trend terraforming the entire digital landscape: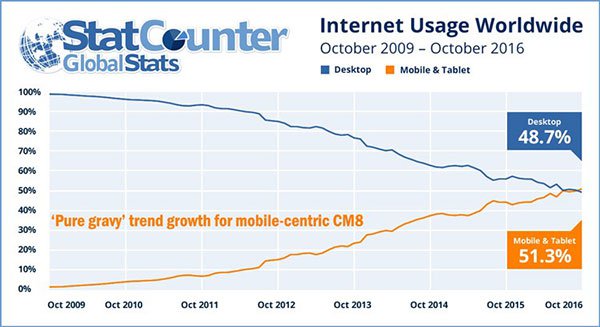 Mobile phones are the medium around which all digital content is now gravitating.
Whether it is news on-the-go, games, online shopping, online trading or keeping up with your share portfolio — it's all available via smartphone to the same (if not better) degree as it is on PCs and tablets.
This poses an incredibly lucrative mobile-centric business opportunity which CM8 is advancing into with aplomb.
New Investor on the Block
Anytime a significant investor shows interest in a company, we always check out who it is and what's the angle.
In CM8's case, Collins Street Asset Management (CSAM) has taken a significant stake in CM8. CM8 raised $5.4 million in recent Placement, thereby strengthening its balance sheet and accelerating its debt reduction.
What this also means is that CM8 is unlikely to go cap in hand to the market, anytime soon.
CSAM's previous track record could be an early indicator of CM8's future trajectory — as you can see, these investment-management crew has posted almost 30% returns over the past 15 months.
The past performance of this product is not and should not be taken as an indication of future performance. Caution should be exercised in assessing past performance. This product, like all other financial products, is subject to market forces and unpredictable events that may adversely affect future performance.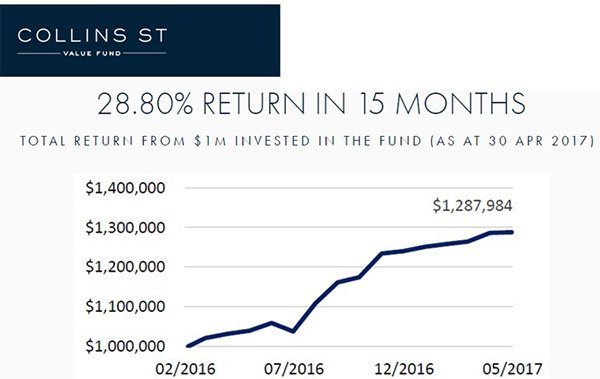 So maybe, just maybe; this is a sign of big-hitting institutional support that will take CM8 past the post of becoming fully self-sustainable and relying only on its own metrics to continue its evolution.
Participating in a new digital ecosystem
CM8 has done a great job getting its core idea listed, backed by institutional investors, and now, putting forth strong initial results including positive cashflow, EBITDA and projected $40 million in annual revenue.
CM8 does remain a speculative stock, however, and investors considering this stock for their portfolio should seek professional financial advice before making an investment decision.
The next phase of CM8's development is crucial. CM8 has just launched a digital influencer agency and platform.
CM8 is now also strongly backed by fresh insto funding aimed at advancing CM8's idea into new markets and driving client growth very effectively.
With the rank-and-file of young millennials queuing up to open Instagram accounts to share their life stories, as they plug all sorts of commercial ideas to the wider public...
...CM8 is locked, loaded and heralding success, via the power of mobiles in the hands of millennial crowds.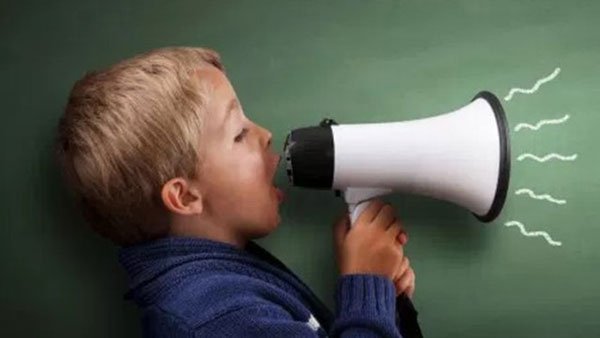 ---