Profit Turning CM8 Eyes China Mobile Market
PUBLISHED: 18-01-2017 09:36 a.m.
For tech investors, there are two prime factors that drive most digital commercialisation right about now: mobility and accessibility.
It seems that in today's Tech-driven times, companies offering outstanding mobile functionality, alongside seamless scalability, are outcompeting their peers and ruling the roost.
So imagine when a tech minnow totally obsessed with leveraging the growing usage of mobile phones AND internet access to service millions of people (and businesses) globally blipped onto our radar.
The company is Crowd Mobile (ASX:CM8) and it is actively embedding itself into the frameworks of other popular services such as YouTube, Facebook and Instagram.
That ensures it has exposure to millions of transactions conducted by people looking for digital content. Whether it be an answer to a trivia question, or obtaining a piece of downloadable content, CM8's technology allows millions of internet users – for a small fee – to quench their thirst for knowledge and digital social status.
CM8's results so far speak for themselves
CM8 has posted bumper figures over the past 12 months, recording improvements in all key financial metrics.
Revenues, cashflow and EBITDA are all growing very encouragingly, and high-profile tie-ups with the likes of Viacom and MTV are helping to raise CM8's market footprint.
Although its share price remains at around $0.10 per share, we think this could end up being the low end of its price range once market traction is achieved over the coming months.
However, it should be noted that there are no performance guarantees and any investment decision should be made with caution and professional financial advice should be sought.
Getting a handle on: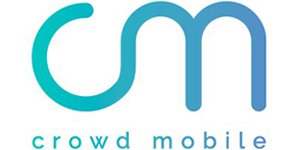 Crowd Media Holdings Ltd
ASX:CM8, FWB:CM3
The number of 'digital junkies' is growing exponentially alongside leaps forward in what technology can actually do. As mobile phones improve with each iteration, they are becoming indistinguishable from full-scale computers.
So much so, that the life of today's youngsters, otherwise known as 'millennials', is vastly different compared to the past. Mobile phones have literally uprooted and changed the dynamics of how people communicate, especially amidst the younger generations.
In the past, youngsters were more likely to interact and 'party' like this: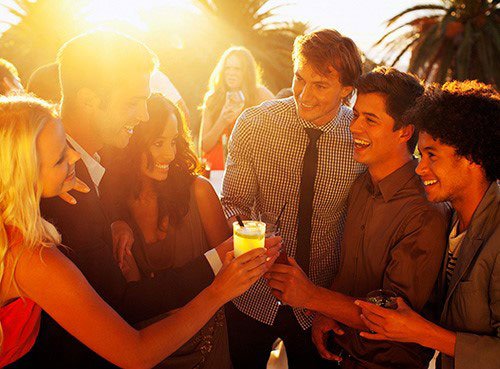 Nowadays however, things have changed into this: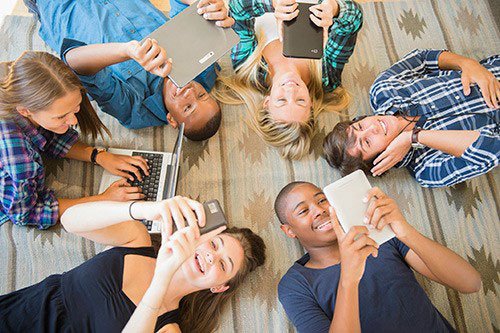 In a nutshell, millennials are leading the charge towards greater use of digital tools, and creating an immense commercial opportunity for early-bird tech firms such as Crowd Mobile (ASX:CM8).
You can see it for yourself pretty much anywhere, especially in large cities. Pubs, bars, buses, trams and trains are chock-a-block with people glued to their phones. Whether it's seeing the latest news, buying something online, reading a book, playing games or who knows what else – mobile phones are leading the charge.
They're the go-to platform for most online tasks and there's enough of them out there to reach billions of minds (and wallets).
Considering such significant tectonic changes are gradually changing consumers' behaviour...
...we think now may be a good time to back a company that's flogging premium digital content via mobiles to crowds the world over.
Diagnosing CM8
CM8 is barking up the 'mobile-is-king' tree and offering a range of mobile-centric services to drive revenues. So far, CM8's results have been encouraging; take a look at its metrics for FY2016: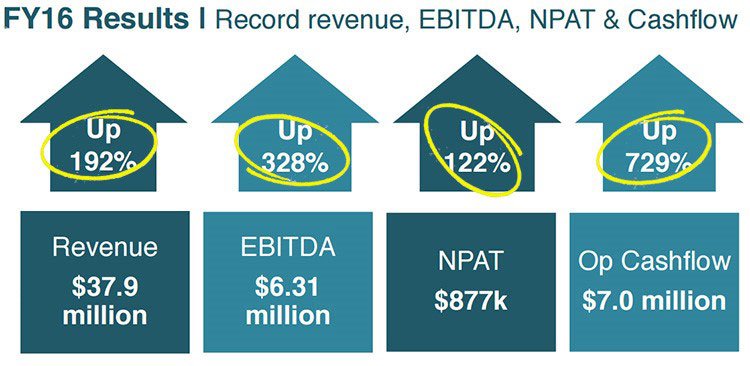 Important key metrics such as revenue (up 192%), cashflow (up 729%), EBITDA (up 328%) and profit (up 122%), have all seen triple digit percentage growth last year.
In the December quarter, CM8 achieved $10.9 million in quarterly revenue and an underlying EBITDA of $2.6 million, each higher than a year earlier.
At the quarter end, the company had net debt of $10.6 million, that's $12.5 million lower than the previous quarter. CEO, Domenic Carosa sees the balance sheet continuing to improve and by the next quarter he expects the company's net debt will be less than x1.0 the current annualised Underlying EBITDA [$2.6 million].
To achieve this target, CM8 has streamlined operations and corporate functions and is enforcing more effective cost controls.
Although CM8 remains at an early stage of its development, we think those numbers inspire confidence that CM8 could grow into a large digital powerhouse, supported by an opportunistic monetisation strategy fuelled by micro-transactions and viral marketing.
Questions and Answers
One of CM8's flagship products in terms of having unique appeal and longevity is its Q&A platform that can be plugged into other apps that it develops for itself or for third parties.
What if you could have a financial advisor, lawyer, tax practitioner, vet or doctor in your pocket at your beck and call? CM8 has made this a reality, and once again it's made possible by smartphones and micro-transactions.
Use of CM8's Q&A service grew by 40% over the past 12 months. Now the company wants to continue that growth via a number of initiatives, including white-label partners, direct customers, and partnerships with established digital giants such as Viacom and MTV.
CM8's Q&A service puts the personal touch into finding new information or expert advice.
CM8 has conjured up a series of products and commercialisation channels for people to obtain personalised advice, quickly.

Everything from financial advice to fashion is covered in its products, making it possible for users to connect to an actual expert in their field. Experts are paid a small fee for answers while users are charged a small fee for their questions.
In the Information Age, information really is the most valuable commodity.
This type of peer-to-peer customer support is a masterstroke idea because accurate information is becoming more difficult to find. As gigabytes of new content are uploaded to the internet each day, a lot of it isn't very accurate or valuable which helps to thrust CM8's boutique haute couture question-and-answer service into the commercial spotlight.
How CM8 works in practice
Firstly, CM8 promotes mobile products across a range of targeted websites and marketing agencies. As consumers opt-in via their mobile phones, they are provided with engaging downloadable content and features.
The recent launch of Geordie Toon, an app that connects fans of Geordie Shore with their celebrity idols, is a perfect example of CM8's go-to-market model.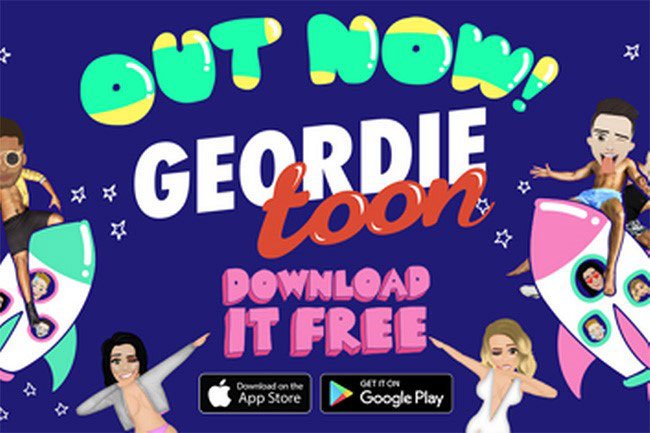 CM8 pays the marketing agency as small fee for every new subscriber and continues to receive recurring revenue from subscribers. To ensure this digital conveyor belt operates smoothly, CM8 has fostered a working relationship with over 160 telcos in over 50 countries, which will collectively help generate strong subscriber numbers for CM8. Telcos also receive a portion of consumers' spending with CM8 receiving between 15%-65% depending on the operator.
Mobile Payments
The Questions and Answers and the Mobile Content Subscription divisions are underpinned by the company's Mobile Payments (m-payment) process. The m-payment process works with the company's partners, plus Apple and Google to provide faster and more convenient payment system than using credit cards.
SmartTrans
Another market with huge potential for CM8 in its quest to find customers, is China.
China's e-commerce market could reach US$1.1 trillion by 2020, and CM8 has taken the timely step of partnering up with SmartTrans, a China-based ASX company with over 1 billion customers on its books.
It is indeterminate how much of the Chinese market CM8 will be able to attract, as such investors should consider the information in this article along with all publicly available information before making an investment decision.
CM8's collaboration with SmartTrans is designed to provide CM8 with an effective entry point into the Chinese market – a market that's sized like no other. The partnership allows CM8 to utilise SmartTrans' now established payments platform in China and help monetise CM8's range of digital products.
To ensure a smooth landing in China, CM8 has secured two capital raisings over the past 12 months, providing the company with ample funding to progress its commercial intentions in both China and the US.
Capital raisings
CM8 completed two separate equity raisings in Q3 2016.
First was a $2.4 million placement to sophisticated and professional investors, then a $0.6 million rights issue on the same terms to existing shareholders. The board showed their faith in the company by contributing $0.3million as part of the rights issue.
The funds raised are already being deployed to advance CM8's expansion strategy and could mean CM8 will soon engage additional larger media company partnerships, such as the recently announced partnership with Viacom and MTV.
Growth strategies for the coming year include:
Launch new products into existing countries by leveraging existing global m-payments platform
Grow m-payments network into Asia, Africa and Latin America as the larger the m-payments network grows, the larger the addressable market.
Targeting the 'Digital Influencer' segment of the market given the growth and white space opportunities globally.
Product launches coming in early 2017
We first wrote about CM8's 'rumble in the jungle' in our article, '$14BN Media Giant Viacom and CM8 Unite To Monetise Digital Jungle' , in October last year. In the article we went through the details of CM8's deal with Viacom and how it is likely to thrust CM8 into the next phase of its development.
Now, in early 2017, CM8 is earmarking several product launches that are likely to be announced over the coming months. Working in tandem with Viacom not only validates CM8's technology, but also creates a pipeline of projects where its technology can be implemented.
Viacom holds the reigns to many of the world's most popular multimedia entertainment brands, including MTV, Nickelodeon, Comedy Central, BET, Paramount Channel, UK's Channel 5 and Spike TV. Viacom's brands reach more than 3.4 billion subscribers in over 180 countries via 200+ TV channels and more than 550 digital media and mobile TV properties, spread across 40 languages.
If there is such a thing as a digital behemoth, Viacom is it.
The agreement with Viacom back in October 2016 was CM8's first third-party corporate deal, which effectively endorses CM8's Q&A technology. Viacom picking CM8 as a tech partner and ongoing app-developer, is a great argument that CM8 can hold its own and grow into a significantly larger tech company over the coming years.

Harnessing 'digital influencers' to boost commercial performance
To propel its novel content tool, CM8 is turning to digital influencers rather than advertising agencies. To avoid paying for expensive ads and online marketing, CM8 uses viral techniques that harness product placement, emotional attachment and technological empowerment.
In other words, CM8 is tapping celebrities and their social media presence to get its products into the limelight.
Digital influencers are creating an entirely new market in their own right. 'Influencer marketing' now worth around $5-$10 billion annually. Check out the growth of celeb-powered advertising over the last 10 years.

A tepid growth rate from 2004-2014 is now sizzling into life with interest in celebrities (and their gravitational sales abilities) rising at breakneck pace.
The rise of shows such as X-Factor, I'm a Celebrity, and Got Talent reflect growing interest in celebrities and pop culture. The popularity of traditional TV content is waning with viewership rates dropping 35% since 2011.
In place of TV, younger demographics are spending increasingly more time online — especially in front of their mobile phones. And as mobile phones become increasingly prevalent, hoards of people are quite happy to spend a small amount to access digital content.
As reported in KPCB's mid-year Internet Trend report, time spent on mobile media is growing year on year with users spending up to 4 hours per day on average on their mobile phones. Global Mobile ad spending was worth $101 billion last year, and worth $40 billion in the US alone.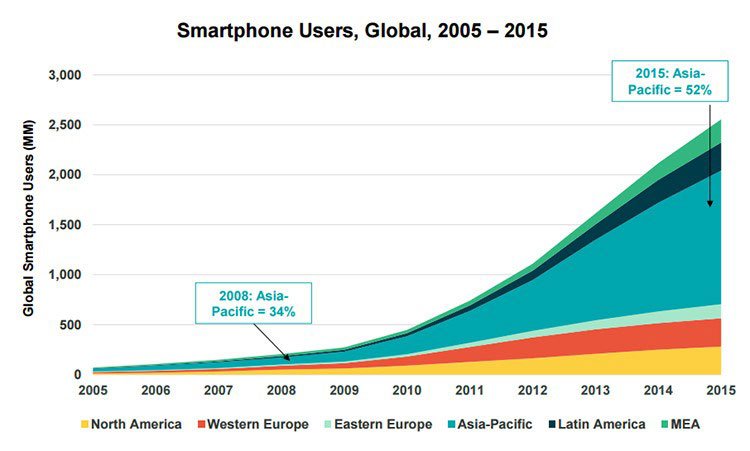 Influencer marketing has been effective for dozens of brands quite possibly because consumers have been desensitised to traditional advertising and promotions. When celebrities are showing off various goods and services directly, consumers tend to be more attentive and responsive.
Influencer marketing first began with simple bloggers and blog advertising, but has now spread into other influencer channels including Snapchat, Instagram and YouTube. Active audiences of online social platforms are growing rapidly and outpacing traditional forms of content delivery. This in turn is attracting a proportional amount of ad dollars seeking to capitalise on the untapped reach and exposure of these marketing channels.
CM8 is taking an early step into the future of e-commerce
The way people are receiving content, as well as how they're paying for it, is changing.
Long gone are the days of concerted TV viewing and content being distributed through physical media such as books, tapes or discs. The online revolution (backed by technology) has enabled more content to be shared amongst more people, and with more time to spare.
This is especially the case for younger millennials who are going 'online-only' for their content at an unprecedented pace. We've all heard of the 'cord-cutter' generation, whereby users are abandoning traditional forms of content delivery such as TV and radio. But now comes an even more startling phenomenon: 'cord-nevers'. These users have never owned a TV and source their content exclusively online.
Furthermore, the way online content is being promoted and advertised is also changing. Standard online ads are suffering from slowing conversion rates. That's due to the rise of ad-blockers and people doing what TV viewers have always done: going for a snack when the ads come on.
What this means, is that if brands want to generate healthy revenues from the content they put out, they must embrace more dynamic forms of content and a more dynamic form of charging people for it.
Here at The Next Tech Stock , we think CM8 is doing just that by serving up a novel Q&A product that connects celebrities with their droves of fans, in a simple and empowering way. Considering the continued growth of celebrity-worship in almost all age groups, CM8 has created a digital altar from which fans can worship their heroes (and vice-versa) on a pay-as-you-go basis.
However, CM8 is still an early stage play and investors should continue to apply caution to any investment decision made with regard to this stock and seek professional financial advice.
It would seem that since the birth of social media, millions of people have developed an interest in keeping track of their favourite celebrity...
...meanwhile many social-media contributors have in parallel become instant online celebrities. Blogs are now one of the top three most influential forms of marketing and some YouTube channels can often attract more viewers than some national TV stations.
What people are interested in hasn't changed all that much, but how they are getting to it has changed completely. As the amount of online content keeps growing at increasingly higher multiples, its quality is being eroded.
Turning to Google for all your technical questions is one thing, but turning to a real human being with celebrity-status opens the door for a more emotional and engaging user experience.
And the best news is, CM8 has found a great way of monetising it.
---