Best of luck 88E ASX investors - the next few days are about to get interesting...
A 645 million barrel oil target is just a few days from being pierced with the drill bit.
88 Energy (ASX:88E)'s Alaskan oil well has already been drilled to 1,500 ft depth.
Now, a production hole is travelling down to the planned total depth of 6,000 ft.
Three stacked targets, each comprising hundreds of millions of barrels, are going to be drill tested this week.
It sounds like the current drilling contractor is interested in the result too given they have just agreed to take their $6.48M fee in 88E stock at the currently higher price of 1.8c...
We expect to get early indications of a result in around 3 to 5 days.
We have been waiting nine months for this moment, and now it's finally almost here - and price movements might get amplified now that USA based Reddit traders have taken an interest too...
Oil drill results like this are high risk and high reward - remember to only invest what you are comfortable to lose, as a bad result could see the share price plummet.
However, a successful result could see its market cap surge up many times from its current valuation.
What could drive the share price even further on success is the recent interest in 88E from USA based Reddit groups r/pennystocks, r/EEENF and r/WallstreetbetsELITE (US counterparts to the Australian forum r/ASX_Bets) ...
US investors have been trading 88 Energy shares in the US OTC market under the ticker OTC:EEENF - and it has had huge volumes lately, which has translated into the heavy buying seen on the ASX.
A search on Reddit for 88 Energy shows a massive surge of interest in the company, which we think has generated a lot more liquidity in the stock: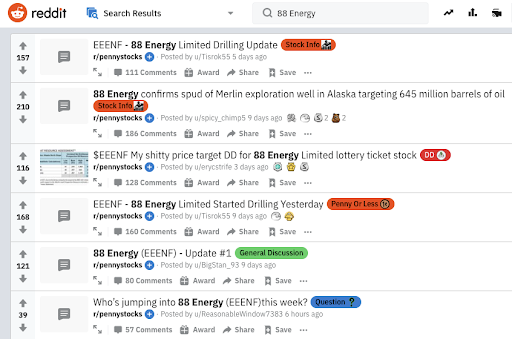 After Gamestop, we have seen what Wall St Bets and other retail investing armies can do to stocks...
88E was up on Friday night in the UK and the US, and that means the ASX is likely to follow the lead today.
88E's large prize - on trend to ConocoPhilip's 750 million barrel Willow oil field
88E is drilling into 645 million barrels of gross mean prospective resource over the coming days and weeks.
There are 3 separate stacked reservoir targets to drill through.
The deepest target sits on the same shelf break as ConocoPhilips's recent Harpoon discovery.
The shallowest target is sitting on a shelf break which has been proven as a hydrocarbon bearing and commercial petroleum system - the 750 million barrel Willow oil field...

Operations are running smoothly. The Merlin-1 surface hole has been successfully drilled to 1,512 ft. Surface casing has been cemented, and a blow out preventer system tested.
So far, so good...
... but it's the next few days that are going to be crucial...
88E is about to hit the primary Naushuk oil targets next - what we have all been waiting for.
Logging while drilling and mud logging will provide early indications as to the prospectivity of the well, which is expected to take 3 to 5 days.
After that, over another 5 to 7 days, wireline logging will be run, including sidewalls and downhole sampling.
If 88E is getting encouraging results from the wireline logging, then the well will be completed with casing and a flow test will be conducted.
Our Plan for our 88E investment
We have been investing in 88E for many years, since before we introduced our portfolio model in 2019 and we have had a lot of ups and downs with the investment.
We invested again in July 2020 and then doubled our holdings in Sept 2020 in placement and shared our investment plan for this drilling event in December 2020.
88E's drilling operator has just chosen to get paid in 88E shares - instead of cash.
In what is a major endorsement of 88E's project, the company's major drilling / operations contractor preferred to be paid its $6.48M fee in 88E shares rather than cash.
88E struck a deal to pay the operator $6.48M in 88E shares at $0.018/share.
That is a 225% premium to the placement 88E undertook a few weeks ago.
This relieves a large cash burden for 88E, and allow's 88E to cover the recent cost overruns announced on 11th March.
We like it when service providers get paid in shares, as it means they are more aligned with company shareholders like us.
The local Alaskan oil contractor is obviously impressed with how 88E goes about things, and is prepared to back them. Obviously we don't know how many shares might be sold by the contractor this week, however we would hope they will be keeping a few in the back pocket to get some leverage to what could be a massive oil discovery...
We are going to keep an eye on the UK and US markets in the evenings this week, as it will give us a good read through as to how the ASX will trade the following day.
It's crunch time for 88E - we are holding now into target depth.
Good luck to all 88E investors, we hope this is the well that delivers!
---