AC drilling followed by Strong EM Conductors Under Massive Sulphides - Next Stop RC Drilling
Disclosure: The authors of this article and owners of Next Investors, S3 Consortium Pty Ltd, and associated entities, own 1,935,000 GAL shares at the time of writing this article. S3 Consortium Pty Ltd has been engaged by GAL to share our commentary on the progress of our investment in GAL over time.
Early stage metals exploration company Galileo Mining (ASX:GAL) has just found two strong EM conductors directly beneath recent successful air core drilling.
It's now getting ready to RC drill them to see if it can make a discovery.
Back in November 2021, GAL unexpectedly hit shallow massive sulphides that its air core (AC) drill bit could not penetrate at its Norseman Project.
Given AC drill bits are not made for going through hard rock, the drilling could not go any deeper.
This was positive news, and GAL decided to immediately run some EM surveys directly beneath and around this area to try to understand what this hard rock could be.
The results of this EM surveying has come through today, and shown that GAL has found two highly conductive EM targets of interest.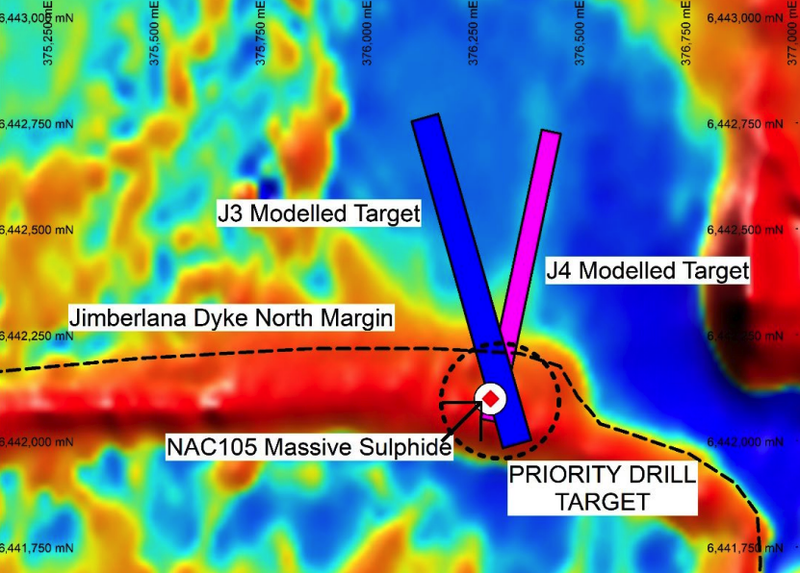 We are now looking forward to GAL using an RC drilling rig into the EM target of interest - the RC drill rig will go deeper and pass through harder rock.
Last November GAL hit massive sulphides only 52m below the surface - you can read our complete take on the result and what it means in our November 2021 GAL note.
This was completely unexpected given GAL was doing low power, AC drilling which is often seen as the precursor for higher-powered, deeper, and more targeted RC or diamond drilling.
AC drilling involves lots of shallow "peppered" drilling of the ground, whereas RC drilling is designed for deeper drilling into hard rock.
With the AC rig not being powerful enough to go deeper, GAL had to pull the rig out of that particular hole, but made getting the sample assayed its number one priority.
That particular assay ended up returning a ~1m long intercept with grades of 0.24% nickel, 0.35% copper, 0.04% cobalt, and 0.25 g/t palladium.
We think these are early encouraging sniffs of mineralization, and given the drill bit couldn't go any deeper so that 1m long strike could get bigger.
From this, we wanted to see follow-up EM surveys and RC drilling to get a clearer picture of the kind of mineralisation in the rock, the grade, and how deep it extends.
In our previous note, we did a deep dive on what clipping massive sulphide mineralisation could mean for GAL and how it could potentially be the key to a large-scale Nickel-PGE discovery at GAL's Norseman project.
Today's announcement has confirmed that there is not one strong conductor but TWO.
We are now watching with heightened interest to see what will come from these targets - the upside on a massive sulphide discovery is large and is what we are invested in GAL for. At the same time, the chance of success is low so this is a risky investment.
In a recent publication, management consultants McKinsey put together a list of the "materials critical for transition to a low-carbon economy", along with a list of where the demand drivers come from.
We like this chart as it gives us a good idea of what kind of commodities we should be investing in at a glance.
Below we've highlighted the raw materials that GAL gives us exposure to: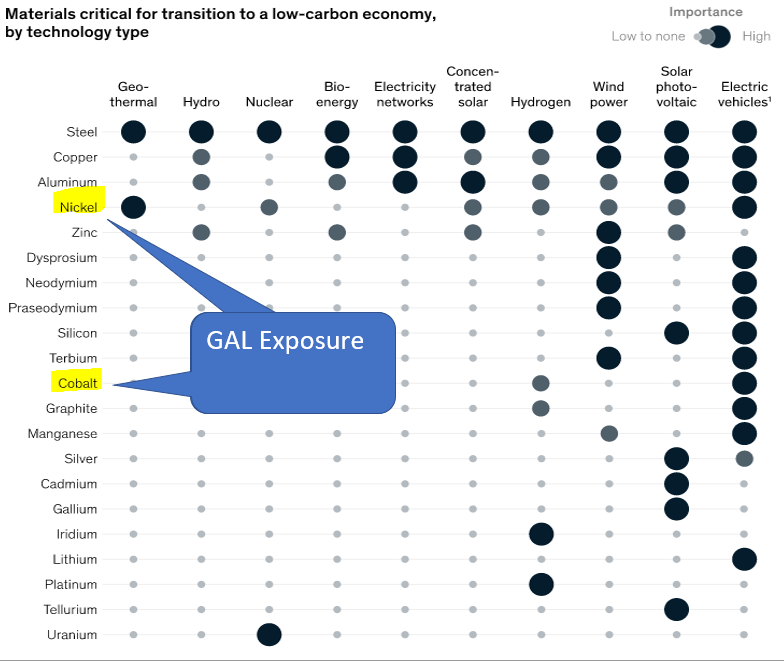 For a quick high-level summary of why we continue to hold GAL, our key objectives for 2022 and a list of the key risks to our investment thesis, see our 2022 investment memo for GAL or click the image below:
In our 2022 Investment Memo, we set four 'key objectives' for GAL against which we will track the company's progress over the year ahead.
The third key objective was for GAL to identify and eventually drill the highest priority targets at GAL's Norseman project.
Today's announcement brings GAL a step closer to drilling its Norseman project (Objective #3 in our investment memo).
With the first piece of the puzzle now resolved and the EM surveys placing the crosshairs directly on the two new high priority target zones, GAL has one key item left to do with its main project.
Namely, get on the ground and drill straight into these two conductors, which it plans to do so as soon as permitting is all sorted.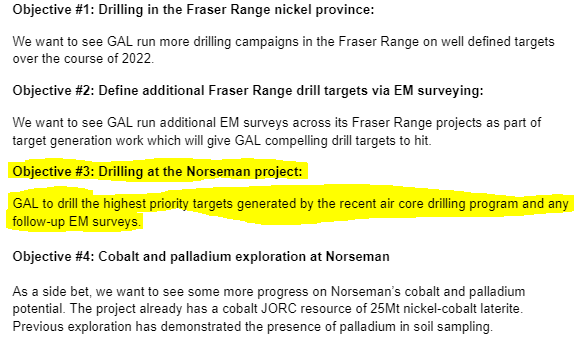 Read our 2022 GAL investment memo here.
More on the two new EM targets
GAL's EM survey was designed solely to target the areas immediately beneath and surrounding where the AC drilling intercept was made.
The ultimate aim for the program would be to see if what was intercepted could be part of an EM conductor in that area.
Today's announcement showed that the massive sulphide intercept sat right in the middle of where two large and highly conductive EM targets meet.
As seen in the image below, this is where the J3 modelled target meets with the J4 modelled target.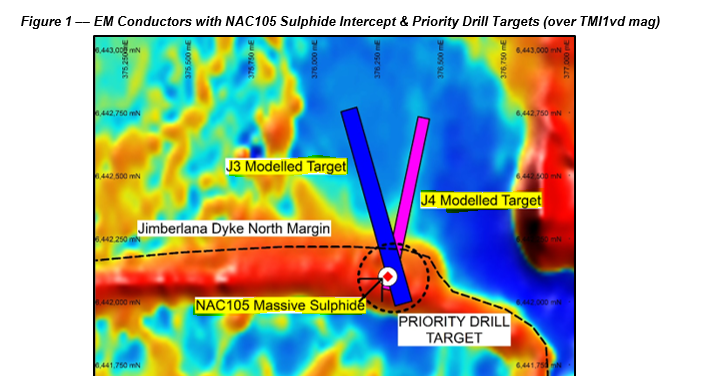 These highly conductive EM targets can mean several different things, ranging from nickel-copper-cobalt-palladium mineralisation to non-economic sulphides; sometimes they also represent graphite.
In GAL's case, the AC drill rig that accidentally intercepted massive sulphides (NAC105 in the image above) gave us a sneak peek of what to expect from these EM targets.
With an assay result of 1m at 0.24% nickel, 0.35% copper, 0.04% cobalt, and 0.25 g/t palladium we know that there is mineralisation there, it is more about seeing if the grades increase as you drill along the EM targets.
Of course, there is always the risk that the AC rig was just lucky and the rest of the EM target is non-economic or not of interest, but all of the data available to date seems to suggest otherwise... so success is no guarantee but we do like GAL's chances of making some kind of discovery here.
Adding to GAL's probability of making a discovery is the fact that the EM conductors start from ~70m below the surface level and are being modelled to be ~800m long.
This compares to the massive sulphide intercept made in this area, where the AC drill rig only managed to reach a depth of ~52m before the massive sulphides stopped it in its tracks.
The AC rig was about to drill into these EM targets but just couldn't get through.
As it is with any exploration company drilling is the best way to know what is under the ground, so GAL will need to get a heavier drill rig and stick it right into both the J3 and J4 EM targets.
What about the second target area?
Although the EM survey was predominantly targeting areas around that air core intercept, GAL still managed to identify a second set of EM conductors of interest, labelled "J1 Modelled Target" and "J2 Modelled Target" in the image below.

The significance of this second target is that it is actually accompanied by a magnetic anomaly and seems to be starting from depths of only 20-40m below the surface and a strike length of ~400m, so an easy target for GAL to hit.
This second high-priority drill target adds an element of scale to the target area. The two targets are only ~500-600m away from each other so any major discovery at either target zone improves the commercial viability of the other.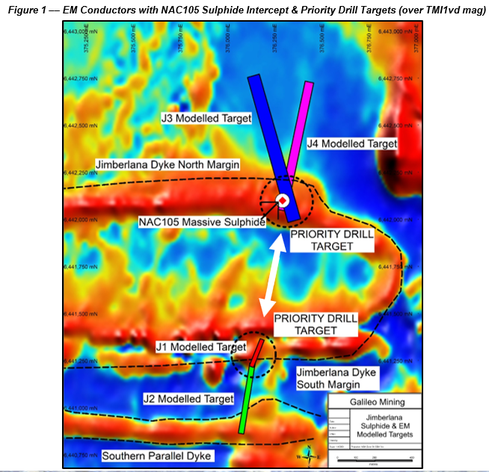 The final key takeaway from today's announcement was around the location of these EM targets - both of the conductors sit right on the margin on the "Jimberlana Dyke North/South margins".
Brad's following comment from the announcement really brings home the significance of these.
"The location of the sulphide on the margin of a large ultramafic dyke is an excellent setting for the development of mineralisation and the EM models provide substantial weight to the target."
Putting everything together, the key takeaways for us from today's announcement to us are as follows:
GAL said they would use EM surveys to identify high-priority drill targets, they went and identified two. ✅
The first set of targets come together right on top of where GAL intercepted massive sulphides last year. Importantly the sulphides returned nickel-copper-cobalt-PGE mineralisation. ✅
GAL also identified a second high-priority target zone which is accompanied by a magnetic anomaly - Increasing the chances of a large-scale discovery. ✅
Last but not least, both are located on the margin of a "dyke", we are not geologists but in our long history of investing in these exploration companies, things always tend to happen on these margins. ✅
What's next at GAL's Norseman project?
Having completed the ~8,700m in AC drilling at the back end of last year we will be waiting to see what the assays are showing - hopefully these land in the coming weeks.
In the image below we can see where a lot of this air core drilling was done (circled in black).
We will be particularly interested in the areas around JD1 and JD2. The assays in and around this zone should give us a better understanding of what GAL has on their hands.
AC drilling is effectively the first stage of testing what is underneath the surface after geophysical and geochemical surveys are done.
We don't expect exploration companies to announce a discovery after AC drill results, but they almost always give a great indication of what we might expect.
The intercepting of that massive sulphide is the perfect example of this, no discovery announced yet but the AC drilling is paying off and has shown GAL where they should target with heavier RC rigs.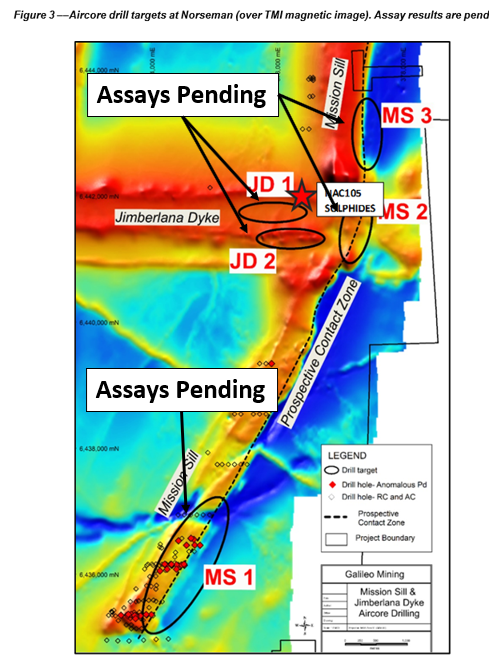 Fraser Range diamond drilling results coming soon
Late last year GAL completed a two hole diamond drilling program at its Delta Blues prospects at its Fraser Range project.
The two hole diamond drilling program was largely designed to follow up previous RC intercepts which hit gold / copper mineralisation with results ranging from ~4m at 0.29g/t gold + 0.29% copper to 5m at 0.1g/t gold + 0.25% copper.
During the last round of RC drilling, GAL clipped the top of an EM conductor and confirmed the presence of sulphides, after running downhole EM surveys (which confirmed a strong conductor further down, GAL set this as the primary target).
So GAL knew there was something there, the diamond drilling was needed to confirm whether or not there was economic mineralisation at depth.
In mid December last year that drilling program had been completed and GAL confirmed that they had intersected more sulphide.
There was however no visible indications of whether or not it was gold-copper mineralisation or if it was just an un-economic sulphide intercept.
(Below is an image of that sulphide intercept from ~399m downhole).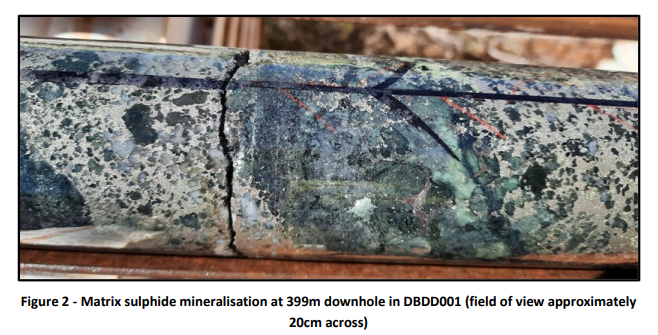 With assays pending, GAL will likely get some down hole EM surveying done before combining that with the assay results to design another round of drilling in this part of the Fraser Range project.
We don't expect any major discovery to come from the Delta Blues target as it is more so focussed on gold-copper mineralisation but as with all exploration companies, you just never know what you have until you drill it.
We have always re-iterated that we are invested in GAL because we want to see it go off and make a large-scale nickel discovery.
The Fraser Range projects have always been our favourite GAL assets and we still think they hold the potential for the biggest discovery.
What's next for GAL's Fraser Range project?
With the core samples from the diamond drilling program sent off to the labs in mid December we expect to start seeing some of the assays before the end of this quarter.
GAL are still likely to go and do some down hole EM surveying whilst waiting for the assay results to come back but we expect to receive the results from this after the assays.
We are still more interested in all of the target generation works that are happening right now, preparing for the next round of nickel focussed drilling in the Fraser Range.
We hope to see GAL put out an update with respect to all of this in the near future.
In the meantime, here is a picture of the drill-hole we are waiting on assays from:
GAL 2022 Investment Memo
We've been rolling out Investment Memos across our portfolio to better track our portfolio companies.
An "Investment Memo" is a short, high-level summary of why we continue to hold GAL and what we expect the company to deliver in 2022.
We'll be using these Investment Memos as a way to assess the company's progress over 2022 and also examine how our investment thesis plays out throughout the year.
In our GAL Investment Memo you'll find:
Key objectives for GAL in 2022
Why do we continue to hold GAL
The key risks our investment thesis
Our investment plan.
Click the button below to read the GAL Investment Memo:
Disclosure: The authors of this article and owners of Next Investors, S3 Consortium Pty Ltd, and associated entities, own 1,935,000 GAL shares at the time of writing this article. S3 Consortium Pty Ltd has been engaged by GAL to share our commentary on the progress of our investment in GAL over time.
---