88E to drill Hickory-1 within a month. Here's why its 88E's lowest risk well from a technical perspective
Disclosure: S3 Consortium Pty Ltd (the Company) and Associated Entities own 32,835,000 88E shares at the time of publishing this article. The Company has been engaged by 88E to share our commentary on the progress of our Investment in 88E over time.
Will 7 be the lucky number for 88E?
Our oil exploration Investment 88 Energy (ASX:88E) is now fully funded and permitted to drill its upcoming appraisal well on the North Slope of Alaska.
88E's Hickory-1 well is set to be spudded in early March - just a few weeks away now.
The well is designed to drill through six stacked targets, which combine to form a 647 million barrel prospective mean unrisked resource (net to 88E).
This well is what is called an "appraisal well" - meaning the drill program will target an already discovered hydrocarbon accumulation to get a better understanding of its extent and size.
88E will be looking to identify and prove working reservoir units are present - if successful, 88E plans to flow test the well towards the end of 2023/early 2024.
This is the seventh well 88E has drilled on the North Slope, and from a technical standpoint, it is the lowest risk.
This is because a significant amount of work and millions of dollars of past exploration has gone into selecting the drill location.
88E has already drilled two wells on this acreage, and it hit oil shows in this upcoming well's primary targets.
88E is armed with 2D & 3D seismic data - when in the past it hadn't had this data going into drilling events.
88E's $774M capped next door neighbour to the north has drilled four wells over the last four years - with the wells confirming the presence of oil and producing flow rates - and it's now moving closer to 88E's well location with its fifth well.
With all that in mind, each of 88E's targets' geological chance of success ranges from 50% to 81% across its targets.
At the same time, geological chance of success doesn't mean investment success or operation chance of success - there's a myriad of factors that could cause things to go wrong when drilling.
During and after drilling, we will be looking for 88E to hopefully release data on any or all of:
Fluorescence observed - this is an indicator of oil presence.
Oil odour observed in samples.
Mud gas readings - hopefully elevated.
Net pay/gross pay numbers - an indicator of the size of the reservoirs.
and most importantly, a commitment from 88E to case and suspend the well so it can return to it for flow testing at a later date.
The position 88E finds itself in now is that investors who want exposure to the big drilling event are only able to buy into 88E by purchasing shares on market.
We are hoping as the drilling date gets closer this means more investors look to buy and the company's share price starts to creep higher, as we have seen every year with 88E drilling events.
With drilling now only weeks away the key dates to watch out for are as follows:
14 February - ~1.8 billion new 88E shares from the recent $17.5M placement at 0.95c will be allotted and trading around this date. The 88E share price is currently trading above the placement price, and we expect there could be some selling pressure after the new shares are issued. This would be driven by placement investors looking to de-risk their 88E exposure ahead of drilling. If there is not enough on market buying to absorb and counter the selling, the share price could trade sideways or trend down toward the .95c placement price. A lot of this will also be driven by market sentiment and material newsflow from 88E.
Mid-February - At the same time as placement shares are issued - which could be a counter to the selling pressure mentioned above - 88E expects to mobilise its drill rig to the drilling location.
Early March: Spudding of the Hickory-1 well. This is the current estimate — over the coming month we expect to see a lot of newsflow as 88E approaches spudding.
Alaska's North Slope has delivered two of the largest conventional onshore oil discoveries in the USA in recent years, including the Willow discovery (owned by $195BN ConocoPhillips) and the Pikka discovery (owned by $23BN Santos).
88E's well is less than 100km south of Prudhoe Bay, the biggest oil field discovery in USA history, and is immediately adjacent to $774M capped neighbour Pantheon Resources.
So with a large acreage position across the North Slope, 88E is in an excellent position to define an oil discovery.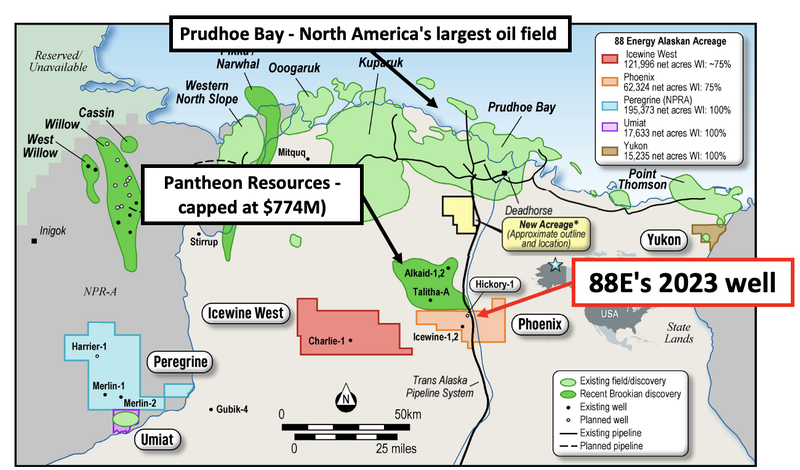 As we mentioned above, leading up to this well, 88E has significantly de-risked drilling from a technical standpoint by:
Analysing previous wells drilled on the same project - 88E's Icewine-1 well returned oil shows across four of the six stacked targets that 88E will be targeting. 88E used its well logs from the Icewine-1 well to refine the drill location for Hickory-1.
Analysing data from 88E neighbour Pantheon Resources' wells drilling next door - Analysed the data from the recent drilling and flow tests carried out on the acreage held by Pantheon Resources immediately adjacent 88E's ground.
Updated 2D/3D Seismic data acquired - 88E acquired and analysed modern 3D and 2D seismic data to refine the sweet spot for its drill location.
We also note that Pantheon's next proposed well, Talitha-B, is closer to 88E's ground than any of its past wells - less than 6 miles away.
Given Pantheon's extensive well and seismic data in the area, this further builds confidence in the selected location of 88E's Hickory-1 well.
All of this work leading up to the drilling of Hickory-1 has significantly increased the geological "Chance Of Success" (COS) for the well, compared to other wells 88E previously drilled.
The "chance of success" is a measure used in oil and gas exploration where the primary risks going into a well are considered and scored based on how well they are addressed/ how big of a risk they may still present.
The image below shows a Chance Of Success across 88E's primary target of 81%, 50% across its secondary targets, and then 72% across the final Kuparuk target.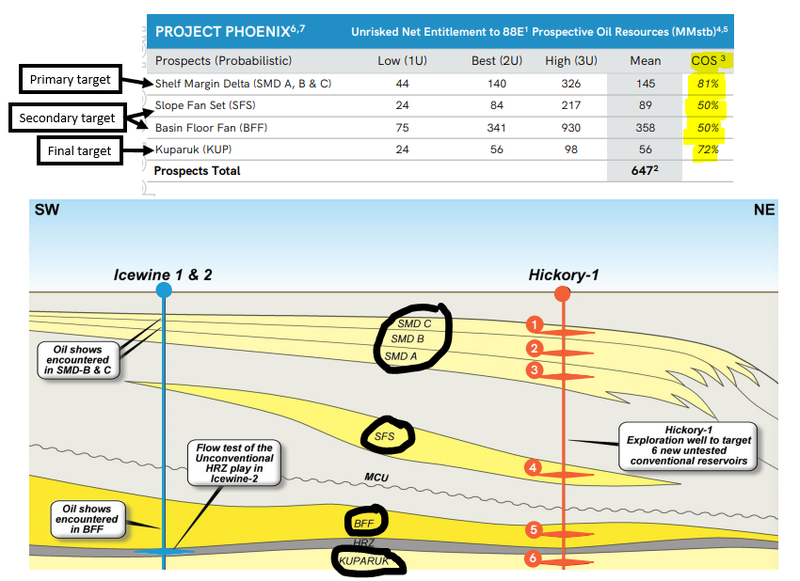 We must stress that this is not an exact science, rather a broad guide.
At a high level the more risks addressed, the higher the chance of geological success and vice versa.
This is also not exactly a % chance of success in a particular drilling event - operational issues and risks are not taken into consideration (these can be all too common in oil exploration drilling - 88E and IVZ investors will know all about these).
Basically anything can happen in drilling, the rewards can be large - but we won't know for sure until the results start coming in.
An enormous basin play?
With its Hickory-1 well, 88E will be looking to test a theory held by 88E's neighbour Pantheon Resources of the potential for "unlocking an enormous basin play".
The theory of a basin wide play came to Pantheon after it spent millions of dollars drilling multiple successful wells over the last few years.
The results took Pantheon's market cap from $60M to a peak of just under $2BN - now Pantheon is capped at $774M.
Unsurprising to us, Pantheon has already started preparing for its next well in the basin, the Talitha-B well - which is its closest yet to 88E's ground.
As we mentioned above. the planned drilling location is less than six miles (<10km) from 88E's Hickory-1 well.
We take this as indication that 88E is drilling in the right spot.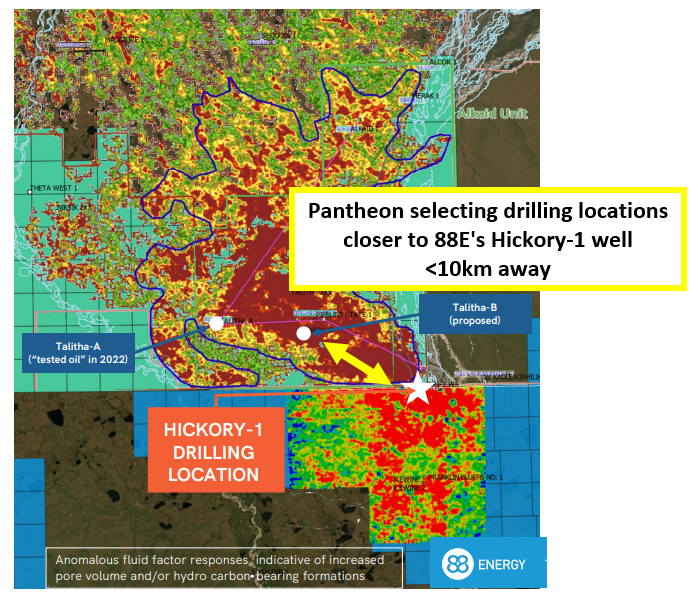 Whilst it is speculative, we are hoping that over time 88E can declare a discovery on its acreage and then insert itself into the conversation around the "enormous basin play".
Any sign of success could make 88E a target of any oil industry major looking for exposure to the basin play OR Pantheon itself who might look to consolidate the project area.
This brings us to our Big Bet for 88E which is:
Our 88E Big Bet
"88E makes a large oil discovery that is acquired by a major for over A$1BN"
NOTE: our "Big Bet" is what we HOPE the ultimate success scenario looks like for this particular Investment over the long term (3+ years). There is a lot of work to be done, many risks involved - just some of which we list in our 88E Investment Memo. Success will require a significant amount of luck. There is no guarantee that our Big Bet will ever come true.
To monitor 88E's progress since we first Invested and how the company is performing relative to our "Big Bet", we maintain the following 88E Progress Tracker:
See our 88E Progress Tracker here: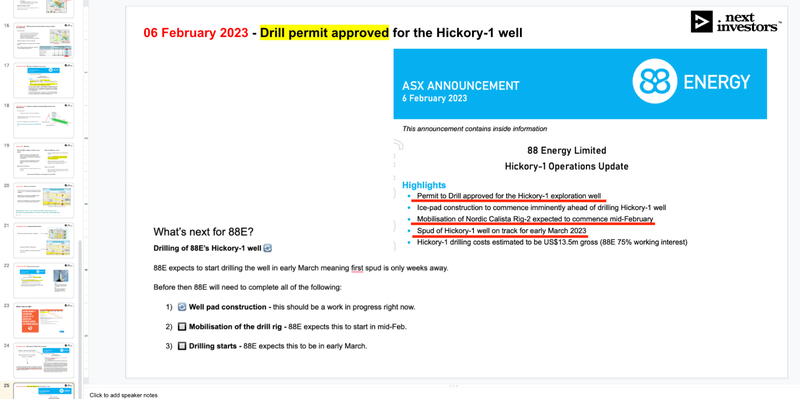 Our Investment strategy
It's been just under two years since 88E first started planning the Hickory-1 well.
In early 2021, 88E's neighbour Pantheon drilled the Talitha-#A well and flow tested it later that year, producing ~73 barrels of light oils over a three day test period.
Off the back of this, 88E began reviewing the potential for the reservoirs Pantheon hit that extend into its ground.
While 88E worked on this throughout 2021 and 2022, the market only turned its attention to the well in mid 2022.
Long time readers will know of our tried and tested approach to Investing in large oil and gas exploration events.
We like to Invest in oil and gas explorers when the market is either not interested in the company or when the company is still very far off from a big drilling event.
Back in June 2022, around the share price lows for 88E, we noted that the market had sold down 88E after a failed exploration program and that market interest in the company had subsided due to a combination of funding requirements and a drilling event being too far away.
We said that we thought 88E sat perfectly in "that quiet period", where the next major catalyst wasn't clear and the company was still fine tuning its future exploration programs.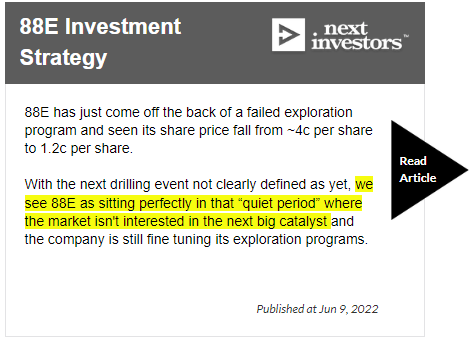 We also said that we would look to take advantage of the "quiet period" and start increasing our exposure to 88E ahead of its next drill program.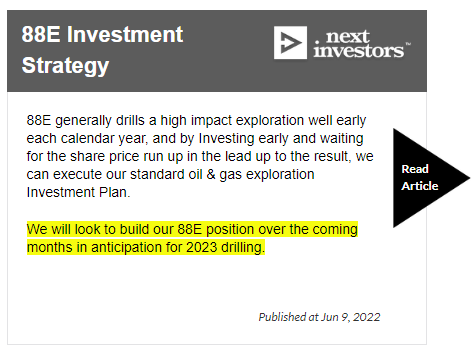 Since June 2022, we have been doing just this, first increasing our Investment in 88E's $14.9M capital raise at 0.9c per share in August 2022.
We Invested again earlier this week when the company raised another $17.5M at 0.95¢ per share in order to fully fund the well.
At various points, 88E was trading lower than these prices.
Now with the drill program only weeks away, we have been able to increase our shareholding in 88E to the point where if the company makes a successful discovery the returns could be large enough to impact our overall Portfolio returns in a meaningful way.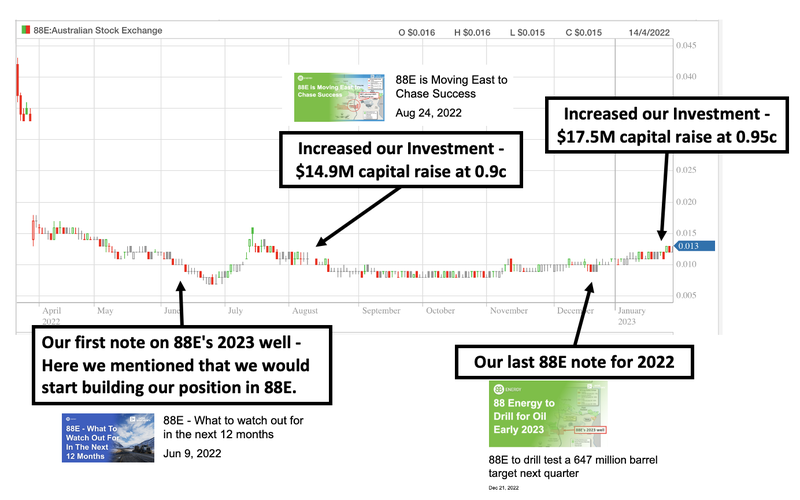 In previous years we have seen 88E's share price increase as anticipation of a successful drill program builds.
For some context, back in early 2021 when the market was extremely bullish for small cap stocks, 88E drilled Merlin-1, which saw its share price run up over 1,000% pre-result.
It's unlikely that the market response to 88E drilling in March 2023 will be like that of 2021 due to the macro environment of higher interest rates and less incentives for higher risk investments.
However, we are hoping that the Hickory-1 drill can spark some interest again from the broader market, given the size of the prize of a successful new oil discovery.
This interest has been generated on every drilling event 88E has done, irrespective of the price of oil and other macro factors - so that gives us confidence that it's likely to occur again.
Depending on the share price movements leading up to the spudding & then results from Hickory-1 (as part of our Investment Strategy), we may look to de-risk some of our position.
Typical of our approach to Oil and Gas exploration Investing, we like to build our position well in advance of drilling, wait for the share price to run up closer to the spud date, de-risk some of our position and then hold the remainder into what we hope is a successful drill program.
The road to drilling Hickory-1
88E first started planning the Hickory-1 well in 2021.
Here is what 88E has done leading up to the drilling of Hickory-1:
1.✅ Announced an independent prospective resource - August 2022
88E will be targeting a 647 million barrel unrisked prospective resource (net to 88E).

2. ✅ First capital raise after the last well - August 2022 - 88E raised $14.9M at 0.9c per share. We increased our Investment at this capital raise.
3. ✅ Acquired 3D seismic data - September 2022
An independent review of the 3D seismic data acquired by 88E indicated that the reservoir units that Pantheon is currently flow testing extend into 88E's ground.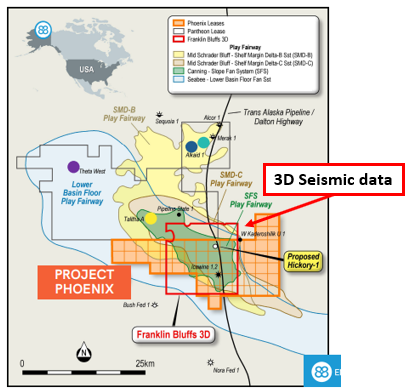 4. ✅ Drilling location finalised - Q4 of 2022
88E used the 3D seismic data on hand to define the "sweet spots" inside its acreage. The Hickory-1 well is designed to test six different conventional reservoir targets.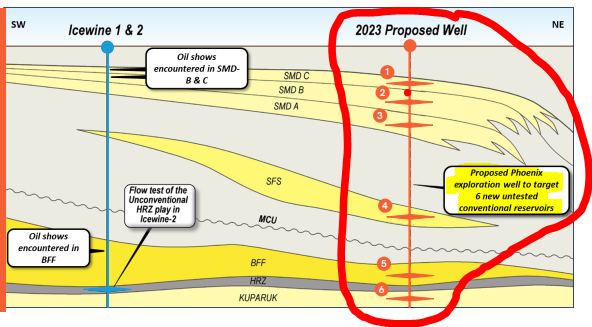 5. ✅ Rig contract signed - December 2022 -Rig contract signed for a drilling date in Q1-2023.
6. ✅ Final pre drill capital raise complete - LAST WEEK - 88E raised a total of $17.5M at 0.95c per share. We increased our Investment in 88E again at this time.
The new funds add to 88E's existing cash reserves of $14.1M (as at 31 December 2022) and means 88E should have ~$31.6M to finance the drilling of its share of the Hickory-1 well.88E expects the well to cost US$13.5M on a gross basis (US$10M net to 88E) - this means 88E is now fully funded for its share of the drilling program's costs. With no debt and over $30M in the bank, 88E is now in a strong position from a balance sheet perspective, even if the well costs blow out slightly. 88E also flagged in recent announcements that the current cash on hand should be enough to carry through to flow testing of Hickory-1 at a later date if successful in this drilling.
7. ✅ Drilling permit secured - LAST WEEK - 88E finalised all of the outstanding permitting and is now cleared to drill.
What's next for 88E?
Drilling of 88E's Hickory-1 well
🔄 Drilling is scheduled to begin in early March 2023 which means 88E is weeks away from drilling. Before then, 88E will need to complete the following key milestones:
🔄 Well pad construction - this should be a work in progress right now.
🔲 Drilling starts - 88E expects to start drilling in early March.
🔲 Mobilisation of the drill rig - 88E expects this to start in mid-Feb - which means only a week or two away.
What could go wrong?
With permitting and financing completed for the upcoming Hickory-1 well the major risk at play now is "Exploration risk".
Oil and gas exploration can be extremely rewarding for shareholders in the event of a discovery, but the reality is that a lot of drill programs fail to deliver anything of significant value.
There's a significant amount of risk in the geology and also drilling operations - any number of unforeseen issues could present themselves during drilling.
Whilst an appraisal well, we still think the drill program could have a binary outcome - in the event of a positive/negative result we would expect a large share price move in either direction (depending on which we get).
Exploration risk is one of the key risks to our Investment Thesis for 88E.
To see other risks we face see our Investment Memo here or by clicking on the image below: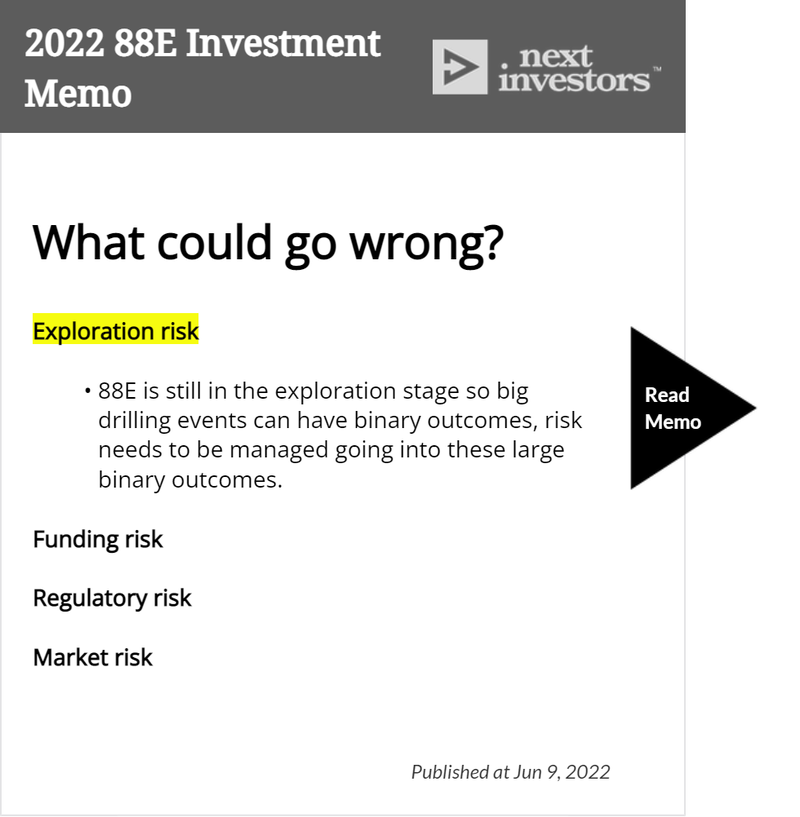 Our 88E Investment Memo
The ultimate purpose of our Investment Memo is to record our current thinking as a benchmark to assess the company's performance against our expectations 12 months from now.In our 88E Investment Memo, you'll find:
Key objectives we want to see 88E achieve
Why we Invested in 88E
What the key risks to our Investment thesis are
Our Investment plan
---