88E Fails to Hit Production-Test Worthy Reservoir Section in Alaska
Disclosure: The authors of this article and owners of Next Investors, S3 Consortium Pty Ltd, and associated entities, own 3,800,000 88E shares at the time of publication. S3 Consortium Pty Ltd has been engaged by 88E to share our commentary and opinion on the progress of our investment in 88E over time.
After confirming an oil reservoir in last year's drilling event, this morning 88E announced that they failed to hit a "production-test worthy" section of the reservoir they had just drilled in Alaska.
Our investment in 88E is a high-risk, high-reward position for us and like clockwork they drill a high impact oil well around this time each year.
88E struck oil in their Merlin-1 well around this time last year and the share price re-rated from around 0.8c to trade in a range of 2.5c to 5c for the next 12 months in the lead up to today's Merlin-2 news, and has now come back to around 1.6c as the market digests the news.
We intend to follow up this note with a more comprehensive analysis of 88E, but here is our quick take on what happened...
(Because the market moves so quickly, we've launched a "Quick Takes page", where we provide a live feed of quick comments (a few paragraphs) on what we think of an announcement, macro event or media article that is related to any of our investments. Bookmark the page to see new information on this page every day)
Our Quick Take on 88E's news this morning:
88E put out an update with respect to its wireline logging program which is now nearing completion.
The wireline program was designed to test reservoir quality and ultimately would be the final step of testing before a production test could be done over the Merlin-2 appraisal well.
Unfortunately this morning 88E confirmed that provisional analysis of the wireline logging program showed that the reservoir quality was insufficient and would not be enough to warrant a production testing program.
... so we don't even reach the starting line where the company runs a production test to assess the oil flow rates.
88E has now confirmed that the Merlin-2 well would be plugged and abandoned before a detailed evaluation of all the drilling data can be obtained.
As further analysis is released by the company we will reset our investment plan for 88E for the next 12 months, also taking into account today's news.
The announcement went live on the London exchange overnight (Aus time), with the share down ~65% from £0.02 (3.5c AUD) to now trade around the £0.007 (1.2c AUD) mark.
At the time of writing this, the ASX has reacted in a similar fashion with the share price touching 1.3c at the open before settling around ~1.6c where it is trading now.
After big binary drilling events which lead to a disappointing result, we often see a market sell off that assumes the company has no other projects or assets...
This is not the position 88E is in, as it also has the recently acquired portfolio of production assets in Texas, USA, multiple other projects in Alaska (Project Icewine and the Yukon assets), plus other drilling prospects over its Project Peregrine acreage.
We have a well documented investment strategy when it comes to big binary drilling events with our oil & gas exploration investments. In our 2022 88E Investment Memo we set out and followed a clear investment strategy for 88E, like we do for all our investments.
We also recorded in the risks section of our 2022 Investment Memo that there was a scenario where the Merlin-2 well returned no commercial oil discovery.
We always like to record the risks to an investment so that announcements like today don't come as a surprise. Of course we hope our portfolio companies are successful but with high risk investing it is important to cut out the emotion and focus on facts.
Below is a screenshot of the risks section from our 2022 Investment Memo for 88E, unfortunately in this drill campaign one of the key risks materialised: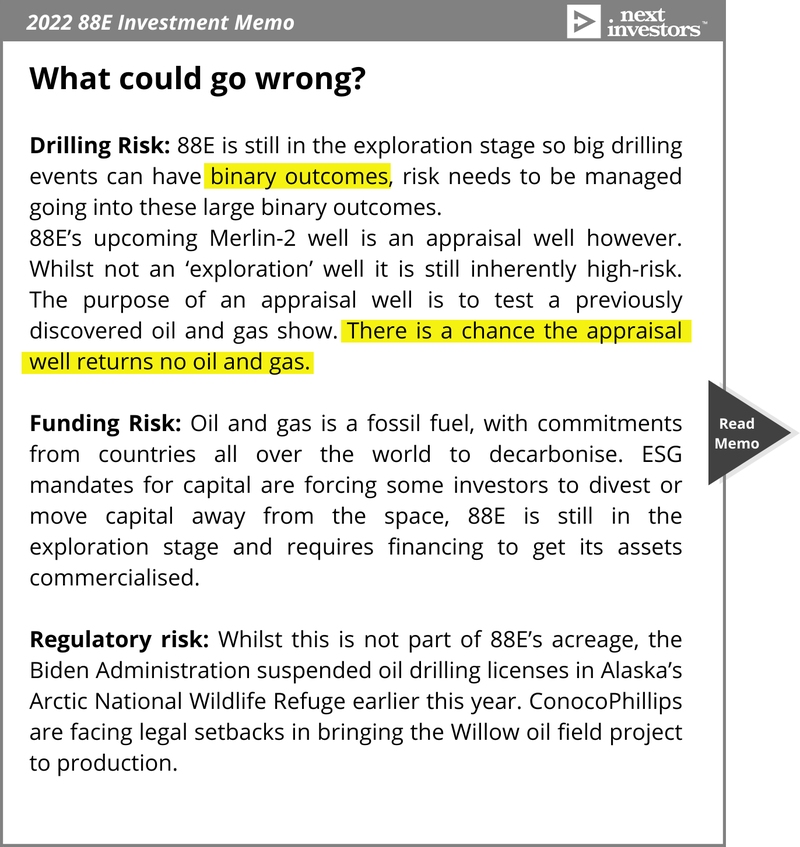 Although 88E did in fact find oil and gas in the Merlin-2 appraisal well, it was not of high enough quality to warrant a production test which is still a failure in terms of the overall outcome.
As recorded in our investment plan for 88E (in our memo here) we held a de-risked position into the drill result (in case it WAS a success) and now expect the company to detail its forward plan for the rest of the year across its exploration assets in Alaska, as well as its newly acquired production assets in Texas, USA, at which point we will reassess our investment plan.
In case you missed it, here is all of our quick take coverage in the lead up to the 88E drilling event. Bookmark this page to get all of our latest commentary on 88E:
30-Mar: Wireline logging program unsuccessful at the Merlin-2 well
29-Mar: Merlin-2 reaches total depth. Wireline testing commenced
23-Mar: Merlin-2 Well Reaches Total Depth
18-Mar: Drilling program going to plan on Alaskan North Slope
10-Mar: Merlin-2 oil well spudded
04-Mar: Exploration Update
01-Mar: Drill rig mobilised on site at the Merlin-2 appraisal well
---