88E back to 100% ownership of 1.6 billion barrel project
Alaskan oil explorer 88 Energy (ASX:88E | OTC: EEENF) has cut a deal to buy back its 1.6 billion barrel Project Peregrine, and now holds 100% of it once again.
After the Merlin-1 drilling event clearly demonstrated the presence of oil at the project, the ground is arguably more valuable than ever - pending further drilling, testing and analysis to find out exactly how valuable.
For those who invested in 88E during 2020, the current share price remains up over 200% since its pre-drill average of around 0.8c for most that year.
Back in December, a private company called APDC agreed to farm-in to 50% of the project before the drilling of Merlin-1. In the end APDC paid US$20M in cash on the project.
Today 88E announced it has bought back that share for US$14M in 88E shares plus some future milestone payments IF the project ever becomes successful.
US$14M in 88E shares represents 6.3% dilution of 88E.
The reason given in the announcement by both parties was that 88E wants to move fast to drill again but APDC needed time to raise their share of the funding. To avoid slowing down the project this deal was cut allowing 88E to move fast with 100% ownership/control and APDC to retain exposure to project success.
With 100% of the project, 88E can now also seek out a new farm-in partner to pay for the next round exploration...
Later in this note we will also comment on Biden's backing of ConocoPhillips Willow Oil Field (which sits to the north of 88E), and why finding more oil in Alaska has suddenly become a matter of US national security - its got to do with low amounts of oil travelling through a strategic pipeline freezing solid...
The Merlin-1 well found strong evidence of an oil discovery, however further seismic or drilling is required to confirm this.
In the lead up to results, 88E's share price spiked 1,100% - we stuck to our plan of selling some in the lead up to drilling then holding a position into the drill results. The 88E price has now settled over 200% up from where we initially invested.
Now that the post drill result valuation has settled we have increased our position at 2.5c with a view to hold into the 2022 Alaskan winter when the exploration window opens again in Jan/Feb.
Keeping in mind there may be some near term 88E share price weakness *if* APDC decides to sell down some or all of its new 6.3% of 88E on market - we will be watching closely and should be able to track this via change in substantial holder notices required to be lodged to the ASX when a shareholder has more than 5%.
We recently increased our position in 88E at $0.025 per share.
Why we invested in 88E again:
We have held 88E shares for many years, following all of the drilling events - five wells have been drilled over 6 years in the elusive search for a confirmed discovery.
Oil exploration is risky and most exploration wells don't deliver a discovery. We believe it's important to follow an investment strategy that ensures you have free carried exposure to as many drilling results as possible to maximise your chances of success, while preserving capital.
Every time 88E has drilled in Alaska, the share price has gone up in the lead up to drilling. Just like for Merlin-1, our 88E investment plan is to invest early when sentiment is low and drilling is months away, then free carry into drilling results as excitement and anticipation builds (obviously past performance is not an indicator of future performance but it's been pretty consistent...)
We think this pattern will repeat again in the future, and plan on patiently holding until this time comes for drilling, and speculators enter into the stock in anticipation of an oil discovery.
It's the middle of summer now in Alaska, the ice road has melted, and the exploration season is over. However, in a few months time it will be the Alaskan winter exploration season again, and we expect to hear more of 88E's exploration plans soon.
88E has bought back 50% working interest in Project Peregrine - and now has 100% ownership.
Why is this good news for 88E?
It gives 88E complete control over its own destiny at Peregrine.
88E's farm in partner for Merlin-1, APDC, wanted to go slower on exploration, 88E wants to go faster.
It allows 88E to potentially farm out to a new partner with greater technical and operational capability.
After Merlin-1, there is additional data in hand - which allows the potential for improved transaction metrics...
88E now has a 100% working interest in Project Peregrine, which complements its 100% ownership of the Umiat Oil Field directly to the south. Umiat has 94 million barrels of oil equivalent of 2P reserves (proven and probable reserves).
Having 100% of both projects gives 88E the ability to shop them around as a package to future partners.
Given there is not expected to be any Alaskan exploration lease sales this year, it makes 88E's ground, with evidence of oil shows already, significantly more valuable.
Details on 88E's consideration:
88E is acquiring 50% working interest in Project Peregrine from APDC for the following:
US$14M, payable in 88E shares, to be issued in several tranches,
1.5% overriding royalty interest on future production from the Project Peregrine licences,
US$10M cash payment on the achievement of 100 million barrels of gross 2P reserves within 36 months,
Cash payments of US$2.5M per 50 million barrels on 88E achievement of gross 2P reserves added over 100 million barrels within 36 months (capped at 5x additional cash payments), and;
10% of gross sale proceeds in respect of an assignment of greater than 49% of Project Peregrine within 24 months, excluding a farm out.
Our view on the transaction:
Given the bulk of the upfront payment is in 88E shares (US$14M), it will be interesting to see how APDC act on the register - whether they choose to sell down their stake or hold on to see what 88E can find.
All the other payments in the deal are based on the project's success - and represent just a fraction of the value of the success to 88E as 100% project owner.
88E is going after giant, multi-hundred million to billion plus oil discoveries in Alaska.
Having 100% control of Project Peregrine (now with reams of well data from Merlin-1) again will allow it to have another swing at drilling to find one.
This project is located in the National Petroleum Reserve (NPR-A) region of Alaska. This is Federal Land demarcated and reserves for oil development and production - so 88E is in the right spot.
There is already a giant oil field of this size, just up the road from 88E - owned by ConocoPhillips (NYSE: COP) - we wonder if they are keeping a close eye on 88E's moves.
ConocoPhillips - the energy super major up the road from 88E - oil development progressing
88E's neighbour to the north is ConocoPhillips' Willow Oil Field.
The Willow Oil Field has a resource estimate of between 400-750 million barrels of oil equivalent, and is planned to deliver 160,000 barrels a day over 30 years.
Conoco's project appears to be progressing under Biden, with the Administration fulfilling permit requests and carrying on with day to day operations.
Willow was first backed by Obama, and was given final approval in October by Trump. Recent news reports give a clear sign that the Biden administration is not stopping oil activity on Federal Land.
ConocoPhillips has poured over US$1BN in exploration, development and production in Alaska to date.
Last year, Conoco was the #1 oil producer in Alaska with an average daily production of 198,000 boe/d. Pre COVID in 2019, it earnt over $1.5BN in earnings from its Alaskan operations.
Given it looks like the US Admin is continuing to support the project, we are hoping this might embolden Conoco to look further south to 88E's ground.
To understand why Biden approved Willow, this article goes some way to explaining.
Basically, finding new oil in Alaska is an issue of national energy security:
The TAPS (Trans Alaskan Pipeline System) transports oil from Prudhoe Bay in the north of Alaska to the south and then the US Lower 48.
TAPS is running out of oil, having dropped 75% since 1989, now carrying only ~ 500,000 boepd.
The oil is now flowing so slowly that its almost freezing up in winter.
The only solution to this serious national security problem is to add more oil.
This is exactly what Conoco's Willow discovery will do.
One could also argue that 100,000 bopd from a conventional reservoir like Willow is much more environmentally friendly then the equivalent number of shale wells.
We will continue to keep you informed.
[NEW] Here is 88E's company milestones as we see them
Here is our 88E milestone summary and what it has achieved.
This is a new feature we are working on and will soon be rolled out to all portfolio companies, please reply to this email with any feedback/suggestions.
This is what we expect the upcoming months to look like for 88E. Please keep in mind that all these milestones are our interpretation and are subject to change as the company releases info - changes are highlighted below: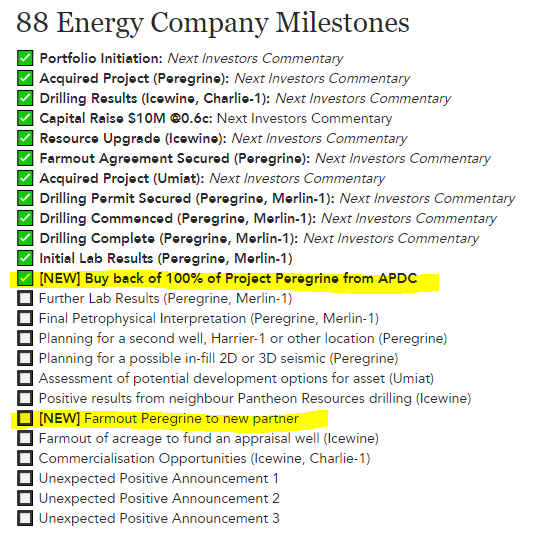 Our investment in 88E
Regular readers will know we have been invested in 88E for many years. Now that the 2021 drilling season is over until the next Alaskan winter in Jan, Feb 2022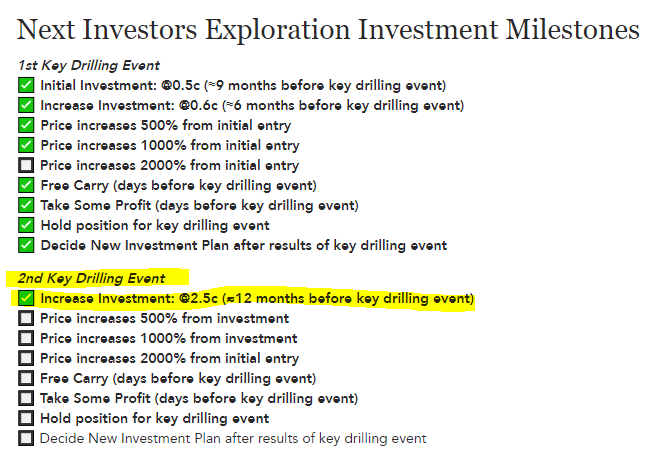 Here is our past coverage of 88E: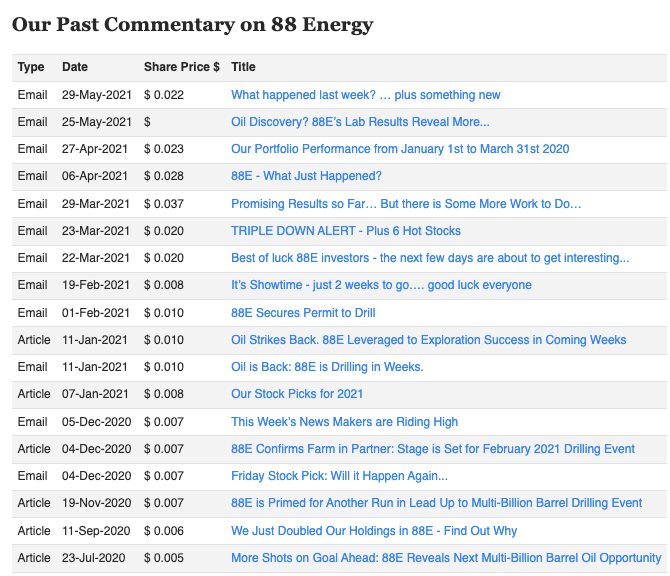 ---