$31M ASX Small Cap Telco Posts $16.7M Annual Recurring
PUBLISHED: 30-10-2020 09:44 a.m.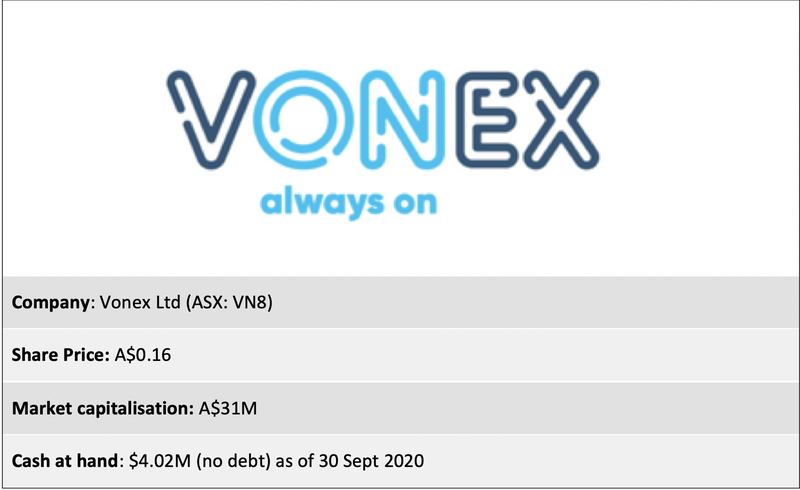 Last month we introduced award-winning telecommunications service provider Vonex Ltd (ASX:VN8) as our latest portfolio addition.
Part of our reasoning, was the impressive Annual Recurring Revenue (ARR) base that the company has been building in the in-demand telecommunications industry.
Recurring revenue, facilitated by the acquisition of 2SG, has provided Vonex with forward earnings predictability. The 2SG acquisition cannot be underestimated, having provided Vonex with substantial sales momentum.
A full year contribution in fiscal 2021 will see the company generate robust growth in the next 12 months, after 2SG negotiated an agreement to supply business grade mobile broadband to ASX 300 company, Data#3 (ASX: DTL).
Following the acquisition, Vonex has enjoyed 122% mobile broadband sales growth, 247% mobile voice sales growth and 53% NBN and 4G back sales growth.
Vonex is currently one of three technology companies in our long-term portfolio.
Our other two tech stocks also continue to perform well.
MyFiziq (ASX: MYQ) is currently up 750%, having been as high as 1200% since we first took a position, while our first tech long term portfolio company WhiteHawk (ASX: WHK) has a current return of 244%.
We are hoping for long term, sustainable price appreciation with VN8 as well.
As we alluded to in our last article, Vonex has delivered strong growth, generating predominantly recurring and sticky revenue.
In fact, the revenue base and current market cap of circa $31M suggests substantial upside, particularly as it continues to develop, deliver and license advanced communications technologies.
ASX small cap telco peers such as Spirit Telecom Ltd (ASX: ST1) - $186.5M market cap, and Uniti Group (ASX: UWL) $656.8M, suggests there is tremendous growth potential here in VN8.
Whilst still in the telco space, VN8 is focused predominantly on the small to medium enterprise (SME) market, giving it a significant point of difference.
As such, the past 12 months have been a stand-out for Vonex and its successes this year are illustrated in its latest quarterly, with highlights including growth in wholesale customers and order value, with Mobile Broadband orders up 122%, Mobile Voice up 247% and NBN with 4G backup up 53% year-on-year in Q1 FY21. One further highlight is the Total Contract Value (TCV) of new customer sales of $5.3million in 2020 YTD, up 36% year-on-year.

September quarter continues VN8's momentum from June
The June quarter delivered Vonex (ASX:VN8) the strongest operational and financial quarter the company has delivered since listing on the ASX. One of the key takeaways was the 84% increase in annualised recurring revenue during fiscal 2020. At that stage this number stood at $16.4 million.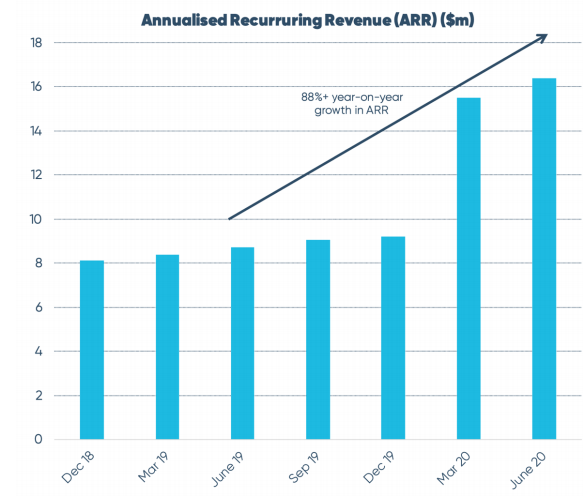 It has been an impressive growth trajectory, demonstrating Vonex's stability and resilience.
The highlights have continued in the September quarter.
Unaudited sales revenue of $4.44 million for the quarter increased by 84% compared to the prior corresponding period (PcP) of $2.41 million
Annualised Recurring Revenue (ARR) grew by 84% year on year to $16.7 million
Cash receipts from customers totalled $4.22 million, an increase of 68% compared to PcP of $2.51 million
Cash at end of quarter totalled $4.02 million
Further highlights include: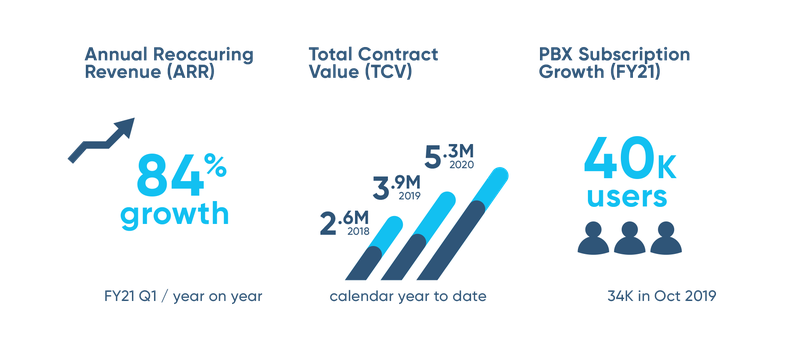 Divisional successes
Vonex is split into two divisions: Vonex Wholesale and Vonex Telecom.
The wholesale division continues to scale, with the company securing new customers and delivering strong growth in revenue.
The aforementioned integration of 2SG Wholesale in 2H of FY20 into the company, saw Vonex expand its offering to small and medium enterprise (SME) customers by developing and delivering new products.
This was reflected in sales growth across the Wholesale product suite.
The numbers are excellent.
Mobile Broadband orders are up +122% year-on-year for the quarter, Mobile Voice +247% and NBN with 4G backup +53% over the same period.
The acquisition has enabled Vonex to capture cross-selling opportunities identified prior to the 2SG Wholesale integration.
Expansion will continue in FY21, following a commitment from Optus to open up its 5G network to Vonex via 2SG. Vonex is finalising launch preparations for internet services that utilise 5G speeds powered by Optus.
2SG's dealings with ASX300 company, Data#3 Ltd (ASX: DTL) is also translating into customer wins.
As for retail operations, Vonex Telecom, this too continues to expand.
Vonex has achieved Total Contract Value of new customer sales YTD in 2020 of $5.3 million, an increase of 36% year-on-year.
SME user numbers continue to grow, driven by its partnership with Qantas Business Rewards (QBR) and Vonex's status as Qantas' preferred business-focused telco provider.
This is now a long-standing partnership which Finfeed first covered in September 2019: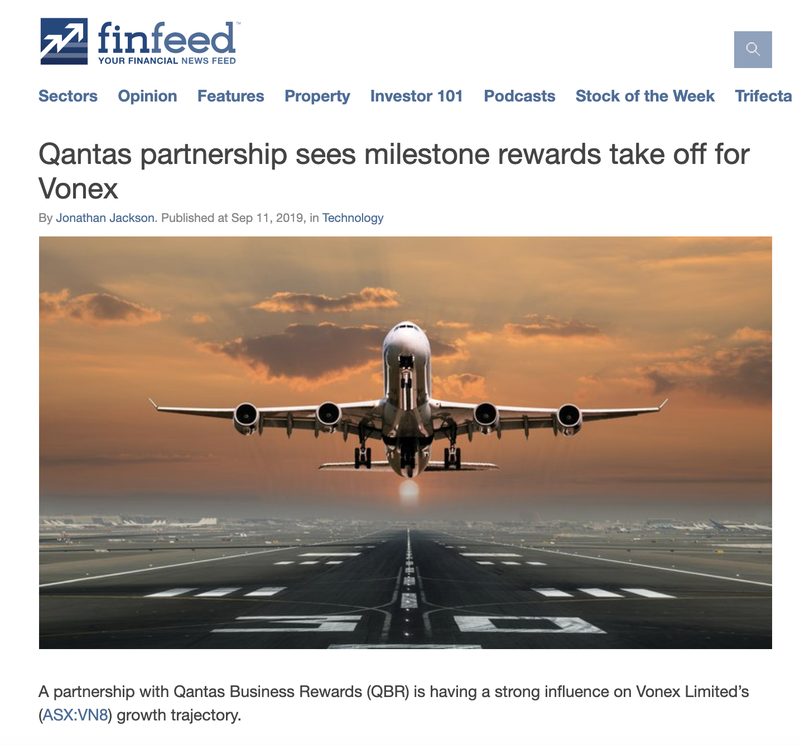 QBR is marketing Vonex to its base of more than 250,000 SME members who use QBR's exclusive offers to save money, earn Qantas points and plan ahead for the growth of their business.

With signs Australia's borders will reopen before Christmas, this could prove even more beneficial for Vonex.
Also, of significance is the more than 40,800 registered active users who now use ONdesk, Vonex's Private Branch Exchange cloud-based phone service.
Active PBX users are a key indicator of Vonex's business development progress as it looks to penetrate the multibillion-dollar Australian market for telco services to SMEs.
The final word
In an industry with a reputation for poor customer service, Vonex stands out.
The company has a high satisfaction rating among SME customers, and has only had zero complaints in Q1FY21, compared with an industry average which increased by 28%.
We believe there is significant upside in the Vonex story as it continues to win friends and influence SMEs.
We are not the only ones.
Analyst, PAC Partners has been on board the Vonex train all year, having set its price target at 28 cents a few months ago.
It is currently sitting at 16 cents.
On current trend, this next financial year could be a game changer for the company.
If numbers continue to rise, so could its share price.
We will continue to watch the Vonex story unfold as we believe our portfolio holding will be vindicated in the long-term.
The Vonex investment case: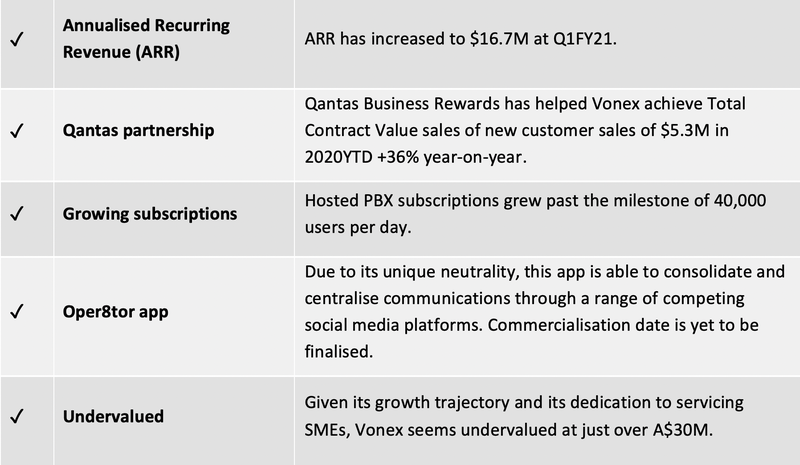 ---