Miraflores deposit twice as deep as previously known
---

Los Cerros (ASX:LCL) today provided an update on its 2022 drilling program at the Quinchia Project in the mid-Cauca gold porphyry belt of Colombia, which is designed to drive new discoveries and continued resource growth into 2023.
The announcement included updates on drilling at the project's Central Target, Ceibal, Claras and Tesorito West prospects.
At the Central Target, the rig was testing a coincident magnetic and chargeability/conductivity high between Tesorito and Miraflores (as affectionately referred to as Jabba the Blob), with speculation that it could be porphyry joining the two deposits.
This was the second objective that we set for LCL to achieve in 2022, as per our LCL Investment Memo.
While the drilling of the Central Target didn't make a porphyry discovery joining Miraflores and Tesorito at these depths (not to say it isn't connected at greater depths or off to the side), the drillhole (TS-DH57) identified Miraflores type breccias 500m below deepest historical Miraflores drilling.
This points to a large-scale hydrothermal system, extending from the Miraflores breccia pipe both laterally and at depth.
This essentially doubled the depth of known breccias in Miraflores, showing potential to double the depth of existing mineral reserve: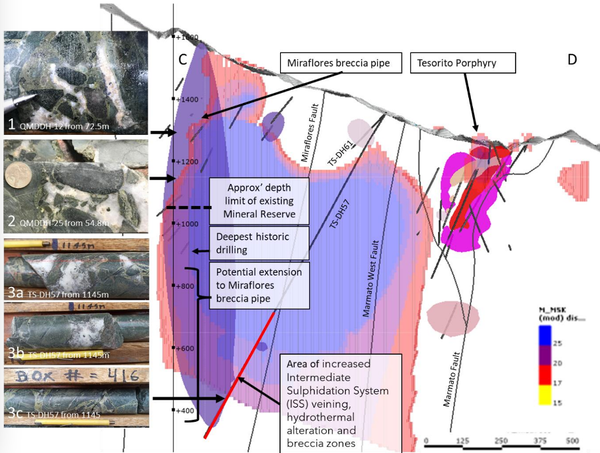 LCL will now drill hole TS-DH61 (as seen on the cross section above). This shallower, second drillhole from the same pad is designed to test for extensions of the Miraflores breccia pipe vertically below historical drilling.
However, with the market's focus on this Central Target, it appears disappointed with the news —  the stock is trading 15% lower this afternoon. However, it appears to be overlooking the real story here.
Consider the unique position that LCL is in:
It has an extremely robust balance sheet with $17.5M cash in the bank and no debt (a current market cap of $57M for an EV of ~$40M).
Just announced potential deep extensions to the higher-grade Miraflores resource, both laterally and deeper than the existing resource.
It currently has no fewer than five drill rigs running, plus lots of targets still to pursue to find the next Tesorito.
And LCL is dedicated to these early stage scout programs — it now has three rigs at the Ceibal target, each chasing three different ideas. As the rigs are not all focussed on one story here, LCL is essentially backing three horses rather than one to see which one comes in.
And as you can see below, LCL still has multiple targets at various levels of investigation, all within a ~3km radius. The major known target areas (orange circles) and earlier stage targets (white circles) within the Quinchia Project: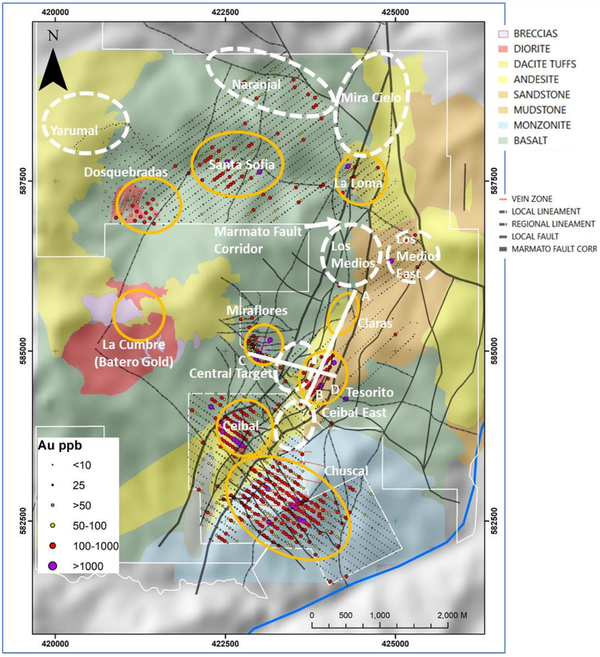 Following results from the Ceibal target we look forward to drilling between the recently identified Claras target (1km north of Tesorito) and Tesorito North.
Early drilling at the Claras target has provided indications of another porphyry body along the Marmato Fault Corridor.
LCL have good reason to believe that it will find a causative intrusive (porphyry) here (as marked as planned holes below) as there are indicators pointing to the north of Tesorito, and likewise, to the south of Claras: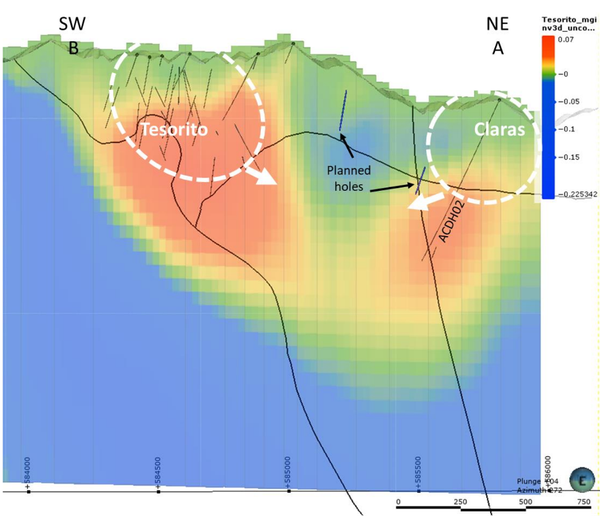 From there, LCL still has many targets to test that have been identified with the project area, including Dosquebradas, Santa Sofia, and Miracielo.
With LCL having earlier defined a resource at Tesorito, our primary objective for the year has been achieved. Exploration continues to make new discoveries and drive continued resource growth into next year.
Our #3 Objective for LCL in 2022 was to commence scoping studies. LCL has confirmed that this PEA (Preliminary Economic Assessment or Scoping Study) is taking place alongside its extensive exploration program. (A PEA is essentially a more stringent or more detailed version of a Scoping Study - spelling out the business case and potential profitability of the project.)
See our LCL Investment Memo for our Investment strategy, key risks, and all of our objectives for LCL for 2022 here.