Copper-gold drilling started
Shares Held: 8,055,814
Options Held: 0
---
Los Cerros (ASX: LCL) reports that it has commenced copper-gold drilling at its Ono Project in Papua New Guinea, marking its first new campaign since acquiring a suite of PNG assets last November.
LCL is undertaking a ~3,000m, ~18 hole drilling program at the project's Kusi gold-copper prospect, with a focus on priority drilling areas.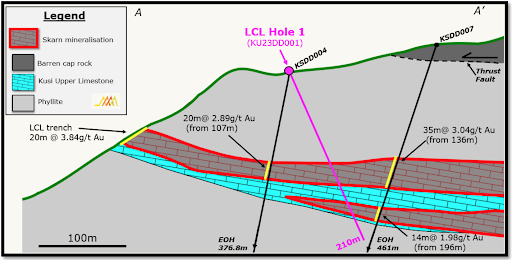 Previous drill and trench results here include:
10.1m grading 2.39g/t gold from 0m in diamond drill hole KSDD003
20m grading 2.89g/t gold from 107m in diamond drill hole KSDD004
35m grading 3.04g/t gold from 136m in diamond drill hole KSDD007
20m grading 3.84g/t gold in trench FPR TR 1
LCL suspects that these drilling areas may sit within a significantly larger mineralised regional skarn unit or units. The company believes that a causative porphyry exists within the area, although this drilling program is targeting just the high grade oxidised skarns.
Here you can see the Kusi prospect showing location of current drill hole and gold in soils geochemical anomaly with modelled "Upper Limestone" skarn unit. Priority drill areas and areas of current field activities are highlighted.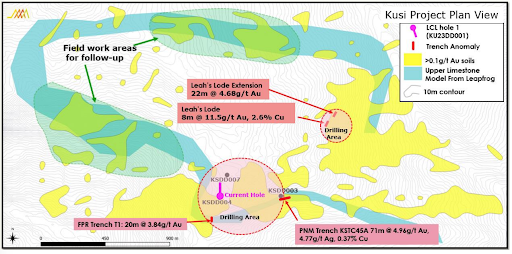 Alongside this drilling program, LCL is also completing field work to assess the potential for extensions to the upper limestone skarn and new skarn units. This may result in additional targets for the current and future drilling campaigns.
As outlined in our new LCL Investment Memo, there are three things we want to see from exploration at Kusi.
The initial drilling, now underway, to further test the gold-copper oxide skarn mineralisation within an upper limestone unit established during previous drilling, trenching and surface sampling. This will provide confidence in what LCL has on its hands in its target drilling areas.
Gauge the potential regional scale. The wider Kusi exploration program will include trenching and mapping to define the extent of the mineralised skarn horizon which occurs within the upper limestone unit and over a total area of approximately 3km x 1.5km. This will help answer the question of just how big is the skarn unit.
Gain a better understanding of the central copper porphyry. Drilling and surface work is instrumental in locating the porphyry source.
LCL held over $8.4M cash at 31 December 2022 and is currently conducting a capital raise, seeking to raise ~$4.3M from existing shareholders via a Rights Issue.
Shareholders can participate in the entitlement offer to acquire one new share at a price of $0.03 for every five shares held at the record date, 2 March 2023 with the offer expected to close on 20 March 2023.