Omicron, Inflation and Investment Memos
Published 04-DEC-2021 11:50 A.M.
Omicron has taken a bit of heat out of the market, combined with more worries about inflation coming out of the US.
The market experienced a couple nasty down days with a largely flat day to finish the week.
Inflation was a known threat, and Omicron was a 'known unknown' - these COVID variants are inevitable.
But then again, there's the possibility that Omicron may not be anything particularly new in our lives or the market - we will need to wait and see.
Investment Memos
We are small cap investors with a long-term multi-year strategy. We aim to back good management teams, with good projects in investment themes that we believe in.
We hold a position over the long term while the management team executes on their plan, we understand the risks of small cap investing.
The idea is to not get caught up in the day-to-day mainstream news cycle or ups and downs in the share price, instead to focus on how well our companies are delivering on their plan over time.
It was a rough week in the markets, so we took a few days off from releasing new commentary and used the time to review how well some of our portfolio companies executed their plans over the last 12 to 18 months, and set some expectations for each of our investments for 2022.
When assessing how one of our investments has performed since we first invested, we found it was very useful to look back over why we originally liked the company (back when we first invested), what our expectations were at the time, and assess how well the company actually did compared to our expectations.
Many things can and do go wrong in small cap investing, so we found it was useful to note and understand what exactly went wrong with any of our companies that had a bad year, compared to what we thought should happen.
Professional investors we follow (and try to learn from) are always saying that you should create a high level, one page summary when making a new investment or increasing a position.
This is a short note to your future self summarising why you invested. You can check it later to assess how well your thesis for the investment compared to what ACTUALLY happened in reality.
These are called "Investment Memos" and after spending this week looking back on how our companies performed over the last year, we definitely agree that a short Investment Memo on each of our investments would be useful to track their performance during 2022.
Earlier this year we released our "Company Milestones", which we use to track what the company has achieved and what they still have "to do" in the future. Company milestones can be found on each individual company page on our site. They look like a shopping list or to-do list of things the company needs to deliver over a few years.
Our new Investment Memos go further by setting an expectation on key objectives we expect to see a company deliver within a certain time frame OR using a certain amount of cash.
By tracking Company Milestones and then comparing to the expectations in our new Investment Memos, we'll be able to better understand our successes and failures over time, and hopefully improve our ability to select the best companies to invest in going forward.
It will also help keep ourselves and our companies accountable to promised delivery time frames and expectations around use of capital.
Below is the general format we have designed for our Investment Memos. The goal is to keep it to about one page and capture all the key information in a way that can be digested in under a minute:
=========
What does this company do?
What is the macro theme?
Why did we invest?
MAIN reasons of why we made this particular investment
What do we expect the company to deliver before their next capital raise?
Main objectives we want to see from the company over the next 12 months OR before their current cash runs out - if they achieve these objectives the share price will probably go up.
What could go wrong?
Key risks, if one or more of these risks happens the share price will probably go down.
What is our investment plan?
Reminder of the investment strategy we originally set for this investment so we can assess how it turned out
Capital Structure
Maintaining a good share structure is crucial for the share price to be able to reflect progress the company makes, we need to monitor the share structure every 6 months to check for too much dilution.
Our Investment Memos are based on our personal views, strategy and experiences in small cap investing - remember that everyone's reasons for investing can be very different.
A lot of this information already exists for each of our companies across our past articles and commentary, but we think it will be useful to collate all the key points into a 60 second summary that sits on each company page that we can quickly reference every time a company delivers some news.
The purpose of our Investment Memos is so we can periodically check back to assess and share how our investment is performing against OUR expectations that we set when we first invested (or increased our position).
We will be releasing Investment Memos for all of our portfolio companies over the coming weeks, you can check our first Investment Memos below, as always we welcome and appreciate your feedback:
Kuniko (ASX:KNI) Investment Memo
GTi Resources (ASX:GTR) Investment Memo
Invictus Energy (ASX: IVZ) Investment Memo
Evolution Energy Minerals (ASX:EV1) - Investment Memo, Wise Owl
Please reply to this email if you have any comments, suggestions or feedback on anything else you would like to see included.
📰 This week on Next Investors
It was a relatively quiet week across our portfolio but on Tuesday GTi Resources (ASX:GTR) confirmed that it's maiden drilling programme in Wyoming had commenced.
GTR will be drilling circa 100 holes over a ~15,000m campaign in an area where there is already known uranium mineralisation. The drilling program will largely look to accurately identify the depth, thickness, grade and width of mineralisation previously identified in the 1980s.
The ultimate aim for GTR's drilling program will be to announce an initial maiden ISR uranium resource, or put together an achievable exploration target which will form the basis for future exploration programs.
📰 Read more : GTR uranium drilling now - to confirm previous mineralisation
🗣️ Quick takes on key portfolio company events this week:
Pursuit Minerals (ASX:PUR):
We ended our week with the final batch of assays from the 4-remaining holes at PUR's Warrior Nickel/Copper-PGE project. The assays came after PUR hit found a 1.6 km mineralisation system, with sulphides present in all holes.
Peak assay results from this round of drilling was for 8.4g/t Silver which wasn't the best of results but for a maiden drill program to hit a mineral system like this, we believe, is a win especially considering PUR weren't even looking for this.
The main takeaway for us is that PUR seemed to have stumbled across another part of the project which warrants follow-up exploration work.
Next: We want to see follow up auger geochemistry at the Phil's Hill prospect to expand coverage along strike to the north & south upto & including the Ablett Prospect. All of this should form the basis for figuring out the next batch of drill-targets at the Warrior project.
Galileo Mining (ASX:GAL):
GAL started the week off by announcing that diamond drilling at the delta-blues prospect in the Fraser range had commenced. The 2-hole, 1,000m drilling program will focus on the Gold/Copper mineralisation found during the last round of RC-drilling.
We are invested in GAL predominantly for it to make a large Nickel discovery in the Fraser Range but will be watching to see what comes of the Copper/Gold target.
In the middle of the week we also received the much anticipated assay result from the completely unexpected massive sulphide intercept at the Norseman project. Interestingly, the intercept was made at the bottom of one of the aircore drill-holes, despite these type massive sulphide intercepts typically not being found during aircore drilling.
1 metre @ 0.24% nickel, 0.35% copper, 0.04% cobalt and 0.25 g/t palladium
The assay confirmed the presence of Nickel/copper/cobalt & palladium which, we think, sets up the Norseman project as another potential Nickel-sulphide discovery target, similar to GAL's Fraser Range project.
Next: We want to see the assay results from the ~10,000m Aircore drilling program return heaps of Palladium mineralisation which will form the basis for the target generation works on a follow-up RC/Diamond drilling program. We are also expecting to see the results from the diamond drilling in the Fraser range in Q1-2022.
WATCH: GAL Director Talk through the Norseman Palladium Aircore Program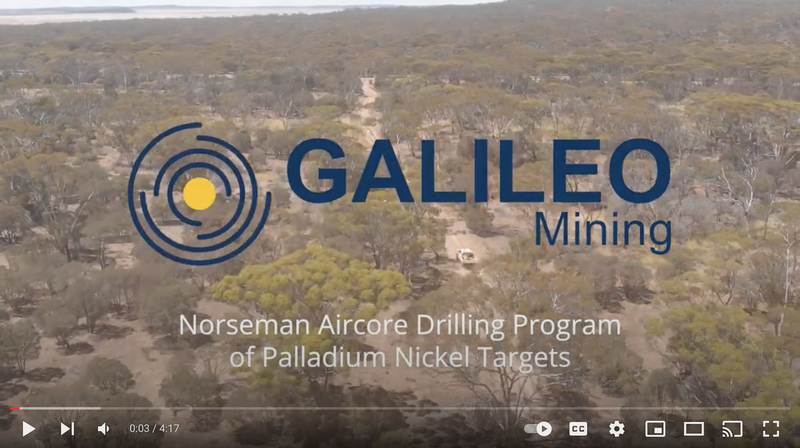 Advanced Human Imaging (ASX:AHI):
On Wednesday AHI put out an announcement around a new deal signed with Toronto based Digital Health provider Cubert Inc which will integrate AHI's tech into their FitScan app ahead of a scheduled launch across iOS & Android platforms in February 2022.
AHI had been stuck in a gradual down-trend after repeated delays on its promised milestones but it seems fresh US investors are responding well to the story, with the US listing appearing to drive a ~39% move higher on the ASX on Thursday.
Next: We want to see AHI secure top-line revenue, and are still watching for TinJoy revenue and finalisation of the Nexus Vita deal.
🌎 Mainstream Media:
Mutli-Media
LISTEN: DXB's CEO Nina Webster on the Health Kick Podcast
WATCH: Mini Documentary Series on IVZ's seismic program
WATCH: ASX Investor breaks down Vulcan Energy Resources (ASX:VUL)
Battery Metals (VUL, EMN, KNI)
How China's Car Batteries Conquered the World (Bloomberg)
Investing
In Australia's $2.4 Trillion Pension Pot, It Pays to Be Good (Bloomberg)
Clean Energy (PRL, EXR)
China Fund Manager Reaping 109% Is a Die-Hard Renewables Fan (Bloomberg)
Telecos (VN8)
Aussie Broadband launches $344m bid for Over The Wire (Australian Business News)
Iron Ore (PFE, IRD)
Iron Ore Surges as China's Steel Mills Prepare to Restock (Bloomberg)
African Energy (IVZ)
Shell Wins Case to Start Seismic Survey Offshore South Africa (Bloomberg)
South Africa's Environment Department Rejects Floating Gas Plant (Bloomberg)
COVID-19 (DXB)
Moderna chief warns existing vaccines will struggle with omicron (AFR)
Performance Chemicals (AJX)
SK Capital Weighs IPO for Chemical Maker Ascend Performance Materials (Bloomberg)
Have a great weekend,
Next Investors
---